Let's face it: we've all been to business meetings, where at one moment we were lost and a bit 'off'.
Poorly planned, badly timed and generally disorganized meetings can waste a team's time and make a leader look unprofessional.
Having a predesigned business meeting template comes handy in such situations. You can adapt it to your meeting rules, and meeting topic checklist, to ensure effective flow of the meeting.
Based on my experience as a trainer and team leader, together with our chief designer, we created this Problem-solving Meeting Presentation Template for meetings with a goal to solve a specific challenge. The meetings that include brainstorming or another way of creative problem solving and that evaluate the new solution ideas.
Let's go over and create your presentation for a productive business meeting together.
(click on pictures below to see the source graphics).
1. Starting with a Meeting Title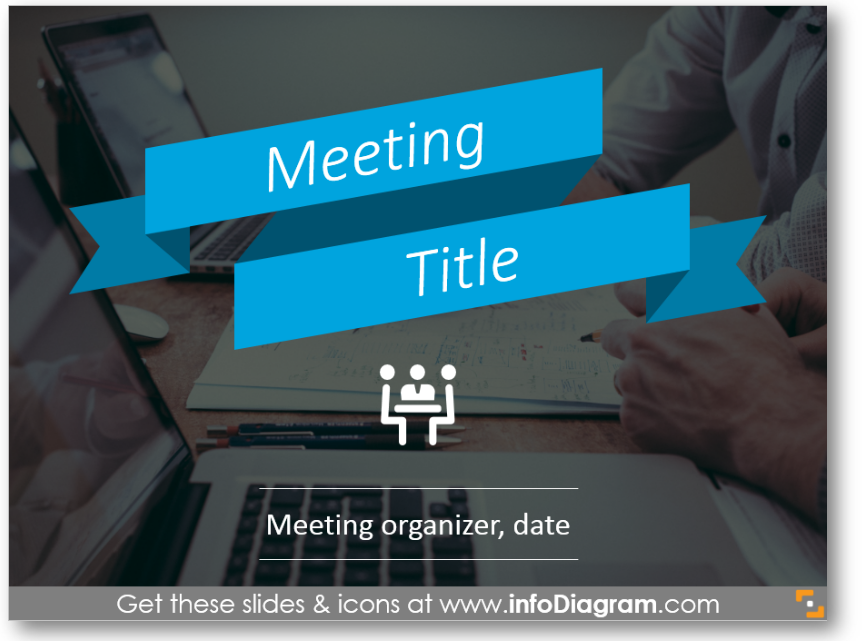 Of course, you can start directly with the agenda or problem statement, but better to gather people's attention and then move to important points.
2. Introduce Meeting Overview with Agenda Slide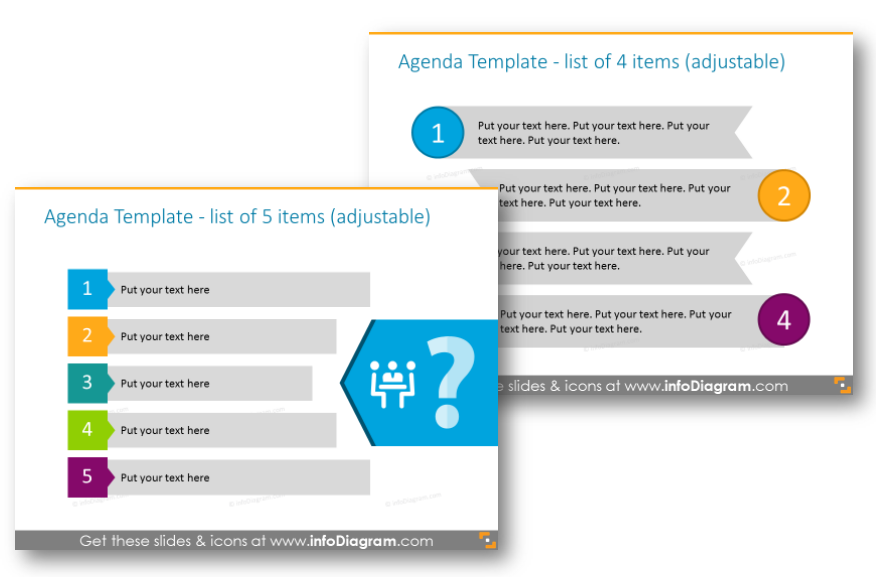 The agenda provides an overview of the meeting's platform and lends structure to your planned discourse. An effective meeting agenda sets clear expectations for the meeting and helps your team members prepare their questions ahead of time.
Especially in the case of long meetings, it's good to provide such an overview. For simple meeting structures with fewer than 4 points, this slide can be omitted. Or you can write the agenda on a flipchart only.
3. Show Meeting Goals and Key Focus Areas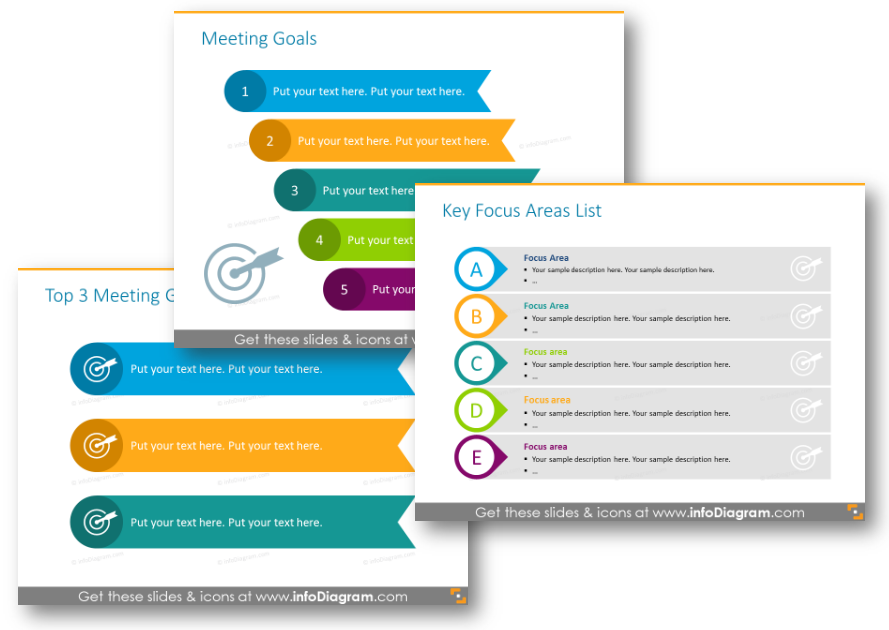 Zig Ziglar, a famous American author, and motivational speaker. once said: "A goal properly set is halfway reached". Without setting goals it is hard to see where the meeting is going. Those pre-designed slides will help you with this question.
4. Define What's Your Problem to be Solved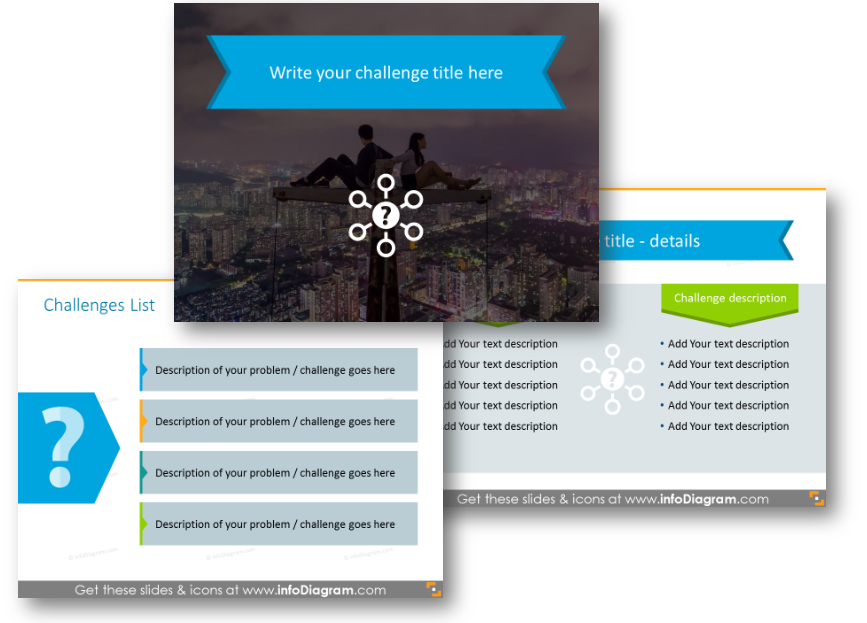 Now it is time to define the challenge you want to address, 'hero of the occasion'. We made the first challenge slide an overall one, where you state the question and change the background image. Then challenges list and details go. If you break it into pieces, it is easier to see the big picture and find solutions.
5. Finding and Selecting Solutions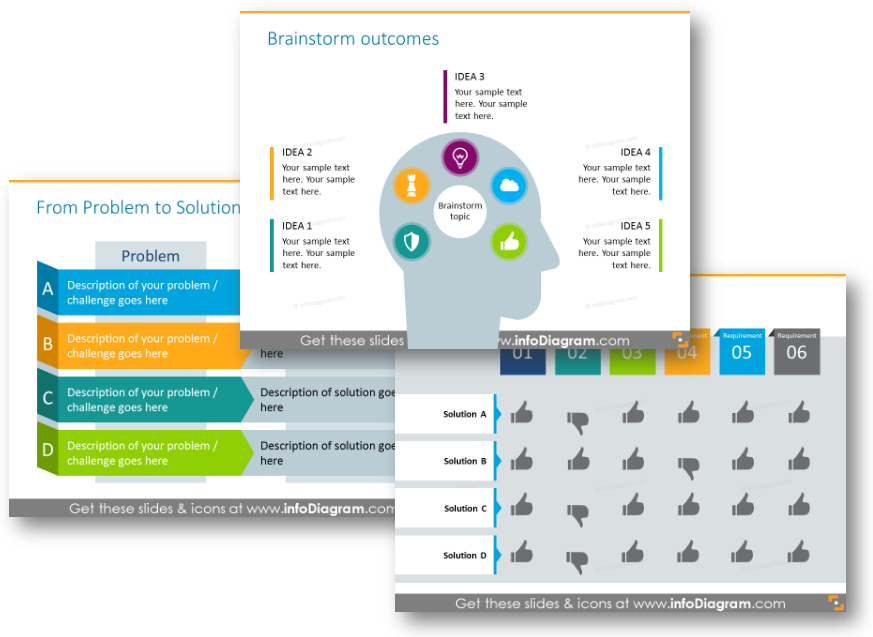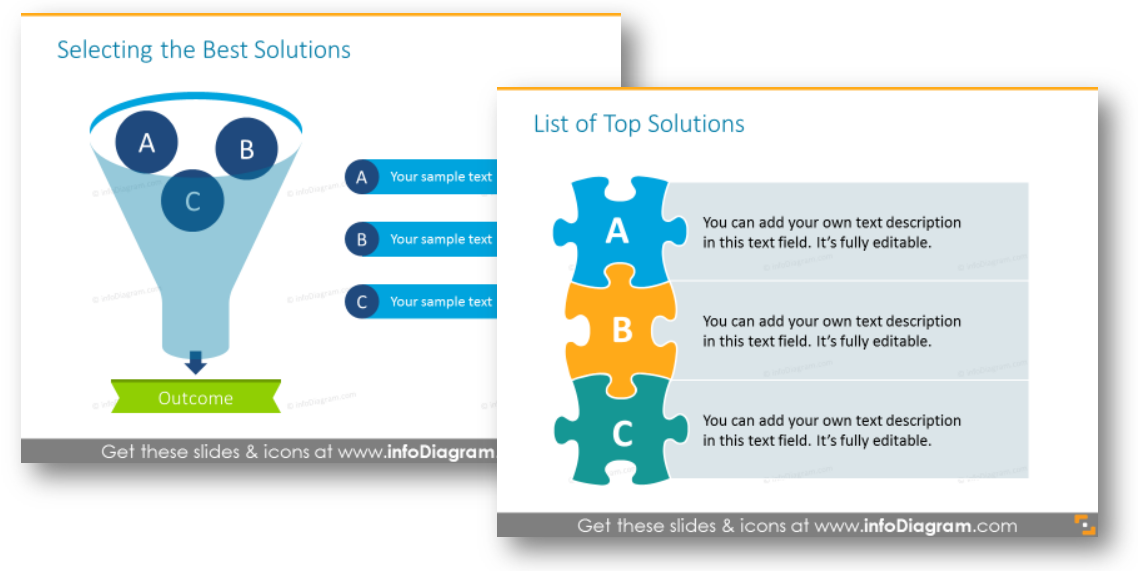 The section includes a brainstorming slide template with a place to put ideas, problems, and solutions template list, an evaluation table, which you can illustrate with icons, best results, and top outcomes slides.
6. Present an Implementation Plan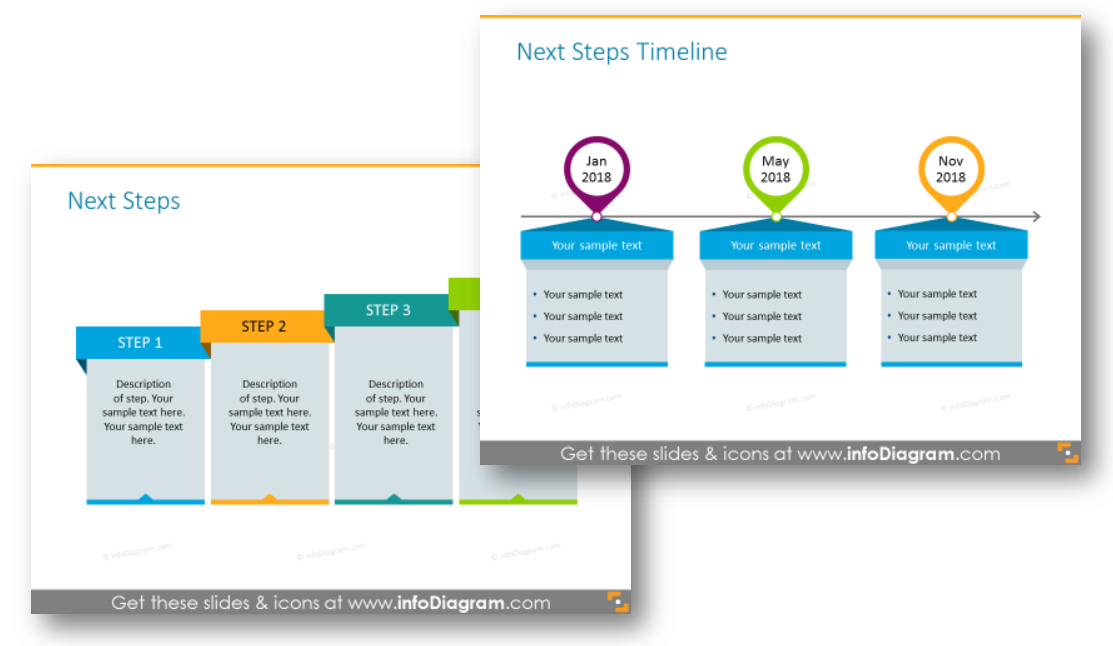 When a major challenge is defined and the best possible solutions are found, it's time to implement them. However, the golden rule of project managers is setting SMART goals – your team has to be aware of the next steps and more important deadlines. When there are no deadlines, there is no real work.
You can check other ways to create a timeline here.
7. Don't Forget Meeting Summary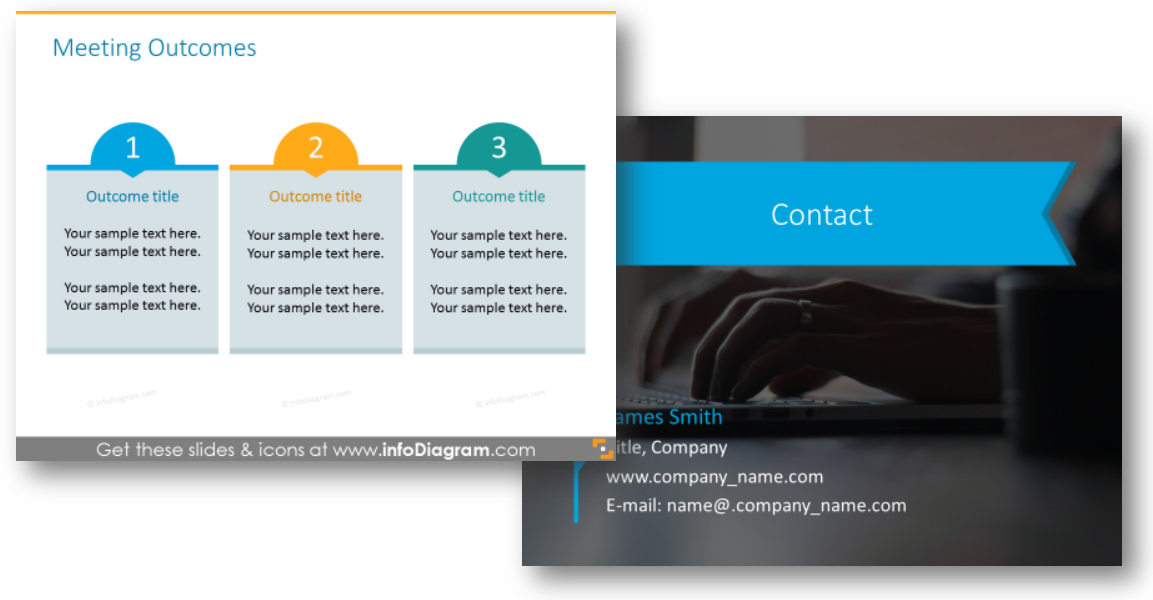 Make a strong conclusion of the main outcomes, which will help the team members to remember the meeting results. Optionally you can add a contact information slide or some motivational call to action.
Vivid colors do not suit your style? See Monochrome Version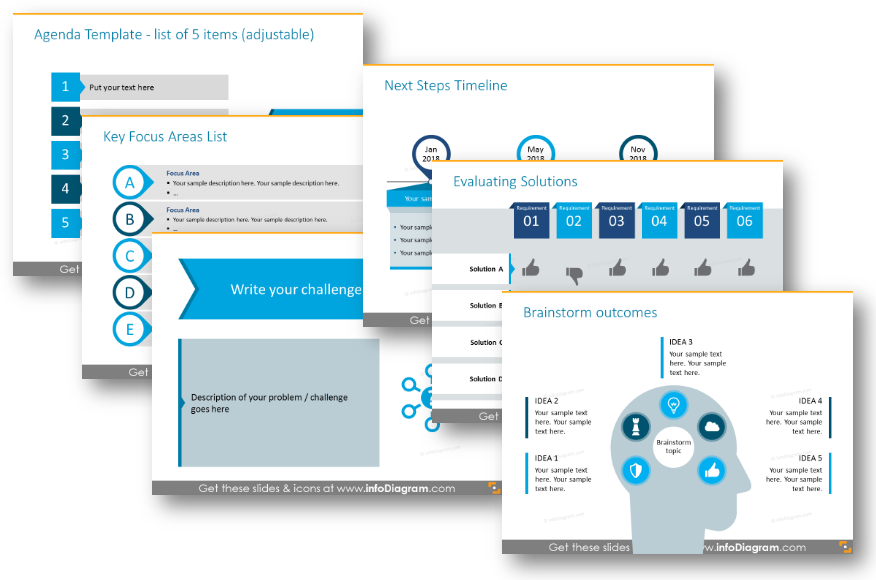 If you want to use less colorful slides, with only 1-2 colors, the meeting template is available also in such a version. You can easily adapt it to the brand colors if blue is not your color.
Why use this meeting template:
Transform your usual meetings into effective ones by visualizing goals, problems, key focus areas, and solutions
Keep track of your business meetings with an easily editable ppt template
Show meeting structure and flow, outline what topics will be discussed and in what order
Create lists, agendas, timelines, and outcome diagrams. Brainstorm, evaluate, and find solutions together with your team
Focus listeners' attention by pointing to the key problems and attach attention to finding the best solutions
Make slides minutes before the meeting – template doesn't require putting huge effort and time
Use only PowerPoint and your creativity 🙂 Alter the business meeting template as you want, everything depends on the meeting's purpose and the needs of your business team.
The problem-solving meetings template includes editable PPT graphics:
22 slide layouts (meeting agenda, challenge definition, brainstorming section, meeting outcomes)
2 color versions – vivid colors and a decent monochromatic version
14 icons on meeting management: agenda, challenge, idea evaluation, strategy, plan
To get our Problem Solving Meeting Template presented above:
Do you miss any important parts of this problem-solving meetings presentation? Please, let me know in the comments.