Whether your presentation is about global economies, worldwide logistics, new product delivery points around the world – vector maps are the visuals tools you'll need.
This is a preview of World Maps PPT Template – over 200 editable PowerPoint maps of continents and countries. Click on the pictures below to see the source graphics.
We designed this slide deck so you can speed up a preparation of various geographical based presentations. Hope you will like it. Feedback is welcomed – just leave a comment below.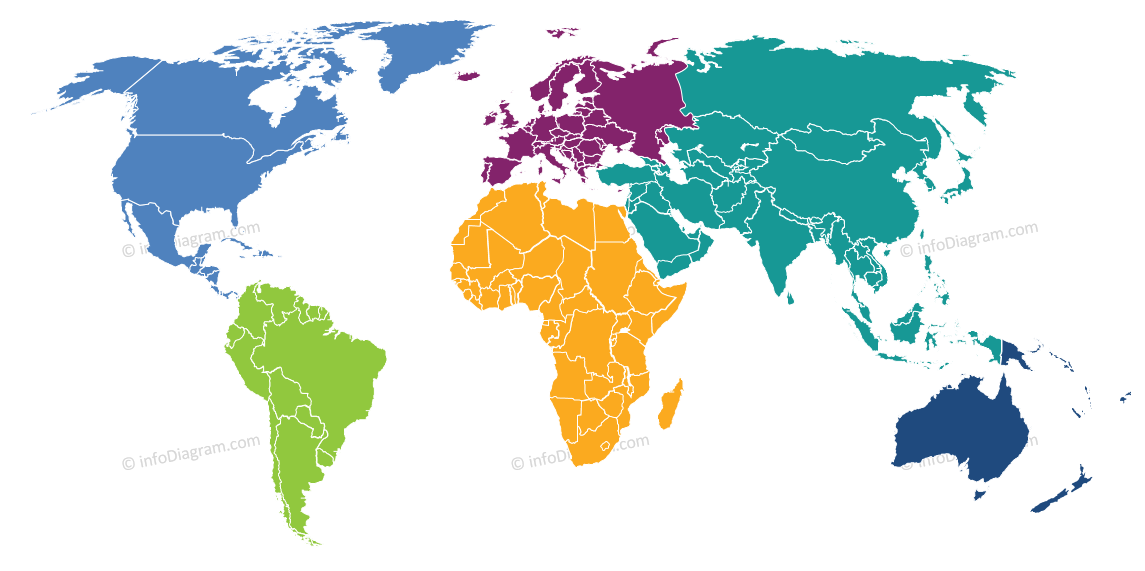 4 ideas to use the world map presentation template
Illustrating key geo and macroeconomic statistics
Showing statistics in old 'tables or bullet points' way is not the best path to surprise your listeners. They can overlook important information you want to tell them. Our tip is to use more vivid infographics on a slide to get attention. Adding a few simple shapes and symbols with maps aside will do. Here's an example of how such region statistics can look like: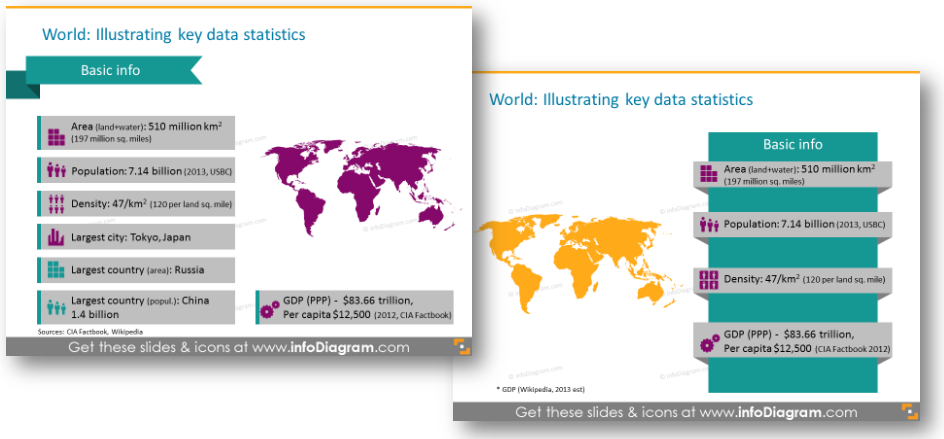 Or if you have to show key data about specific countries, you can add its flat and show it on the world map: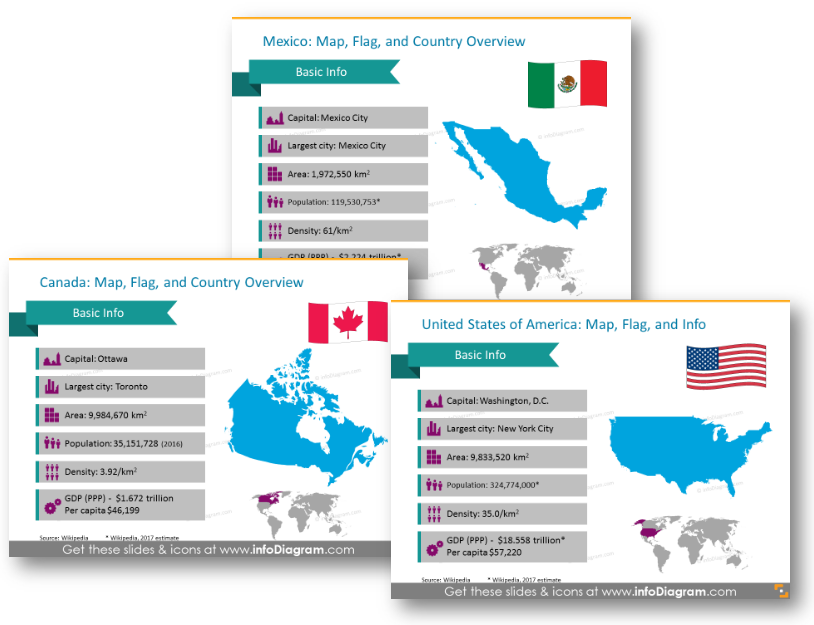 The unique way to point to particular countries
The slides, shown below, are good if you are about to show your company's main partners or new export points. You can apply an overall world map and illustrate those countries with flags and link them to the world with hand-drawn arrows.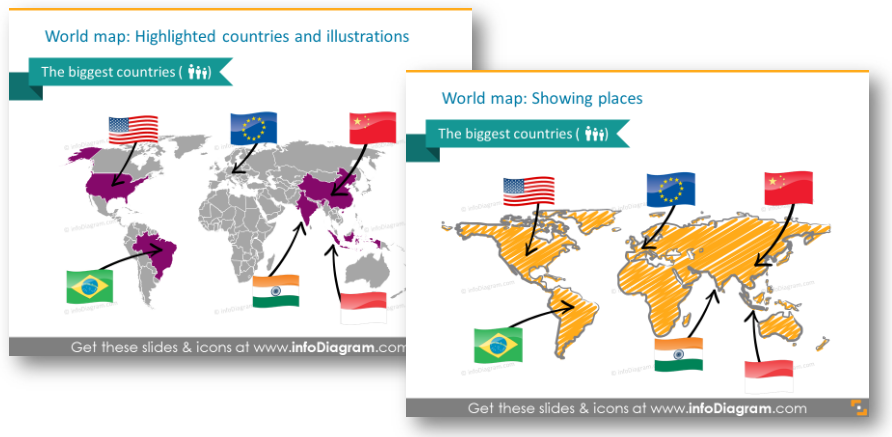 Presenting transport routes
Working in the logistics department? We prepared several atypical examples of how you can show transportation paths from one point to another. Adding visual symbols like pins and transport icons will add uniqueness to your slides.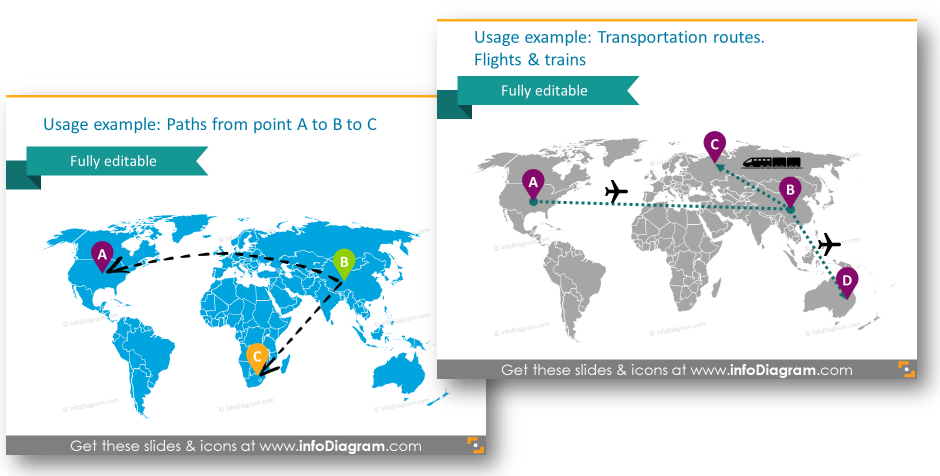 Showing specific regions within one continent or country
Having a vector map with separate territories, you can use highlight parts and regions you need by changing its color – the same way you change the color of standard PowerPoint shapes.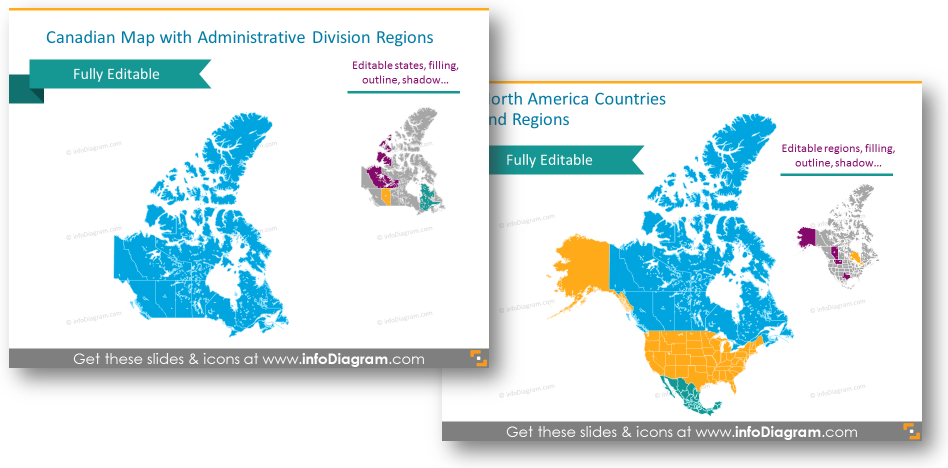 What's inside the World Maps collection?
This slide deck contains:
editable world maps in different styles: on light and dark background, creative and flat ones
continent maps with separable countries: North and South Americas, Europe, Asia, Australia and Oceania, Africa.
infographics templates to show important geographical data
icons for showing localization and logistics on maps with symbols for illustrating main demographics and economic data (population, major city, GDP …)
examples of PowerPoint maps visualization:

Location pins and time zone indication
Routes from various points in the globe, also as handwritten arrows over the map
Transportation flights and train routes between world countries
All pre-designed slides are fully editable and available in two styles: simple flat and creative hand drawn. See the editable world map presentation template here:
Further Inspiration:
Summertime can be pretty slow and lazy, but it is a good period to clean up slides, and documents, and update presentation resources. Don't waste this opportunity and check our ideas for materials tidy-up here. 
Our summer articles for grabbing new ideas: