Are you seeking for a way to make your IT technical slides look creative? Try to use atypical graphical elements like scribbled IT devices inside the diagrams.
This post is an overview of scribble-style network devices clipart icons, that can easily be added to various office documents, including PowerPoint slides, Word documents, web pages, or infographics.
>> All pictures below can be found in IT Devices Scribbled PPT set (see details by clicking the pictures)
Use to express creativity and personal touch
Using this atypical graphics style for standard technical topics can be surprising. And that's the purpose, to break the monotonous look of the presentation. The effect you can get are:
the presentation will differ from all the others. It will stand out and hence people will remember it better.
the content will look more human, and closer to people. Similar to the sketched notes look more appealing than printed text.
hand-drawn style expresses and encourages a creative approach to the presented topic
you will present a personal touch to your presentation.
Using icons with such a handwritten style on the slides will help you to catch and keep the attention of your audience on the points you want, especially if you have to present a large amount of data or complex diagrams.
Where to apply the scribble IT and network devices images?
You can use the scribble symbols on the diagrams and flowcharts, as an illustration of specific points. Altering the filling color can convey further information (red and yellow for alerts and warnings, green for positive messages, and blue or grey for neutral message, for example).
Here are examples of flow and central diagrams: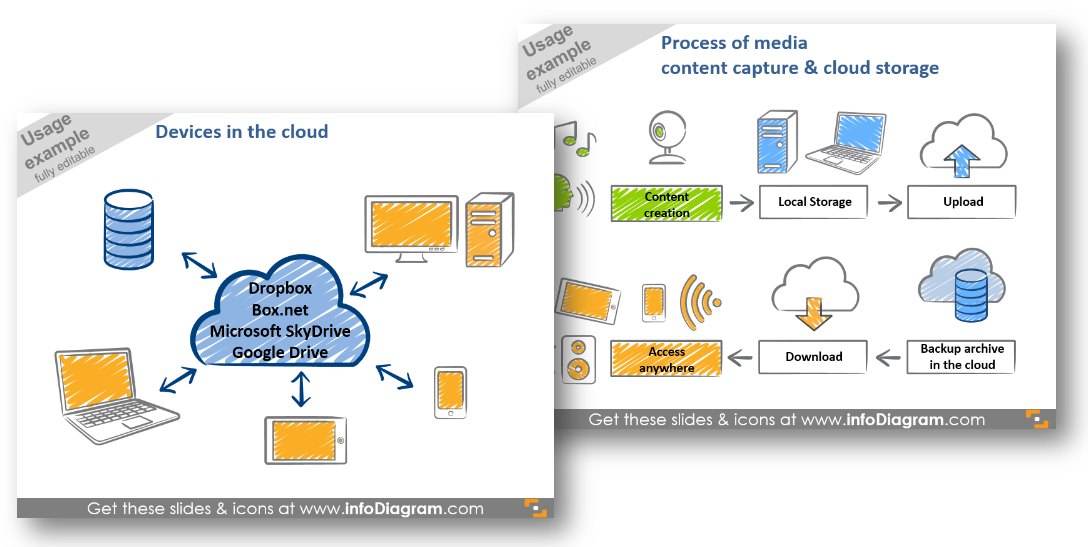 That's how easily you can get rid of bullet points and text boxes. If you illustrate diagrams with pictograms, it will look more professional.
In the picture below you can see two more charts: a flow diagram and an example of a multi-device application, shown on different displays: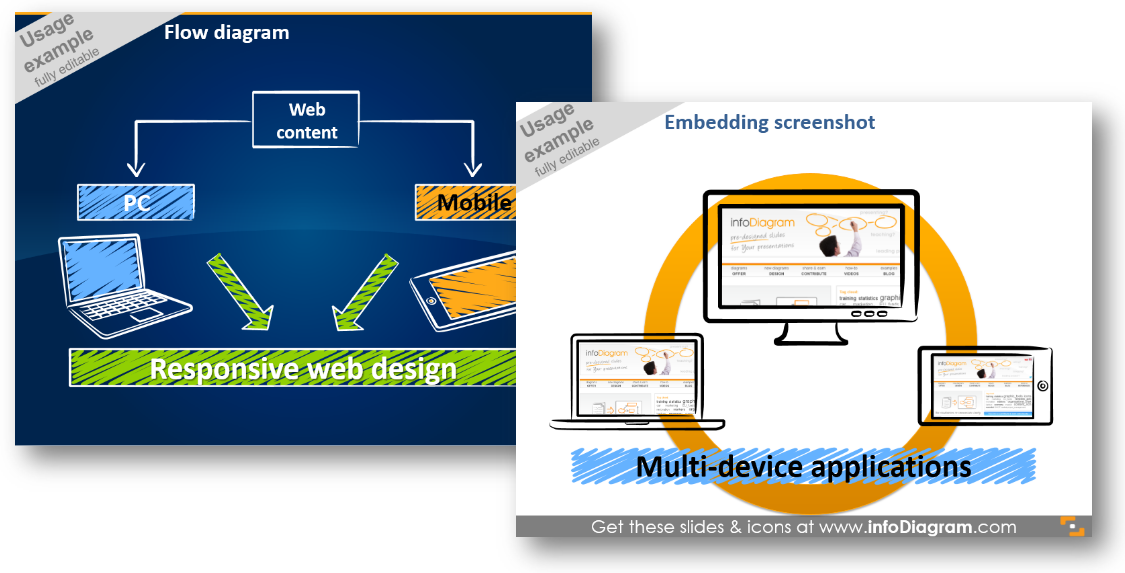 Besides adding the icons to PowerPoint slides, you can use them also in other documents – eBooks, Excel sheets, also Keynote, Prezi, and other tools. For MS Office apps a simple copy & paste of the data chart or symbols will work. For other tools (Canva, Prezi..) saving icons as image and adding them as a picture will do the work, too.
What's inside the IT and network devices scribble icon set?
The collection contains various graphical elements for PowerPoint – scribbled tablet, smartphone, computer, and network devices for diagrams. You can choose colors to correspond with your brand or the color scheme and layout of your presentation.
The icon collection consists of:
All icons and chart examples above are from our infoDiagram PowerPoint Diagrams collection. It contains IT devices and cloud icons, which can be easily edited and added to other presentations.
If you like the scribble style, see the bigger complete All Scribble Symbols Bundle, with over 250 handwritten hand-drawn symbols and shapes.