Halloweeeeeen is coming 💀 The holiday's origins are coming back in the United States, but it is popular worldwide. There are a lot of children and adults dressing up and collecting candy. For those who like such an atmosphere and want to have some fun, we have prepared a new set of Halloween graphics.
Even if you don't like dressing up and scaring people, there are still a few things you can do with Halloween. What can you do with these icons, as they are already downloaded?
Below you can find the effect of subtle animations of such icons in the presentation of the marketing events calendar at the end of the year:
You can download all the presented slides from the Halloween Icons PPT collection.
Besides the obvious question that you can make a presentation for a Halloween party, I have three more ideas for you on how to use it.
#1: Greetings card
You can prepare your own card and email it to your friends. You can use the background created by us or some of your photos, where you will place icons, add the pre-designed sign "Happy Halloween" and save it as a JPG file. Quite simple :).
You can change the color of your icons and scale them without any loss of quality, just like regular PowerPoint shapes.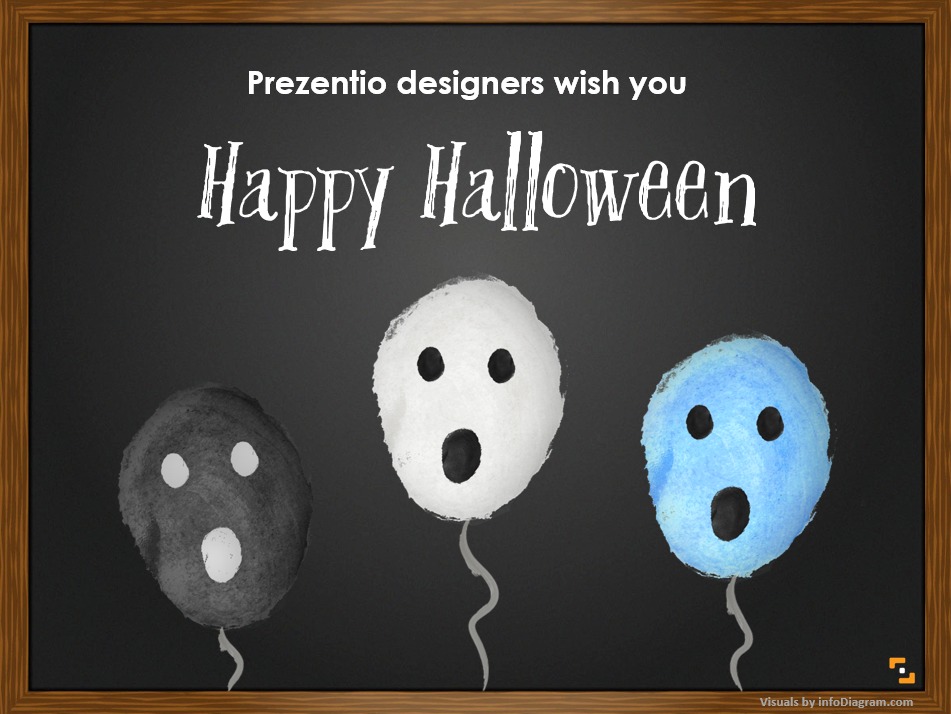 #2: Photo on social profile
You do not want to send an e-mail with a card, but you're willing to have some cool Halloween accent on your profile pic on social networks? Here you are. Insert your photo, put a hat on it, or a spiderweb somewhere in the corner, and save the slide as a JPG file. You can now change your profile photo, e.g. on Facebook 🙂
#3: Make your blog or website more attractive
Perhaps you have your own blog or website that you want to revive and add some atmosphere? You can add Halloween icons. Just save the icons as a PNG file (with transparency) and use them freely.
How to export pictures from PowerPoint to JPG and PNG
Having trouble saving a photo or exporting an icon? Keep reading.
If you want to export a card to a JPG file, click Save As (or F12) and select JPG Format in the Save as type box. Name and click Save. A box asking if you want to save each slide or just the current one will appear. Select the current slide and you're done.
To export a single icon to a transparent PNG file just right-click it and select Save As Image. You will see a window as you would normally save, where you can select a PNG file format.
Halloween PowerPoint graphics and icons to download
I invite you to download our handy seasonal PPT graphics from the infoDiagram website:
You can see what is included in the package:
We wish you successful and scary Halloween graphics 👻🕷
Izabela – creative presentations designer
Anastasia – visualizations fan