One of the biggest presentation challenges is to convey our thoughts in the right and attractive visuals. Do you have trouble showing employee needs and values in an engaging way?  This blog is an ideal place to discover ideas to illustrate HR or training ppt. Or to find general inspiration.
If your task is to create a presentation or a slide for a such a topic, we designed a solution 🙂
The trick is to use an accurate symbol for every concept you want to share with your audience. Take a look at the first usage example of a hierarchy of employee needs – the classical Maslow pyramid.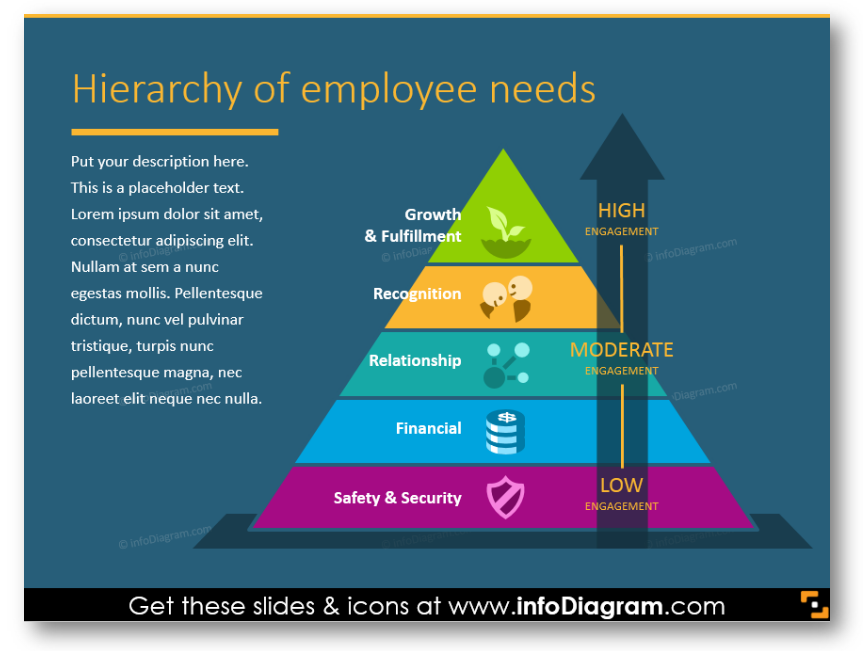 The first thing that strikes the eye is that every level is colored differently. Next thing you notice – is clear icons that illustrate words near them (the words are the last factor that people usually notice while looking at such slide). And finally, the semi-transparent arrow goes up, which shows the level of employee engagement.
Note: Presented graphics are available in the Needs and Business Values PPT icon set. See details by clicking the pictures.
With such a wide icon range – from personal needs to business values – you can create any chart or diagram you need. And our second example is employee engagement factors, presented in a circle: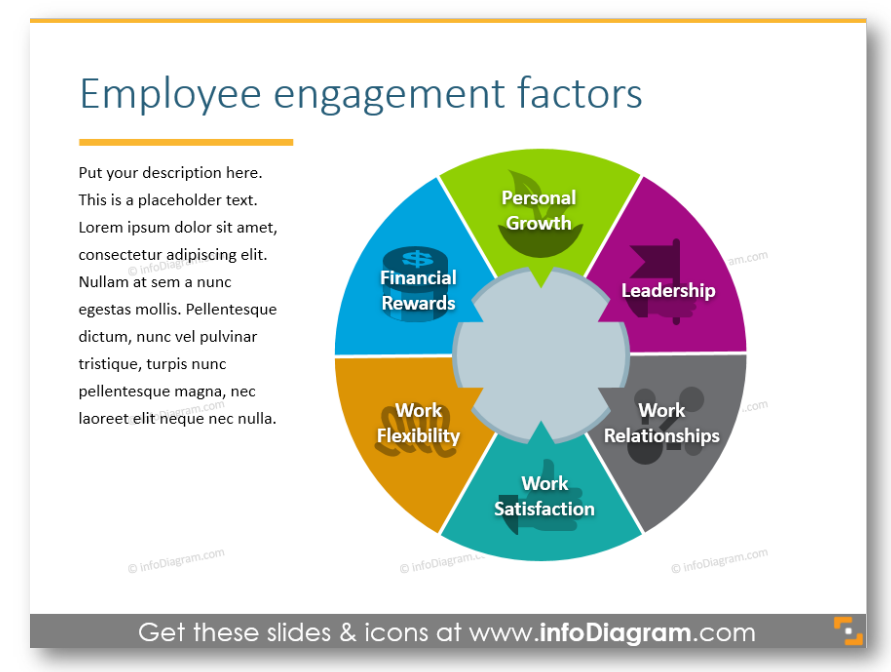 You can see that each element is represented by a particular symbol: financial rewards – by a pile of coins, personal growth – by a growing plant, leadership – by a hand holding a flag, work relationships – by spheres, connected with each other, work satisfaction – classical thumbs up symbol, flexibility – bending spring.
The next diagram you can recall from any HR meeting, business conference, or company presentation: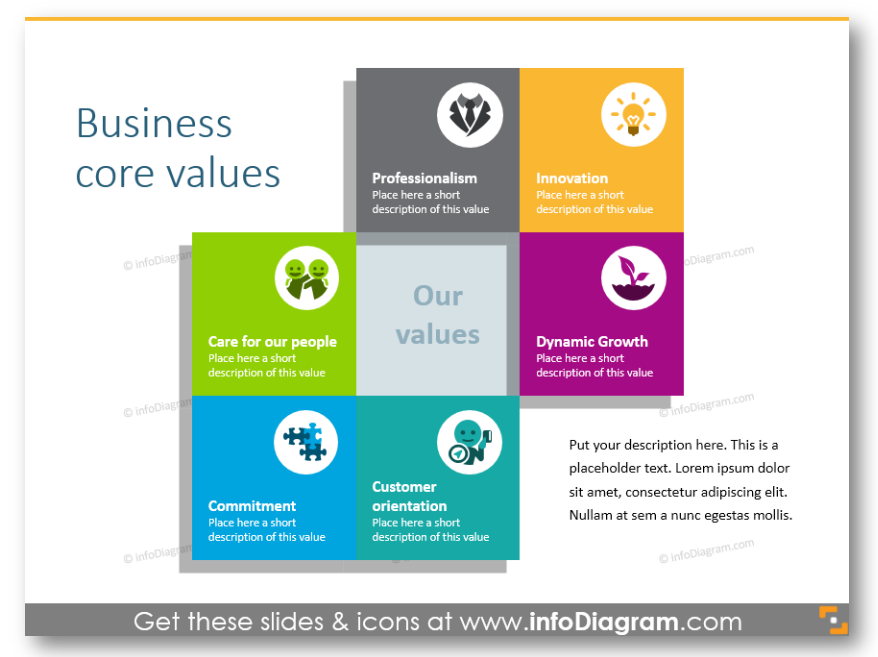 With simple shapes and icons, you can illustrate all company values and present its culture.
Source of Needs and Business Values Graphics
If you like the graphics, all slides are available for download in the editable form on our infoDiagram webpage. You can find there those slide templates and 30+ symbols.
Click to check the details below:
Needs and Business Values Icons Set
We designed this PowerPoint diagrams collection covering topics such as:
Hierarchy of employee needs diagram
Circle of employee engagement factors: personal growth, financial rewards, leadership, work satisfaction and relationships, flexibility
Business core values, presented in the intersected square diagram
Needs types: personal such as satisfaction, support, sincerity, and dutifulness, interpersonal e.g. connections, partnership, respect, and work-related – openness, flexibility, friendly atmosphere, or justice.
Business values illustrations of entrepreneurship, professionalism, business ethics, innovation
Here's a brief guide on how to design an engaging slide step by step: