Creating eye-catching and clear visuals to accompany and represent numerical information can be a hell of the challenge. Especially if you're under time pressure. In fact, data visualization is one of the most challenging parts of creating presentations.
Use these four simple steps to quickly improve your next data-driven talk.
Applying those suggestions will show your audience you know your topic and they are able to understand it, as well.
1.  Use color to focus on what the most important message is
If you're including data, it is generally to prove a certain point or convey one piece of information.
Design tip: Focus on what the main key or point is, and highlight the key data in a contrasting color to make it stand out.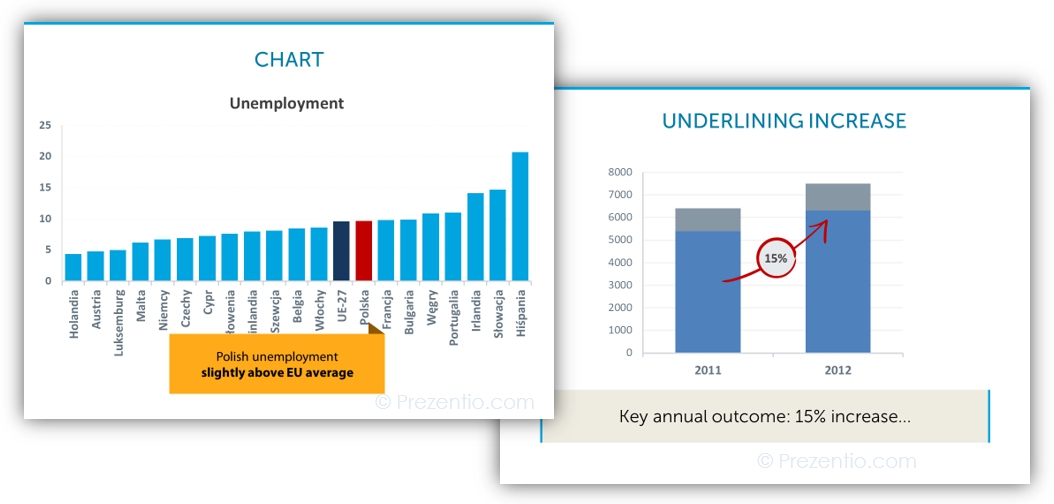 2. Add fly out graphics to highlight key data
If you'd present the paper copy, I bet you'd use a marker pen and circle the main point. You can create the similar effect also on a slide. I suggest two ways:
Use a standard circle shape with a color outline and transparent fill.
Add sketch-like markers like our hand-drawn arrows to accentuate the most important part of the data you're trying to show.
Another data design trick: You can really make it pop by also changing the unimportant information in the table to a dull, neutral background color like gray. (Really, any bland color available in the template color palette would be a good choice.).

This way such you can quickly turn your chart coloring to solid, plain colors from your template and removing unnecessary axes. The result will be more readable chart or table than a default one.
3. Make your charts more powerful by using icons
In addition to the basic steps for improving the impact of your chart, you can make them look special by adding proper icons illustrating your chart items.
Data categories can easily be represented by intuitive graphics to create a visual association that is faster to process by our brain. Such data visualization will better serve your audience.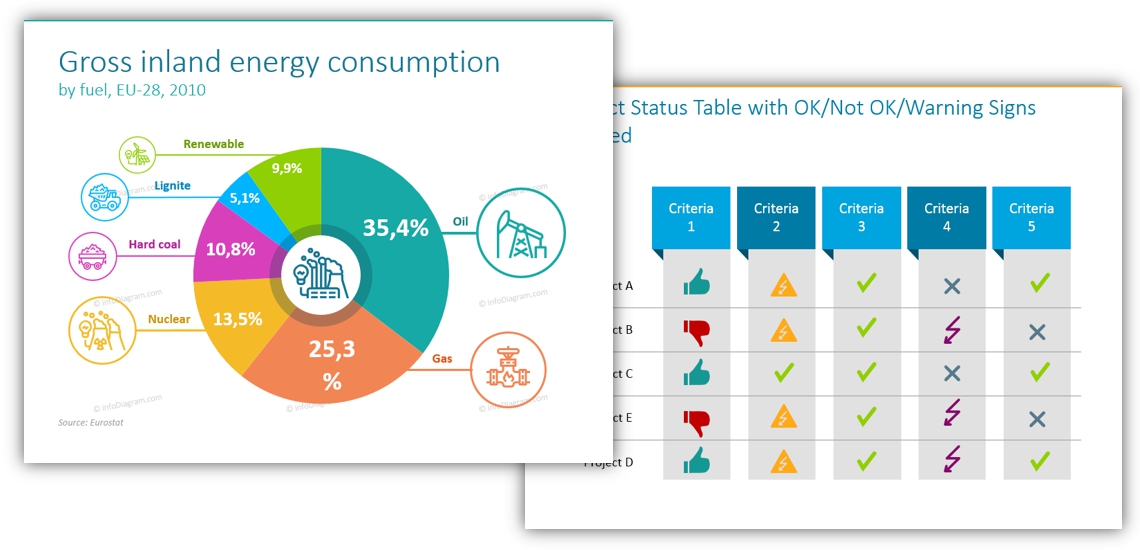 Where to find icons you can use for data illustration?
Firstly check if your company doesn't have an internal symbols collection you can you're your marketing department can have such pictures collection in your company presentation template.
Depending on the topic of your data presentation, check those PowerPoint icons sets we have designed.
Those are paid options, but you'll get rights for commercial use, no attribution needed.
Googling for a specific icon is another option, however, be aware of copyrights. Finding picture found on Internet doesn't give you the right to use it in your slides. Only if you find pictures with an open license (see for proper Creative Commons license), but you still can be asked to add author attribution for each picture.
4. Showing numbers and KPIs in creative ways
It's not enough to simply have the information presented. Make the details stand out by presenting the information using simple infographic shapes. The graphics serve as placeholders for the numbers and details they might otherwise pass by. Highlight the crucial details!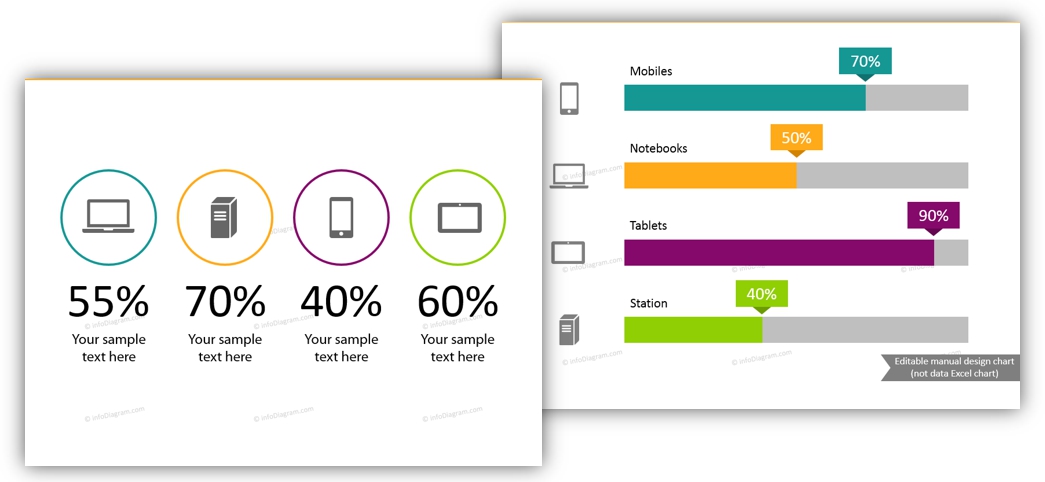 Don't lose the impact of your data slides
By using these four tips you'll not only have more engaging presentations, but your information will be easier to understand and interpret. Impress your audience as you educate during your next presentation!
For delivering data presentation, you should check videos of Hans Rosling – an amazing Swedish professor who was a master in presenting data in an amazing way. Check definitely his TED talks or BBC presentation.
If you get stuck at any point, share your data viz problem in the comments. I would be happy to provide suggestions and ideas to make your next concepts pop with intuitive illustrations.
Peter