Presenting a set of steps or a sequential process? Need to explain a product launch, or want to create a creative, unique visual for timelines and flow charts? Visual conveyor belt metaphors are great for helping to explain multi-stage or multi-phase processes. Such linear flows and procedures – they can all easily be explained with creative imagery.
Conveyor belts illustration with and personalized icons custom color schemes can represent processes with numerous stages and phases. They serve as an alternative to boring timeline graphics or text bullet points describing a procedure.
It is important to be thorough, but to keep your presentation simple and easy to follow. Check out the Conveyor Belt PPT Template we designed to help you create attractive presentations.
Explain your new product or service launch with assembly line illustration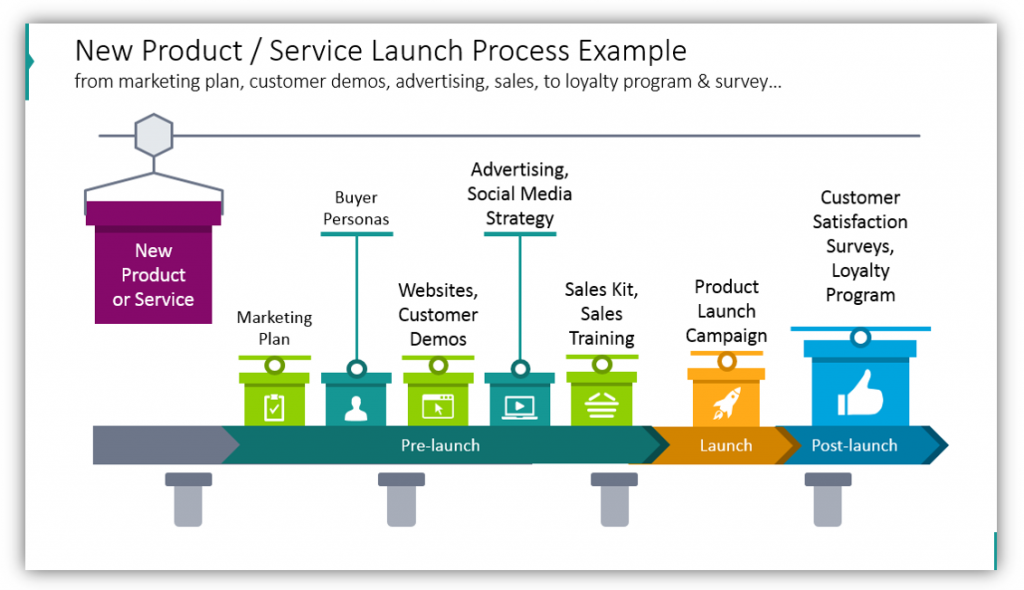 Each box on the conveyor belt can be customized to represent each step of the process. You can start with the concept of the new product, discuss the marketing plan, buyer personas, describe your advertising strategies and more – all using one slide set.
Share the winning parts of your process as elements on a production line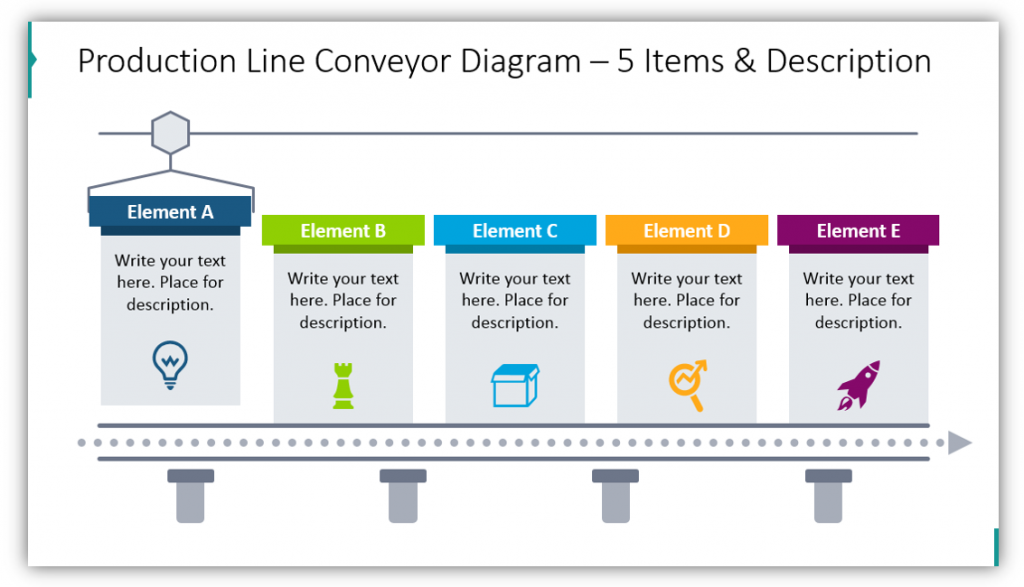 Use conveyor belt graphics to explain the winning elements of your process. What makes your products and services special? Break down each element as different items on a conveyor belt to let your audience know.
Present longer timelines creatively with curved conveyor belt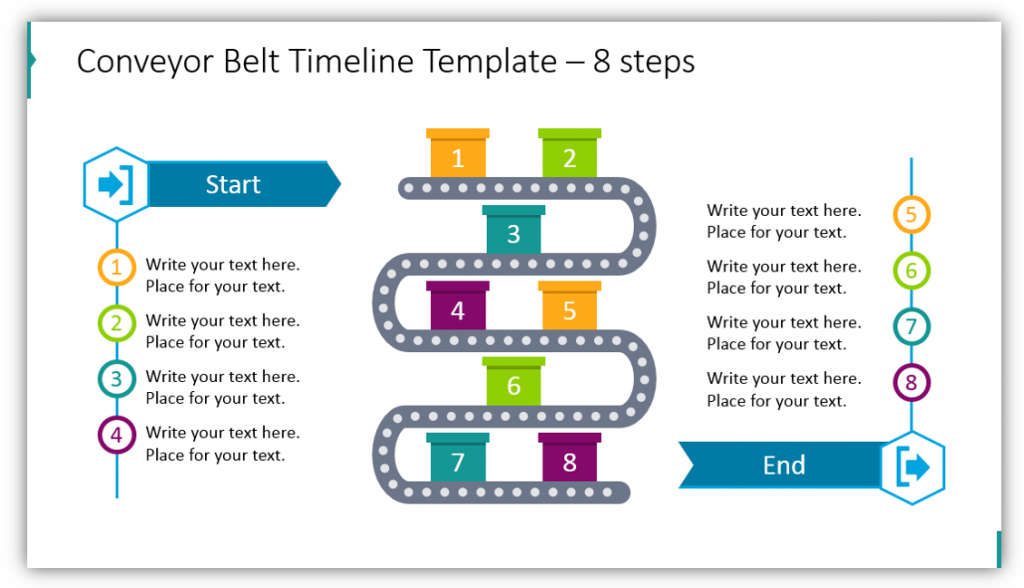 If you want to present a process with more than 5-6 elements, you can use a curved conveyor belt that offers a place for more items. Break down your process from start to finish. The text areas will give you ample space to describe each step of the process.
Share your production steps and final product launch in a mechanical assembly line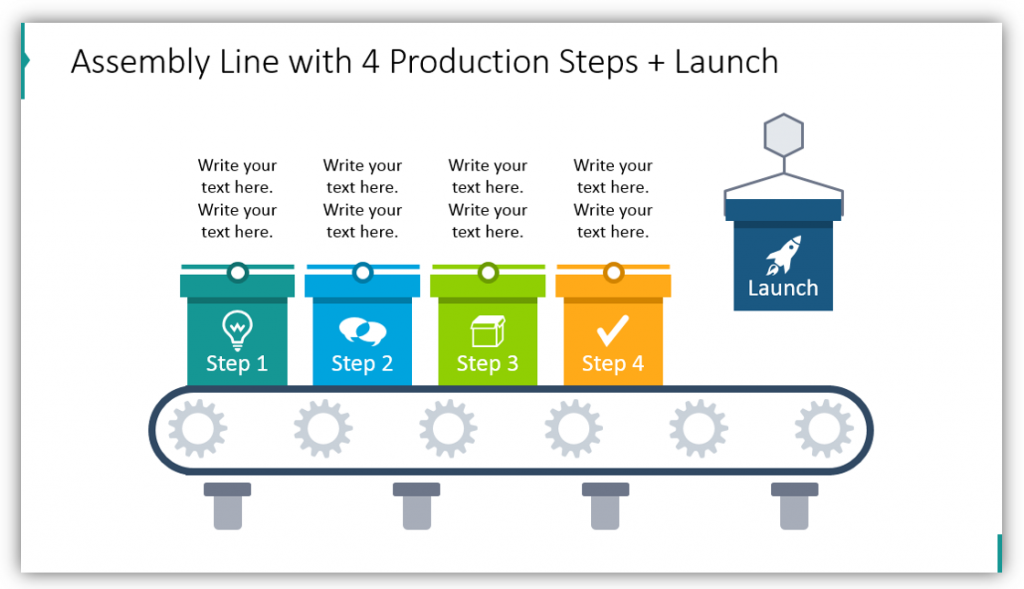 Use an assembly line graphic to represent the steps in your business process. It might be a literal assembly line process if you manufacture physical products. You might also use the diagrams to explain abstract processes like a solution launch or product development cycle.
Use from and towards slide template layout to show development direction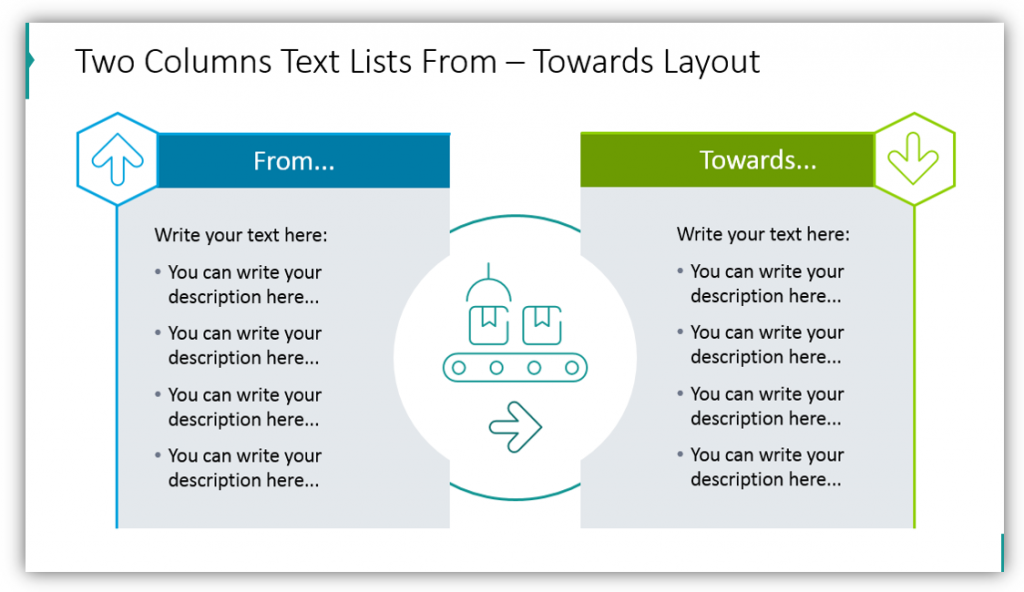 Slide layout with columns representing two states – From and towards is a creative alternative to show before and after the situation. The columns have enough space for adding longer text details which will help provide substance to your presentation. This is a more eye-catching way to present a list than a typical text slide. Icon of the assembly line in the middle creates a visual connection and represents a process needed to reach the desired end status.
Conveyor belt graphics are appropriate visual metaphors for a myriad of business purposes. They will allow you to create beautiful slides that are easy to understand.
Resource: Conveyor Belt Production Line Graphics
We designed the Conveyor Belt Production Line graphics set to make it easier to shift away from plain text slides. Click here to see the full slides set:
Conveyor Belt Production Line PPT Graphics
We wanted to make it easier for you to articulate your plans and processes clearly, and in a simple way.