The next steps and follow-up concept frequently appears over various types of presentations, for example, business update meetings with your team or project planning gathering. In this blog, you can find visual metaphors expressing ideas of illustrating the next step concept, which you can add to slides and make them look attractive.
After planning a project what will be your next step? Signing a contract, getting an interview appointment or gathering a team, perhaps. Each properly facilitated meeting should be finished with a follow-up part, sharing responsibilities, setting next actions. 
Let's illustrate this important part of the presentation by some catchy visual symbols we have designed.
Design-neutral flat next steps, follow-up icons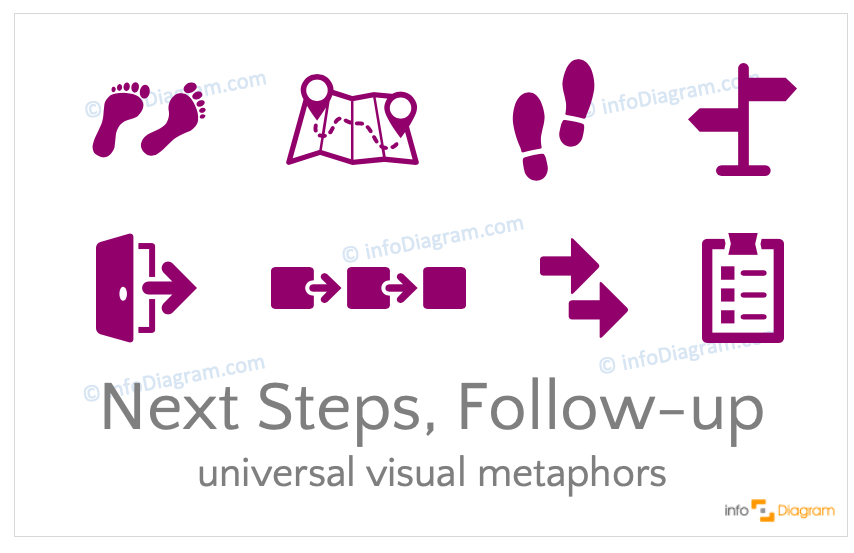 Those are icons designed with simplicity in mind. Such symbols can add an impact to your topic without distracting from the clarity of your message. Below are some flat icon suggestions you can use:
Creative unique hand-drawn next steps, follow-up concept icons collection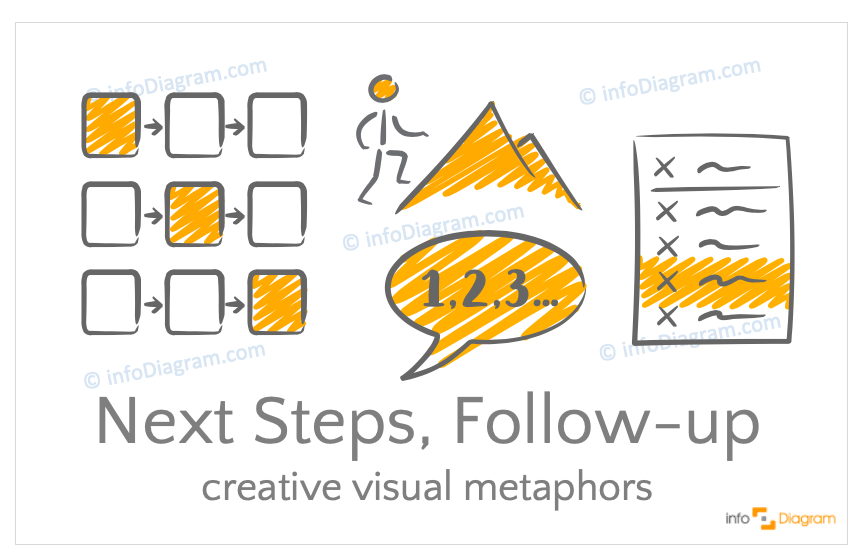 Next, to the style of neutral icons, you can consider hand-drawn scribble symbols and handcrafted Sketchnoting icons. Those are sketch-inspired graphical symbols that are perfect for adding a creative look to your visual metaphors. Using a smooth scribble style you can add a consistent look without sacrificing playfulness and will add a personal touch. Symbols you can use include:
the male figure climbing up interpreting the following-up actions on the way of  achieving a goal 
flow chart boxes series of developing progress ( next step action) towards the deadlines 
Modern elegant outline symbols for presenting next step, follow-up concept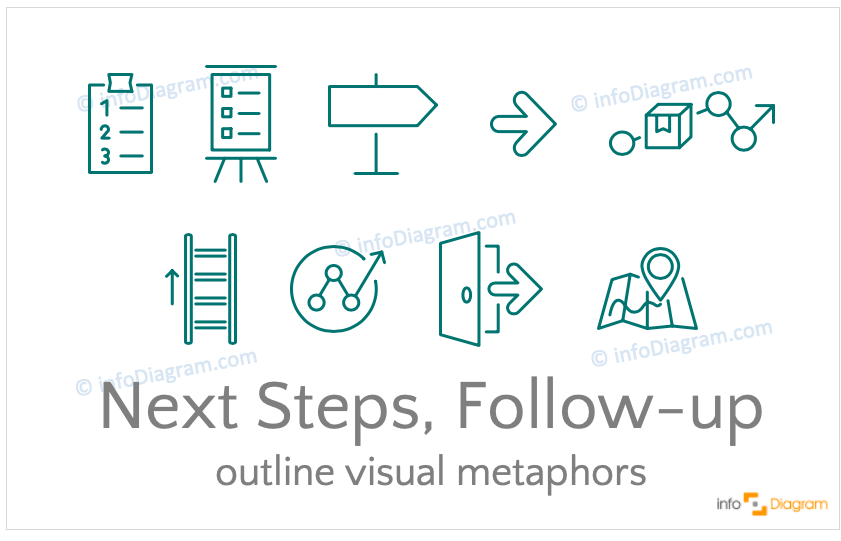 Above we suggest some variants of outline symbols, which you can easily apply to any kind of presentation:
We hope these ideas of follow-up symbols will help to make your presentation more engaging and meetings effective. 
More concept icons ideas
Need to show another concept in a presentation? Leadership, Urgency, Status, Growth you name it. Check our ultimate Concept Visualization List blog post to get inspired and balance the informative part of your presentations.