Do you need to give a Network Topology presentation? Information Technology (IT) presentations need to accomplish several difficult tasks. Technology topics, like so many others, require visually appealing slides. The presentation needs to be informative, but not overwhelming. If you need to explain technical terms to a less-savvy audience you'll want to be thorough, but you have to avoid overwhelming them. Dense, wordy slides can actually keep viewers from retaining the information they're designed to convey.
What if you down your audience with too much information? What if your charts and tables are too complex and they don't understand what you're trying to say? How can you create beautiful graphics for your presentation most efficiently? If you're like most, your busy schedule won't accommodate time-consuming graphic design work. Plus, creating your own graphics and IT diagrams runs the risk of having visuals which are ineffective or inconsistent.
Is there a solution to these problems? Can IT professionals like you really overcome all of the "what ifs" which stand between them and a successful Network Topology presentation? The secret to success is focusing on your strengths. You know the ins and outs of your network structure and components. Leave the burden of creating consistent, powerful diagrams and icons to professional designers. Get all the benefits – striking graphics, clever visual metaphors, beautiful imagery and modern style but without the hassle. All your audience will notice is the sleek visual component of your presentation. Network Diagram symbols and icons are a simple way to create exceptional, effective presentations.
Information Technology symbols are an easy way to make your next presentation more creative and effective. See the full IT Icons: Mobile and Smart Devices, Computer & Telecom Networks graphic collection for PowerPoint.
Use Simple Computer Network Templates as a Foundation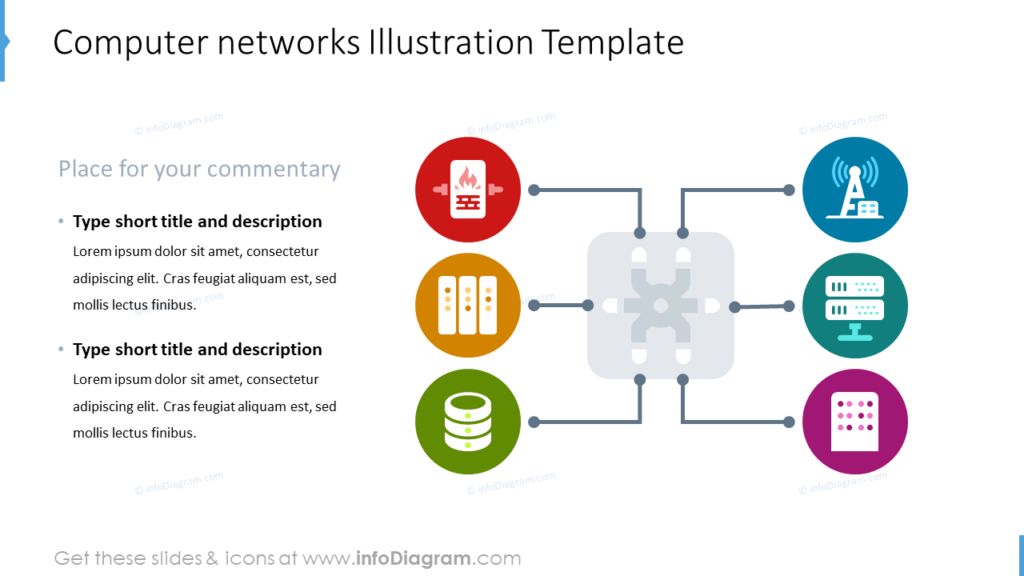 These Network Technology icons are meant to make your life easier. This network illustration template simplifies slide creation. The icons represent the interworking components of your network or networks. When you add your own short title and descriptions, you can be sure necessary supplementary information appears on the slide. If you avoid being too wordy and provide only the necessary text you are less likely to overwhelm or bore your audience.
Use detailed Network Topology icons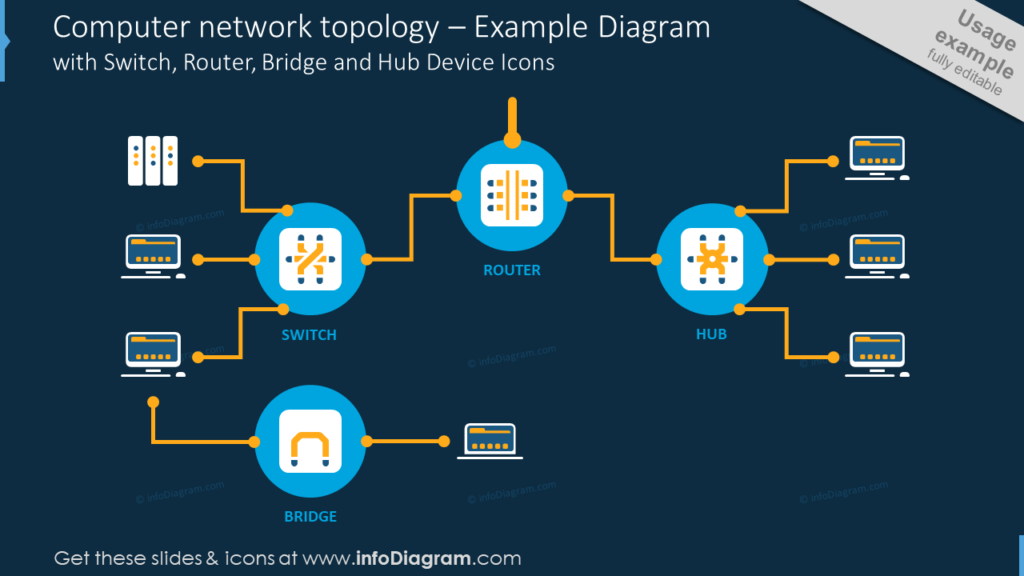 Rather than using a simple template you can build custom slides of your network topology. Build custom slides using network diagram symbols which represent the switch, router, hub icons and others. You can add further detail with ease by incorporating computer network symbols and Cisco icons. You can even add flat icons which represent mobile devices or smart devices. The graphics are so similar in style and structure, it's like using stencils to create art on physical mediums.
Explain the role of Smart Devices and Web Services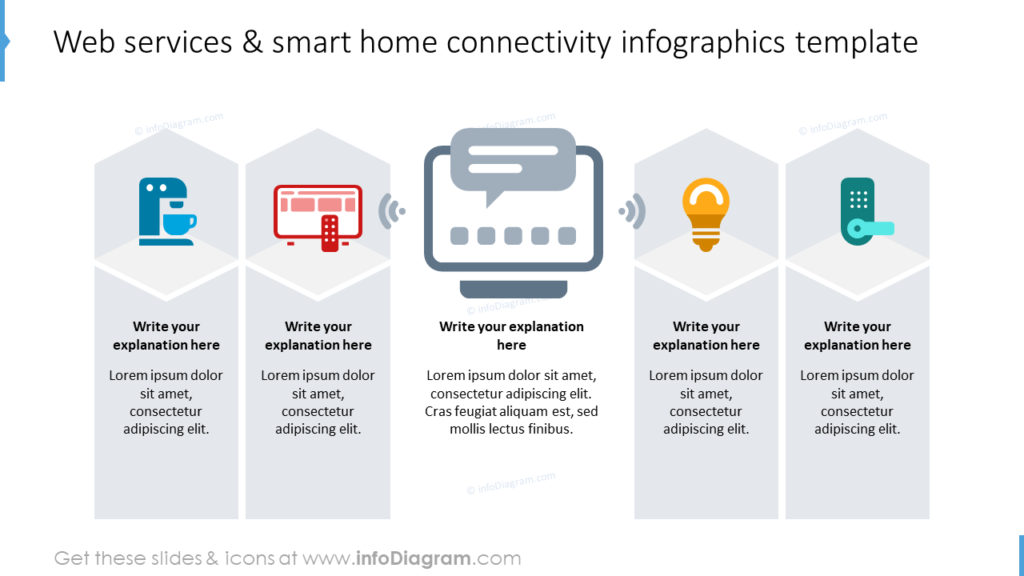 Do web services and smart devices play a role in your network topology? You can give them their own slide, as in the example or include them in other diagrams. With flat icons to represent numerous types of smart devices, you can include whichever ones are relevant to your audience or organization.
When you use visually consistent graphics, icons and diagrams throughout a presentation there are numerous benefits. By utilizing basic design rules involving alignment, white space, and consistency you'll create professional, legible slides. Slides which utilize basic design principles and use computer and telecom icons are sure to make a lasting impression on your audience.
If you need to present on an Information Technology or Information Communication Technology topic, you should check out this expansive presentation slide deck we've created:
No matter what the subject, if your topic involves computer science, networking, or digital technology concepts you're likely to find relevant flat icons and computer network symbols in this set.