Problems, obstacles, or challenges sound for you too abstractly? In this blog, with the help of the challenge concept, you may find lots of creative solutions! Let's switch to the visual language.
Visualizing a challenge concept can be challenging, isn't it? 🙂 If you are struggling to choose appropriate symbols to present it, take a look at our blog where we offer icon ideas in different styles. 
Modern outline symbols for representing challenge concept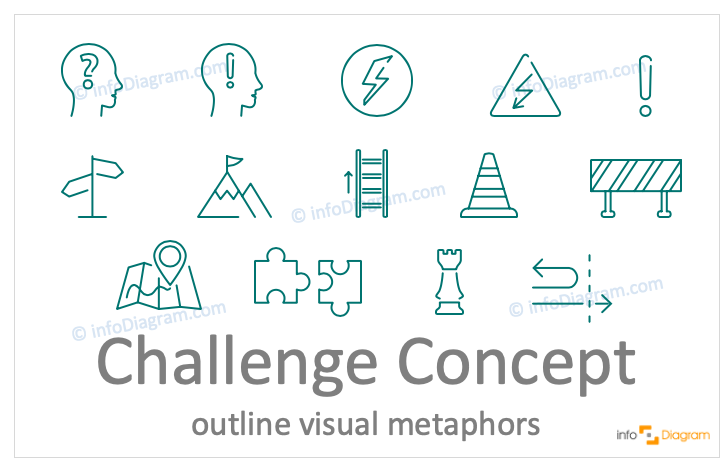 Above are icon examples in a modern outline style, that fits any presentation :
general sign presenting challenge concept: a person with a question mark inside his head describing he or she is striving with some problem
direction sign as a new personal challenge 
evaluation signs showing the challenge status – a sign of exclamation, danger, or warning
transformation challenging process flow symbol
general sign presenting challenge concept: traffic cone
location pin on a map, a symbol of a quest to find a destination, as taking challenge metaphor
chess figure icon as an accepted game challenge
ladder and mountain as a metaphor for taking the challenge and succeed 
Design-neutral flat challenge icons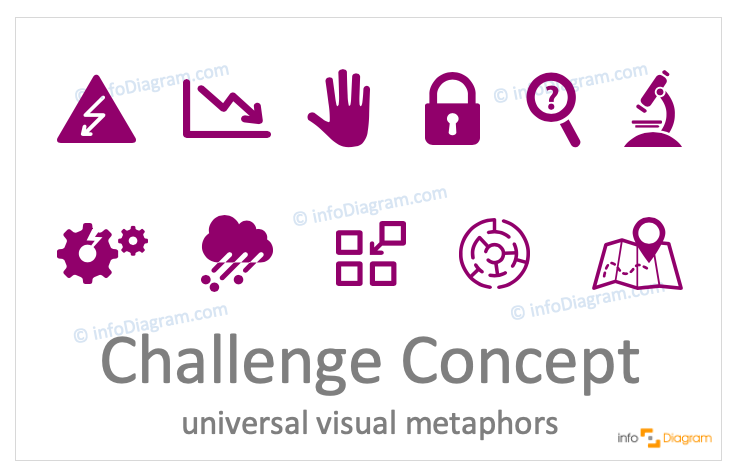 Those are icons designed with simplicity in mind. Such symbols can add an impact to your topic without distracting from the clarity of your message. Below we suggest some are some flat icon suggestions you can use:
sign of a flash – electricity strike shock danger emphasizing the challenging situation
data chart icon representing economic downturn, falling trends 
closed lock 
target geographical pin showing a quest, a challenge-full journey 
a magnifying glass with a question mark as a symbol of uncertain status
severe weather accident – hurricane sign
microscope icon – as a symbol of hard to solve scientific research problems
a maze icon, a labyrinth or a puzzle – a metaphor of business challenges 
malfunction gears pictogram 
Creative unique hand drawn challenge concept icons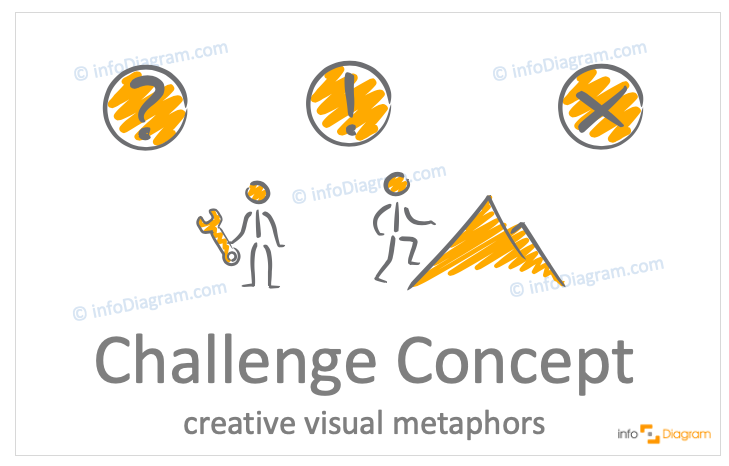 You have to create a more informal presentation or you want to make a strong visual impact? Anyway, with the help of hand-made icons you will definitely show personal touch:
doodled people figures illustrating the challenge status – sign of exclamation, question, and wrong or failure, rejection cross
person climbing the hill  presenting achieving goals as a challenge 
I hope you will find some inspiration from those icon ideas to express the concept of challenge. What's your biggest presentation challenge? Let us know in the comments and we'll be happy to share our quick design advice.
If you like the suggested icons, you can get them from infoDiagram library. The best way to get them is by joining subscription access to PPT graphics here. It will allow you to download these symbols, and graphics from any presentation deck you find on the website.
More concept icons ideas
Need to show another concept in a presentation? Leadership, Urgency, Crisis, Growth you name it. Check our blog Ultimate List of Business Concepts Visualization to get inspired.