If you need to mention the ideas of transparency, understanding, or clear explanation and direction in your presentation, check our graphic examples. We suggest using visual metaphors to show the clarity concept and support your message to the audience. Below you can over 30 ideas of symbols you can use.
A practical advice from a slide designer: if you are going to use more icons in your presentation, remember to keep them graphically consistent. Use one icon style for all slides and limited set of colors – ideally based on your visual identity.
Outline style visual metaphors for a clarity concept presentation
Icons within this graphical line style are a good addition to presentation content if you are looking for delicate illustrations. Such icons will not steal too much attention from your message. They can be easily customized to suit light or dark backgrounds. These graphics are universally appealing for different audiences and types of presentations: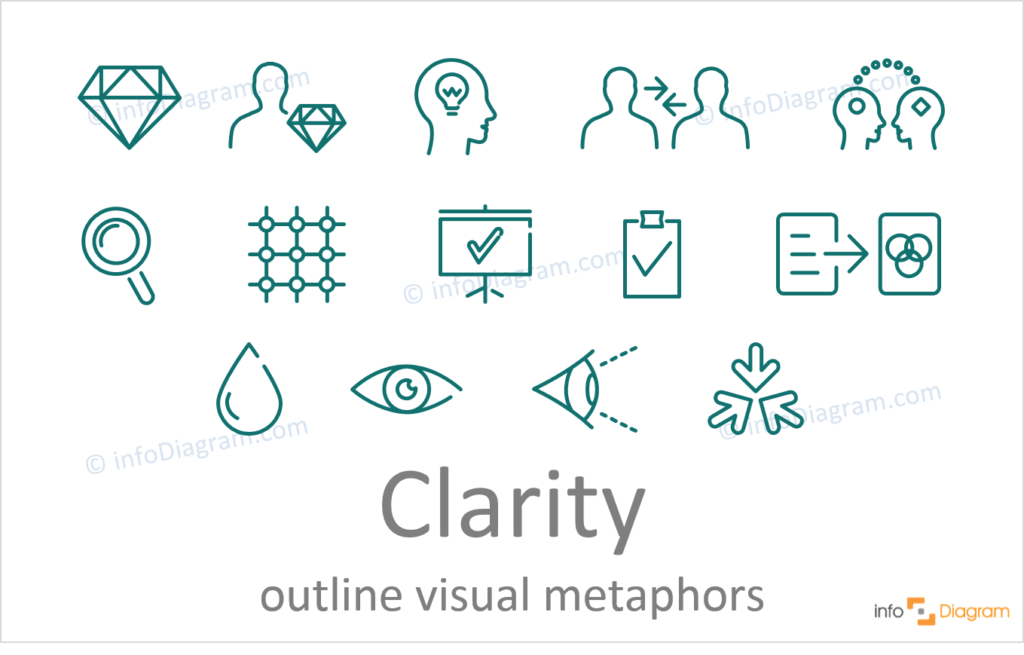 Diamond and a drop of water can represent crystal clear ideas, translucent materials, and transparency
Talk and thought exchange visualize communication and understanding
Charts and matrixes icons for clear structures, order and tidiness
Checklists and boards to show clear explanation, transparent documents
Eye and vision express clear, sharp view, and visual communication
Magnifying glass for in-depth understanding and clarity
You can find all icons mentioned above and many other in a collection of Outline Icons for PowerPoint, which we have designed over the last years.
Ideas for hand-drawn symbols of a clarity concept
If you want to be more unique and express personal touch in your presentation, consider using those scribble pictograms: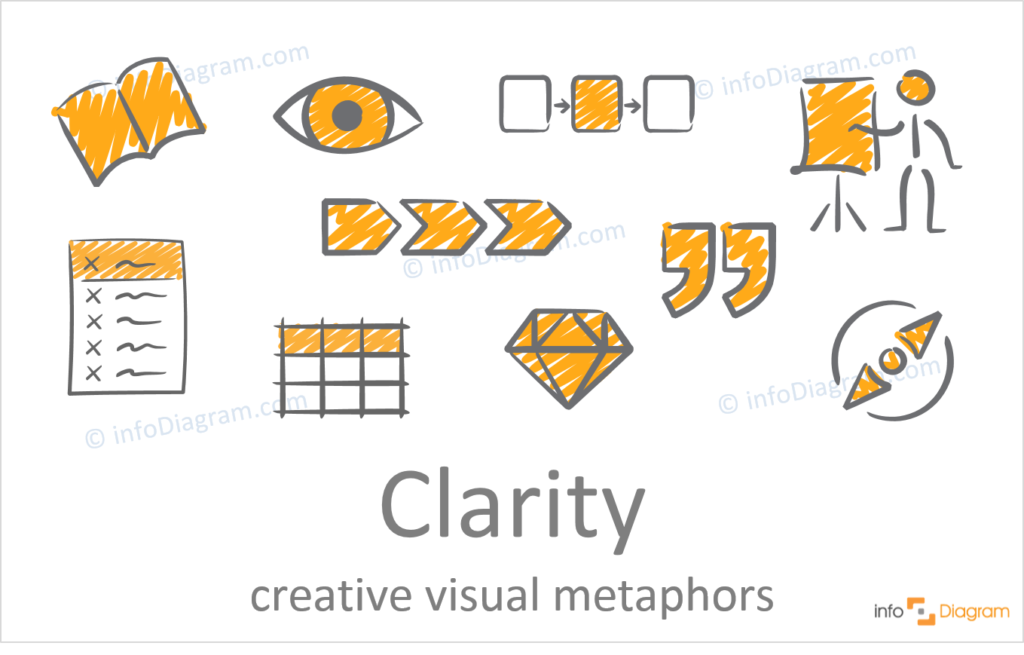 Structures, cycles, tables, spreadsheets for illustrating clear instructions
Person with board for any explanations
Diamond as a symbol of transparency
Compass can be used to show clear direction
Quotation marks expressing exact definition of task or goal
You can find the above visuals in the Scribble PowerPoint Symbols Collection.
Clarity expressed by a simple flat icon
Flat symbols are pretty universal and are recognizable also if their size is small. Here's a bunch of ideas on how to visualize clarity and transparency using such icons: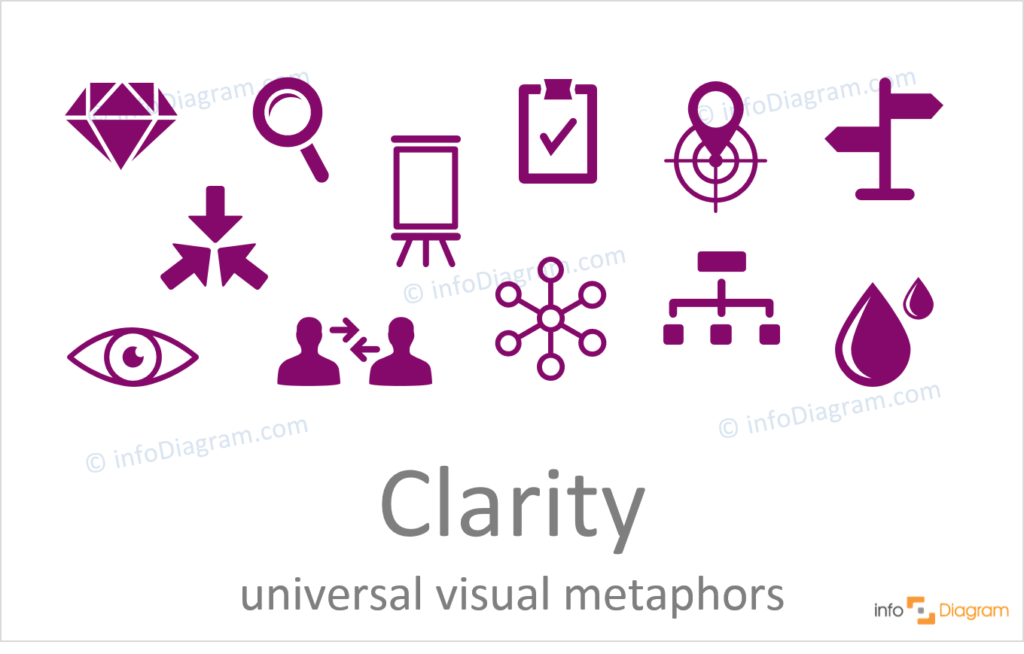 Diamond and drops of water for clear, translucent materials and transparency
Talk or thought exchange express communication and understanding
Charts as metaphor for clear structures
Checklists and boards can be used to show clear explanation, transparent documents
Eye and vision for clear, sharp view
Magnifying glass to illustrate in-depth understanding, clarity
Road sign for clear instructions
These and many other symbols are part of the Simple Flat PowerPoint Icons Library.
Whether you prefer a more universal or scribble style, or you're just looking for inspiration, it's worth using visuals to support your presentation. You can incorporate them into diagrams and infographics, or just illustrate your bullet points. Whatever you choose, such visuals will help you create memorable slides and save time.
Wish you could make more eye-catching presentations? Get access to all the icons in this post and the rest of our graphics library with a subscription to InfoDiagram.
Other business concepts visualization ideas
If you search for other ideas to support your presentations, check the Concept Visualization List blog post that we are constantly updating. See ideas for visualizing concepts like Energy, Remote work, Communication, and more.