You may be involved in preparing a business executive summary presentation, right? We gathered a few visualization ideas on how you can illustrate the Executive Summary concept by one symbol.
Expressing the executive summary concept ideas with outline simple style symbols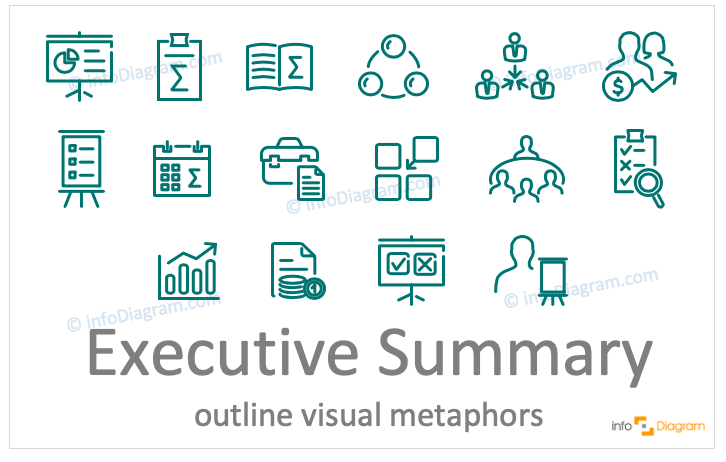 Above we suggest several icon examples from our elegant outline icons collection. In particular, our Outline PowerPoint Icons collection contains male and female figures combined with flip-charts, financial tendency arrow, or general agenda and checklist icons. Use them to make your presentation more engaged:
calendar icon presenting  deadline for submitting the executive summary
combined icon of two figures and financial tendency arrow
general symbols illustrating check-list and summary 
flipchart icon presenting the evaluation –  positive or negative of presented summary
flipchart and agenda illustrations as an important item/equipment for presenting your executive summary
sales summary chart pictogram
show the idea that executives expect to see the big picture in the executive summary part, show symbols of puzzles being put together, connecting the dots
a male/female figure presenting an outcome of the business plan  
Design-neutral executive summary concept graphics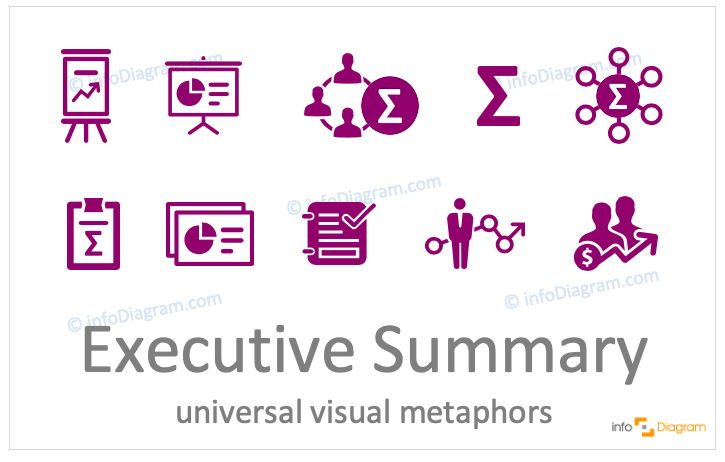 Above there are icon examples from our style neutral flat icons collection. It features a variety of different approaches to representing an investment. Flipcharts, stand visuals or To-do lists symbols often associated with the executive summary concept.
Creative hand-drawn executive summary icons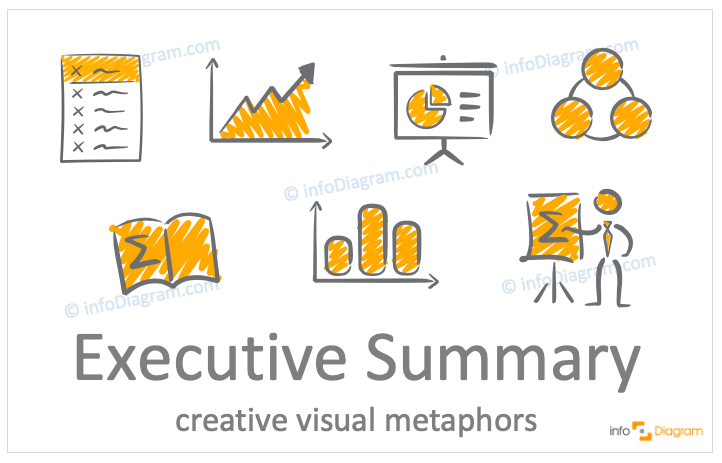 If you want to be more creative and personal, use hand-drawn symbols for showing the executive summary ideas. The scribble To-Do list icon, a male/female figure with business outcomes data, is perfect for showing the idea of an executive summary in your PPT. See the specific visuals below:
We hope you find some inspiration from those icon ideas to express the concept of executive summary. 
If you like the suggested icons, you can get them from infoDiagram library. The best way to get them is by joining subscription access to PPT graphics here. It will allow you to download these symbols, and graphics from any presentation deck you find on the website.
More concept icons ideas
Need to show another concept in a presentation? Leadership, Urgency, Status, Growth you name it. Check our blog Ultimate List of Business Concepts Visualization to get inspired.