Do you need to talk about the idea of weakness in your presentation? Get some inspiration in this blog on how to express the weakness concept visually. Icons will help you transform your ideas into professional-looking graphical content and you'll save much time on searching for the right visuals.
Elegant and light outline symbols for presenting the weakness concept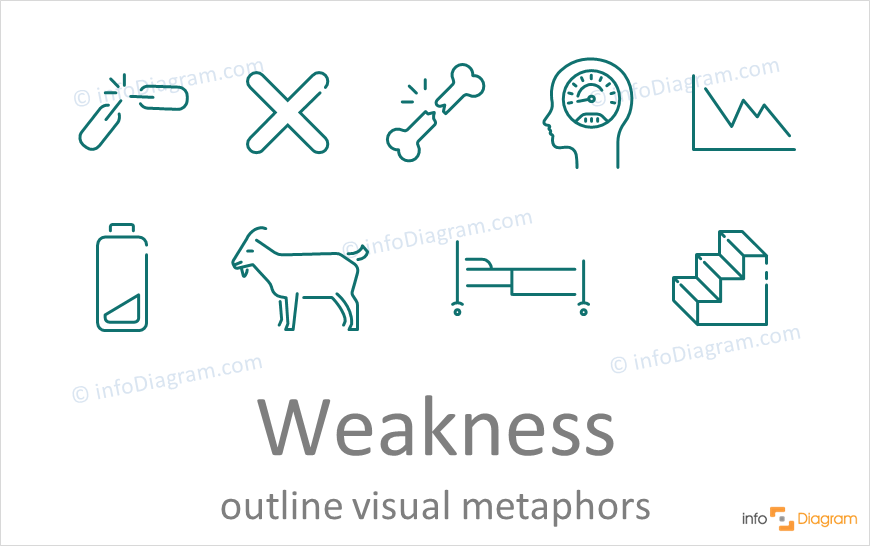 Above you can see the icon examples in a light thin line style. Such symbols can be a stylish and modern addition to your slides, and they won't steal the attention from the main ideas. The weakness idea can be expressed by one of these icons:
a broken link or a broken bones as a metaphor of the weak object 
 X-mark as a general fail symbol
a male/female head with a speedometer illustrating the mental slowness
 a chart with trend down highlighting weak results
a low battery as a symbol of the power lack
 a scapegoat as a symbol of the inability to protect itself or being weak
a hospital bed as a sign of illness which lead to a weak state 
Presenting weakness idea by universal-style icons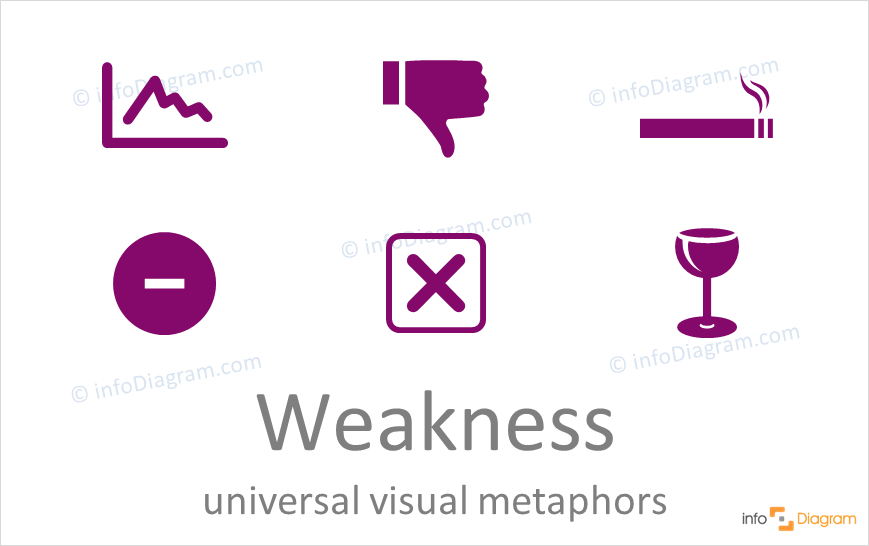 This flat style is a simpler one but also more universal and visible even if the icons are small. Below we suggest some ideas you can consider:
a cigarette and a glass of wine presenting  addiction and human weak sides 
thumbs down as a general picture of failure and bad results 
 chart with an arrow going down illustrating slow, weak results
 a minus and X-mark signs
Illustrating weakness concept ideas with creative graphics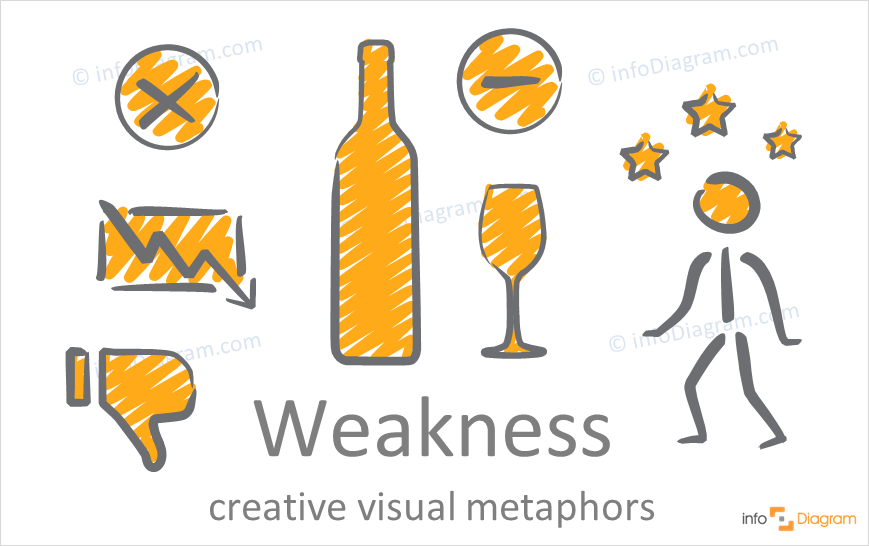 To design more unique and personal slides, use creative symbols to show the weakness ideas:
glass and the bottle of wine emphasizing the topic of smoking, drinking or addiction 
a male/female figure with a dizzy head 
thumbs down a general picture of failure
minus sign or X-mark showing subtraction or loss 
We hope you find some inspiration from those icon ideas to express the concept of weakness. 
If you like the suggested icons, you can get them from infoDiagram library. The best way to get them is by joining subscription access to PPT graphics here. It will allow you to download these symbols, and graphics from any presentation deck you find on the website.
More concept icons ideas
Need to show another concept in a presentation? Communication, Change, Engagement, Equality you name it. Check our ultimate Concept Visualization List to get inspired and balance the informative part of your presentations.