Do you have a busy schedule? Think about your work calendar from the last month. How many meetings have you attended? How many of those meetings ran over? How many presentations have you given or watched? Did you or the speaker lose track of which slides were coming next?
For most of us, many meetings and presentations we attend take longer than planned. Why is that? Failure to plan and stay on track are two big factors. You can avoid these pitfalls by creating an agenda for meetings you plan or presentations you give and by utilizing progress indicators in your PowerPoint slides.
Keep reading and see how you can keep your meetings and presentations on track and productive.
If you have ever struggled to keep a meeting or presentation on track, you might already have a few ideas for how you could utilize progress indicators. Click here to check out the full Agenda Section Indicator Flat Progress Bar set.
Show Your Overall Agenda as a Clock Circle and Give Your Bullet Points a Facelift so Everyone Knows the Plan!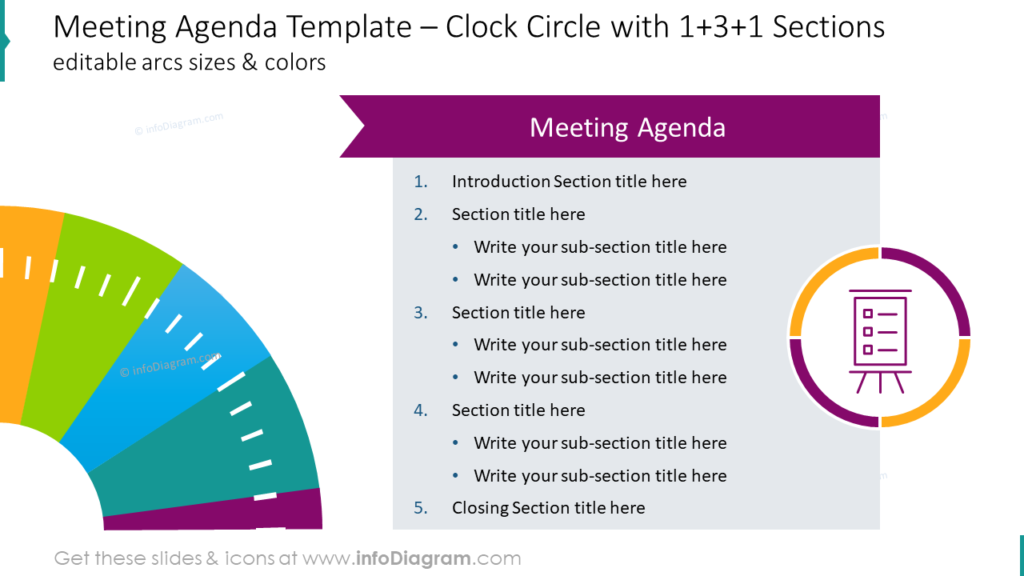 Sometimes meetings and presentations get off track because attendees forget exactly what needs to happen. With many meetings and agendas being conducted online compelling visuals are even more important and can help you achieve the goal of reminding attendees what you need to accomplish. By committing a slide to your agenda you will remind everyone of the purpose of your meeting or presentation before you begin. This can help keep conversations and questions relevant as you go. The graphic style in the above example is a modern, flat graphic style. It is in bright, eye-catching colors that immediately make audiences take notice. You can easily customize any of the colors on the slide, as well as personalize all of the text and additional icons which appear. That way you can represent your organization, talk or meeting and tailor your visuals to the attendees.
Use Clock-like Circle Arc Graphics to Track Your Presentation Progress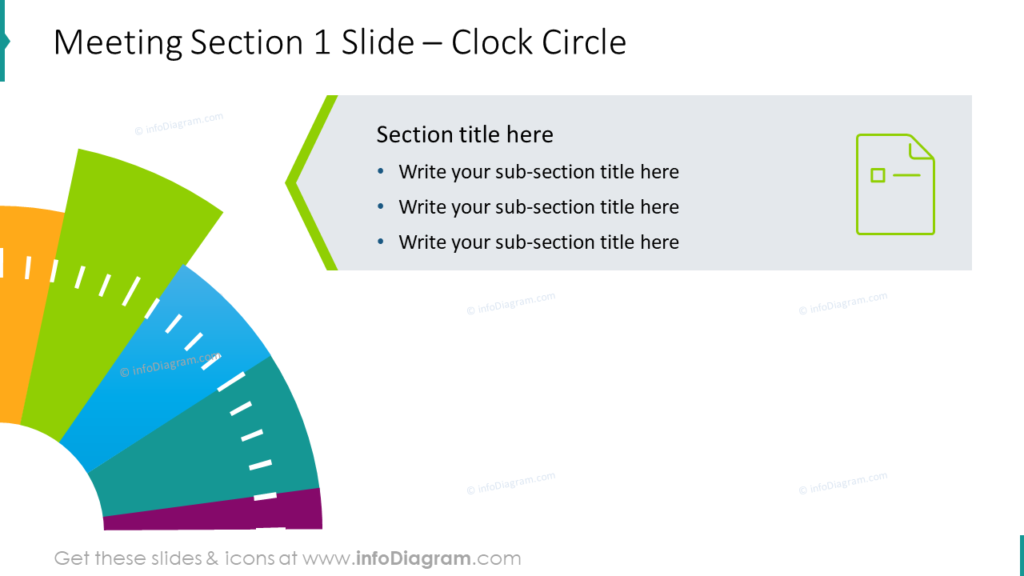 After you begin your meeting or presentation you can use similar graphics to make a visually consistent, professional PowerPoint. Again, remember you can customize the size of the circle arc, color, and other attributes of these graphics using the tools already present in PowerPoint. You're also able to customize the text and text area so your colleagues will have what they need in order to follow along with your presentation or keep discussions during your meeting on topic.
Get Creative with a Subtle Horizontal Chevron Progress Bar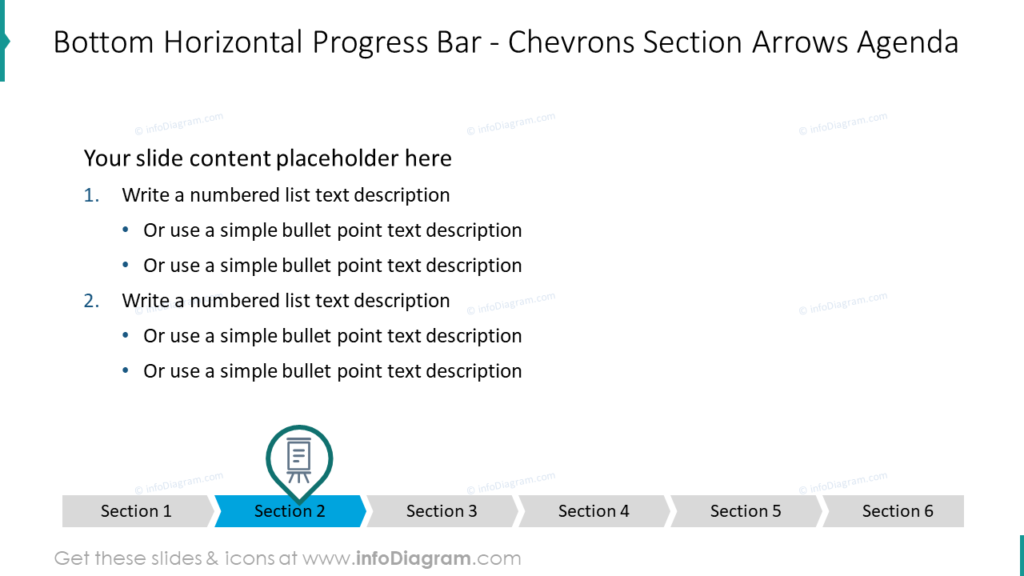 There are many graphic styles and icons in our library. The Agenda Section Indicator Flat Progress Bars icon set includes gauges, pillars, arrows, chevrons, timelines and many more graphics in multiple graphical styles. However, some presentations do not allow for such large graphics. Some meetings require photos to be shared or other infographics, charts, or diagrams. What should you do if you need to use the majority of your presentation surface area for a different visual aid? In this case or if you prefer a more minimalist look for your presentations, we suggest using progress bar icons. In the example horizontal chevron arrow icons can be customized to suit your needs. You can change or remove the indicator icon which points to the highlighted section and only utilize color to mark the current section of your meeting or presentation if you wish. The choice is yours!
Keep Your Meetings and Presentations on Track with Functional Agenda Slides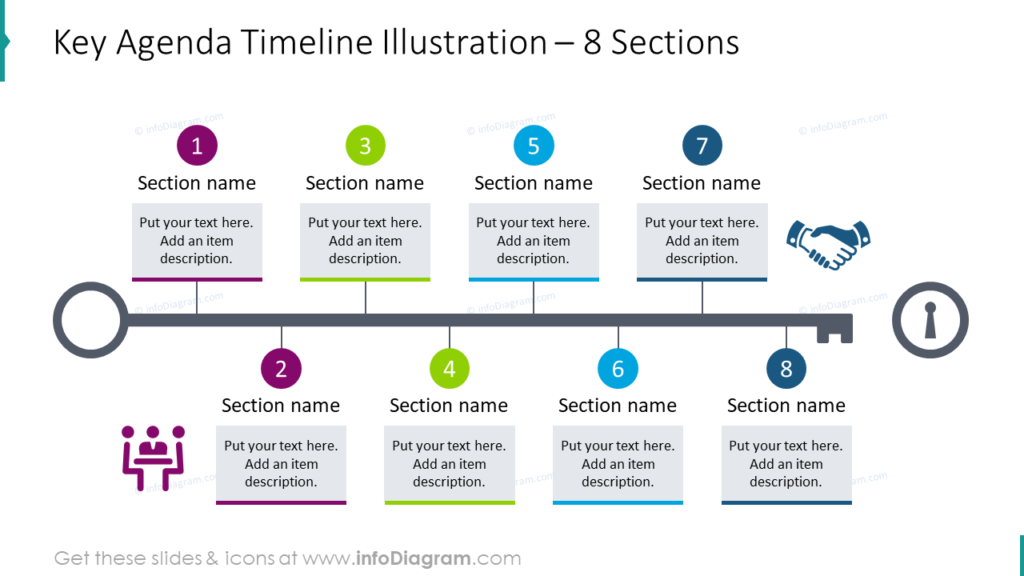 The slides without graphics are boring and not eye-catching. Many meetings and presentations rely entirely on text. The sad truth is that without an interesting, professional graphic to catch your attendees' attention, they may lose track of what is being discussed.
Even worse, in meetings many people lose track of what they are supposed to be accomplishing because irrelevant points or topics are brought up and not dismissed. Avoid those problems and keep your audience on track by utilizing compelling graphics. If your meeting doesn't require its own visuals, use the entire slide surface to represent what stage you're on and share your notes with the group.
If you're giving a presentation and want to have a reminder both of where you've been but where you're going, utilizing agenda icons in place of or in addition to your usual PowerPoint slide structure will help keep you on track and your audience on topic.
Resource: Agenda Section Indicator Flat Progress Bars
We have seen how effective visual agendas are at improving presentations. Our designers wanted to help you create your own visual agenda slides, even without special software or graphic design experience. By making easy to use, editable graphics you can customize with PowerPoint, we hope you can build your own successful presentations!.
There are many ways to share meeting and presentation agendas. You get to decide whether arrows, bullet points, or engaging numbered lists are better for your audience than the examples mentioned or shared in this article. Regardless of which illustration style or subject you choose, you can be sure that your consistent, visual graphics will help your meeting agenda or presentation stay fresh and impactful without being cluttered. Check out the full set by clicking here!
Agenda Section Indicator Flat Progress PPT Bars
If you'd like to see more sleek, modern diagrams for professionals that you can incorporate in any business presentations or future PowerPoints, check out the collection of professionally-designed flat infographics templates.