Are you conducting more online meetings? In 2020 many businesses, organizations, and schools began working fully remotely due to the novel coronavirus. This means that in addition to working remotely, many have shifted to hosting online meetings and training. If you're new to conducting online meetings you might have discovered they can be more difficult to make engaging. We created this PowerPoint slide deck to help you have more effective virtual meetings.
If you know how to create engaging presentations and want to make your slides more attractive, click here to check out the full Online Meeting Outline Slides set. Impactful, cohesive graphics will make your next virtual meeting even better!
Use Powerful Visuals for Your Title Slide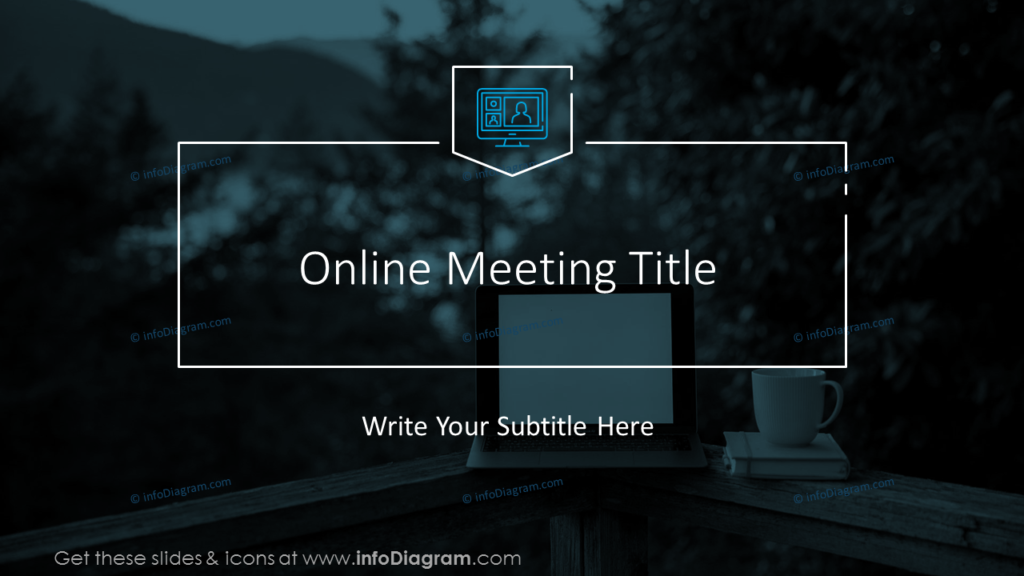 What is your meeting about? Remind the attendees of what the purpose of your online meeting is. If the people you're talking with have many virtual meetings, especially many on the same day, having a reminder of what you're planning to discuss can help differentiate the meeting in their minds. Use visually striking photographs of relevant equipment or even scenery to make it even more interesting.
Presentations with Agendas Can Keep Your Online Meetings on Track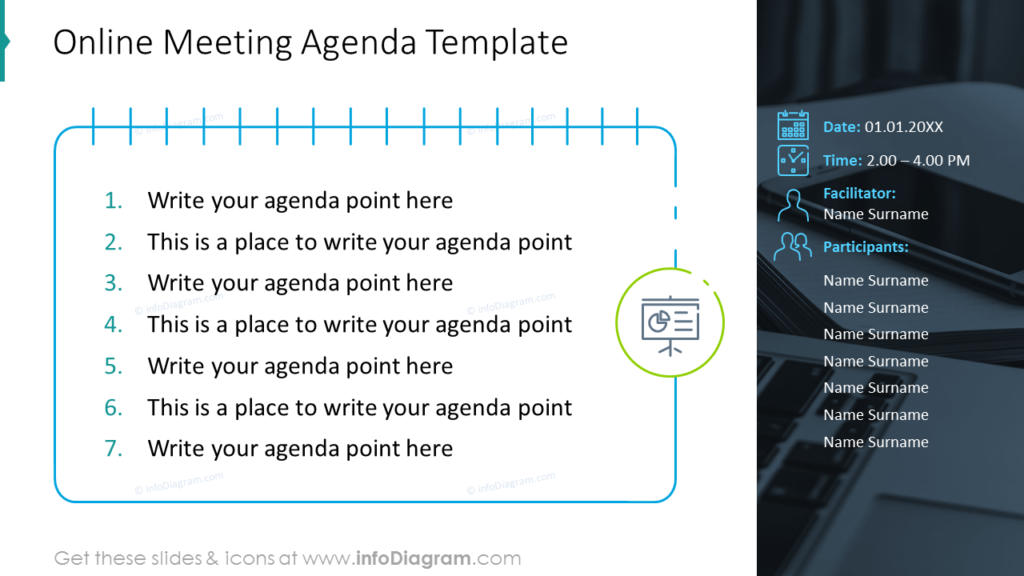 Do you often get distracted during meetings? If you find you or your participants are easily distracted or your meetings regularly run over their allotted time, you may benefit from using an online meeting agenda. The example slide provides space to share the meeting agenda as well as details about the meeting itself. This can be useful not only for keeping the meeting on track but can help the person responsible for meeting minutes.
Explain Virtual Meeting Etiquette and Share Rules for Online Meetings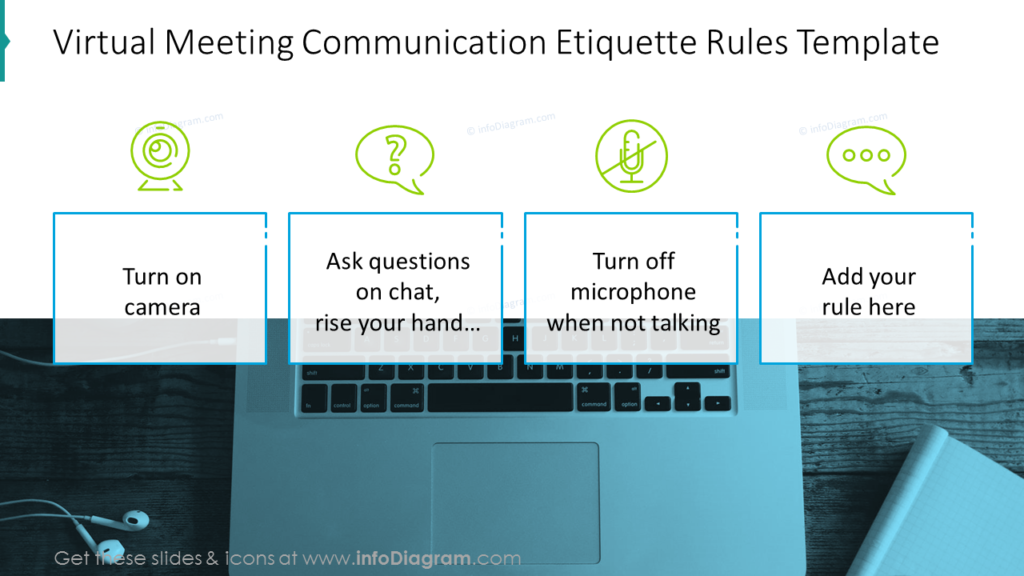 Are your remote meetups difficult because your participants struggle with etiquette for meeting online? Consider incorporating a slide into your online meeting presentation. You can easily customize the rules on this slide and add or remove any you need to. The default slide editing tools in PowerPoint are all you need to adjust the icons used to represent each rule, the descriptions of each item, and modify colors.
Creatively compare Quadruple Options for an online meeting in PowerPoint
Step-by-step guide on Comparing Several Options for an Online Meeting Creatively in PowerPoint
Did you know PowerPoint tools can be used to create such graphics as well? If you don't have specialized software or formal training, you can build matrices yourself in a few simple steps.
Prepare the graphical elements. You can use basic PPT shapes or paste the predesigned vectors.
Add arrow shapes to name the matrix quadrants and the hand-drawn ovals to show projects.
Add a light background rectangle to bring the design together.
Add icons representing each category. Spice the design up with a touch of color. If you struggle to create slides like these following these instructions, pre-made graphics may be the right choice for you. Save time and frustration by using ready-made icons instead.
Resource: Online Meeting Outline Slide-deck
For many organizations, most of the issues that keep online meetings from succeeding can be avoided by using a simple PowerPoint presentation. We want to help you achieve your goals and have effective meetings., see the full slide collection here:
Online Meeting Outline PowerPoint Slide-deck
These are easy to use, professional graphics which are appropriate for any organization meeting online.