Are you presenting work rules, creating a strategy road map or describing project milestones? Roads and maps are effective visual metaphors to represent processes, projects, and journeys. Road sign infographics are even more effective when they are eye-catching and visually consistent. We created these editable PowerPoint graphics set so everyone can create professional, informative slides.
Need road sign graphics to articulate your message? Check the full Road Signs PowerPoint Infographics set and get inspired by our designs.
Create a Strategy Roadmap PPT Slide with Road Sign Icons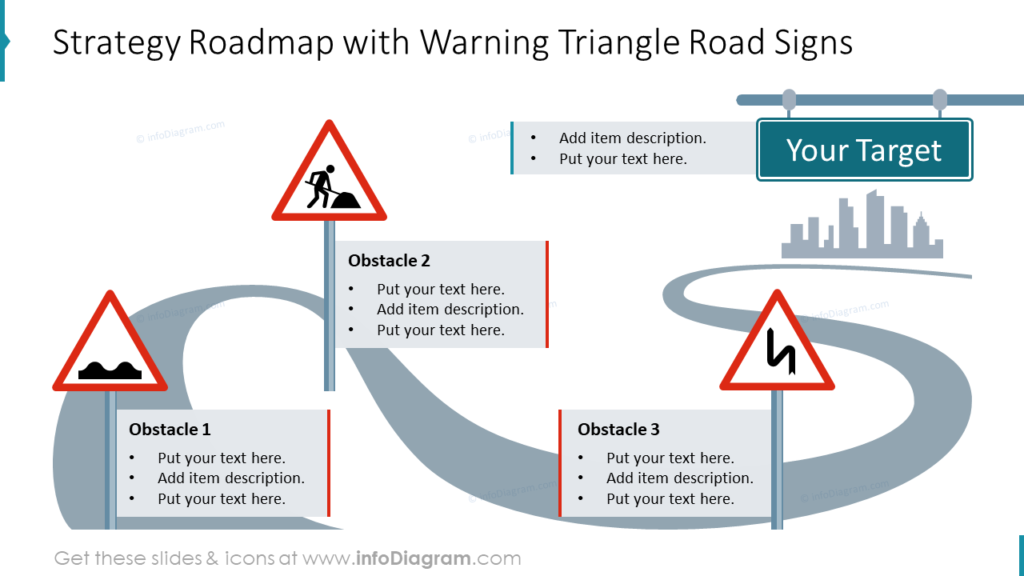 You may have goals for yourself, your company or your department. When presenting those goals and the strategies you will use to obtain them, it may benefit your audience to address obstacles. In the example, there are three different obstacles between the current state and the ultimate goal. Different road signs can be used to represent different obstacles. Different types of signs can also be used to create a more varied presentation.
Present a Process with Traffic Sign PowerPoint Graphics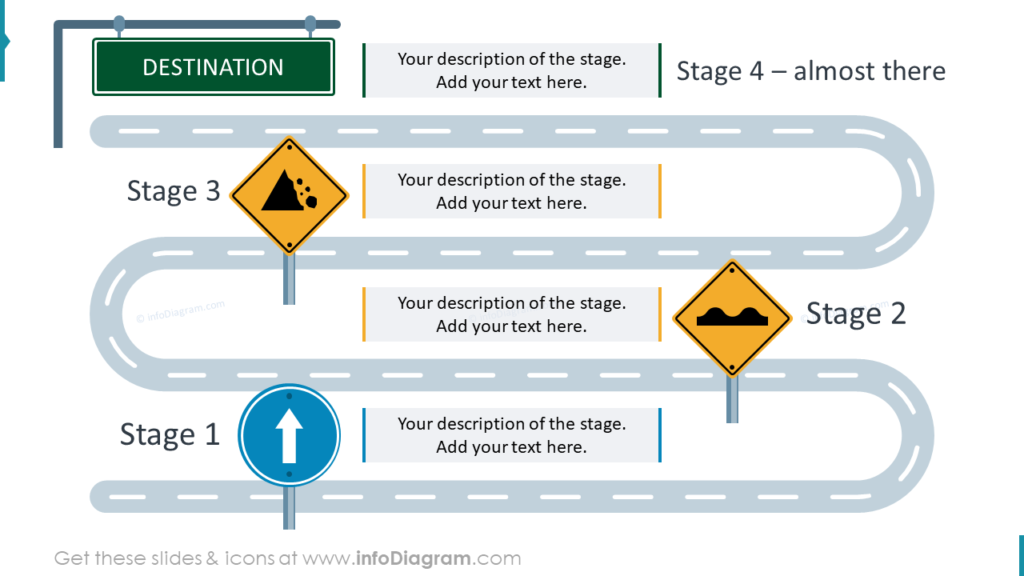 Road Sign icons can be used to present multi-stage processes and plans. In the example our designers created an infographic slide using various styles of road signs to represent the different stages. You can add supplementary details and descriptions to the slide to provide additional information for your audience. What plans could you explain with a road map?
Share Different Options with Road Signs
Are you presenting multiple possible solutions to a problem or for a situation? Road signs are a clever way to share the options with your audience. In the example three different options are shared as exits off a highway. Additional icons can be added as in the example to better represent each option and help pro-vide your audience with a deeper understanding.
Guide on how to create your own Traffic Sign Infographics Slide in PowerPoint
Did you know that PowerPoint has tools you can use to create more impactful slides? You don't need special software. Follow these steps and make more office rules slide in minutes. See the full step-by-step instruction in the SlideShare below. Create a road sign by combining basic PowerPoint shapes.
1. Create a road sign by combining basic PowerPoint shapes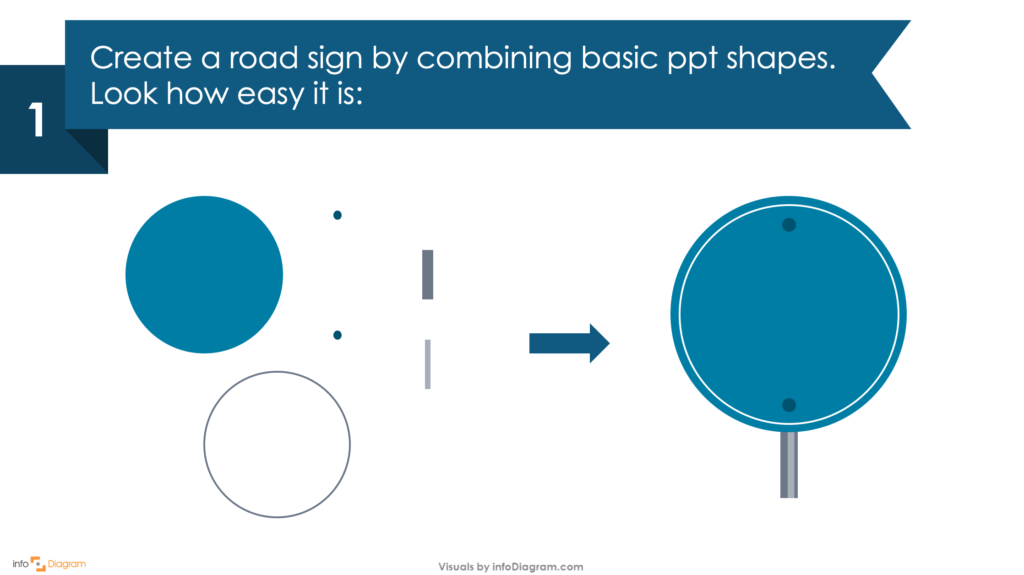 2. Multiply and distribute 4 signs. Plan the space for the text below the graphics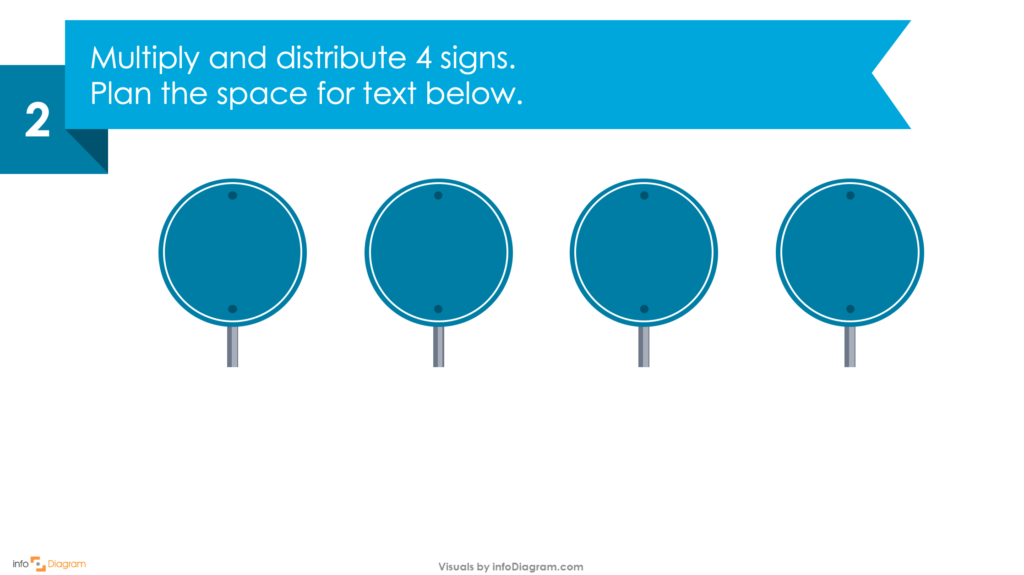 3. Add text from your points. Highlight headers with a little bit of color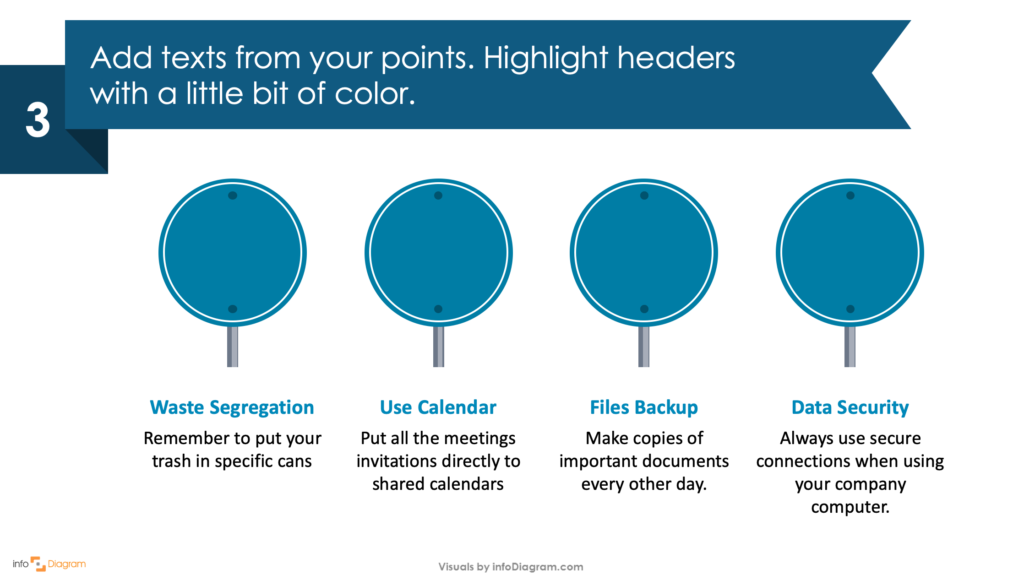 4. Add icons representing each rule. Make them white so they resemble road signs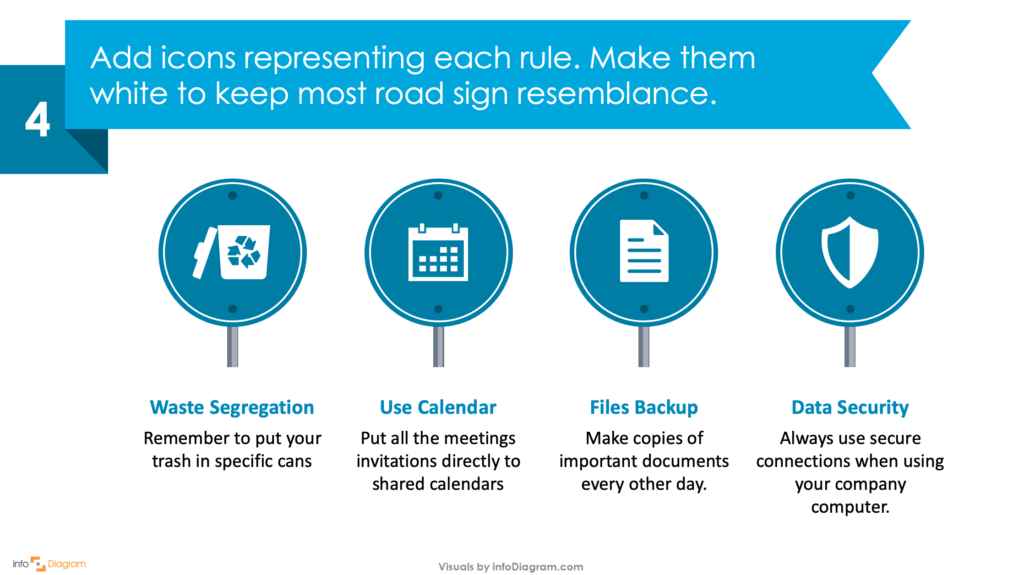 Resource: Road Signs Infographics for PowerPoint presentations
Having consistent visuals in your presentations makes your slides more eye-catching and impactful. We designed the Road Sign Infographics to make presenting easier by helping you share your full ideas.
The concise icons in the Road Signs Infographics slide deck can be used to help you get away from bor-ing bullet points slides.
Road Signs PowerPoint Infographics
Modern graphics like these are an effective alternative that will help your next PowerPoint presentation pop! For more icons and graphics that you can use to customize your presentations check out the full modern infographics templates collection.