Do you need to make a presentation with a creative flair? Stick figure graphics can give your next PowerPoint a visually striking, professional appeal. Share your ideas using people icons as visual metaphors.
Not sure if your next idea could use stick figure graphics? Think of all the ways body poses can represent actions, steps, or part of the process. Check out the full People Activities and Body Poses Stick Figures PPT set and get inspired!
Present your project launch stages with stick figure graphics
Are you presenting a product or project launch? See how the stick figure graphics can be used to represent each stage of the process. Explain the process with your stage labels and short descriptions. The body pose icons will help your audience understand the significance of each stage as it relates to the overall process. The "Ready," "Set", "Go", etc. labels could be modified if you wish, along with the color scheme and other slide text.
Explain your customer profile with stick figure graphics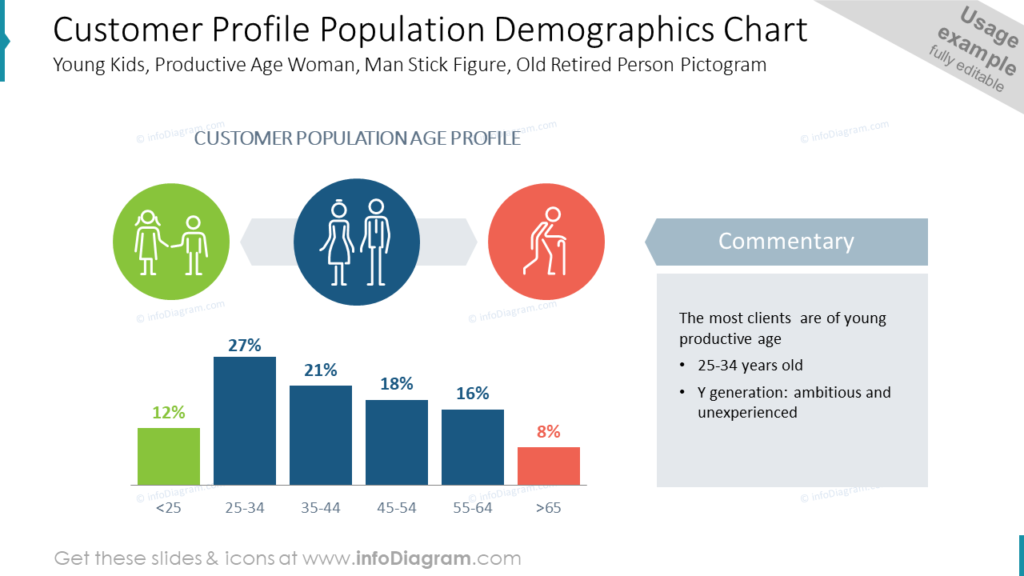 Do you need to present your customer profile or explain your customer demographics? Stick figures are easy to understand visual metaphors. In the example slide the customer age groups are easy to differentiate with the age group stick figure graphics. Your customer profile may not contain several age groups, but if it does you can customize the color scheme and other details to suit your brand and presentation audience. There are many more age groups and family members to choose from in the People Activities and Body Poses Stick Figure symbols set.
Present a multi-stage process with body pose icons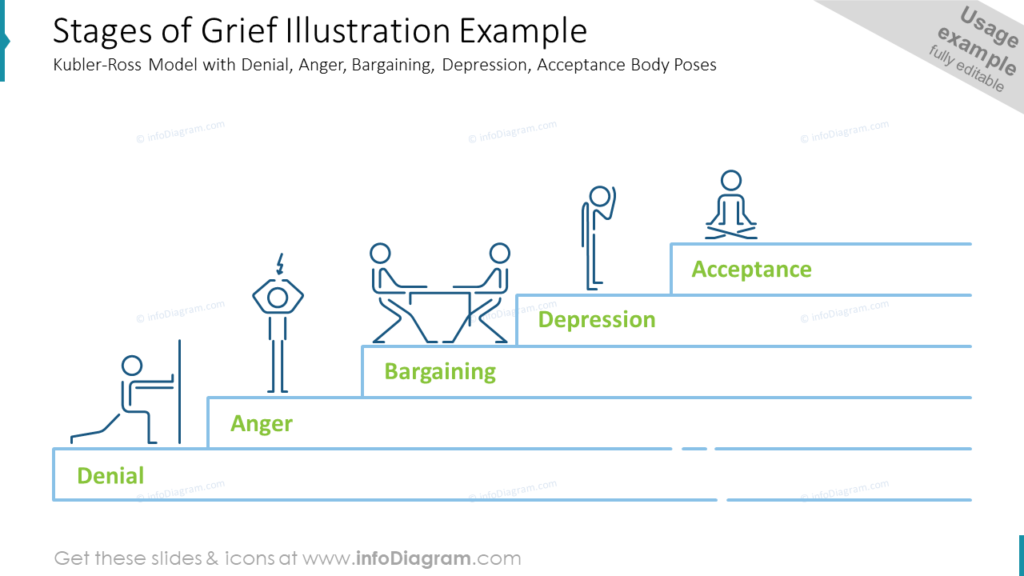 The example slide shows the Kubler-Ross model of grief. Each of the steps: denial, anger, bargaining, depression, and acceptance is represented by a body icon. Each graphic has a figure in a relevant pose. In addition to the figures, inactivity poses there are also emotional reaction body poses. Could your process be explained with agitated, alert, sad, joyful, cheering or other emotional icons? Think about what you could do for your next project.
How to present Project Launch Stages visually in PowerPoint
Turn your unattractive, static list slides into an illustrative, dynamic diagram in 3 simple steps!
1. Distribute your content in columns instead of a vertical list.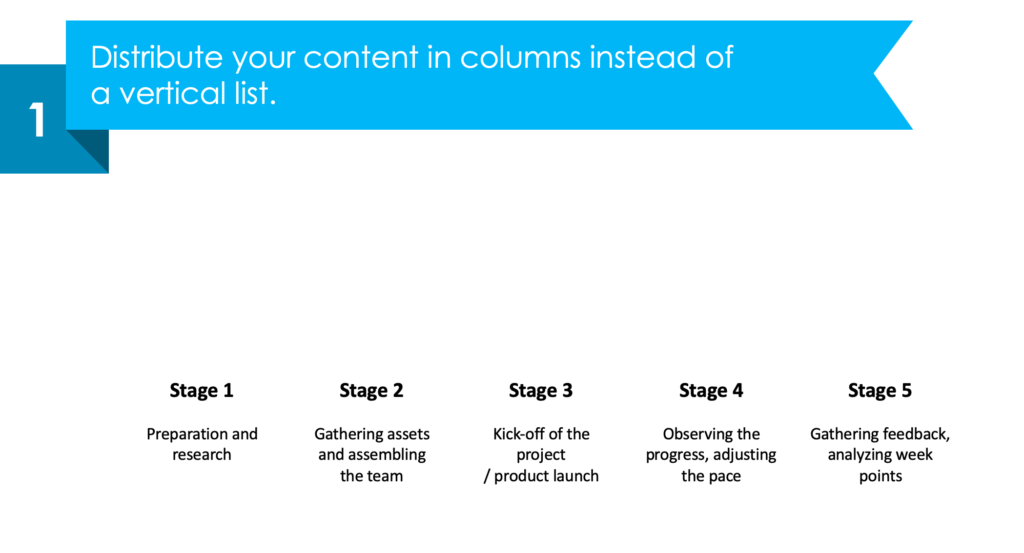 2. Add circles with icons and name the stages accordingly.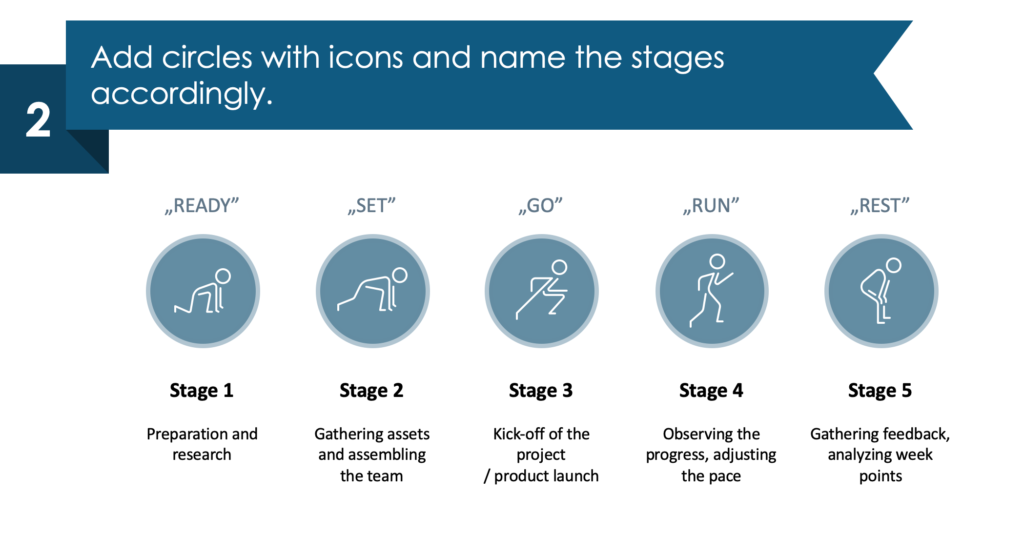 3. Add some color to your diagram and connect the circles with an arrow pointing to the final stage.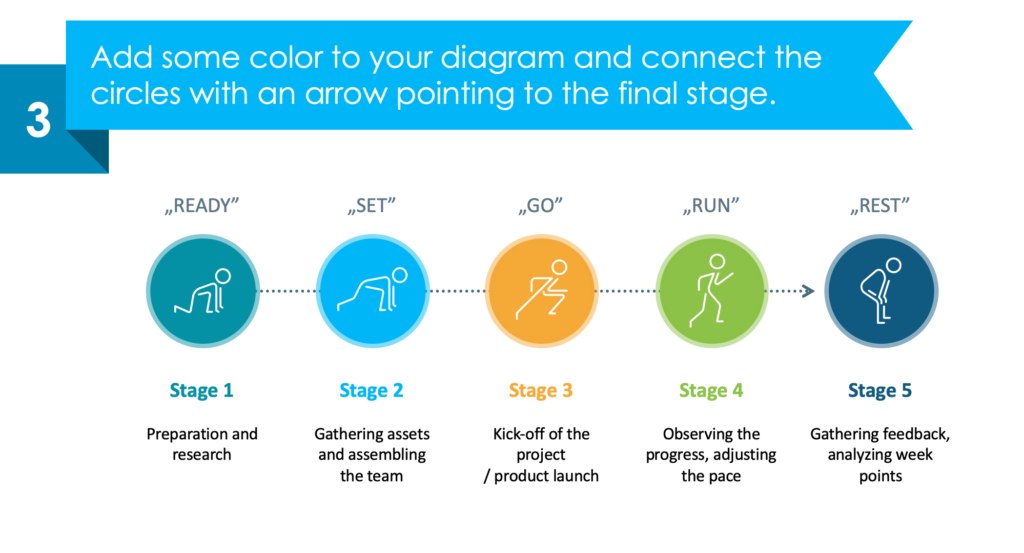 See the whole step-by-step instruction here: How to Illustrate Project Launch Stages Visually Using PowerPoint.
Resource: People Activities and Body Poses Stick Figure Graphics
Icons of people are great for presentations. The human body and stick-figure shapes are universal metaphors. Don't use the same, tired default graphics and shapes when a creative, dynamic alternative is within reach. Stick figure graphics can help your next presentation be more effective, see the full collection here:
People Activities and Body Poses Stick Figure PPT Graphics
Do you know what your next presentation is about? Give your PowerPoint a clever human touch with easy-to-modify stick figure icons. Let universally understood metaphors bring your complex ideas to life.