If you are pitching new ecology or green technology ideas, it's worth supporting your message with creative graphics, as you may need to explain many complex topics. See our examples on how to make the environment-related project presentation clear, succinct and ensure it will get the attention of stakeholders or your team.
Using organic blobs shapes is related to a natural style and will give your pitch a personal touch.
All slide examples are pre-designed and downloadable, click here to see the Creative Eco Green Project Presentation for PowerPoint.
Get inspired by the following slide visualizations in green eco theme to help you to convey your ideas in an eye-catching and out-of-the-box format, and see how you can illustrate different topics in your green technology pitch or project presentation. In the end, you'll find a practical step-by-step guide on how to present your team.
Start with the mission and vision statements of your project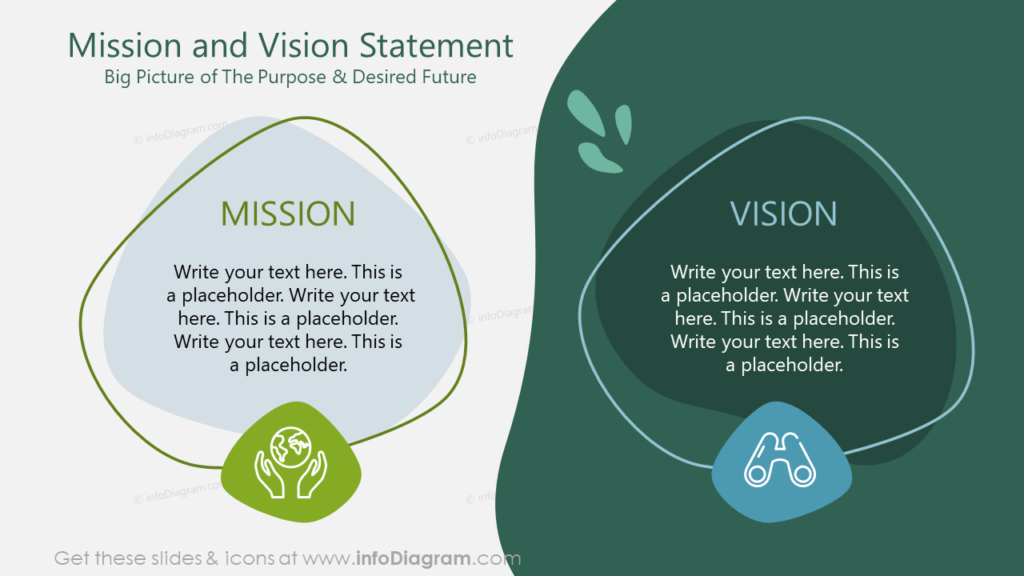 Outline your project's big picture of the purpose and desired future in a concise and succinct way. You can use such a slide you can see in the picture above. Consider using abstract blobs shapes and illustrative icons of a hand and earth for a mission statement and binoculars symbol – a metaphor associated with a vision. You can find more ideas on presenting mission and vision in this blog.
Present milestones with plant grow icons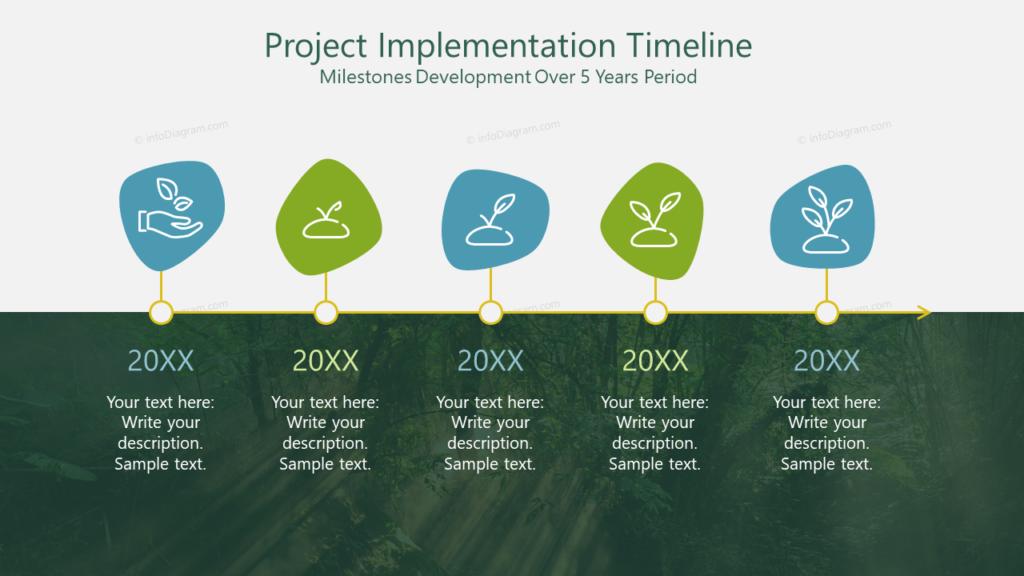 Such a timeline with symbols from planting seeds to a fully grown plant is a great way to show the progress over time. You can reuse this slide where we illustrated milestones development over the 5 year period, add or remove as many stages as you need. Just remember to keep it clear, don't stuff the slide with the content. It's always better to break down information into several slides.
Illustrate the stages as a growing tree timeline in your project presentation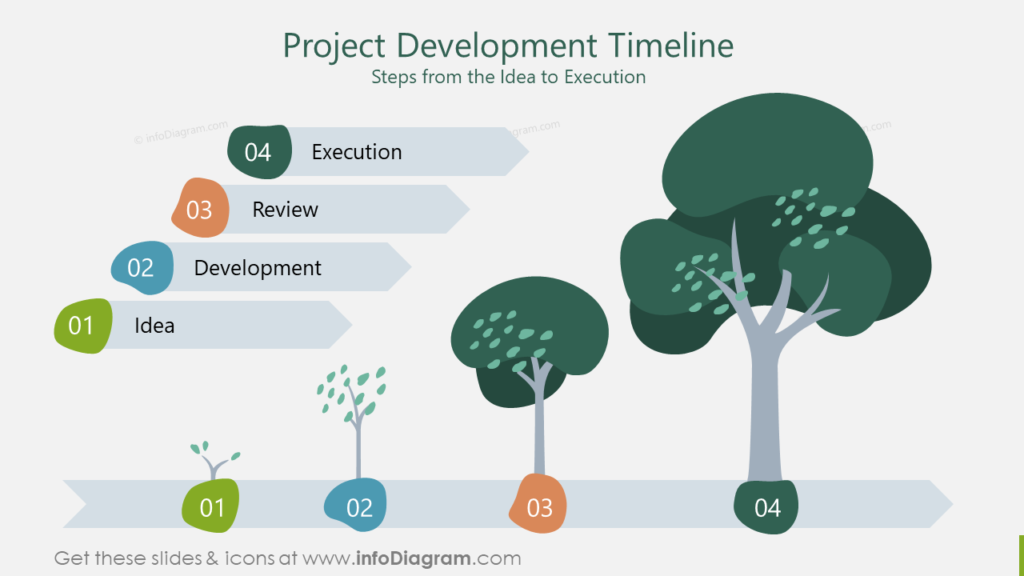 To show all steps from idea to project execution, you can use the metaphor of growing tree. On the example above we illustrated four stages: idea, development, review and execution.
Present a list of your ecology-related values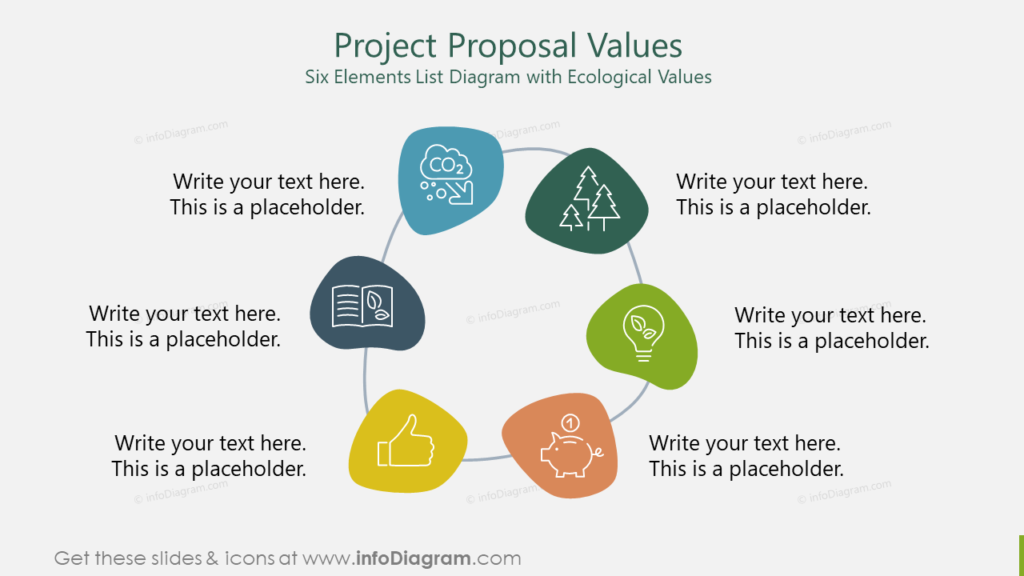 Focus the attention on the values your project will bring. In our case, we created a diagram including six elements with illustrative icons: forest, thumbs up, piggy bank, and others. You can choose symbols that reflect your values in the best way.
List your eco solution features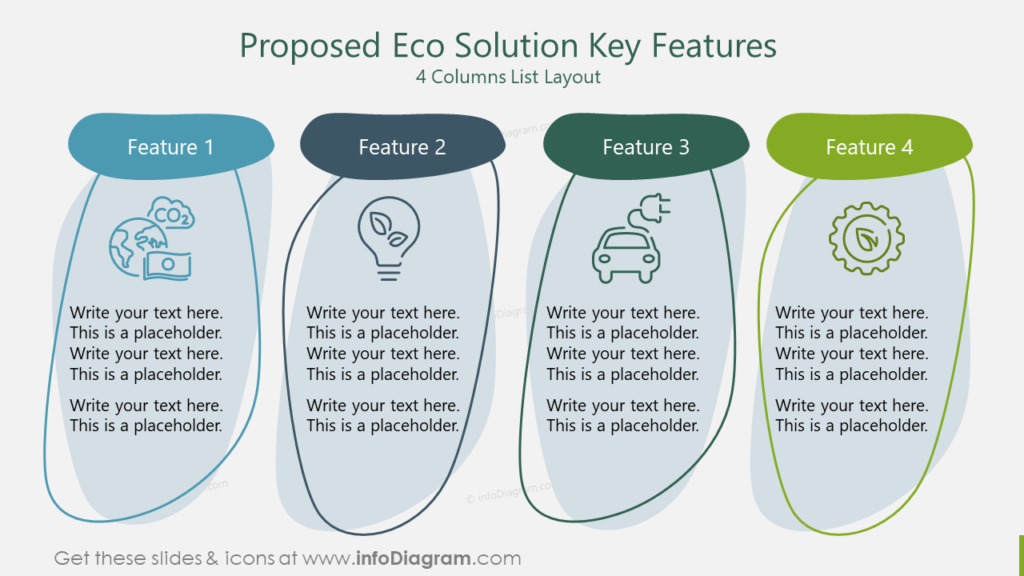 Explain what functions and key features your green solution will have. This diagram example is quite simple and creative at the same time: four features are shown with different colors and icons.
Include your project financial plan in your project presentation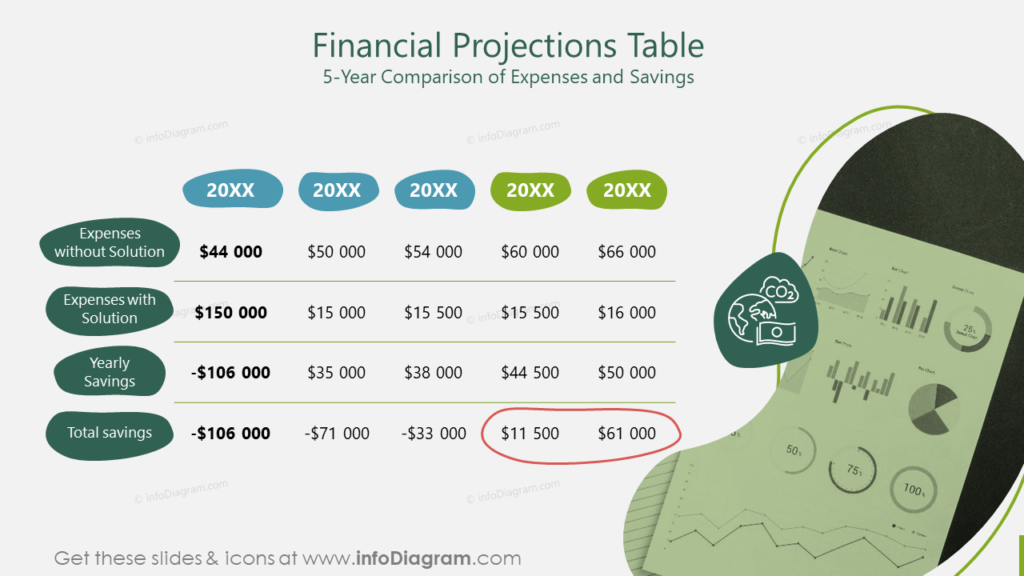 Present financial projections in a simple table form: show visually the 5-year comparison of expenses and savings. You can reuse this slide where we compared the following numbers: expenses without solution, expenses with solution, yearly savings, and total savings. You can also highlight the most important numbers with a marker shape to make them stand out.
Guide on how to create a modern infographic for project team slide
Here's a quick instruction on how you can present a team with pictures and positions of a project leader, public relations people and support .
1. Illustrate each team member with a stylish organic blob shape. Distribute shapes evenly on a slide.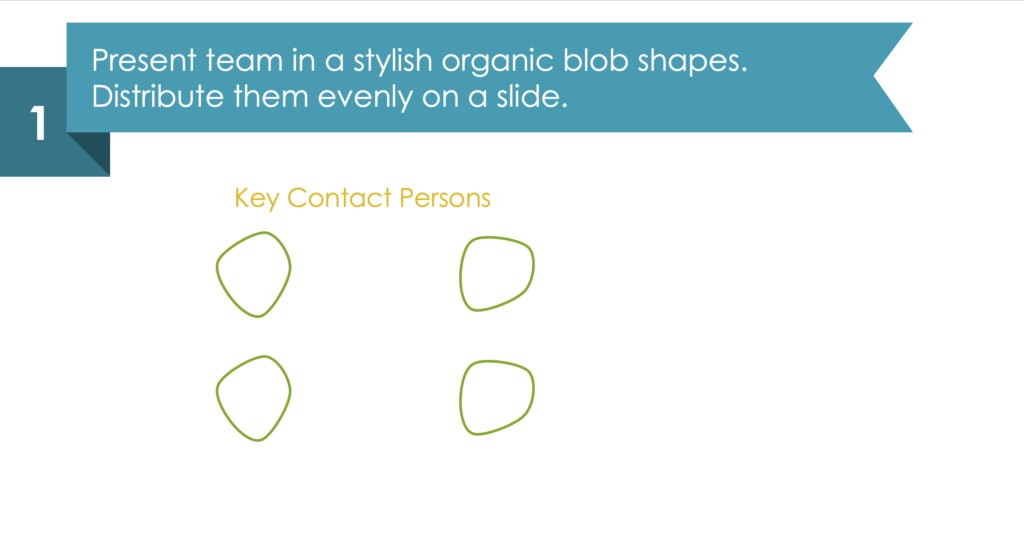 2. Crop pictures to the circle shape or inside a blob shape and add it to frames.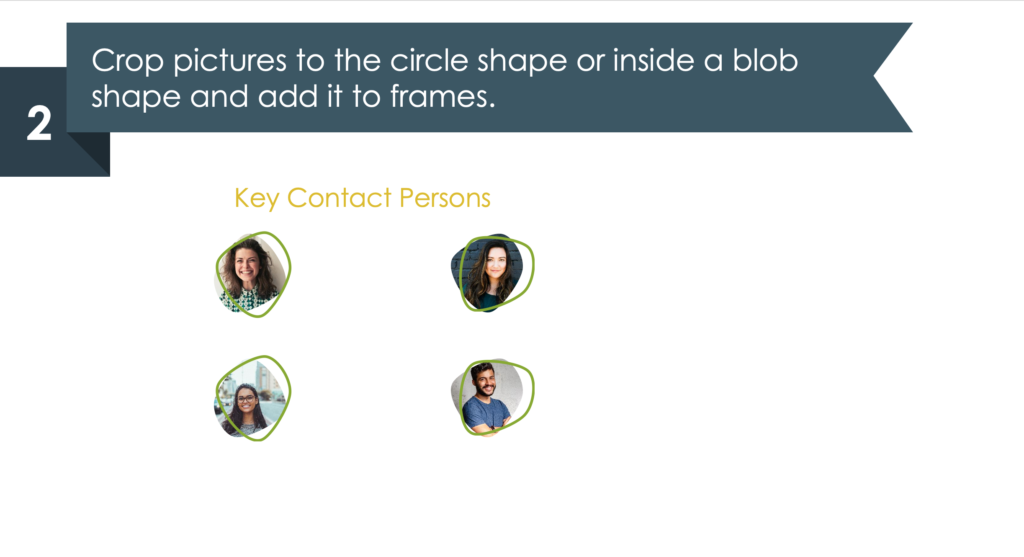 3. Fill in name, position, and contact data for each member. You can use different colors for names.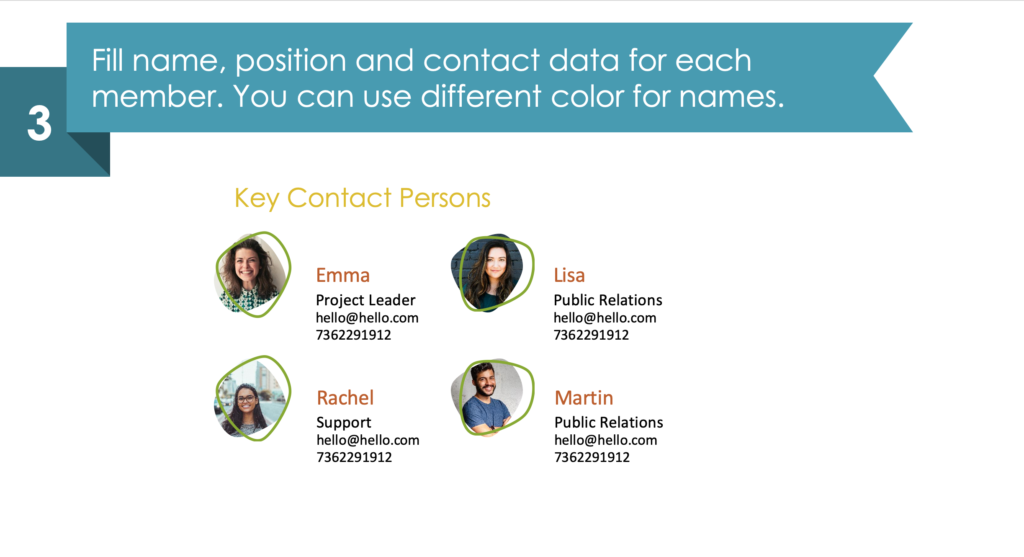 4. Add a background that fits your theme and additional elements to create consistent look.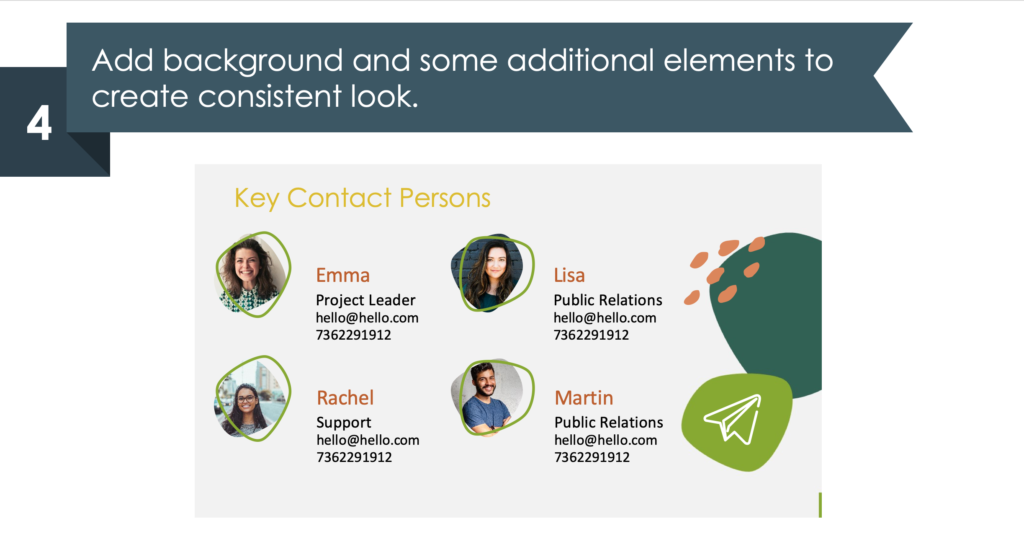 See the whole step-by-step guide and other examples here: How to Present Ecology or Green Projects Creatively Using PowerPoint.
Resource: Creative Eco Green Project Presentation
The examples above are only a part of our eco-green project slides deck. You can reuse our infographics and tailor them to your needs to upgrade your presentation or pitch. The majority of our slides have a space for your text/comments, so it is very easy to extend presented ideas. We also included detailed instructions on how to alter the content, values, colors, and look and feel of our slides. See the full deck here:
Creative Eco Green Project PPT Presentation
Use modern visuals to create less busy presentations and communicate your ideas in an eye-catchy way. Want to do even more customizing? Graphics from the collection of professionally designed editable diagram templates might help you take your next PowerPoint further.