Are you looking for ways to present change management topics in an appealing and engaging way? Use visual thinking and diagram graphics to show business change frameworks in an easy-to-grasp creative way.
Here are some example slides on how you can explain change management topics such as:
Definition of change management
Presenting the essence of common change management frameworks (Kotter's, Hedgehog, Lewin's)
Illustrating the process of organizational change

Let's see and discuss those slide examples in detail.
Get the source of graphics presented here by clicking on the slide pictures, or see the full Change Management PowerPoint Template here.
Define what change management is
Change management is a technique through which you can get individuals or teams ready and support them to bring an organizational change.
You can present such a definition (or any other version of yours) for example with a graphical slide like the one above. Adding an icon of quotation and light grey background will create a more concise graphical slide look.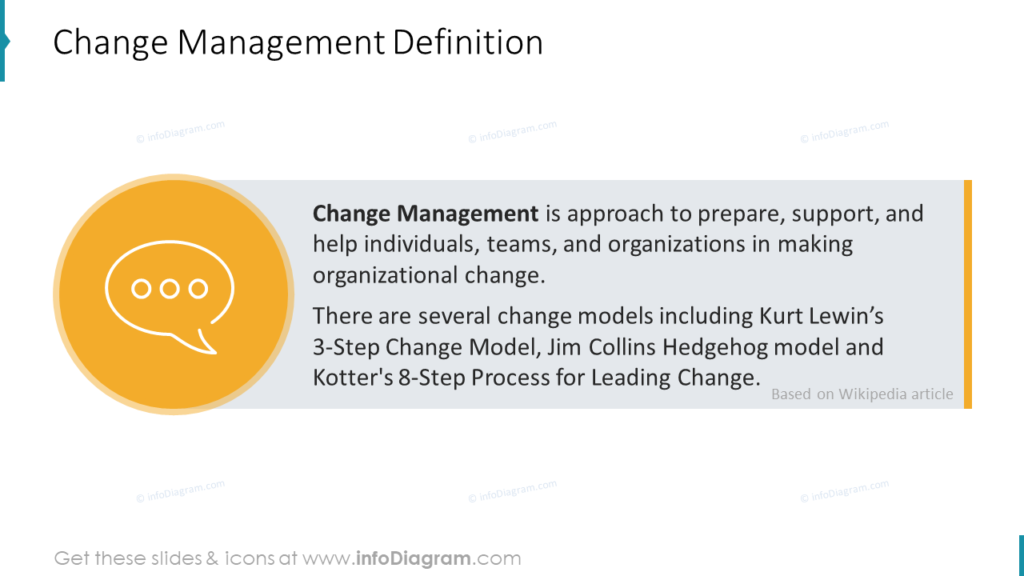 Present Kotter's change model
The layout gives you a comprehensive idea and a detailed list of the three groups, along with their assigned icon. It can be a great way to show the eight steps of Kotter's change model aesthetically and appealingly. Each area can present a different color and icon to its link with the three groups. You can further see the expansion for the explanation of the points.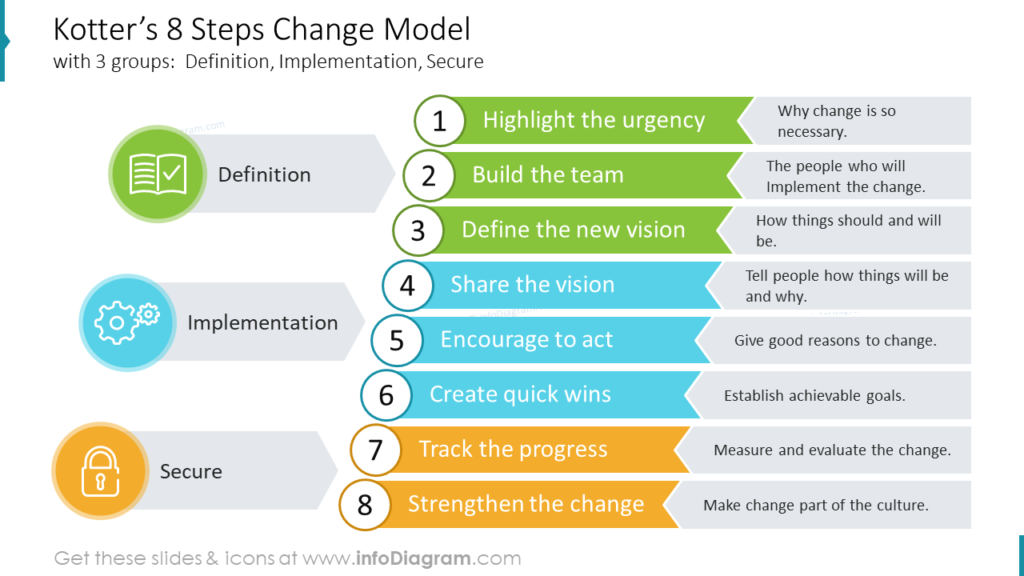 Explain the Hedgehog change model
Another great example of visual presenting another of the change management frameworks is the use of the Venn diagram to show the synergy of the three areas for explaining the hedgehog change model. The slide shows the visual metaphor of the overlapping circles:
Passion – What things do have the most passion for?
Skill – What things you can do with complete proficiency?
Reward – What keeps you going or motivates you?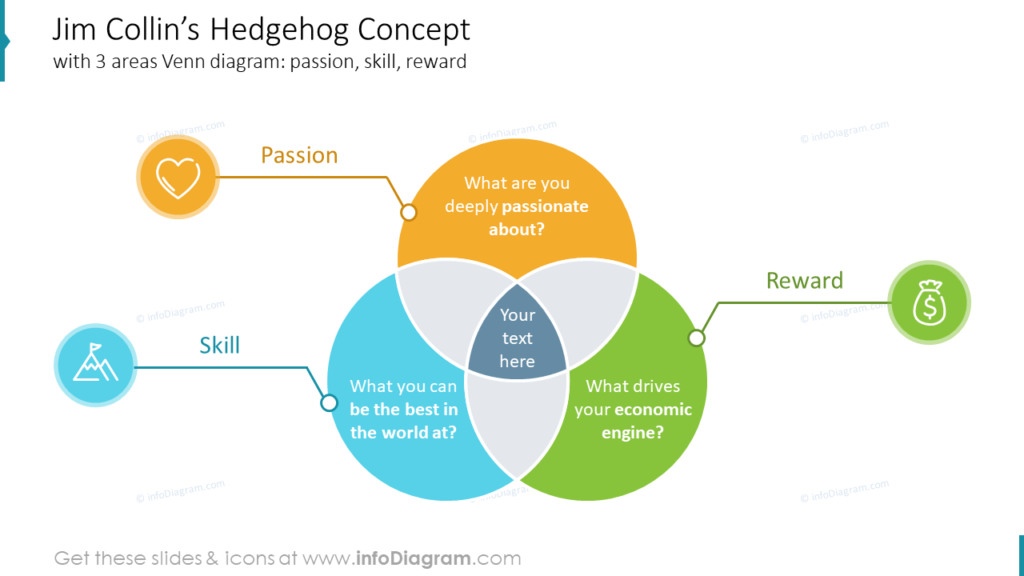 Illustrate 3 stages of Lewin's change management model
The three-column layout can help explain the stages of change management, which are: unfreeze, change, or refreeze. Notice how we created a graphical symbol composed of simple shapes mosaic to express the reorganization stages.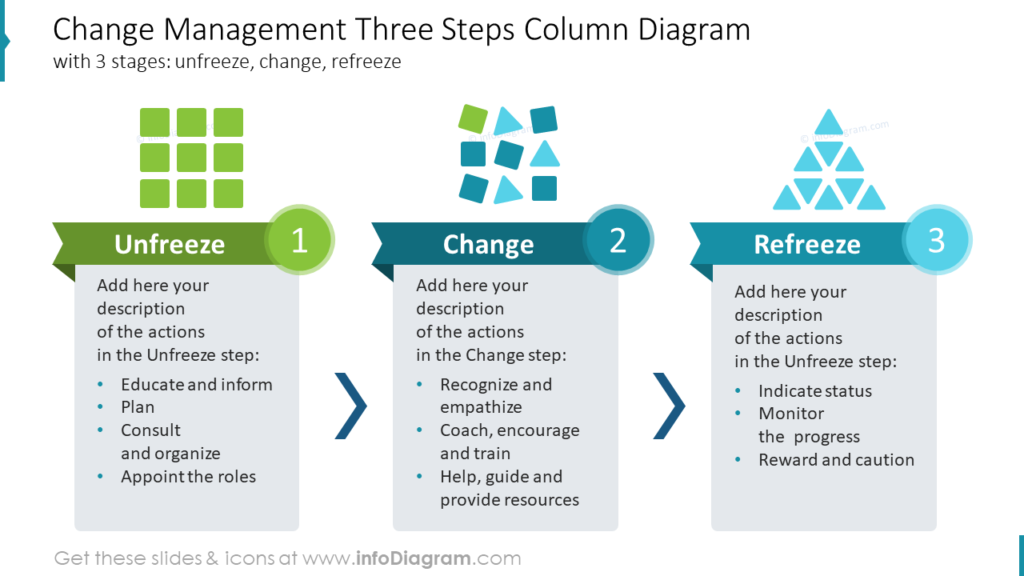 Example slide of organizational change timeline
If you want to present a process of organizational change, try a roadmap timeline, as you can see on the slide below.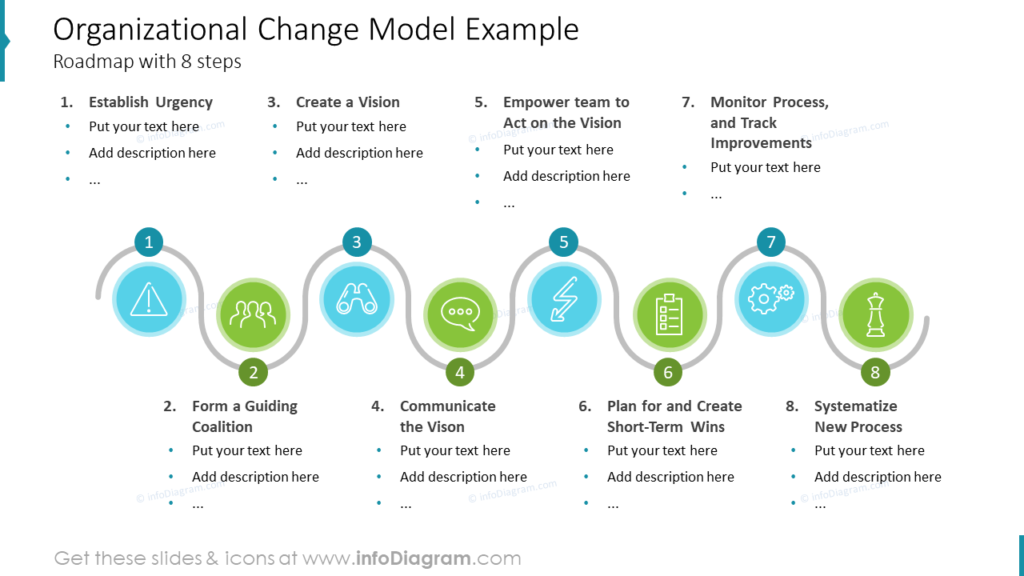 Such a curvy timeline design allows you to show the journey of the organizational change model in a comprehensive and appealing manner. See how we enriched those graphics with icons.
Case study of Change Management slide redesign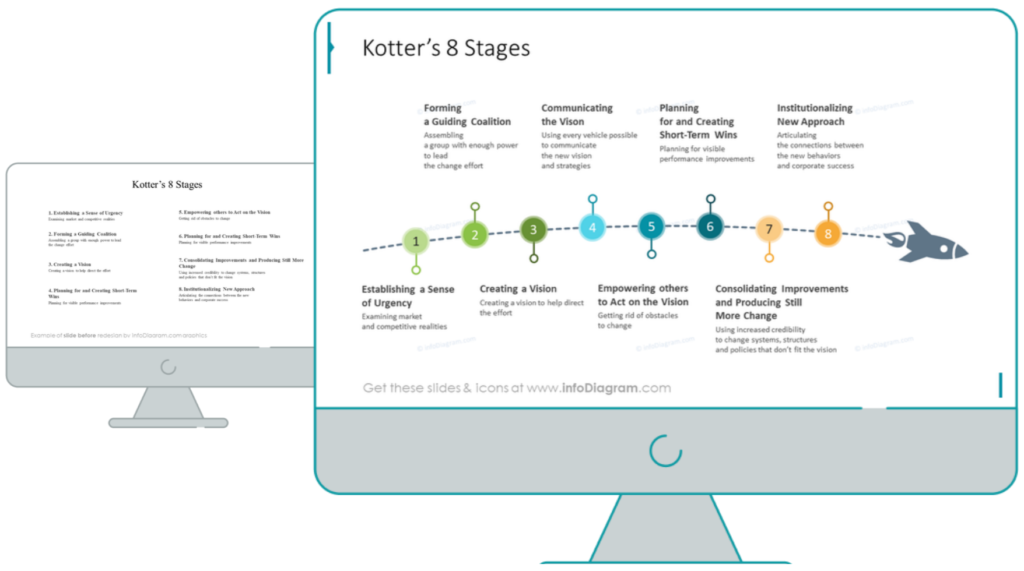 Let us show you how you can redesign an ordinary slide describing the steps of Kotter's Change management model using a timeline diagram. Using the metaphor of a process, you explain the eight stages engagingly. Here is the step-by-step guide to the PowerPoint slide makeover.
1. Present stages sequence with graphics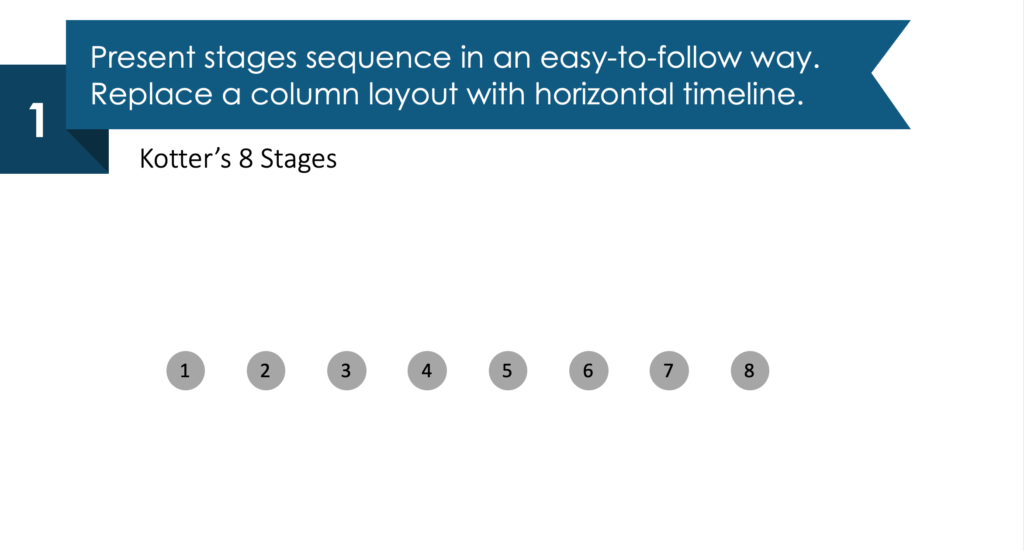 Firstly show the change process sequence of the stages in an easily comprehendible way. Replace a text column layout with a horizontal timeline made of dots.
2. Enrich your timeline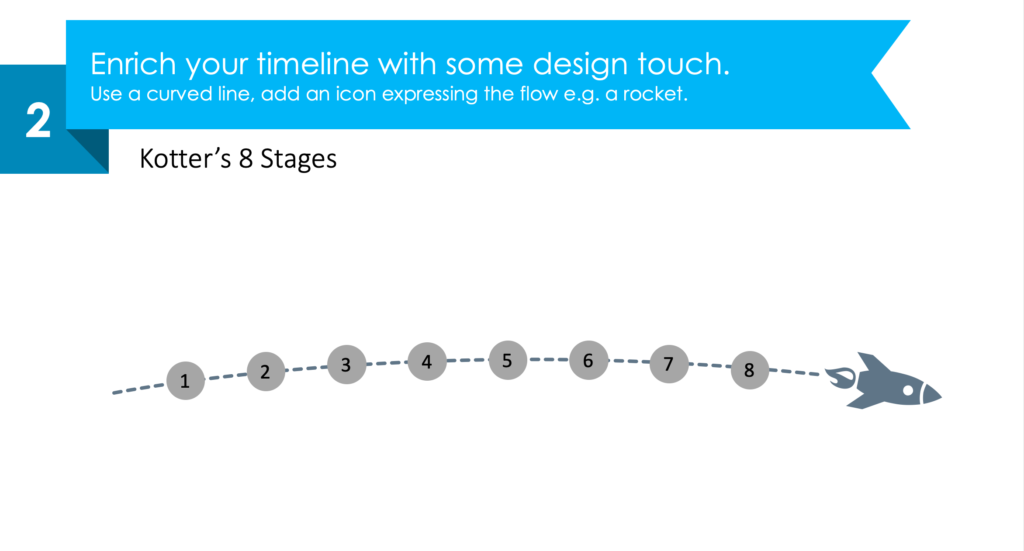 Make your timeline nicer to look at by making slight tweaks. Add an icon to show the flow of the curved line, like using a rocket.
3. Assign descriptions to the stages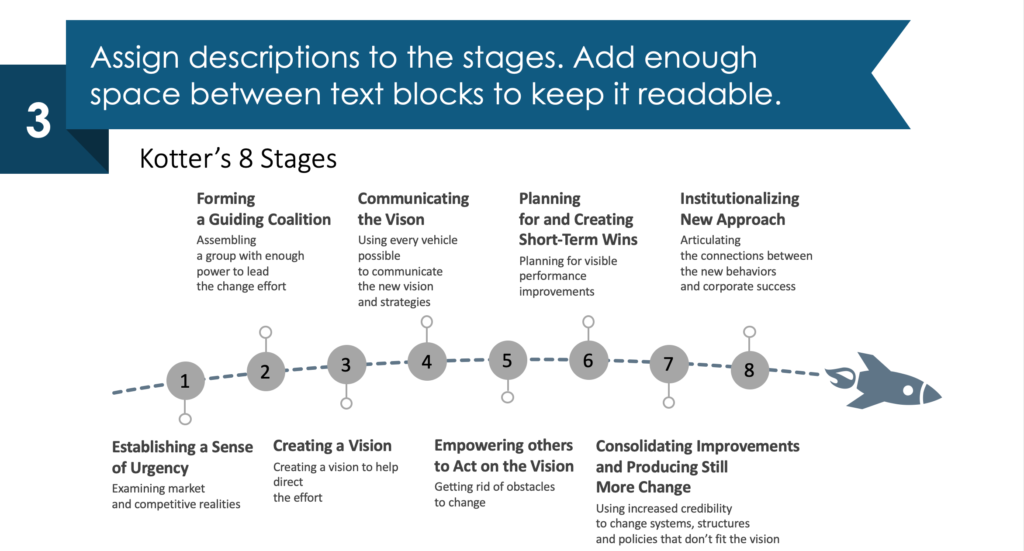 Having the core timeline ready, add text and headlines. Make sure to leave enough space, so it does not affect readability.
4. Expose each stage better, use various colors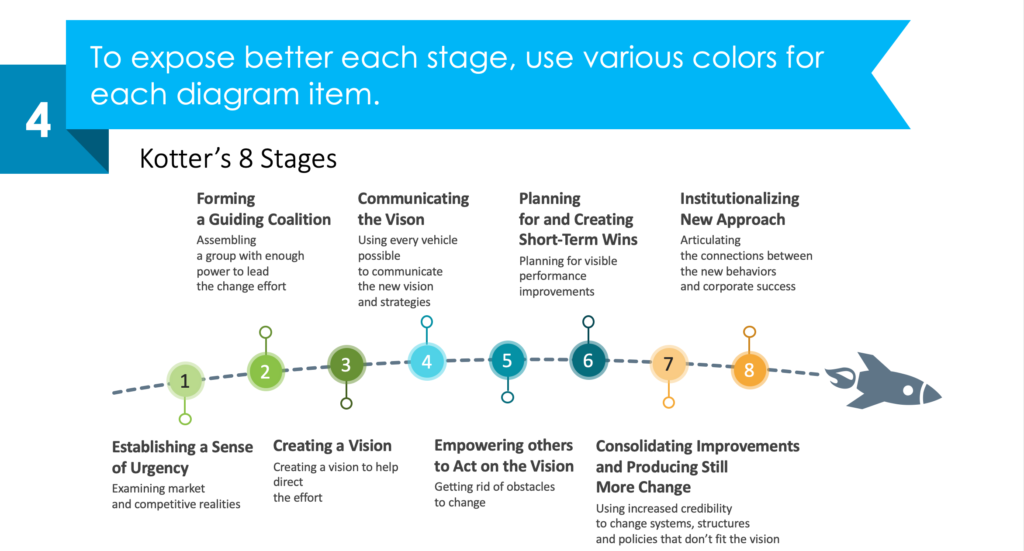 To give more clarity to each stage, you can take advantage of the different colors for a particular diagram item. Keep colors distinctive, ideally from your company palette. Remember about keeping text to background contrast. For instance, notice that in steps number 1 and 7 we used black number color because a circle had too light a color.
Summarizing the Change Management Model visualization ideas
Using diagrams can help you explain the various change management models in a better way.
You can express the essence and structure of a particular change framework and present its steps in a way that is easy to follow. With basic design rules such as contrast, enough space, and the use of graphical symbols you can make a stunning presentation and impression.
Resource: Change Management Model PPT Graphics
The Change Management Presentation Graphics is available in our slides collection. It includes a wide range of slides and templates to show the various change frameworks. Check out the details below:
Change Management Model PPT Diagrams
You can extend the deck with a universal set of elegant outline style diagrams with various graphics, designs styles, and much more.