For a company looking to sell a food or nutrition product, what you need is a food sell sheet one-pager that showcases all the product's features. It will help you present your product in an elegant and visually appealing manner.
Are you looking to get your hands on an editable Food Product One Pager made in PowerPoint, the same as on the pictures? Click on the slides to learn more about it.
What is a Food Product Sell Sheet?
The food sell sheet is a document with a brief presentation of a product look and key information such as size, ingredients, packaging, delivery, etc. In other words, it's an outline of your offering describing your product features, and it can help you highlight the benefits and the values that your product brings to the table.
In this blog, we show how you can use clear graphics, icons, and other elements to present your product with an engaging look. Here are a few examples of how you can use a food sell sheet to communicate the most relevant information regarding your product.
Give an overview of the product
The example below shows how you can present key points of your product that give a good visual look. You can add a zoomed picture to outline the important components of your food product.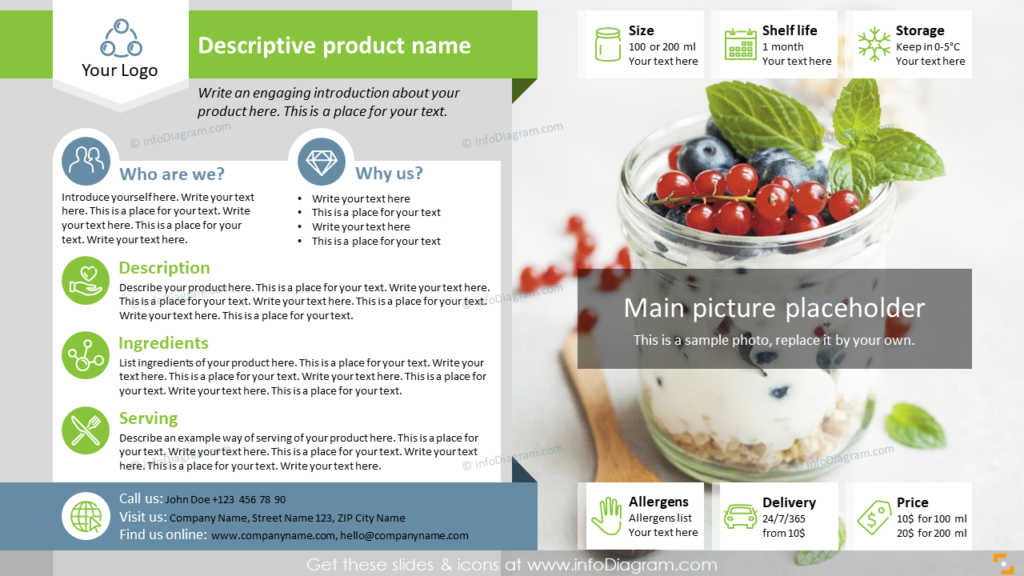 Show nutritional facts in a clear table
Here is another example of the food sell sheet, which allows you to showcase the nutrition facts and the benefits your product offers. Notice how you make the most out of shapes, colors, and icons to present these facts to your prospects. You can include additional relevant characteristics, like size, shelf life, storage, price, and illustrate them with icons.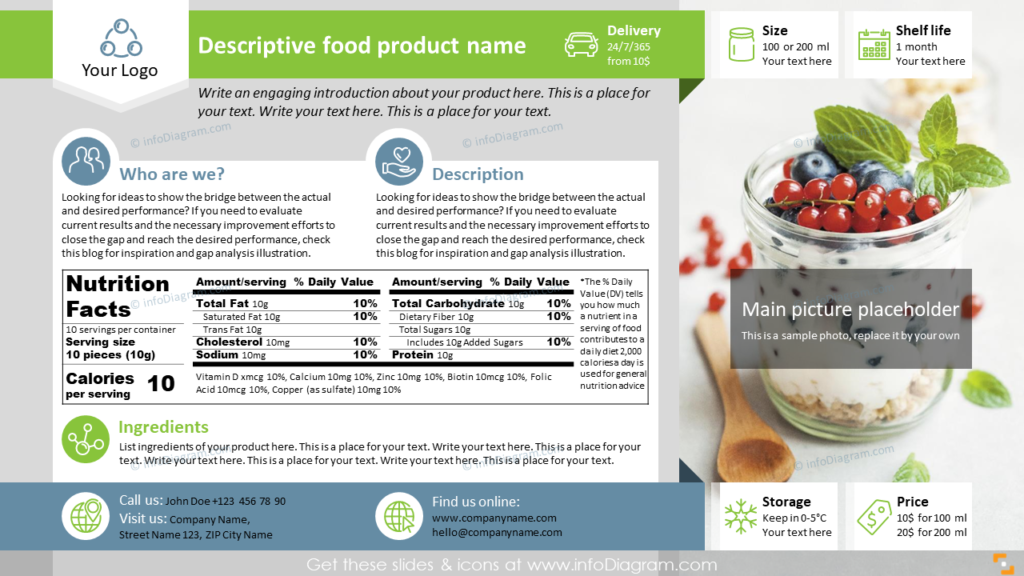 Present product sales data using consistent graphs
In the below layout, you can see how you can portray market data and key research using graphs. We included common sales and demographics indexes: demand, client preferences, and age groups.
Additionally, the small design elements, like outline icons and consistent colors can help you highlight all things about your product and make your one-pager look attractive and professional.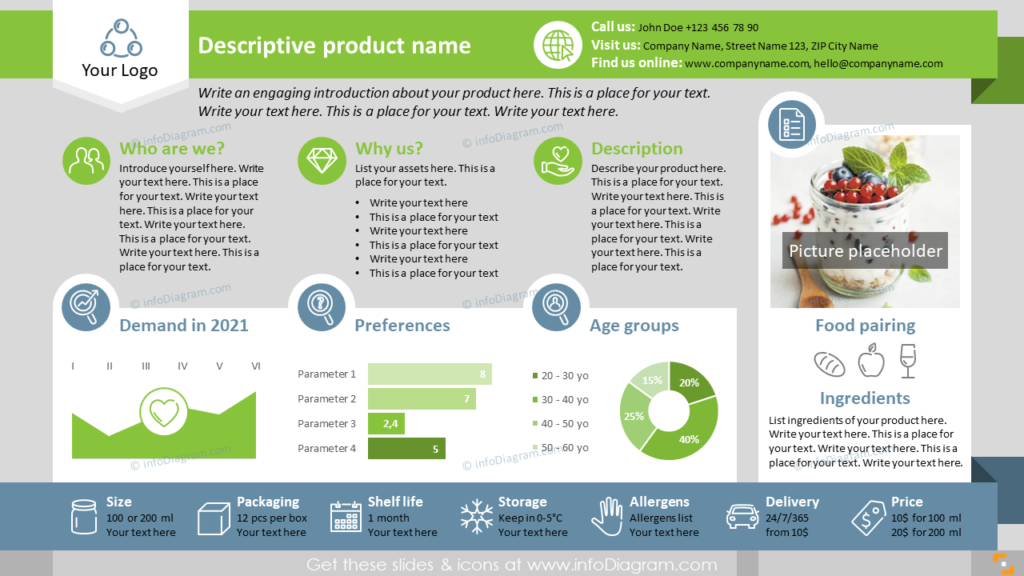 Show product serving proposal
The example layout below shows you how you can display a serving food proposal. In addition, this one-pager makes it easy for you visually show your product's features side by side.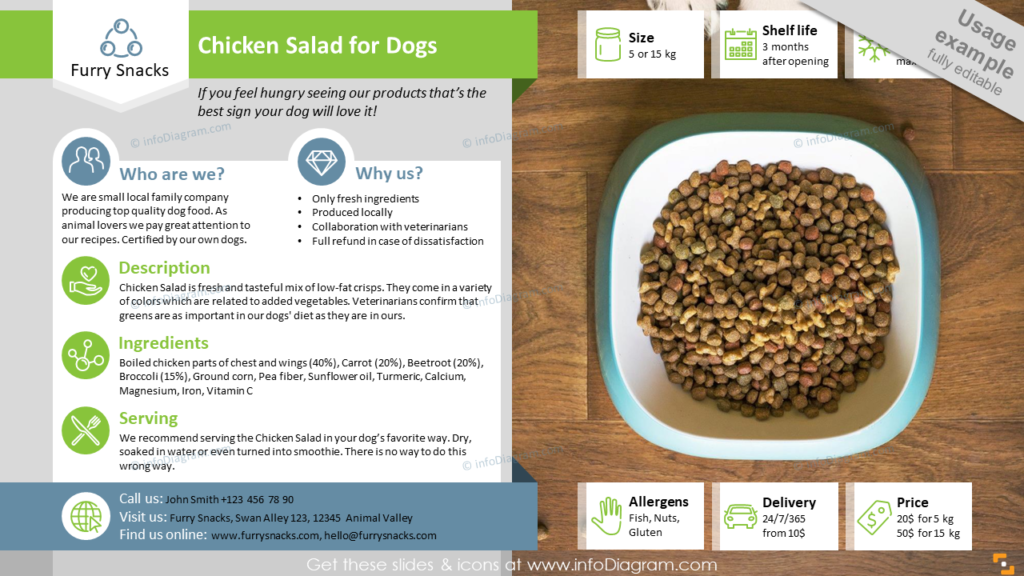 Tips to Enhance Your Food Product Sell Sheet One-pager PowerPoint

The presentation of your food matters both on the table and off the table. That is why you need to enhance the look to draw your target audience's attention. Here are a few tips that you can use:
Leverage the columns' layout/structure to showcase how your food products stand out from the competition
Show the details of your food products, such as ingredients, calories, etc
Take advantage of graphic concepts to show product data in an appealing way
Use headers and short engaging content rather than dull text blocks
Process for making a product comparison one-pager in PowerPoint
Want to know how to design the food product one-pager leaflet step-by-step? Then, follow the simple steps below.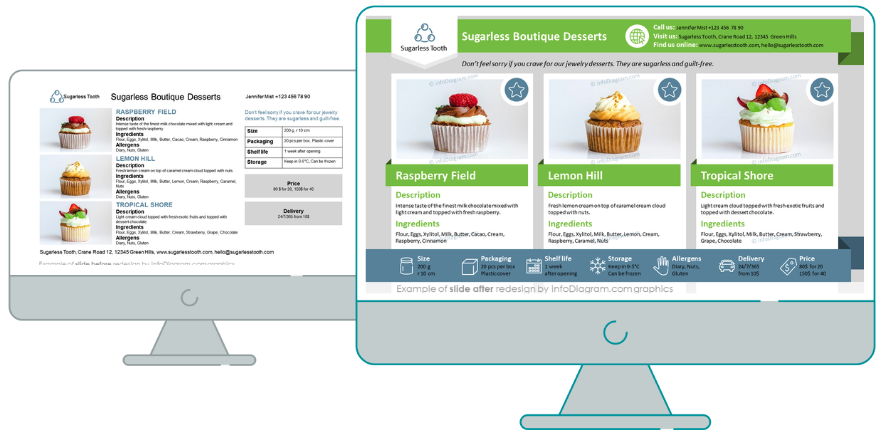 1. Select the comparison layout that helps you present the points and makes your product stand out from the rest.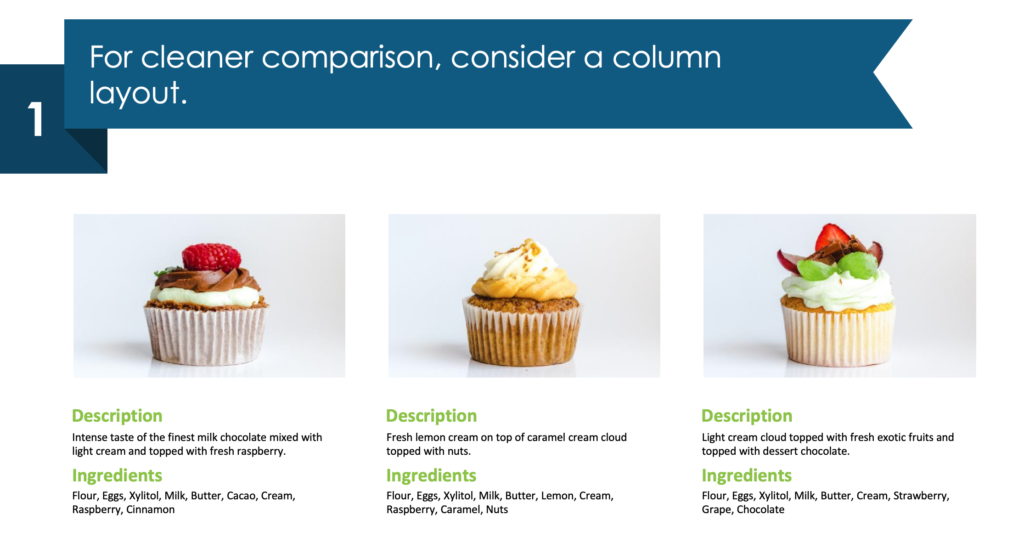 2. Use the ribbon shapes to highlight the title and product names.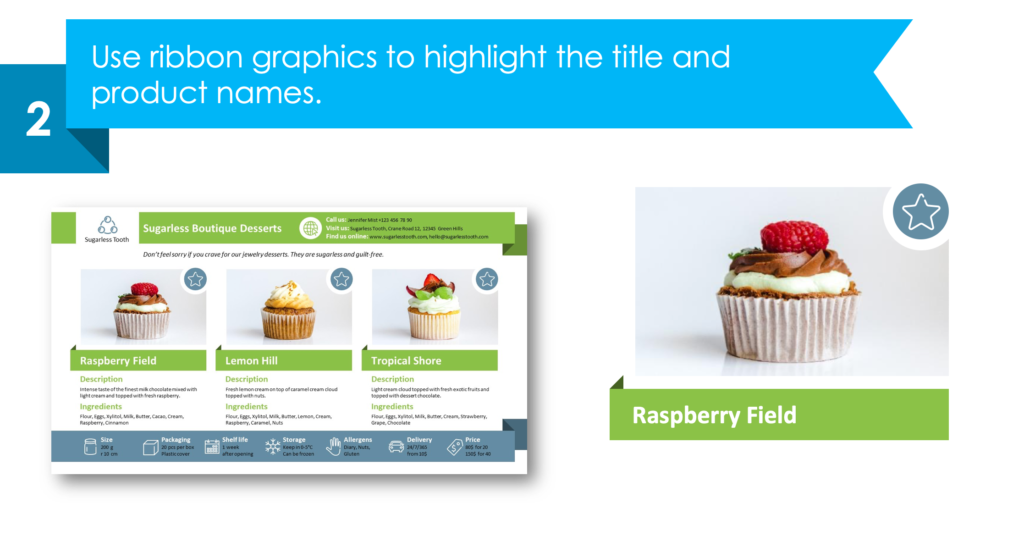 3. Use the icons to emphasize the key points and to show the characteristics of the product.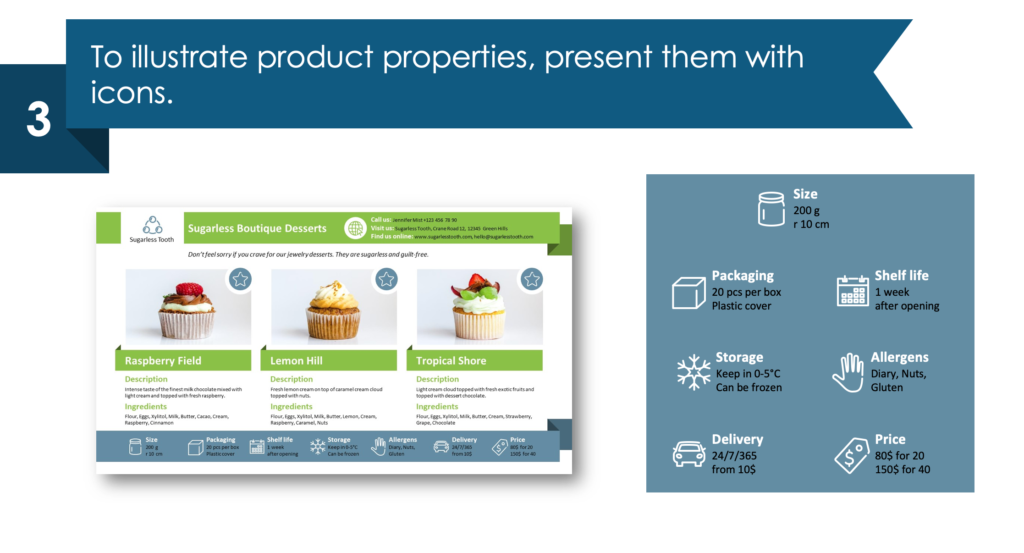 4. Make sure you have properly aligned everything and keep the margins at enough size to make all information readable.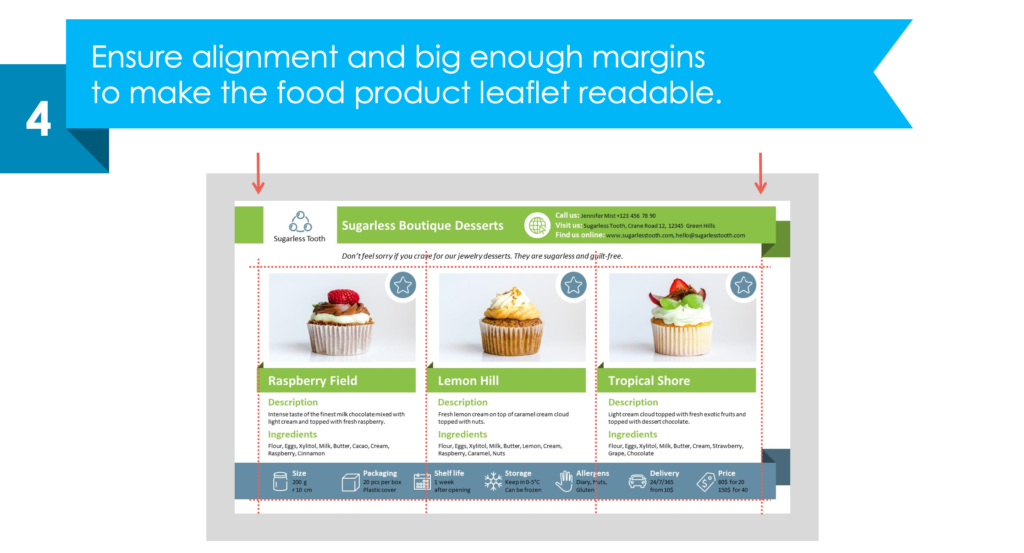 Wrapping Up
Using a food product sheet presentation one-pager can help you present your ideas to customers or sales partners in a nice representative way.
All you have to do is follow the tips mentioned in this article to create a product marketing material in little time using tools you already have.
Resource: Food Product Sell Sheet PowerPoint Template
The Food Product Sell Sheet presented in this article is a part of our one-pager leaflets collection. You can find various slide templates to show the product appealingly by adding your items such as nutritional facts or serving proposals. Check the full deck here:
Food Product Sell Sheet PPT One-Pager
If you need to present your business key information in a short overview, see how you can design a company snapshot one-pager in PowerPoint, and what elements to include to give your potential clients complete insight into your company.
Want to create more customized one-pagers, consider getting additional diagrams and infographics? Have a look at this collection of sleek outline style diagrams.