If you are presenting medical topics, using graphics can help you present more information by using less text and making your slides more engaging.
Maybe you plan to give healthcare presentations about medical care systems, wellness programs, or present biological research. Or you need to provide medical information to patients, or educate your audience on health-related topics. Here are a few inspirational resources and examples you can use to make your presentation shine.
Get any of the graphics presented here – click on the slide pictures to see and download the source illustration. Check the full collection of Medical PowerPoint Icons and Templates here.
Suggested 3 PowerPoint templates for illustrating healthcare presentations
Here is an overview of presentation graphics designed for medical professionals and different branches of healthcare workers. Doctors, hospital managers, researchers, medical biologists, or pharmaceutical companies can utilize these medical templates for making their presentations more visual.
PowerPoint Outline Icon set of Healthcare, Medical Biology & Pharma Research topics
Whether you do pharmaceutical research, explain microbiology, or treatment of diseases, it's helpful to use graphical symbols in your PPT slides to present in a comprehensive way.
We've designed this extensive Health Care, Medical & Pharma Outline Icon set with over 300 symbols that cover all major healthcare and medical biology areas. All symbols are created in a modern outline style that will ensure a consistent, professional look of the presentation.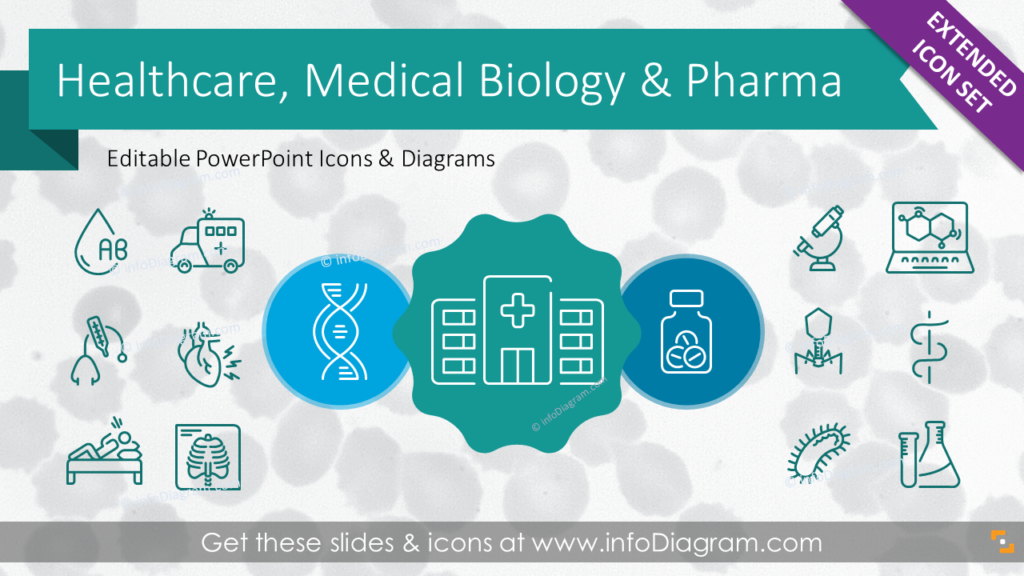 Where can you use these Medical Icons?
A few ideas where you can apply those illustrations:
Add illustrations to medical transport and personnel, medical equipment, or patient educational materials, or create your own medical poster for your training courses
Provide information about specific illnesses – present facts or risk factors.
Illustrate the health benefits of certain foods, habits, exercises, and products.
Visualize a laboratory investigation on a slide without overfilling it.
Offer recommendations for how to avoid certain health issues, causes of death, or how illnesses or injuries affect body parts and organs.
Human Body Parts and Organs Infographics (PPT Icons)
If you need to present the human body for some medical infographics, explore this collection of vector graphics of Human Body Parts and Organs PowerPoint shapes.
It contains 32 vector shapes of organs and icons with 11 infographic examples you can reuse, for example:
Human body silhouette with the main organs: brain, heart, liver, kidneys, lungs, stomach, and intestines.
Infographics template on smoking statistics, alcohol poisoning, air-pollution illnesses, and facts about heart attack with place for statistics
Icons representing the mouth, nose, ear, eye, tooth, hair, feet, head, and brain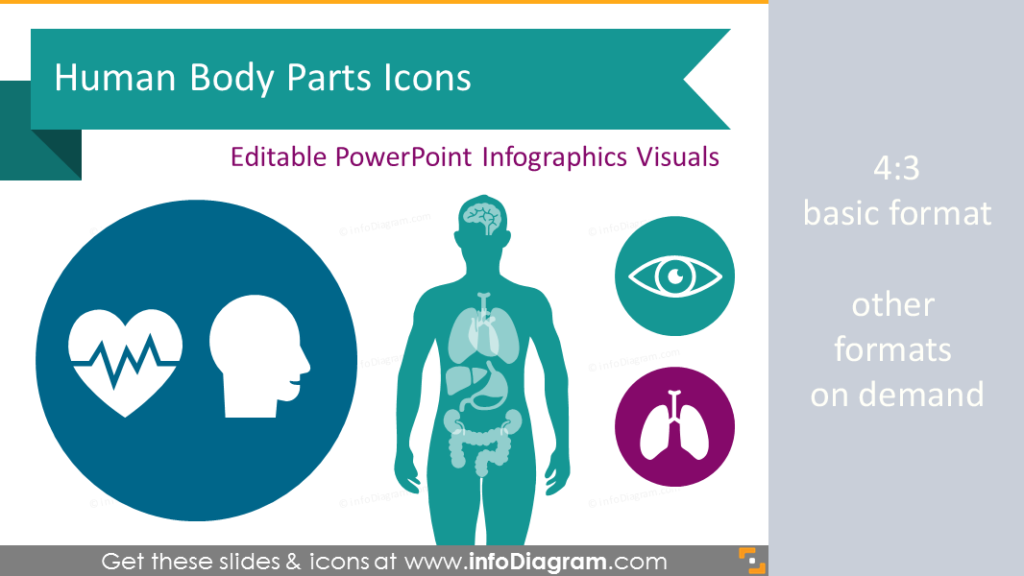 Healthcare Medical and Pharmaceuticals Icons (PowerPoint Clipart)
This Healthcare, Medical, and Pharmaceutical Flat Icons bundle contains over 160 medical and pharmaceutical symbols plus diagram visuals. There you can find graphics to represent medical personnel, telemedicine, remote heath monitoring devices, medical facilities, and pharmaceutical supply chains.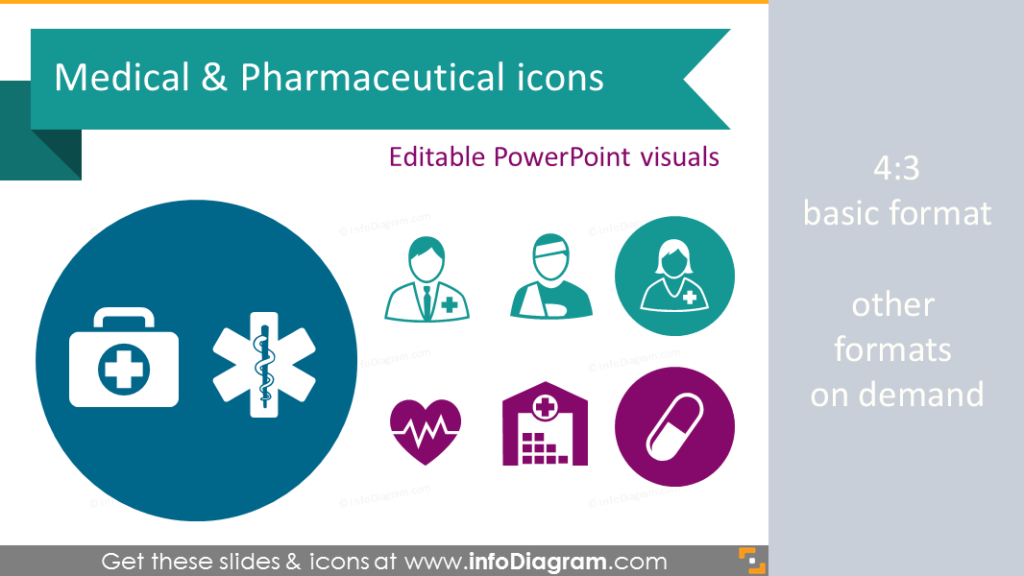 Here are some examples of what you can present using these templates:
Present hospital management systems, including medical personnel and medical facilities
Illustrate telemedicine and telehealth topics
Show statistics of medical injuries and operations
Document biological research
Explain pharmaceutical supply chains – production, distribution, and storage of medicines or other healthcare products
To Sum Up
Presenting medical topics often deals with explaining complex issues. Often we need to explain it in simple language to the audience. That's why it's very beneficial to speak in pictures. Use illustrations extensively to make your point clear.
If you present often it's handy to have a collection of pre-designed pictures and icons at hand, to save your time when creating new slides.
Additionally, by using PowerPoint you can always export slides to a PDF format to share with peers or patients. You can also save selected infographics as a separate picture (using Save As image) and add them to educational materials as an illustration.
Resource: PowerPoint Templates & Graphics for HealthCare Presentations
Explore the complete set of presentation graphics for the medical industry using the link below.
You can download all the source illustrations for commercial use and free modifications. All are available using the infoDiagram collection of presentation graphics:
Medical & HealthCare Diagrams & Icons Templates Collection
For more inspiration and ideas for medical and healthcare presentations, check our blog page.
To try out how those PPT diagrams work, get a sample of free PowerPoint diagrams and icons that you can use to play with this kind of presentation graphics.