Have you been wondering how to make yourself-introduction stronger and more effective during the job interview presentation? Maybe you're struggling with highlighting your competence and professionalism. I know how challenging is to prepare to talk with a recruiter or a future employer. You have only one chance to show that you're a qualified and adequate candidate.
The main factor during the face-to-face interview is being self-confident and knowing how to present your strengths and experience. Creating a few slides in PowerPoint which present inter alia your personal characteristics, skills, or expertise can help you impress the person you are going to talk with.
Let me show you a few examples of self-introduction slides created during the job interview presentation.
Here's a typical structure of such an interview presentation:
show your profile highlights as a perfect job candidate
presenting your career journey
show your personal SWOT analysis of strengths and weaknesses
present representative project case study
visualize your best project with a STAR method
make strong closing
Get all the graphics presented in this blog – click on the slide pictures to see and download the source illustrations. Check the full Job Interview Self-Introduction slides deck here.
Start Strong – The Opening Slide
The title slide makes the first impression. Therefore it should look professional. You don't need a lot of information over there. Your name and the position you apply for are enough.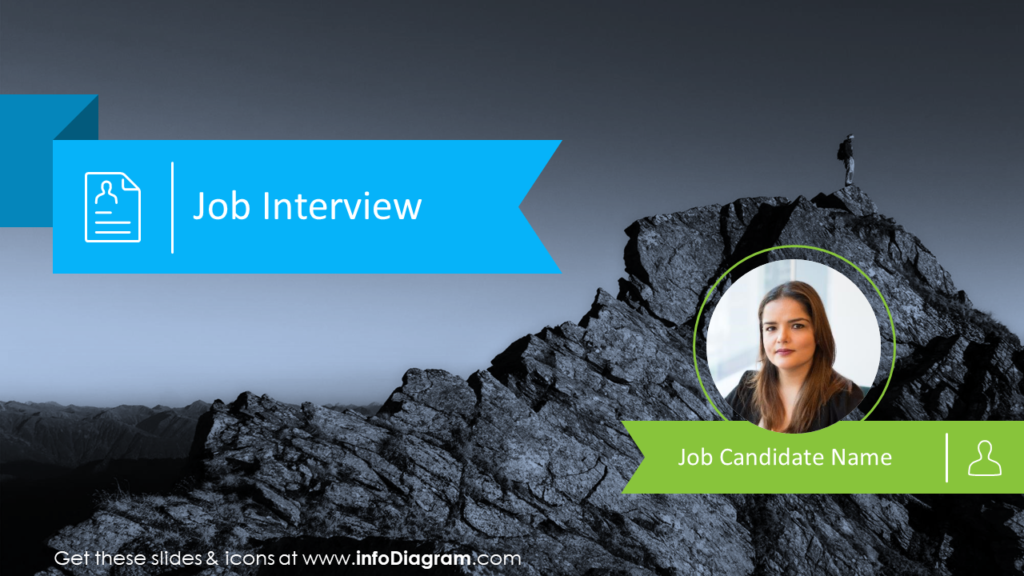 If the interview is online, you may want to add a photograph of you, if you have a good one. This slide will be presented at the very start when you are waiting for the interview to start. So it should set expectations but also don't start revealing the content yet.
A useful keyboard shortcut to use here is F5 – it will start a presentation in PowerPoint, from the first slide.
Introduce Yourself – Presenting Candidate Profile
When you want to present a one-page summary of your key information useful for the interview, here is an example of how you can put it on a single slide.
Usually, such a slide is designed to be read on-screen or sent after the job interview presentation. Therefore it can contain more information. You do not need to read and explain every item, just give a glance, and mention some highlights you want to underline.
The slide below covers an overview of a candidate person in several categories :
personal information – choose the information that can be useful for the recruiting process e.g. contact data
education – the highlight of main 1-3 items only
experience
qualifications
goals
skills set overview e.g. in form of progress bars
Each section contains specific information from areas interesting for recruiters. It's worth presenting it in a clear but also visually appealing way.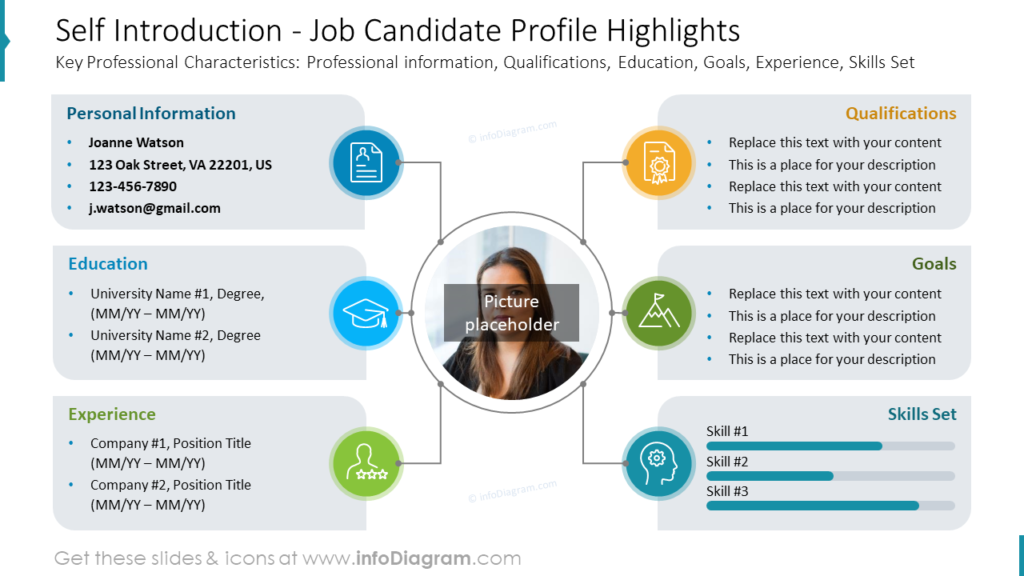 Here's an example of such a candidate highlights slide we designed – in the center of the slide is placed a picture placeholder, which lets you upload your photo. On both sides of the picture are deployed sections with your personal information. Each section has a dedicated color and corresponding icon. With such a format of presenting information, your future employer can find all the needed data at a glance.
Illustrating the Career Journey with a Timeline
To present the journey of your career milestones, consider using a graphical form representing a calendar timeline.
Timelines are great formats to present actions over time. A simple arrow with years can be used for visualizing your work experience. Visual presentation of a time helps to make dates put into context – express how long a certain period lasted. Take a look at the slide below – it contains a simple timeline and place for details about your previous positions.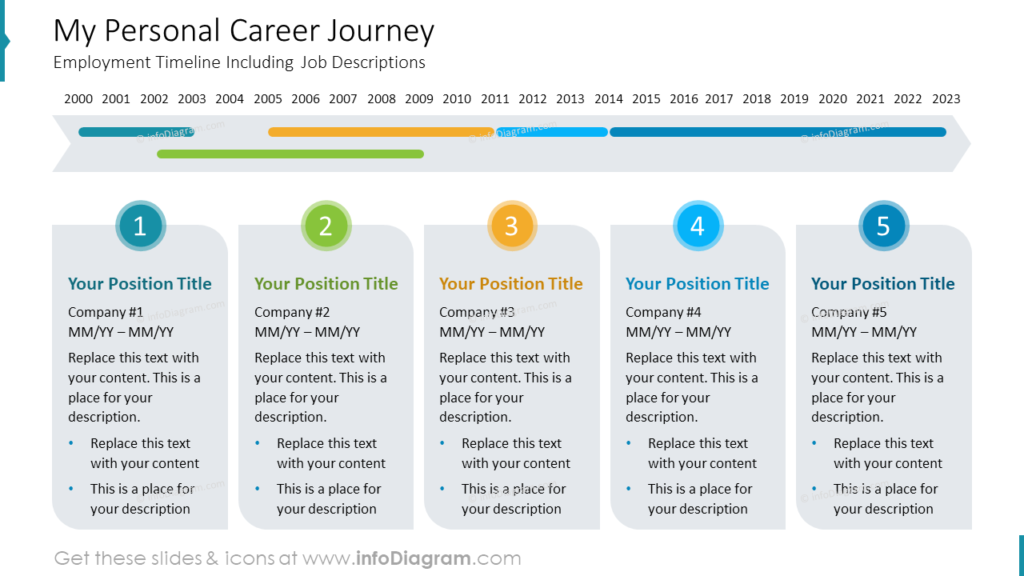 We divided the slide into two sections. The section at the top of the slide contains an axis with years that corresponds with the second section of the slide – job position descriptions. Every placeholder for the description contains a place for the position title, company name, periods of working, and description including a bullet list. Every position is marked with a number, so it gives immediate information about the number of jobs. Besides, the colors assigned to each job visually present the length of work experience at the axis on the top.
Check three original ways to illustrate a timeline in your presentation.
Creating the Personal SWOT Analysis
You can highlight your strengths and opportunities using the SWOT method (presenting personal Strengths, Weaknesses, Opportunities, and Threats). The sections with weaknesses and threats can help answer the interview questions like "What are your two disadvantages?".
How can you present it on a slide? Let's analyze the slide from a graphical point of view.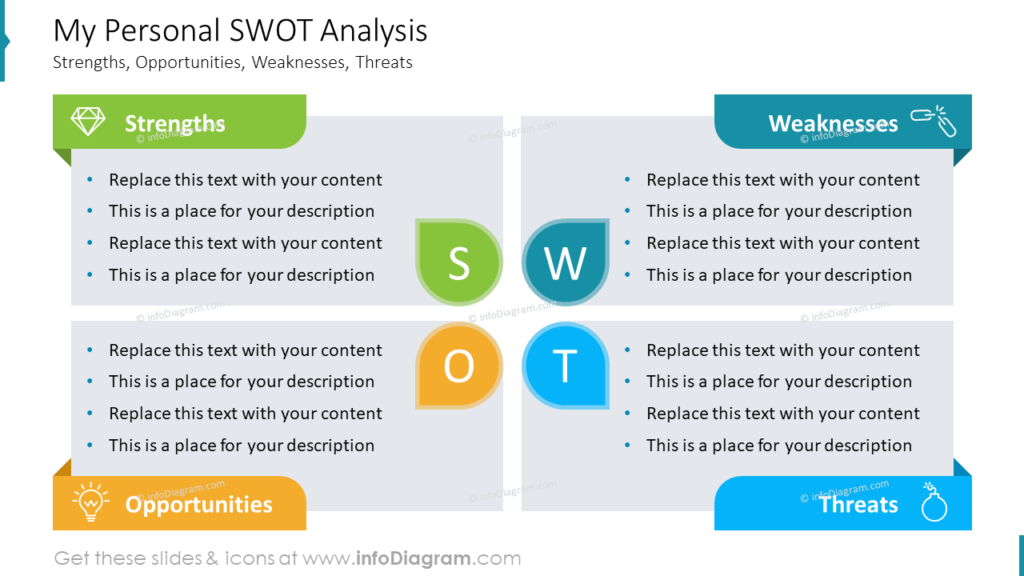 The slide above is divided into four equal parts, each for every SWOT component (enriched with acronyms of representative areas). Every block has added a representative icon:
the diamond shape represents the strengths
broken chain symbol shows weaknesses
lightning bulb figure presents opportunities
bomb icon reflects threats
Presenting such concepts with symbols makes them more expressive and easier to remember. In addition, every concept is assigned a different color which makes the whole slide's structure attractive and consistent at the same time.
You can add a simple animation for each block, to show them one at a time.
If you'd like to go deeper with SWOT analysis and show the interconnection of all elements, or focus attention on each category, see how to save time and design attractive SWOT analysis slides.
Show a Representative Project Case Study
You can be asked to present an example of your work. For that, create a slide with the summary of the project you are proud of and that is relevant to the job position.
What sections such a case study slide can contain?:
the scope of the project
a situation description of the project's context and environment
challenges you faced
the solution you helped to create
results that the project delivered
Let's see how such a project case study slide can look graphically.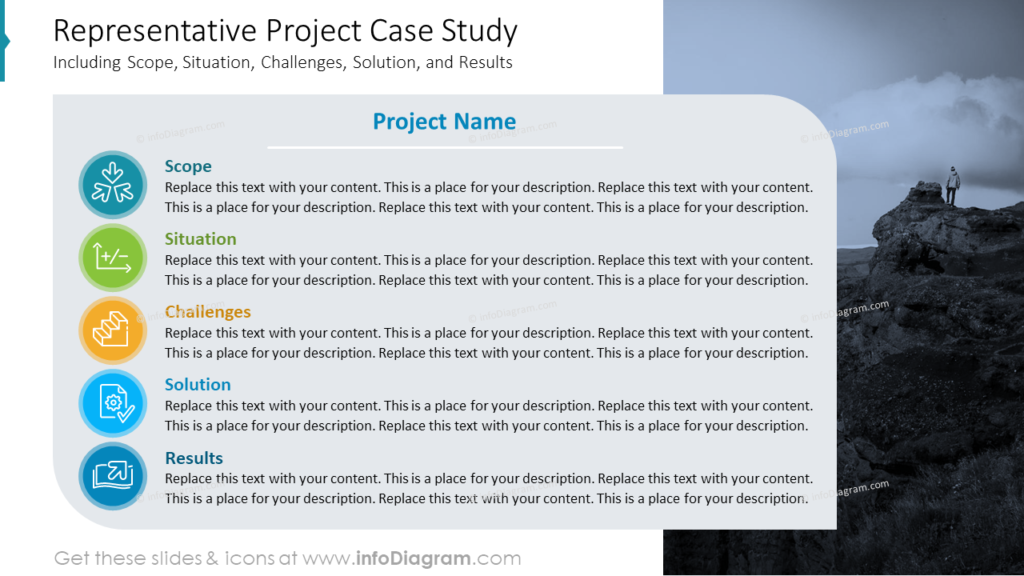 While making a list, it's not necessary to use bullet points or numbers always, they can be replaced with fitting icons like in the example above. Each element is symbolized with a representative icon and assigned color. To make the slide more stylish, the content is placed on a grey shape with two opposite rounded corners and a full-height picture.
Using the STAR Method to Present Project Case Study
An alternative way for presenting a quick overview of a specific project context is the STAR method.
The STAR is an acronym for four areas (situation, task, action, result). It is a popular technique that can be used during the interview presentation. Describing the challenging situation in which you found yourself will be more efficient when you visualize it graphically. Let me present to you an example below.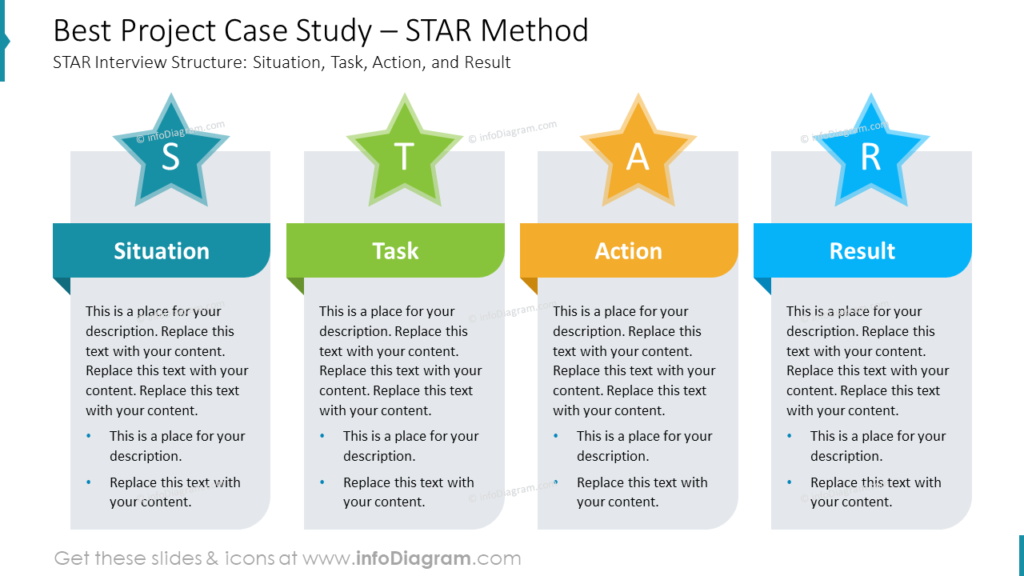 We divided the slide into 4 columns, each dedicated to one component of the STAR method. At the top of each column we (and here you might be surprised :)) a PowerPoint shape – a star with a dedicated color. The same color appears on the ribbon where the section title is written. It makes the structure transparent and easy to grasp.
Job Interview Presentation & Self-Introduction – Dos and Don'ts
Preparing for the interview talk should be a thoughtful process and requires solid preparation to make yourself comfortable and confident at the same time. I hope the examples presented in this article will help you to present your person professionally.
To make a positive impression I am sharing a few more tips:
introduce yourself – start the presentation with a strong visual title slide and then provide an overview of your personal information. A good practice is to apply a photo (but with good quality, you're presenting your person – be sharp on the picture).
slides with several sections – visualize them with icons for better orientation, Remember, the icons should enrich your presentation but not replace the description or explanation.
do not overwhelm the presentation with colors – choose only a few primary colors which you will use throughout the whole presentation. Too many colors will redirect the attention from the main purpose and make the reader tired of looking at it.
Resources for Job Interview Presentation in PowerPoint
If you want to save time creating an interview presentation, you can reuse the slides from the examples above.
All slides are available in the infoDiagram collection of presentation graphics:
Job Interview Self-Introduction Slides Deck
Check creative ideas on how to design a CV and cover letter that will help you stand out from the crowd.
If you need to show your action plan and work objectives for the first 90 days in a new role or new team, see how modern visuals can strengthen your speech.