Doodling on paper is a great way to get really creative. I recommend it as a way to start any presentation design process.
But how to move from paper to computer? I put down a few ideas a how you can get creative sketchnoting presentation slides.
So if you want to express creativity in your presentation, sketchnoting is a way to try. Start doodling. Get inspired by some professional sketchnoters.
Remark: You can get all diagrams and icons from Sketchnoting Doodle Symbols.
Benefits of Using Creative Sketchnoting
Using your own doodling for note-taking has many benefits:
drawing stimulates your brain and puts you in a creative mood
it's a way to make notes very quickly
helps you to see the big picture and organize your knowledge. It's much better than just writing text, that is linear by nature.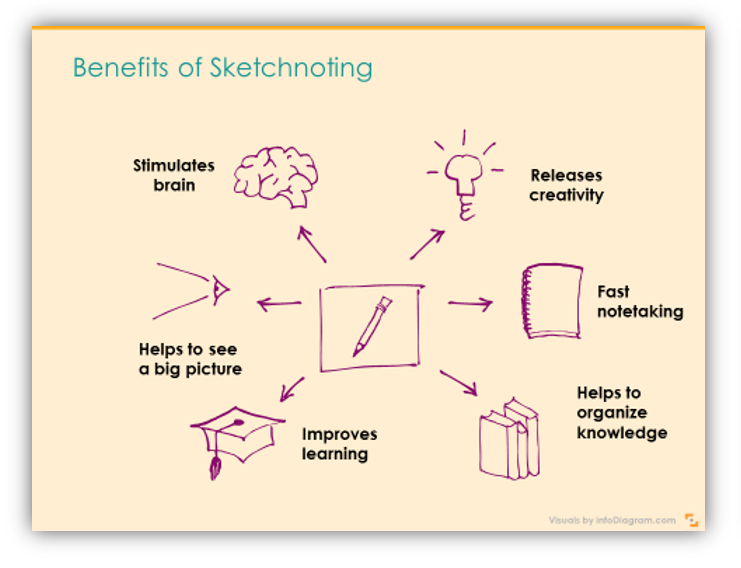 Moving Sketchnoting From Paper to Presentation Slides
The challenge is how to move from paper to presentation slides if you need to reproduce your doodle notes. It takes time but it can be worth it.
After making your sketched notes on paper, take a picture of it. Or use a scanner to get better quality.
If you want to reuse your symbols you can vectorize the pictures – change them to an editable vector format.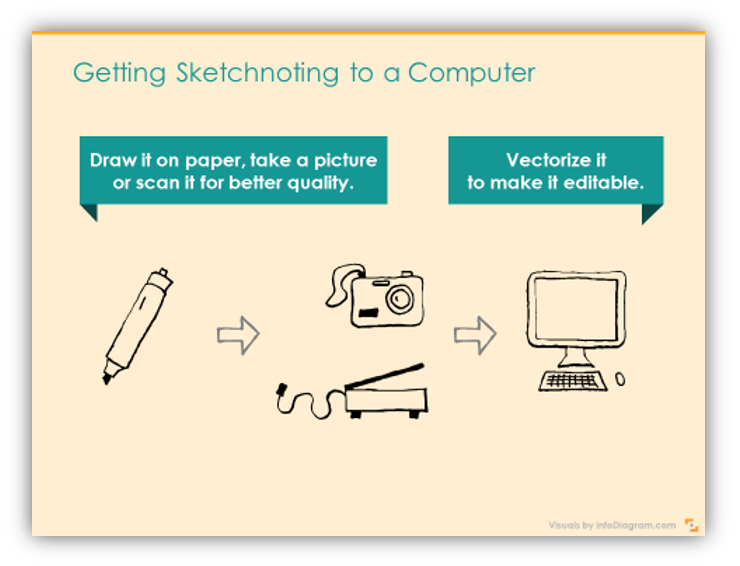 Having such vector symbols allows you to change their color and resize without losing icon quality.
Examples of Sketchnote Style Slide
Here are some illustrations of a doodle-like presentation. Such slides express creativity pretty straightforward way. So having such a hand-drawn presentation style your slides will stand out at any meeting or conference.
All those slides were created using only PowerPoint and sketchnote symbols we converted into PowerPoint vector icons. It's a way to save your time scanning your own pictures.
Sketchnoted-like slide examples:
Showing how an idea spreads and drawing a hand-drawn process diagram

 Some blackboard version for a change – Unique evaluation table or Supply chain illustration

You can use also simple animation to uncover your slide diagram elements step by step.
Resources: 
Sketchnoting Doodle Symbols
The doodle symbols library for sketchnoting like creative slides design in Powerpoint consist:
170 hand drawn pictogram icons and shapes on office, business, logistics, computers, education topics
3 various backgrounds – yellow moleskin paper, neutral white and blackboard
The Sketchnoting deck also includes 170 symbols for creating hand-drawn illustrations and process diagrams:
symbols of office items: presentation and document
project planning symbols: steps, approval, disapproval
computers and IT: desktop, scanner, printer
education symbols: book, academic hat, board
If you like the slide examples above, you can download them directly here:
See our YouTube movie below:
Where to start?
There are plenty of other great resources, such as the Doodle Revolution book by Sunny Brown,
Sketchnote Army
website.
Share With Us
Have you done any sketchnoting slides already? Let me know in the comments. I'll be glad to add here some more examples of how people do sketchnoted slides.