Over the last months, our designers worked like a hell :). One of the new PowerPoint graphics we created is a set of simple icons. They are perfect for creating your own infographics in PowerPoint, or for quick illustrating item lists or charts.
Currently, there are over 140 modern flat icons and we add new ones pretty often. All icons are in vector format, so you can change their color and resize them without losing the symbol quality.
Remark: You can get all diagrams and icons from Modern Flat Icons.
And what they are good for? The most common use of this collection is creating do-it-yourself flat icons for infographics. We use them ourselves pretty often for designing simple diagrams.
What's the Story Behind this Simple Symbols Collection?
As our chief designer Izabela put it:
"We love to create unique presentation graphics – such as our scribble icons. However, we also understand in business such style is not always appropriate. People need also a style neutral graphics. So I designed this new collection of icons. They have another benefit – those symbols are great if you are creating a simple infographic. Thanks to their non-complicated shapes, the symbols look fine also if they are made really small. You can use them also to illustrate data charts, PowerPoint SmartArt diagrams or various lists.
A hint from me for working with those vector icons: When resizing the icons in PowerPoint, hold a Shift key to keep their proportions. Otherwise, you easily can create wider or narrower symbols, like the egg-like globe icon."

You can use those symbols in various slide illustrations, see examples in the AIDA model template or SWOT diagram shapes.
The icons collection covers several business areas – People and Organization hierarchy, Products and processes, Commerce, Trends, Office concepts. Explore it for yourself.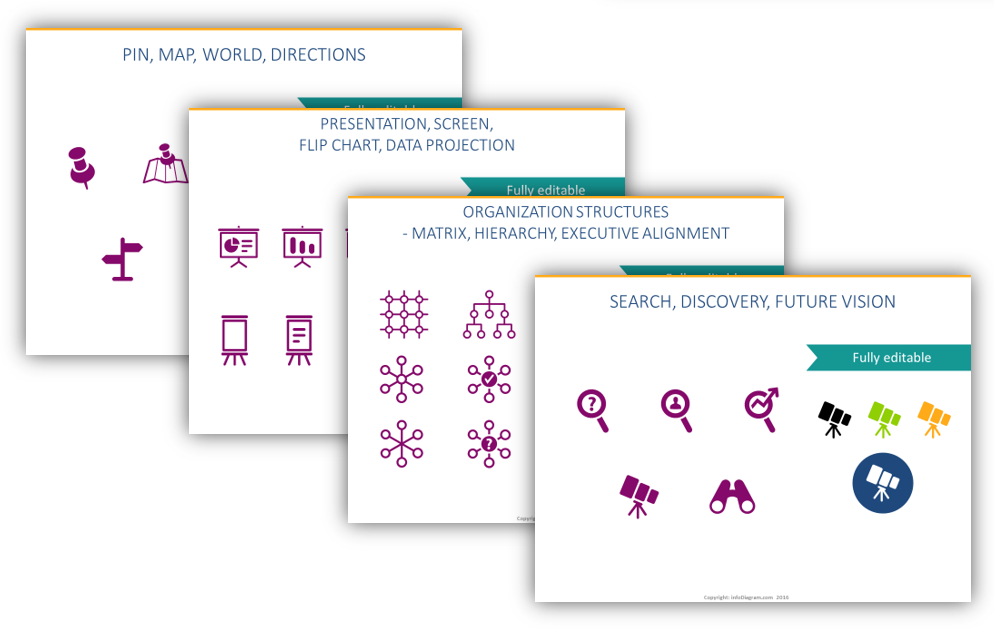 We are updating this icon collection every few weeks, add there new icons. If you miss anything, let us know, leave a comment below or contact us by our contact page.
How to Best Get 1, 10 or All Flat Icons?
You can get those icons in several ways:
if you need a few of them, you can choose any single slide when joining our infoDiagram membership slide graphics subscription. This allows you to choose any slide from this Simple icon collection or any other presentation from infoDiagram website.
or get all 140+ flat vector PPT icons together to build your own icons library with single pay-as-you-go purchase.
If you want to try a few icons first, then get our free Creative slide design guide with a few flat and hand drawn icons.
An extensive collection of Modern Flat Icons for creating own infographics in Powerpoint contains over 300 PPT vector symbols for quick illustrating business presentation:
Further Articles on Presentation Graphics
For more inspiration on using visuals in your presentations, check out also those articles: