When you want to present long-term plans, visualizing it is the best way to communicate your company or product vision. In this blog, you'll find three ways to make your strategic roadmap presentation attractive and well remembered.
It's this time of year when people talk intensively about new directions, set fresh objectives for their businesses. On all levels, from the board presentations, product development blueprints, or investor pitches of a start-up.
Roadmaps can be used for various levels of planning – Strategy, Tactics, Operations too. They differ by the scope of vision. By definition, strategy is a long-term plan of action designed to achieve a particular goal or set of objectives. Operational planning is rather short-term (days, weeks, a few months at most). For these, you can use also a standard calendar view of the objectives.
Remark: You can get all presented diagrams and icons from Roadmap Diagram Templates.
Depending on the type of planning you present about, choose one of the following slide visualizations:
Roadmap as a real picture of a path and horizon
Roadmap as a simple road line
Timeline graphics representing a path
Far far Away Picture Roadmaps – Best for Strategic Planning
Strategic planning is an organizational management activity that is used to set priorities and ensure all team is working toward a common goal. If you want to know more about good strategic planning, check these 10 Steps To Creating A Project Plan.
A well-designed strategic roadmap is like a GPS for your business. It's one of the best tools to lift the fog and make your vision clear for everyone on the team. Furthermore, the presentation of such a plan should help people imagine the future. Hence using real pictures is a good idea to do.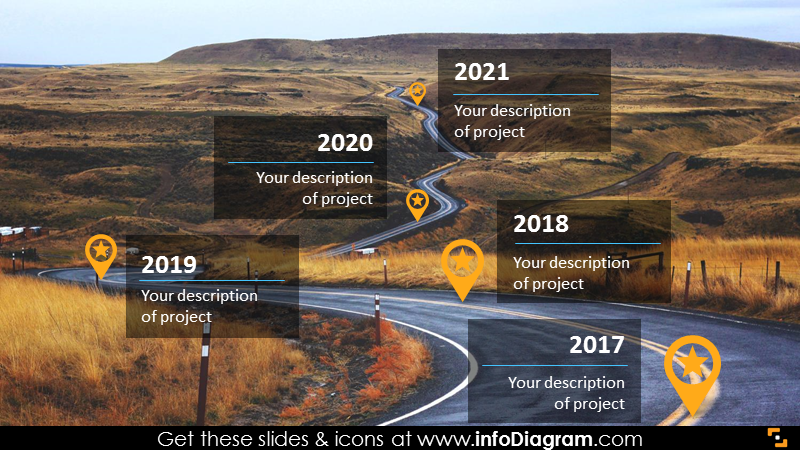 In such a road map view, you can add milestone elements to visualize what needs to be prioritized year-by-year (or month-by-month) to achieve your vision.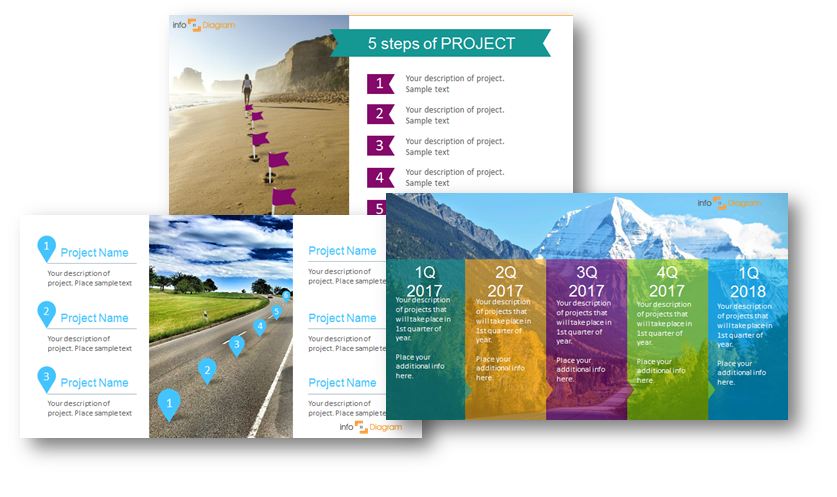 If you prefer the less realistic look, you can go for the simplistic yet modern look of flat graphics.
Product Roadmaps Mapping Year Activities
In case you want to focus more on elements of a path – e.g. various project stages or departments involved, consider using infographics roadmaps. The more simple ones can be created using simple PowerPoint shapes, as on the third slide below.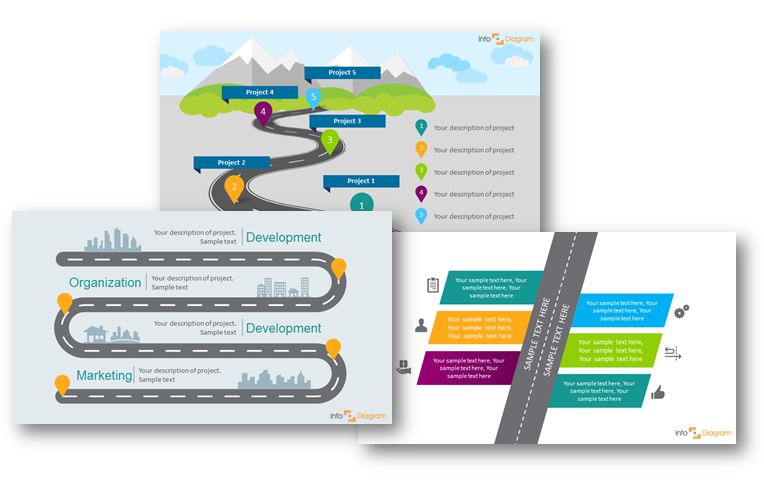 Roadmap Timeline Diagrams
Timeline diagrams are another type of roadmap graphics you can apply instead of text bullet points. You can use one of the PowerPoint SmartArt diagrams. Or to be less default-looking, add a set of shapes, connect them by line and enrich each point with an icon. These timelines are suitable for illustrating project stages or sequence of steps, too.
When creating such a timeline, take care all points are aligned and equally distributed, so the overall picture looks clean and professional.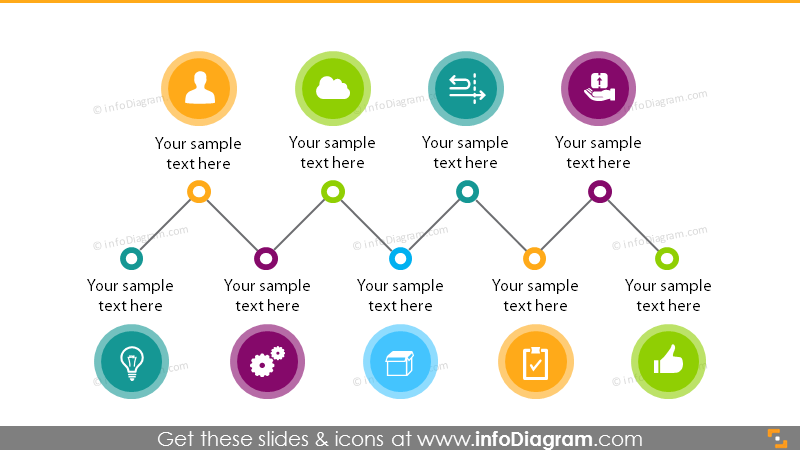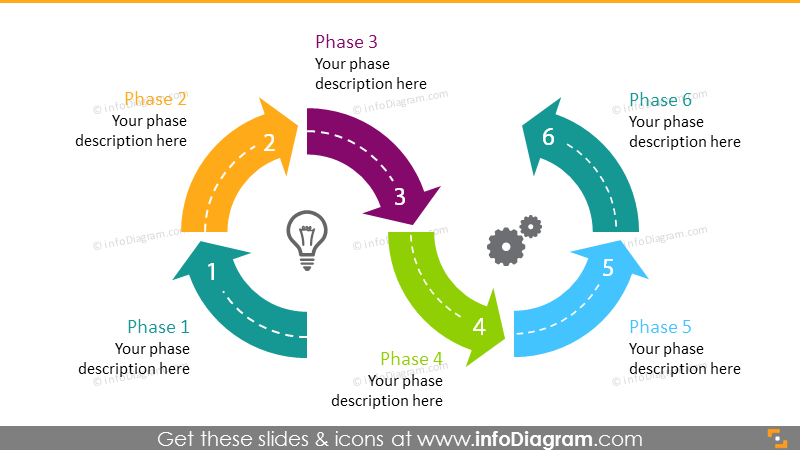 Whatever is your planning level and context, the visual roadmap can be one of the best weapons in your communication arsenal. It's the one tool that can continue to remind everyone of your vision and keep all team members on the right road.
Roadmap Graphics Resources
To help you visualize your plans quickly, we designed a template with various strategic roadmap presentation diagrams and timeline infographics. Check and use it for presenting your strategies and project plans.
The roadmaps set contains various editable diagrams:
Using editable roadmap slides you can easily show long-term milestones or present project objectives or stages over a year:
Further Reading
Need more resources for designing creative, effective presentations? Check planning-related articles:
Stay Updated
Get new presentation ideas and updates sent directly to you! Plus, if you sign up for infoDiagram newsletter, you'll receive a Creative slide design guide for free, as well as icons and diagrams you can start using right now.