A strategy is a common topic I often see in company presentations of all kind. Typically those are business plans, board presentations or investor pitches. The strategy defines general actions over the course of several years. The challenge is how to quickly and neatly make a strategy illustration in your document? What image to choose?
---
Got stuck with finding best picture for your slide? Here's a help. We're starting a new blog section. Share your visualization challenge in comments and we propose you several ideas how you can illustrate your concept on a slide. Use these ideas to enrich your slide texts or charts.
---
So how to illustrate strategy concept on a slide or other type of document? Especially if you don't have much space left?
You can use the pictogram symbol that is associated with the notion of planning a future, planning your actions over the next few months or years.
Visual metaphors to consider for Strategy illustration
Think of typical strategy game such as chess or drawings of a football strategy . Alternatively think of setting direction idea – having a vision and a goal, using compass, crossroad direction arrows etc.
Style neutral strategy symbols
See some ideas from our simple modern flat icons library. These symbols are great for neutral look slides. They are also good to use them as very small symbols: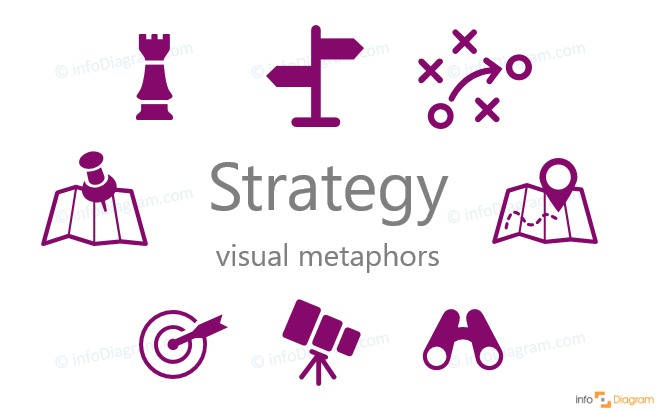 Strategy symbols that look personal and unique
Alternative style to consider – hand drawn strategy symbols. This style is good to introduce uniqueness in your slides. So go for this option of you want to be less formal, if you want to underline human touch in your presentation. Scribbled pictures express personal touch: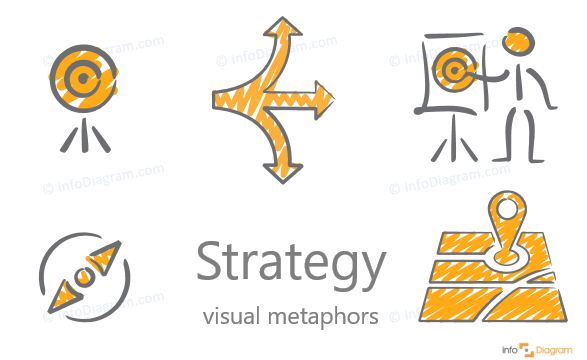 In case you have more space in presentation, you can add a big strategy roadmap picture to a full slide.

Do you have another idea you want to illustrate in your document?
Let me know in the comments below. I'd love to hear back from you.
More Reading
Need more resources for designing creative, effective presentations? See all articles Showing a Business Concept in a Presentation or explore specific topics:
Further Inspirations
Need to show another concept in a presentation? See how to illustrate other business concepts – Structure, Investment, Deadline and more.
---
---
Stay updated
Get new presentation ideas and updates sent directly to you! Plus, if you sign up for our free newsletter now, you'll receive a Creative slide design guide for free, as well as hand drawn shapes you can start using right now.
How to get a specific concept icon for your PowerPoint presentation?
To get access to editable PowerPoint icons from those examples, consider an infoDiagram subscription access to PPT graphics. With a subscription, you can access all the symbols in our PowerPoint icons library, with a few thousands of symbols. We are regularly adding new ones.