SWOT analysis is an often-heard word in our world. Students on business courses start learning it from the very first year 🙂 Then managers and operational executives on team meetings trying to make their employees think and distinguish unique advantages and disadvantages of products, projects or their work. How to grab attention to all issues of SWOT presentation? Here are a few tips for making an appealing presentation of all SWOT categories. So you can be a star of your next strategic analysis meeting :).
What kind of problems do you usually experience while talking about SWOT or delivering a presentation, where SWOT analysis is one of your slides? Drop us few words in the comments below, we'll gladly help 🙂
The first crucial step is to move away from usually busy SWOT findings notes to clean and eye-catchy slides presenting all SWOT areas. For that we have one piece of advice:
Break down 'SWOT Analysis' to get space for details and graphics
A slide costs you nothing so don't be afraid to split busy slides into several ones.
SWOT matrix can be enormously effective while analyzing your products, building strategies, and plans, or evaluating your team's performance or even yourself.
What makes SWOT particularly powerful is that, with a little thought, it can help you uncover opportunities that you are well-placed to exploit. And by understanding the weaknesses of your business, you can manage and eliminate threats that would otherwise catch you unawares.
A SWOT analysis is a useful tool for brainstorming and strategic planning. You'll get more value from a SWOT analysis if you conduct it with a specific objective or question in mind.
When you want to present the results of your strategic analysis, here are a few tips on how to show Your SWOT outcomes in an eye-catching way. It'd be a pity to waste analysis work due to an unattractive final presentation, wouldn't be? 🙂
Illustrate each element of a SWOT Analysis
S – Strengths visualization ideas
Strengths describe what an organization excels at and separates it from the competition: things like a strong brand, loyal customer base, strong balance sheet, unique technology, and so on. This strongly associates with chart going up, thumbs up and plus sign: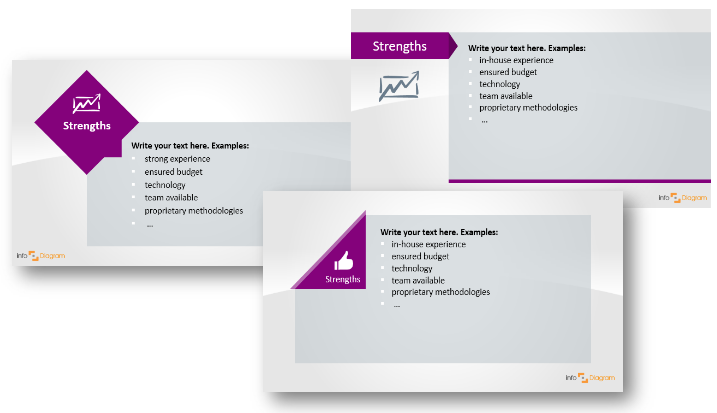 W – showing Weaknesses
stop an organization from performing at its optimum level. They are areas where the business needs to improve to remain competitive. There is no better way to show this concept than thumbs down, arrow, which is going down, and minus pictogram.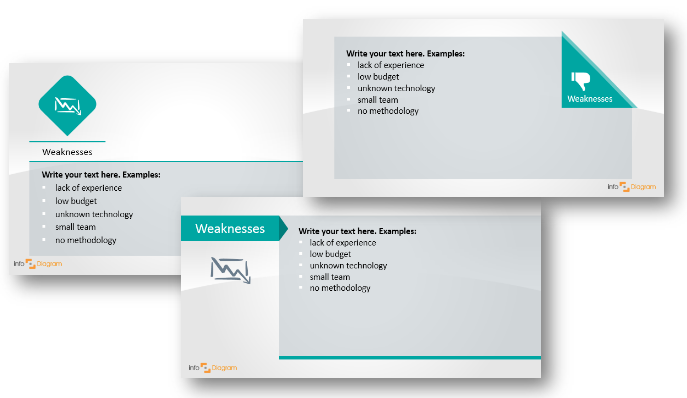 O – Opportunities illustrations
refer to favorable external factors that an organization can use to give it a competitive advantage. How would you show opportunities? We asked ourselves the same question 🙂 When you're talking about strong and weak sides, it is pretty easy to show them. However, how to illustrate opportunity with just one icon? We brainstormed and here's what we've come up with (pretty cool as we think 🙂 ): you can use a star as it is a good indicator of new possibilities, a light bulb – a symbol of new ideas, and an arrow, going up.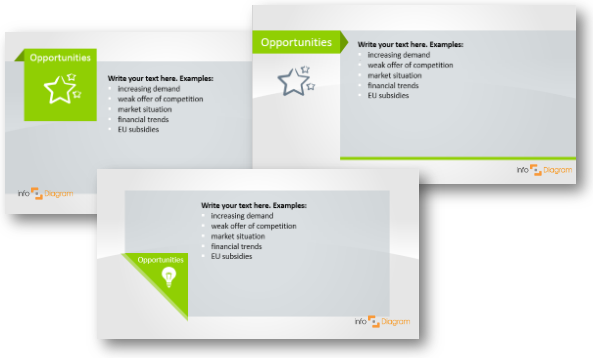 T – presenting Threats
Threats are factors that have the potential to harm an organization. Common threats include things like rising costs for inputs, increasing competition, tight labor supply, and so on. The symbolism of danger and threat can be perfectly interpreted as a question mark and symbol of lightning.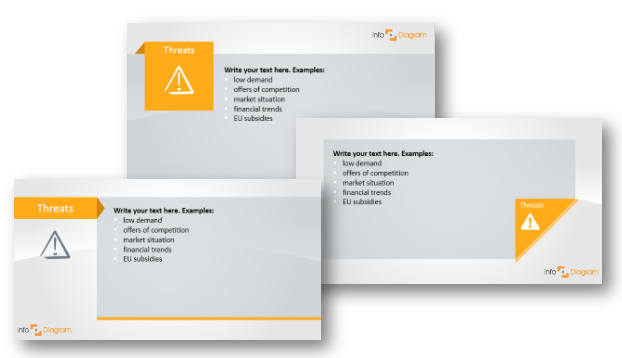 When using SWOT, an organization needs to be realistic about its good and bad points. Analysis needs to be kept specific by avoiding gray areas and analyzing in relation to real-life contexts.
For some excellent SWOT analysis examples:
Using SWOT Analysis PowerPoint template
Examples above are using the SWOT presentation template, we designed. It uses modern flat graphics that can be included in an existing presentation.
The SWOT collection contains 9 pre-designed SWOT diagrams and 12 unique editable icons representing Strengths, Weaknesses, Opportunities, and Threats. However, it is better to see one time, so explore SWOT set by yourself 🙂 All templates and icons are fully editable, so you can adapt colors to Your corporate style.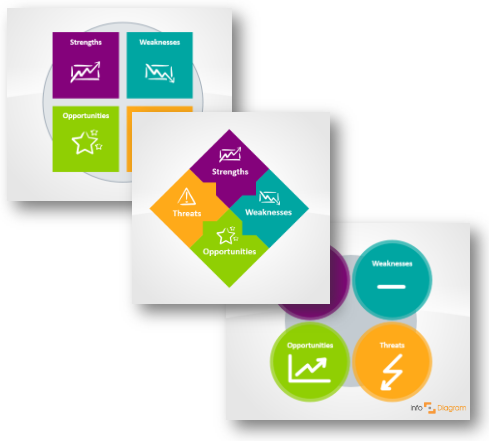 Check our 'How It Works' page or demo presentation at Slideshare:
Getting the SWOT Template
You can get those icons in several ways:
Get SWOT template and diagrams here:
Good luck making an awesome SWOT presentation.