The concept of the product life cycle is widely known among business theoretics and practitioners. Such PLC analysis, if done properly, can alert a company as to the health of the product in relation to the market it serves.
This blog is aimed to show various ways to present the concept of this life cycle to the audience. From the simplest matrix to a metaphoric chart, as well as overview examples of particular lifecycle stages.
You can find all the icons and slides Product Life Cycle Curve (see details by clicking the pictures).
Let's start our journey through the Product Life Cycle illustrations examples. See how you can show it in a creatively engaging way.
#1: Big Numbers Matrix with an Arrow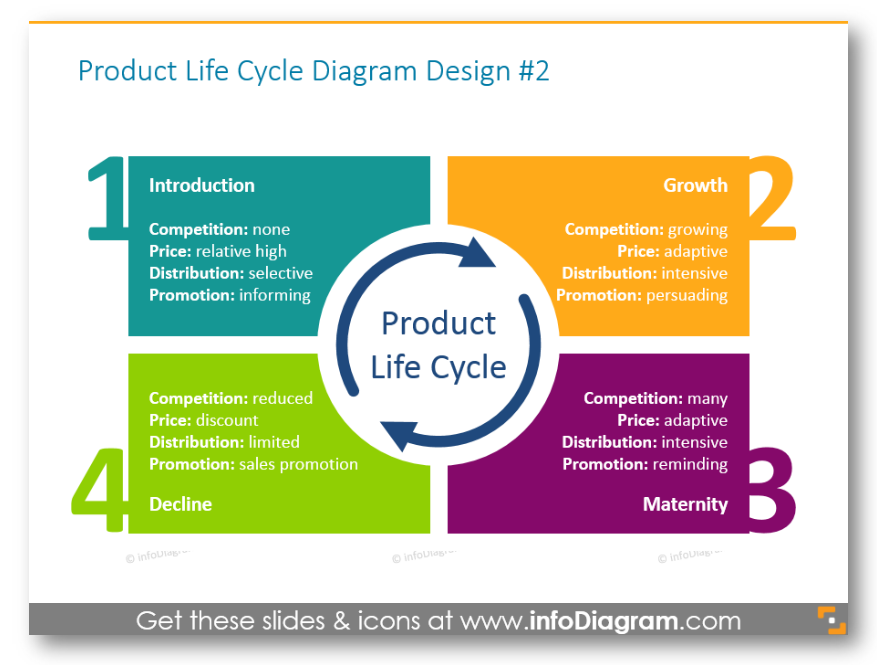 You can notice the word 'cycle' is neatly placed in the middle. With a little effort, you can recreate a similar 2-by-2 matrix yourself, too. The numbers behind every cell will help your listeners to focus their attention on one or another point.
#2: Illustrating PLC Stages with Icons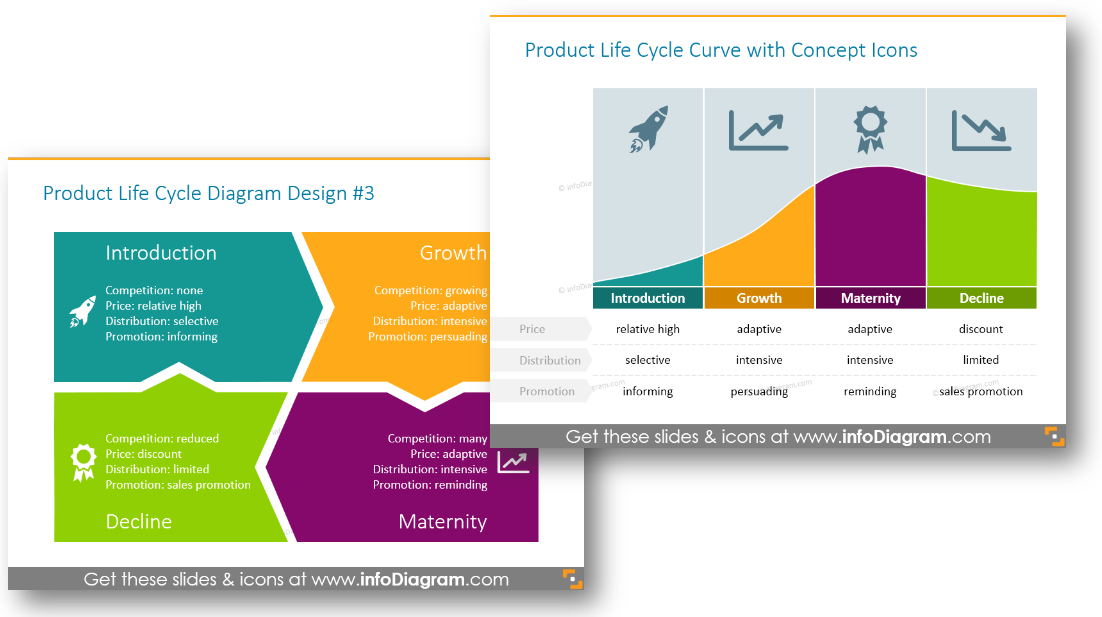 On this matrix and chart examples, every stage is presented by a symbol: a rocket, charts, going up and down, and a medal. On every slide sample, you have a place for a short description so you can mention the details of each step.
#3: Four Product Phases Represented by Age Groups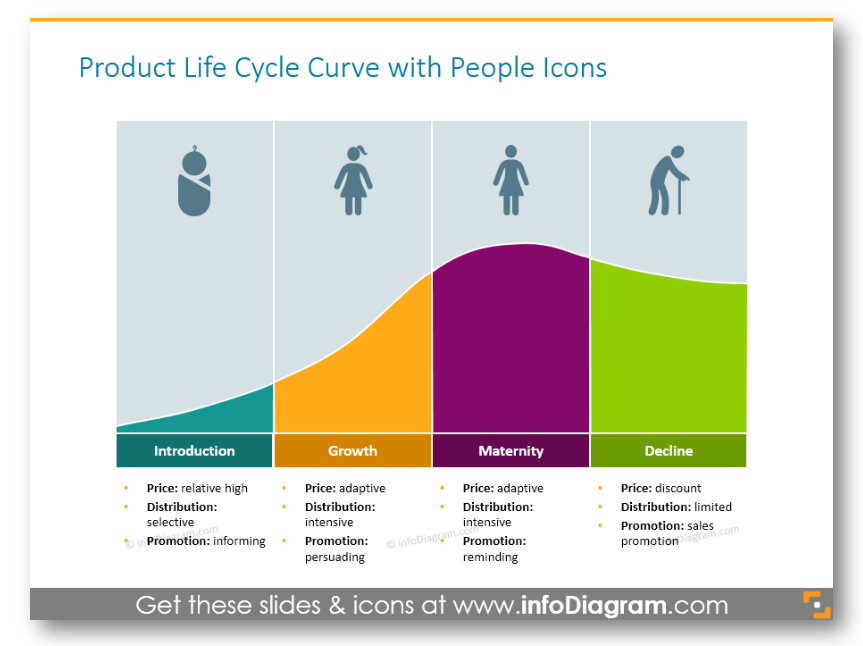 This is my favorite slide 🙂 because of mapping product maturity stages to human life metaphor. We all can easily refer to it.
Here, every part of the curve is illustrated by people's icons of different ages: from a sweet little newly-born child to an aged man.
#4: Bottle Life Cycle as Timeline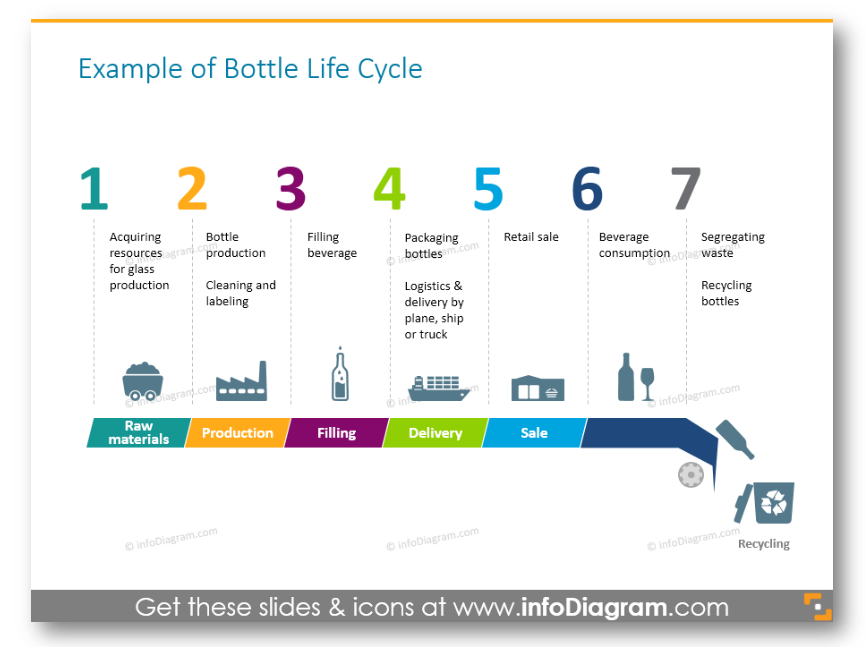 We added an example of a bottle life cycle. Starting from the very start product stage – acquiring raw materials, to the last one – segregating waste and recycling.
In overall, this diagram infographics shows seven stages of the product lifecycle – an extended version of the standard 4 stages.
Why use PLC concept visualization by diagrams?
For companies interested in continued growth and profits, a successful new product strategy should be viewed as a planned totality that looks a few years ahead. A product strategy should try to predict the character, and timing of competitive and market events.
This I see as main values of the life cycle visualization – analysis and clear communication of all product stages. Read more in the Exploit the Product Life Cycle article.
What's inside the Product Life Cycle PPT visuals collection?
To make use of PLC illustrations easier in various presentations, we prepared pre-designed PowerPoint diagrams.
If you like the graphics above, all slides are available for download in the editable form on our infoDiagram webpage. You can edit colors and sizes and adjust diagrams to your needs. Those illustrations will make your presentation memorable.
The slide set contains:
5 design variations of product life cycle diagram: matrix with big numbers, small numbers, and illustrative pictograms; PLC curve, illustrated by concept icons and people symbols
Usage example on bottle life cycle: from acquiring resources to waste management
Icon set for illustrating product lifecycle stages