Explaining how the company operates can get pretty complex. One of the frequently used business model frameworks is Business Model Canvas (see book Business Model Generation by Alex Osterwalder). This business model beautifully grasps the key elements of how a company operates.
Adding catchy visuals and schemes to this framework will help you get people's interest and support understanding of the specific business model. Here we share ideas of how you can present full picture and details of BMC on a slide in a clear and simple way.
When designing the graphics for the Canvas, we wanted to help people use this model without extra hassle. So they can focus on fulling the Canvas content, not making the graphics. Tell us, if we managed :). One of the first user response was:
Your graphics are a life saver! I've always struggled with recreating it in PowerPoint.
I wasn't looking for a Business Model Canvas template because it never occurred to me that there was one. So I feel very lucky about the discovery.
– Terry Ribb, Relevens, Inc.
Note: All slide examples here are from Business Model Canvas PPT template. Click the pictures to see details.
Business Model Canvas in a nutshell
Business Canvas is a well-known strategic tool for developing new business models (e.g. for start-ups) or documenting and improving existing ones.
The Business Model Canvas is based on a simple visual representation of core activities, resources and partners. All elements are put into one model, as kind of a jigsaw puzzle. Their position reflects the activities flow, from resources, activities, value definition, towards customers. It includes all the main players in the functioning of the company.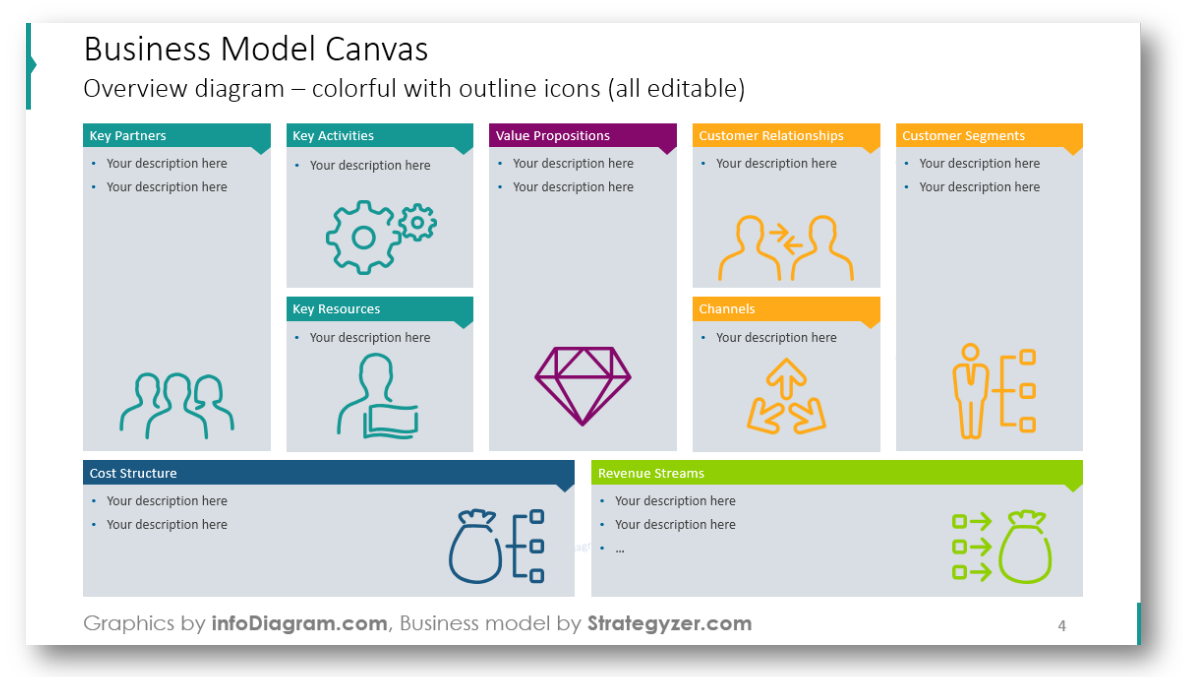 Using the Business Model Canvas framework helps a company align its activities and understanding the potential trade-offs. The canvas explains on a single page the core elements that drive the business (read about BMC explained in more detail here).
Unlike other business models (SWOT or PEST for example), Business Model Canvas includes set of important internal factors driving a business (value proposition, revenue streams or customer relationships) that proved to be key success factors in rising of companies such as Amazon or Nescafe.
Presenting Components of Business Model Canvas
The Canvas has nine elements and together they provide a pretty coherent view of a business' key drivers:
Customer Segments: Who are the customers? What do they think? See? Feel? Do?
Value Propositions: What's compelling about the proposition? Why do customers buy, use?
Channels: How are these propositions promoted, sold and delivered? Why? Is it working?
Customer Relationships: How do you interact with the customer through their 'journey'?
Revenue Streams: How does the business earn revenue from the value propositions?
Key Activities: What uniquely strategic things does the business do to deliver its proposition?
Key Resources: What unique strategic assets must the business have to compete?
Key Partnerships: What can the company not do so it can focus on its Key Activities?
Cost Structure: What are the business' major cost drivers? How are they linked to revenue?
For visualizing each part of the business canvas you can use slides with modern outline icons and virtual sticky notes to express your ideas: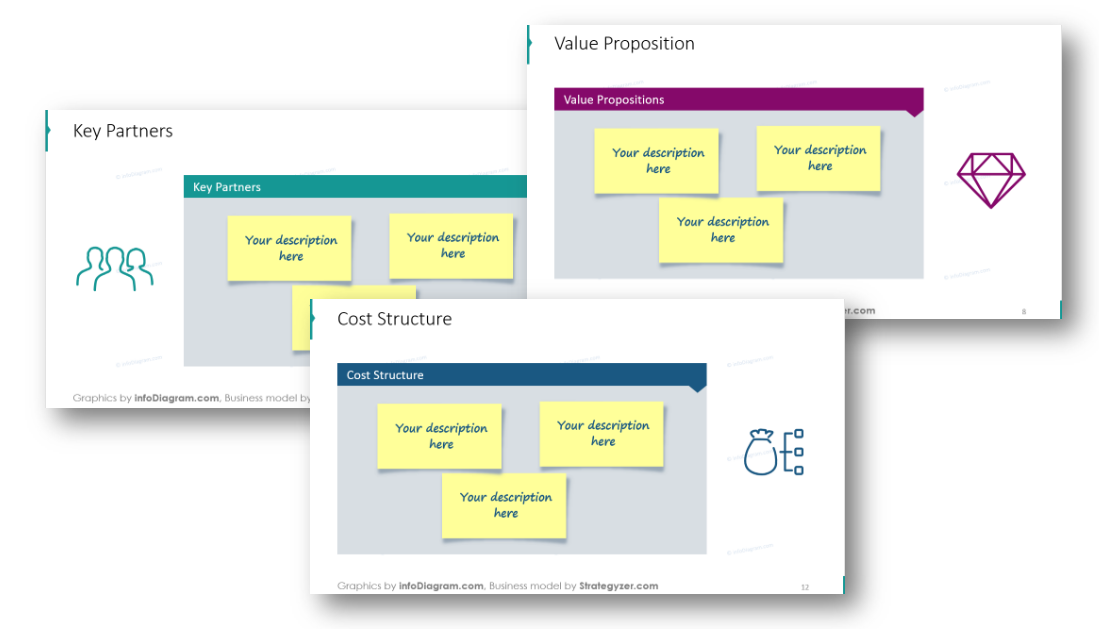 For presenting the whole model on one slide we prepared several slide versions in three different styles:
Light modern style with Outline Icons
You can use this light mono-color deck with subtle yet modern outline icons when you want to focus on section names and content.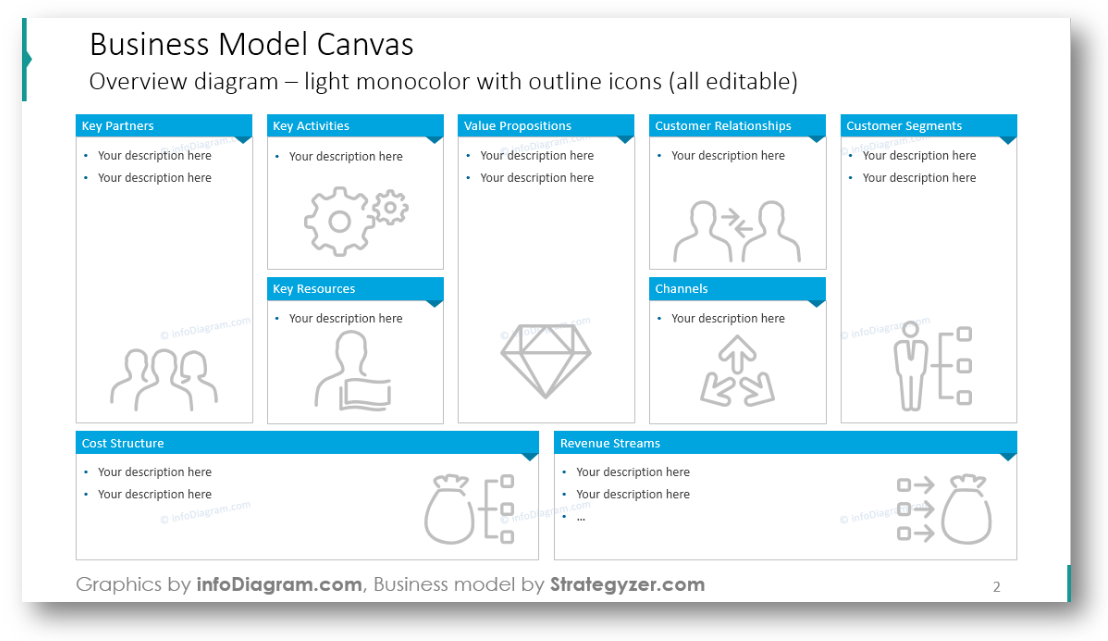 Simple flat sections and sticky notes
Using simple flat icons is good when you want to make them small, as they still remain recognizable even if shrunk to a pretty small size. The sticky notes graphics creates a nice natural looking design of the whole canvas. You can alter the color of the note cards, they are all editable vector shapes.
Getting the creative look with hand drawn canvas symbols
The third variation you can reuse is with creative scribble icons. You can choose the multi-color canvas layout or all 9 sections in one color.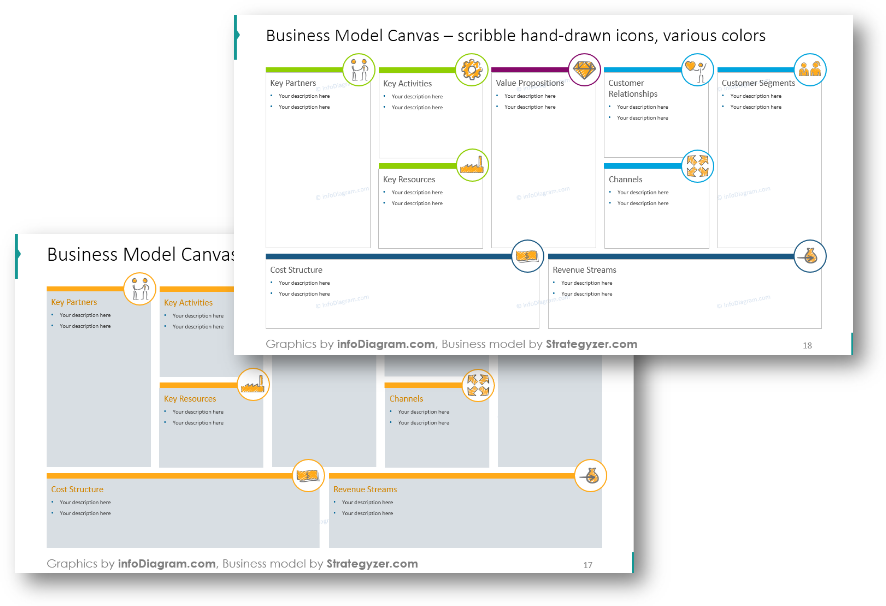 Choose canvas style that fits your business or product better, whether you want to underline creativity, modern or functional style.
Putting the Business Model Canvas in PowerPoint format and asking your whole team to collaborate on it is a great way to make sure that everyone understands what you have in mind. A collaborative approach brings up new ideas as well.
Graphical Resources – the BMC template
To help with preparing attractive slides, we designed this universal editable slide set for presenting a business model canvas.
It's prepared as PowerPoint format slides, however, you can use also other presentation software capable of importing PPTX files such as Google Slides or Keynote.
The template contains pre-designed layouts and visuals for each canvas element. You can easily replace existing images and adapt content to describe your business idea and encourage others to brainstorm on it.
What's inside Business Model Canvas PPT Template?
The PowerPoint template with diagrams and symbols representing all nine areas of BMC contains:
Overview diagrams with all areas on one slide with a place for short text or editable post-it notes.
There are also nine single slides to describe each of the 9 parts in detail with more space for text.
Over 20 icon symbols representing key activities, key resources, partner network, value proposition. Followed by channels, customer segments and relationships.
The template contains slides in three graphical styles: unique scribble graphics, modern outline icons, and simple flat icons.
If you enjoyed the graphics above, you can see full deck and get it here:
If you need more business frameworks a roadmap, business review, SWOT, PEST, then visit our Business & Marketing diagrams page.