Is the Outline Style a Rising Trend?
Have you seen graphics with outlines? See the picture below – where we compare the same icons in a simple flat style and as outlined symbols.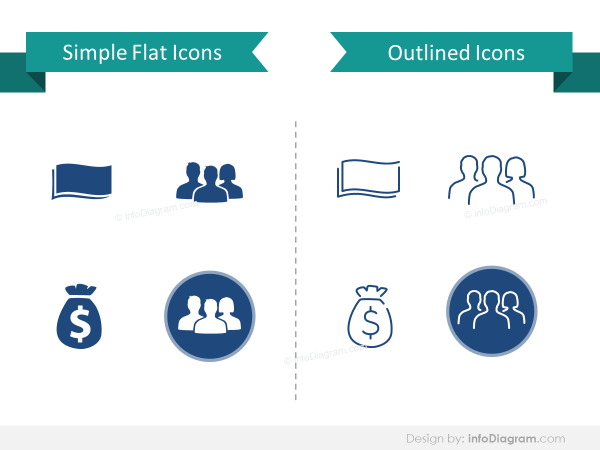 We notice the outline style is getting pretty popular. Of course, it has its pros and cons. However, outline-only images are definitely among the rising design trends. Flat-style graphics once replaced gradient-style images as the go-to design styles. It seems like outline graphics are the next big thing.
Source note: All slide examples here are based on infoDiagram's Outline PPT Icons Collection. You can see the full set and get additional details by clicking any of the images.
Outline Icons versus Simple Flat Filled Iconography
Those two styles look similar but each has its strong and weak sides.
I recommend using the outline style for:
light subtle illustration, that will not steal attention from other presentation slide elements
presentations, where you want to emphasize the modern look
as a light watermark element in the background
Situations when simple flat icons are good to use:
when you need to use really small icons (simple flat-filled icons are still pretty recognizable)
when you have a long list of items you want to illustrate by symbols.
Both types, outlined or filled flat symbols are style neutral. Thanks to this, they can be added to almost any presentation.
3 Reasons to Like Outline Icons:
What are the benefits of outline styles? They're more modern-looking and elegant than ordinary, flat styles. Unlike their gradient or flat style counterparts, outline-only images like these are light and subtle. Thanks to these attributes, the outline symbols are handy visuals to use without making your slides too heavy.
Ways to Use Outline Style Icons
Here are seven examples where you can add an outline icon inside your presentation:
In title slides as the theme setting picture. [See the below example of the introduction slide with one white outline icon over a full slide photograph]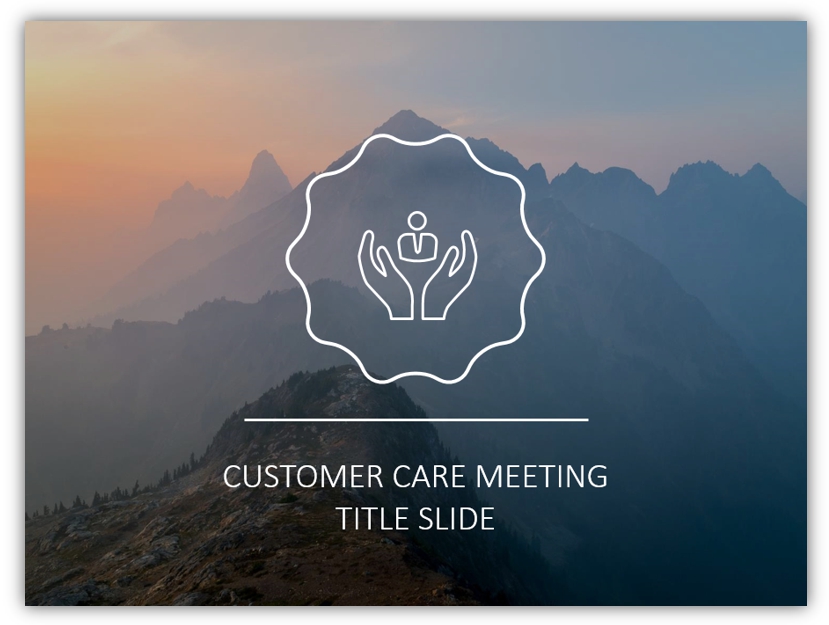 In the table of contents or agenda slides, place icons next to each main section to represent each chapter.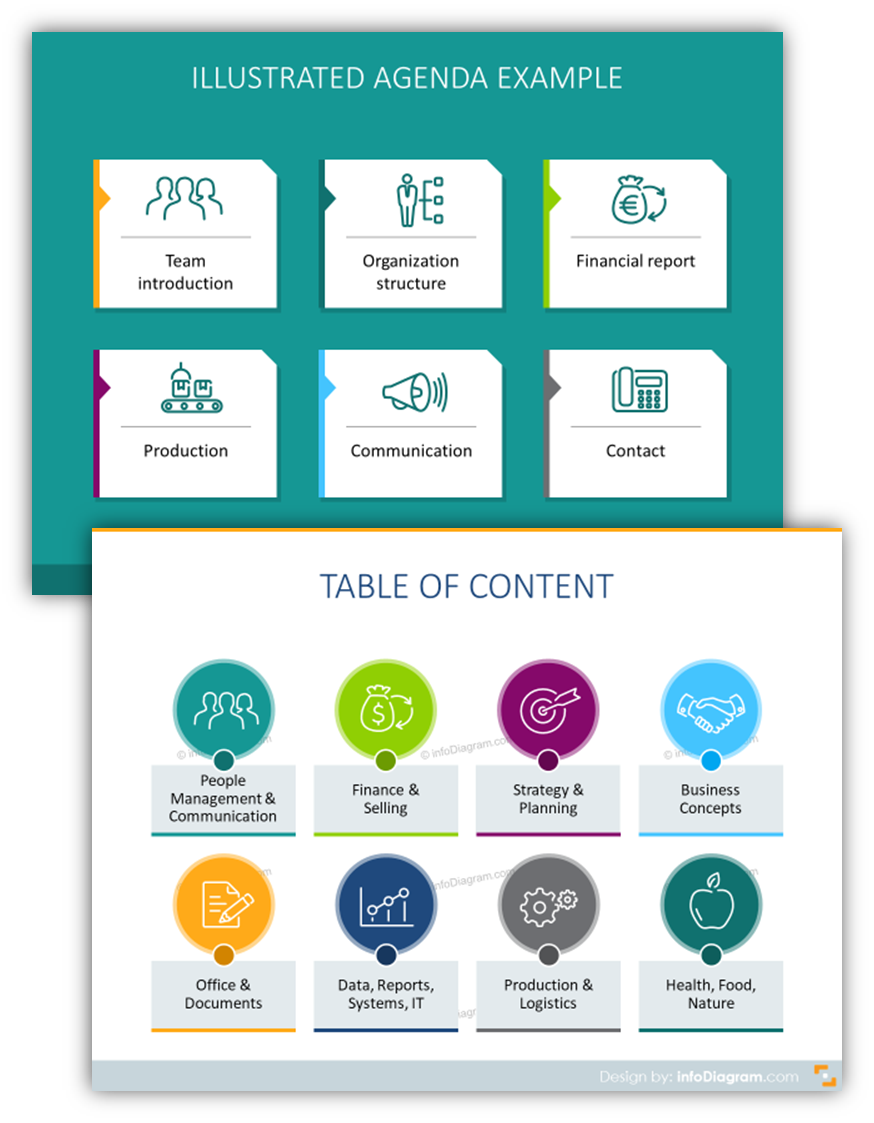 In transition slides, you can use the same icons used in the agenda/main slides.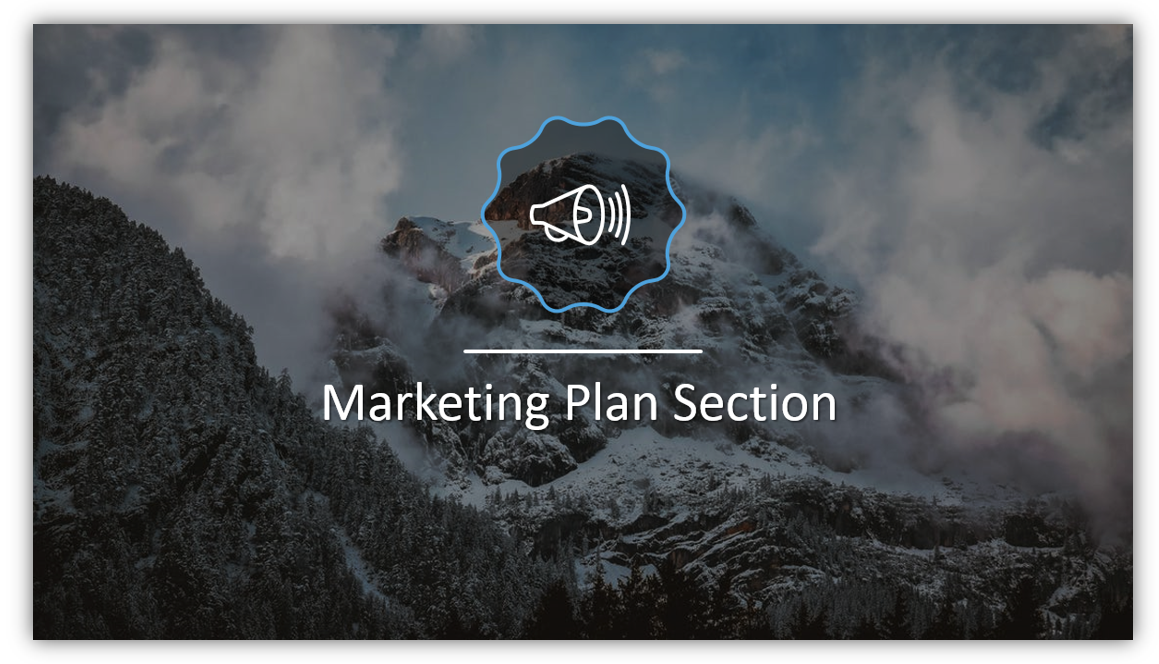 In data charts, you can represent data categories visually.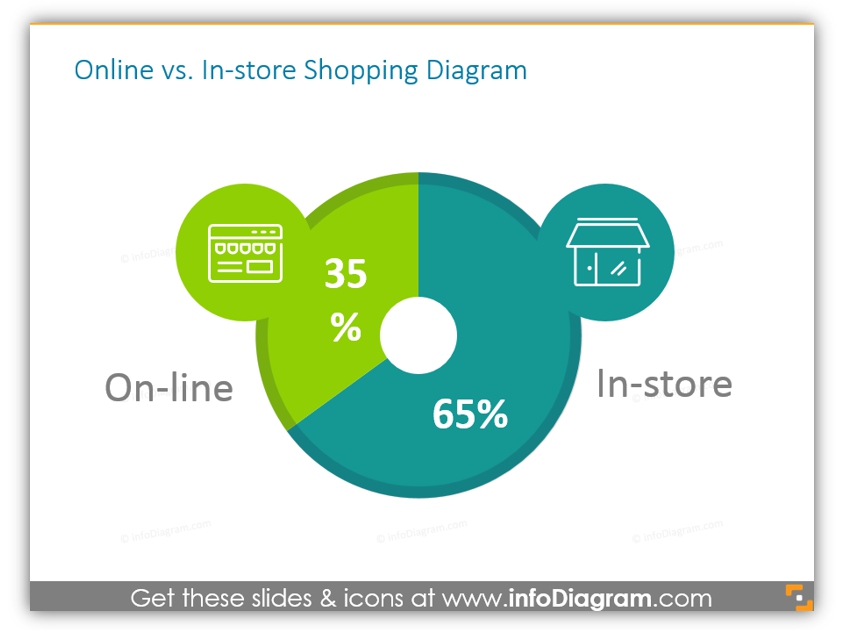 In diagrams and flowcharts – you can add an outline symbol for each major section or block. If there isn't room inside each section you can put icons outside the blocks.
On your closing contact information slide, you can add address icons. (e.g. a mobile phone or envelope symbol.)
While presenting your main team members or project leaders.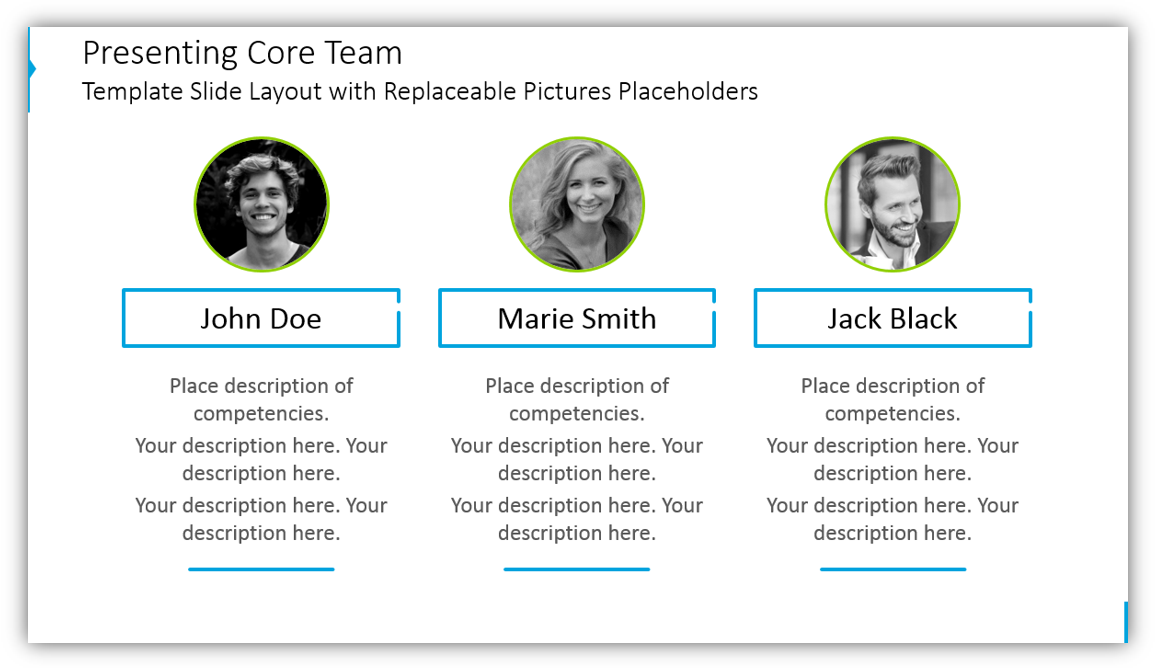 When analyzing your target customers and best clients.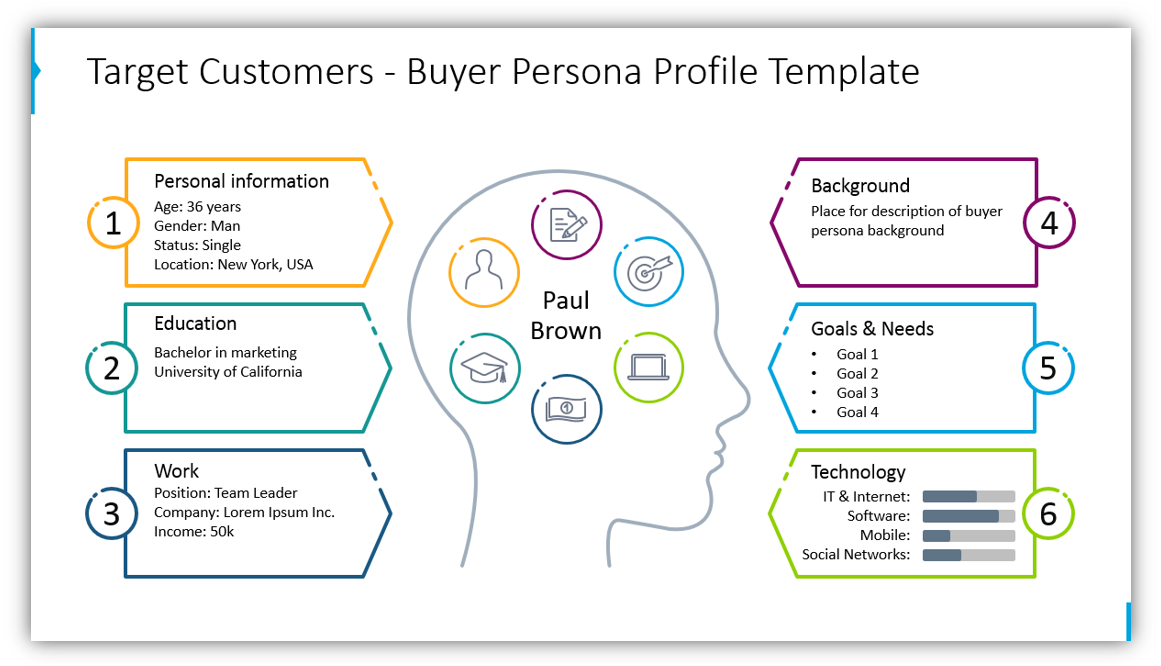 In call-to-action slides, insert action buttons. Add simple shapes with actionable text – like a mouse-click icon.
When you customize the color scheme you can use outline graphics with any layout you'd like.
Practical design hint: You can customize the color of these icons with the PowerPoint Shape Outline tool. You can also change the outline weight so it stays proportional when you resize the icon. Another handy tool is the PowerPoint Format Painter which allows you to copy icon styles from one another.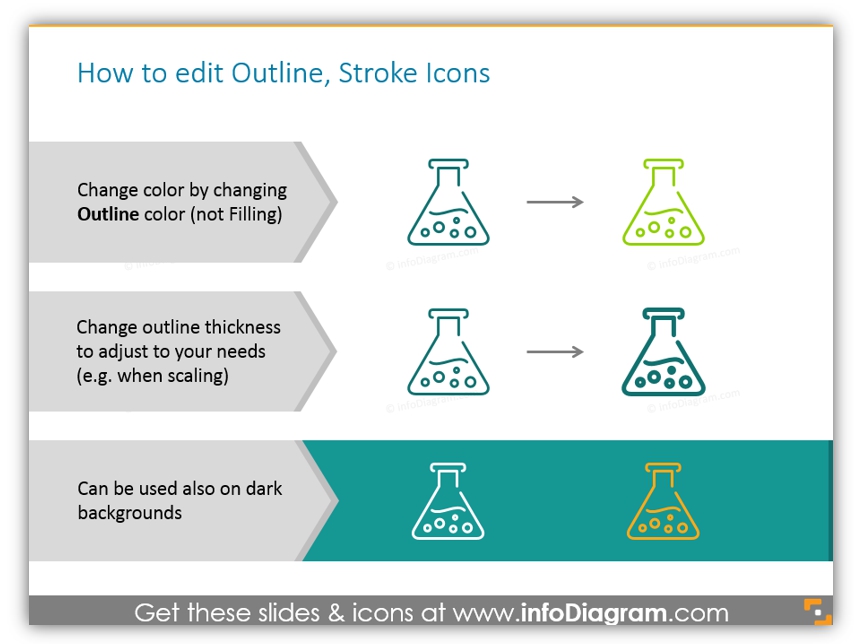 The outline style is also very neat and tidy and allows the user to translate complex ideas into easily digestible pieces. Notice how it can be applied to present various industry sectors in this Slideshare presentation.
What's Special About Outline Icons?
What do outline styles evoke? The outline graphic styles are modern and sleek. Their neat, minimalist design is perfect for any industry, and any context. Their adaptability and the ease with which they can be customized make you and your message feel more trustworthy.
Outline-style graphics are appropriate for a virtually limitless number of industries and contexts. If you aren't sure of how you could improve your next presentation or resource with outline graphics, reach out to us. We would love to help you and see what you've been working on.
Your preference?
I'm curious to hear about your icon style preference. Do you prefer using an Outline or Flat icon style on your slides? Cast your vote in the comments.
Outline Icon Resources
We created a consistent set of editable outline symbols for you to use in your presentations. This PowerPoint vector icons collection includes 300 symbols from an assortment of business sectors.
You can see the full collection here:
Need more infographics? You can create additional infographic slides with PPT diagrams graphics Bundle with over 200 slides of visual hierarchies, lists and flowcharts.