Do you know how to create roadmap slides in PowerPoint? If not, you could be missing out on a great opportunity. Roadmap slides are perfect for presenting a product or strategy plan.
When you share new product plans or strategy plans in unattractive text-only slides or default slides you're setting yourself up for failure.
Want to use creative, engaging Roadmap slides instead? Check out the full Roadmap Diagram PPT Templates collection and skip the hassle of creating your own slides in PowerPoint.
Why you should use Roadmaps as visual metaphors rather than relying on default slides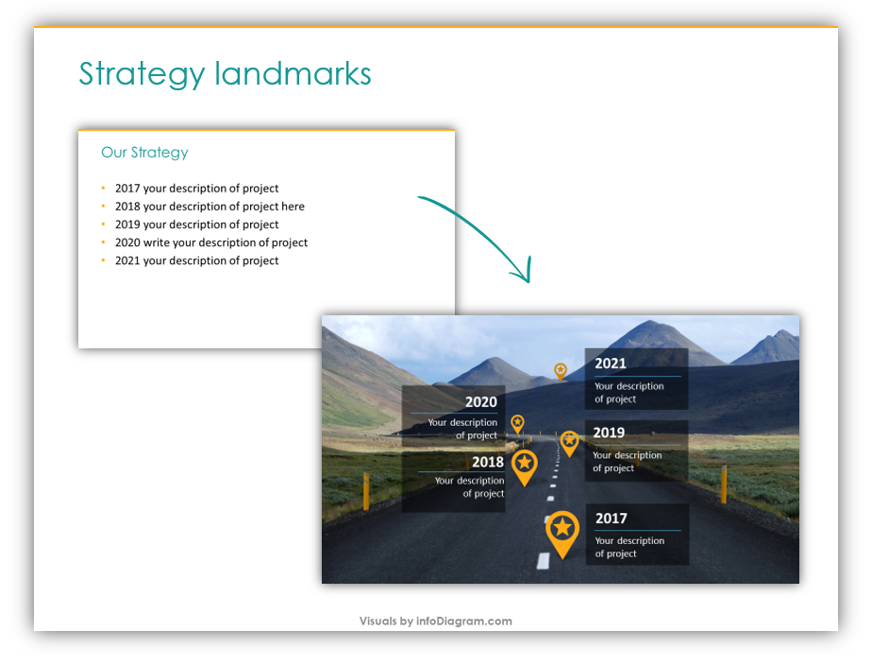 Which slide you like more, the before or after? Do you think your audience would be more interested in the boring, black and white list slide, or in the road map with dynamic icons which represent strategy landmarks? Let's see how you can make an engaging, visually stunning Roadmap slide to pique the interest of your audience.
In this blog, we'll break down how you can create your own Roadmap slides, step by step.
Want to create interesting presentations with Roadmap slides? Let's get started.
Use a picture with a visible road path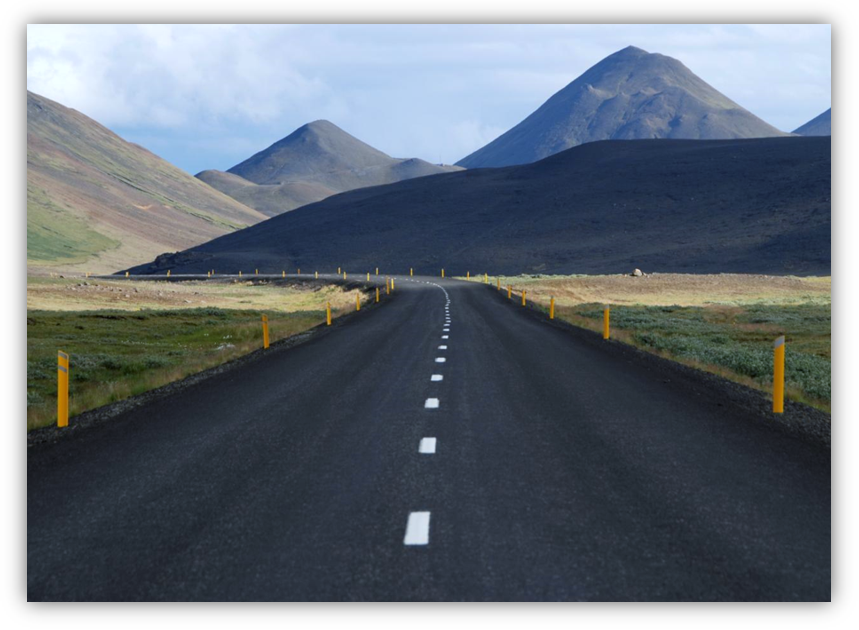 It almost feels like it should go without saying, but if you'd like to create a RoadMap slide, you'll need to actually incorporate a road. Find a photo you can use which incorporates a road. That will serve as your background and your base.
Replace Roadmap milestone bullet points with text
If you add the bullets in semi-transparent shapes so the background can be still be seen. You can easily create shapes like these in PowerPoint using the SmartArt tools.
Add final touch elements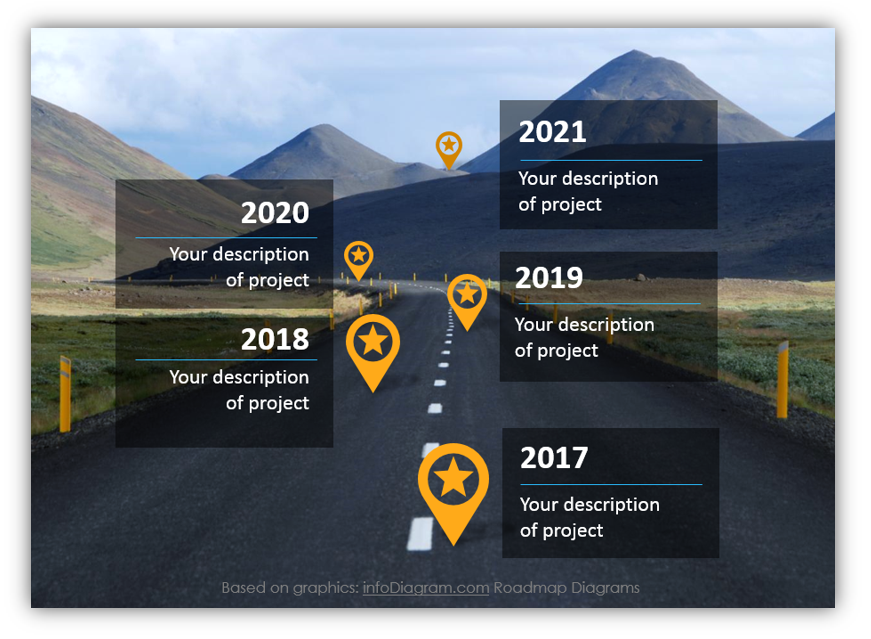 In the example, we added final touches which look like map markers. The color is bold and similar to the road posts which appear in the background image, but because of their size and placement, they are more striking. We also added lines under the years to highlight the distinction between the header, the year, and the descriptive text.
By choosing an image as the background which features a road, you can save yourself the work of creating a road which will suit your purposes. Of course, you may find it difficult to find a road which is in the shape you'd like to use for your slide, but there are numerous image sources at your disposal.
Graphical Resources: Roadmap Diagram Templates for Project Strategy Planning
Of course, if you'd prefer to spend your time doing other work than trying to find the perfect stretch of road photograph, you are welcome to use the templates provided in the Roadmap Diagram Templates for Project Strategy Planning set or make your own based on the tips provided here.
If this slide set doesn't include enough icons for you, check out Simple Flat Icons for infographics. This will allow you further customization options which will allow you to further customize your presentation for your audience and needs.
Should your roadmaps rather present project planning Gantt charts, browse through these tables of PowerPoint Roadmap Template.

Invest your time in customizing already created icons to match your brand identity tone, and help your audience appreciate the content of your presentation.