Do you need to explain the motivation concept? Do you know some interesting ways to capture certain facets of motivation through concept pictures? If you are uncertain, we can help! We gathered visualization ideas on how you can illustrate motivation in your presentation. 
If you want your audience to remember your message, add some motivational eye-catching graphics to make your slides look more persuasive. Let's begin our digital journey and think about what is usually associated with the motivation concept.
Expressing the motivation concept ideas with outline style symbols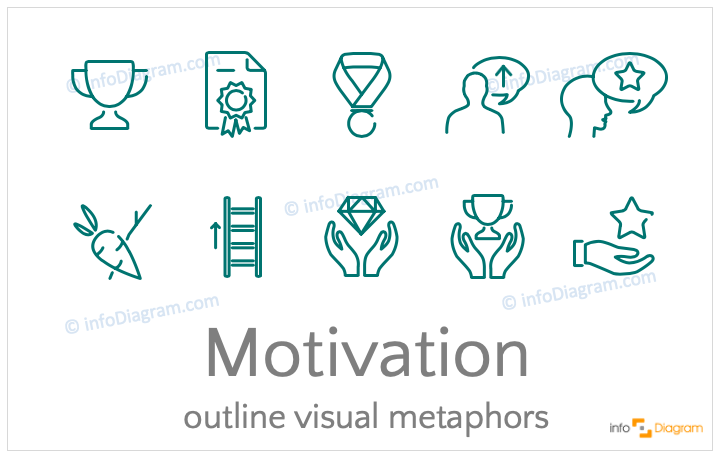 Above we suggest several icon examples from our elegant outline icons collection. In particular, our Outline PowerPoint Icons collection contains reward symbols and personal recognition graphics. Use them to make your presentation more engaged:
carrot and stick as a metaphor for the use of a combination of reward and punishment
ladder icon showing personal development e.g. getting to a higher position 
hand with reward star highlighting personal recognition
hands icon holding the diamond and win cup as helpful motivation tools by rewarding 
Design-neutral motivation concept graphics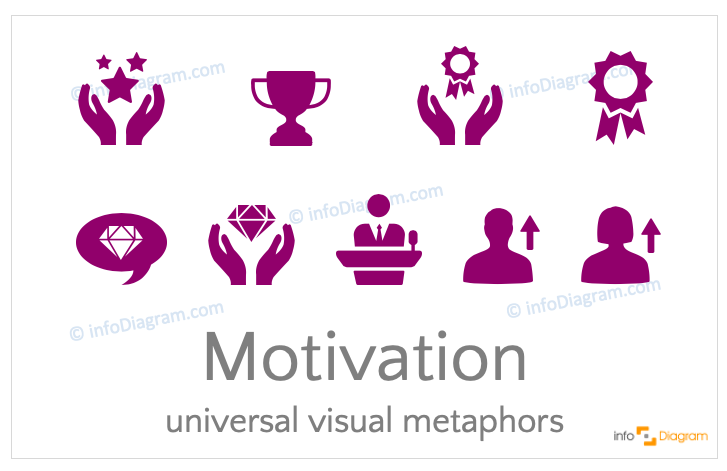 Below there are icon examples from our style neutral flat icons collection. It features a variety of different approaches to representing motivation. Win cups, award stars, and diamond symbols often associated with motivation concepts.
Unique hand-drawn motivation icons collection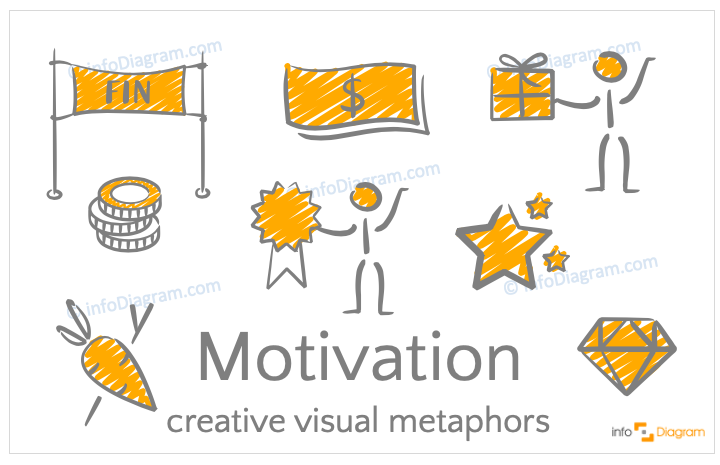 If you want to be more creative and personal, use hand-drawn symbols for showing the executive summary ideas. The scribbled diamond or star icon, as well as the finish line, is perfect for showing the concept of motivation in your PPT. See the specific visuals below:
We hope you find some inspiration from those icon ideas to express the concept of motivation!
If you like the suggested icons, you can get them from infoDiagram library. The best way to get them is by joining subscription access to PPT graphics here. It will allow you to download these symbols, and graphics from any presentation deck you find on the website.
More concept icons ideas
Need to show another concept in a presentation? Change, Engagement, Equality, Status you name it. Check our blog Ultimate List of Business Concepts Visualization to get inspired.