Do you need to illustrate the idea of strength or strong side in your presentation? Check the following article to get some ideas on how to express the strength concept visually. Icons will help you avoid wordy boring slides look and you'll be able to transform your ideas into nice and outstanding graphical content.
The idea of strength appears quite often in business presentations: you may need to show advantages your company has over competitors, your unique proposition; or you want to highlight your strong skills while preparing a CV. Or if you are preparing a SWOT analysis or marketing audit, such graphical elements will help you depict thoughts visually.
Below we suggest several ideas and you can consider which one fits best to your presentation context.
Elegant & Light Outline Style Symbols for Presenting Strength Concept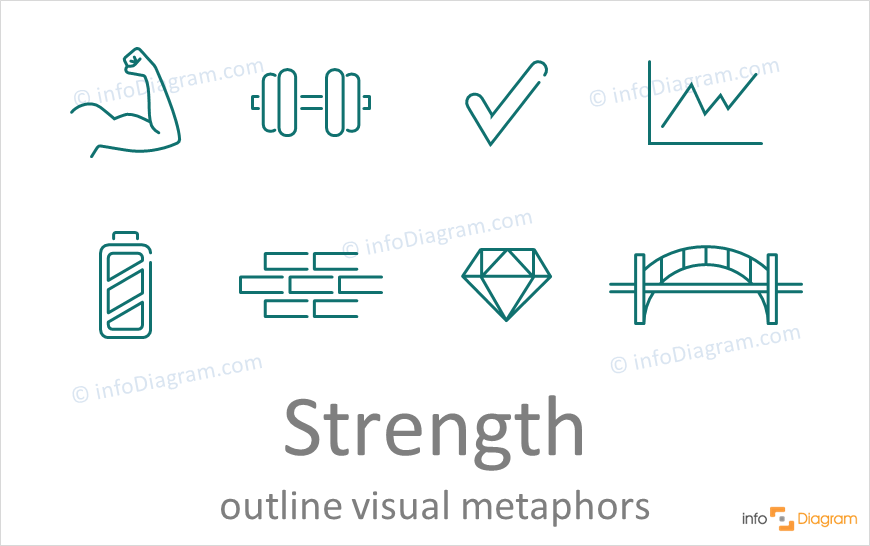 Above are icon examples in a light thin line style. Such icons are elegant and modern additions to content that will not overwhelm the attention to the graphics itself. The strength idea can be expressed by one of these symbol ideas:
a dumbbell or muscles icons showing the physical power
a full battery illustration of being fully charged and having full power energy
a brick wall and bridge symbols illustrating the solid or strong structure
a diamond picture symbolizing the headrest natural material
a tick sign – a symbol of completion 
a chart with trend up showing strong and good tendencies  
Style Neutral Visual Metaphors for Expressing Strength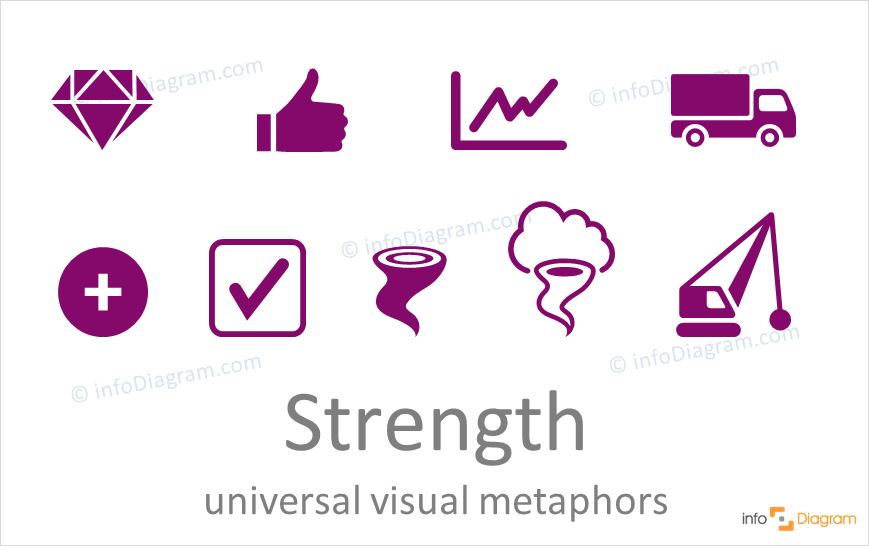 See other ideas on how you can show the business concept of strength. This flat style is more simple but also more universal and visible even if icons are small. Below we suggest some ideas you can consider:
thumbs up and plus sign showing good results, satisfaction 
a tornado/ cyclone pictures presenting the strength and force of the natural process 
a truck illustration as a massive, strong object
a diamond icon the headrest natural material
a chart with trend up showing strong and good tendencies, improvements 
We hope you find some inspiration from those icon ideas to express the concept of strength. 
If you like the suggested icons, you can get them from infoDiagram library. The best way to get them is by joining subscription access to PPT graphics here. It will allow you to download these symbols, and graphics from any presentation deck you find on the website.
More business concept symbols ideas
Need to show another concept in a presentation? Strategy, Management, E-learning, Challenge, Ethics… you name it. Check our blog Ultimate List of Business Concepts Visualization to get inspired.