With the development of technologies, e-learning and remote education became usual. If you need to present the E-learning concept, get inspired by our icon ideas.
The challenge is how to illustrate the concept properly in a PowerPoint presentation so the slides look professional and clear. Icons are a way of communication and, due to their simplified graphical form, they may even be the only language around that everybody understands.
Modern elegant outline symbols for presenting e-learning concept
Below there are icon examples of style modern outline icons style. It features a variety of different approaches for  representing E-learning. Book and speech bubbles with microphone symbols is a great way to demonstrate the classic tools in the learning process , and groups of people having online calls, or notes and laptop screens as a new method  in E-education.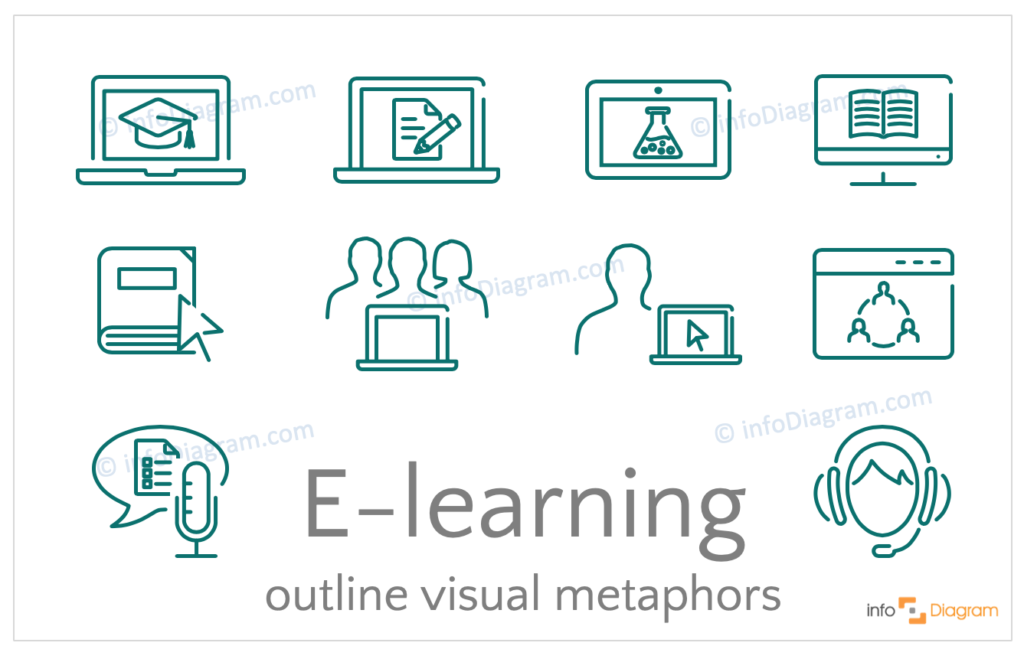 Use these symbol to make your product presentation more visual:
Design-neutral flat concept icons
This flat style of icons is more simple than outline one. It fits any presentation style and icons are recognizable even if you make them small. Click to see collection of such symbols we designed.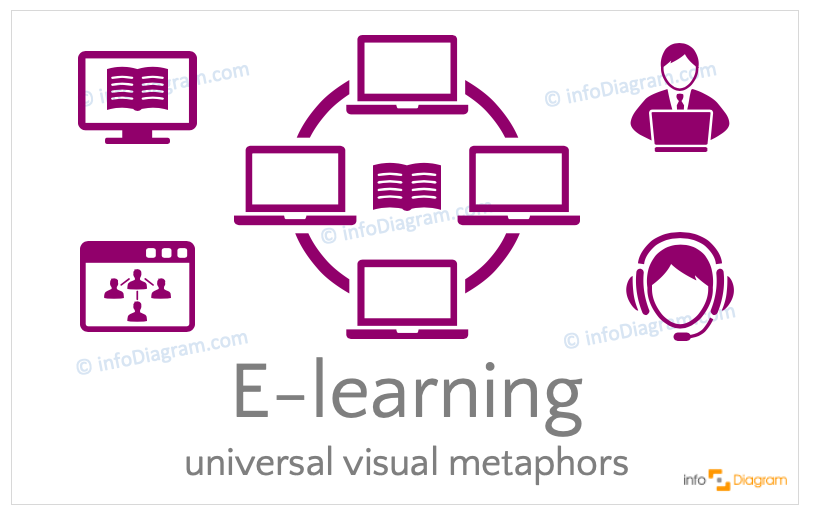 Here are some ideas of pictures representing e-learning:
Creative unique hand-drawn icons collection
If you prefer a more creative look to your visual metaphors for presenting E-Learning ideas consider using handdrawn-like symbols. The scribbled book icon, chemical probe, or speech bubble with microphones are great symbols for depicting E-Learning presentation.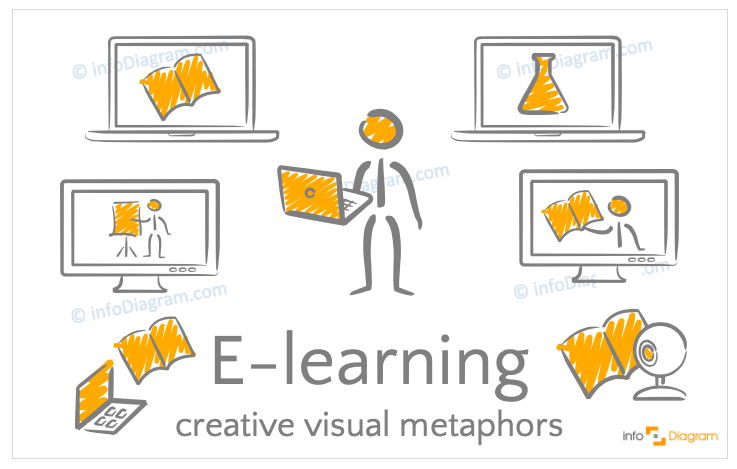 What topics you can use to express remote learning process:
laptop and book icons as a classical symbol for E-learning
combined icon computer screen with a chemical probe illustrating teaching some scientific or university or school content 
a male figure holding computer during E-studying 
male/female figures combined with computer symbol doing different learning activities: reading or presenting 
the camera as a  tool for organizing online conferences or meetings 
Multicolor flat e-learning concept icons collection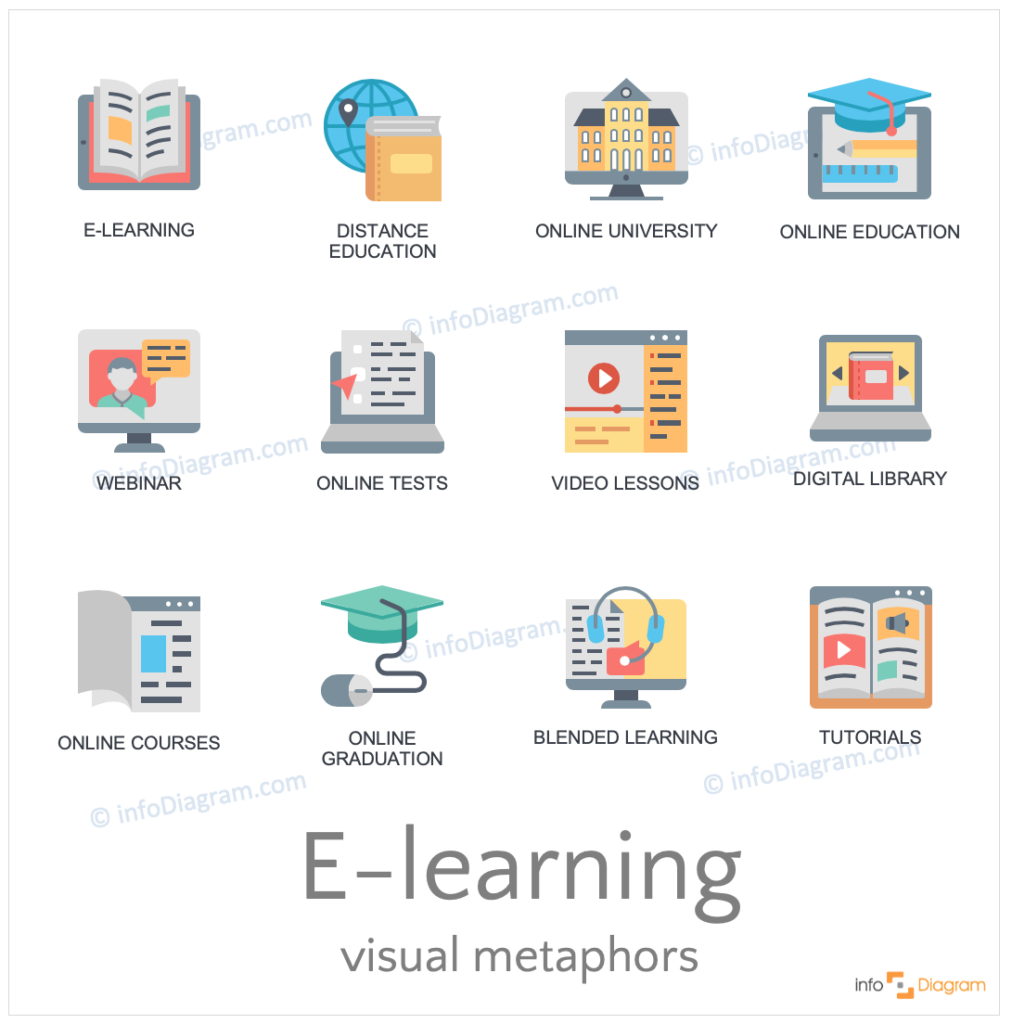 Those colorful icons will suit a presentation slide where you want to attract more attention to symbols. Here's how you can illustrate the E-learning concept using those kinds of  icons: 
the general collection of E-learning icon presenting the main idea of E-studying: distance education, online university, online education
new online teaching methods showed with webinars icon, online test, video lesson or digital learning 
icons showing nowadays possibilities online courses, online graduation, tutorials
We hope these e-learning graphics will help you design a nice looking infographic that will make your presentation more engaging and easy to read. 
If you like the suggested icons, you can get them from infoDiagram library. The best way to get them is by joining subscription access to PPT graphics here. It will allow you to download these symbols, and graphics from any presentation deck you find on the website.
More concept icons ideas
Need to show another concept in a presentation? Crisis, Leadership, Engagement, Growth you name it. Check our blog Ultimate List of Business Concepts Visualization to get inspired.