Do you need to illustrate the expansion idea or growing trend in your presentation? Check the following blog to get some ideas on how to express the expansion concept visually. Such symbols will help you create engaging, informative and succinct slides.
The idea of expansion appears quite often in business presentations: you may want to show globalization, illustrate new markets expansion, or present growing trends.
To save time and create a stylish and professional presentation, we advise using icons. Here you'll find symbol ideas and you can choose which one fits best to your presentation context.
Expressing the expansion concept ideas with outline simple symbols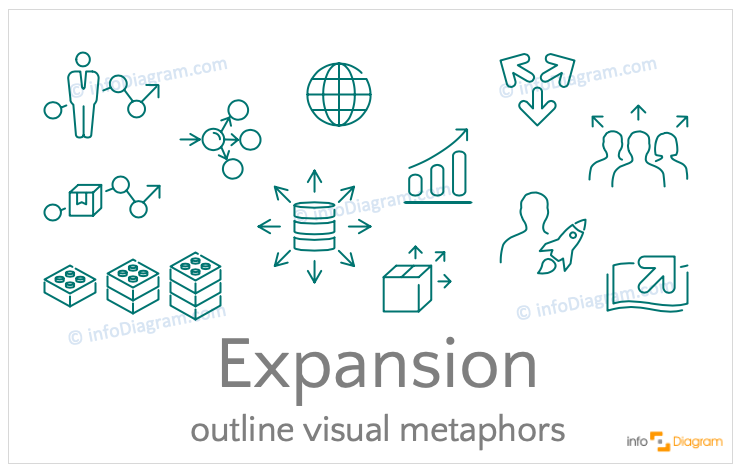 Here we suggest several examples of PowerPoint icons in an elegant outline style. You can enrich your slides with one of those symbols to make it more attractive:
man figure illustrating growing tendencies 
money with an increasing arrow symbolizing growing profits
world globe as a symbol of world globalization
flow chart arrows as a symbol of expanding forking process
a male figure with a rocket sign 
trend charts presenting the tendency of growth
team expansion pictogram
icons showing the process of product distribution 
Style neutral visual expansion concept metaphors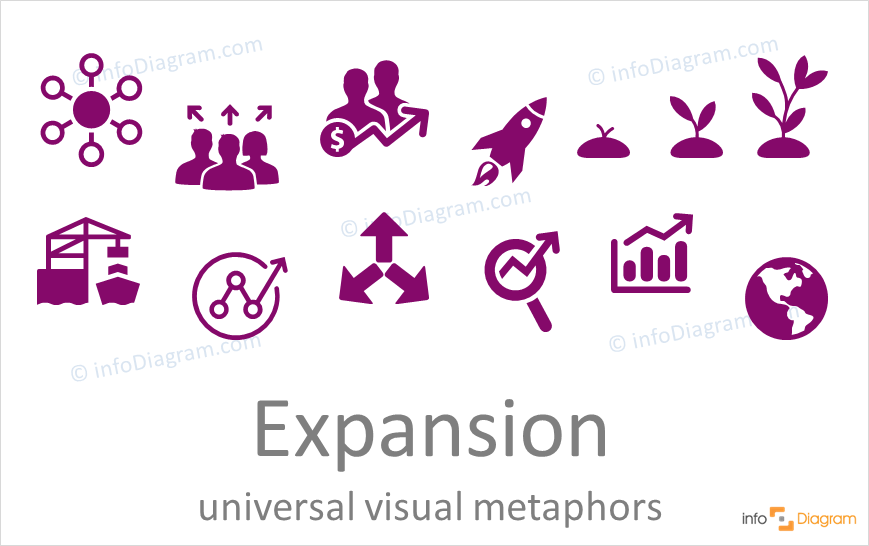 In the picture, you can see icon examples in a flat simple style. This selection features a variety of different approaches to representing an expansion process. These flat icons are universal – they are style-neutral so they fit various branding graphics, and they look well also if you have only a little space on the slide, as those icons are recognizable also if they are small size. Here are some ideas for your inspiration:
a magnifying glass with an arrow and world globe showing expansion and development 
circle sign with a growing arrow and growing trend line
growing plant icons highlighting the growth and increase 
growing team pictogram
sign of people and growing financial chart
cargo port as symbols of globalization
Creative expansion concept icons collection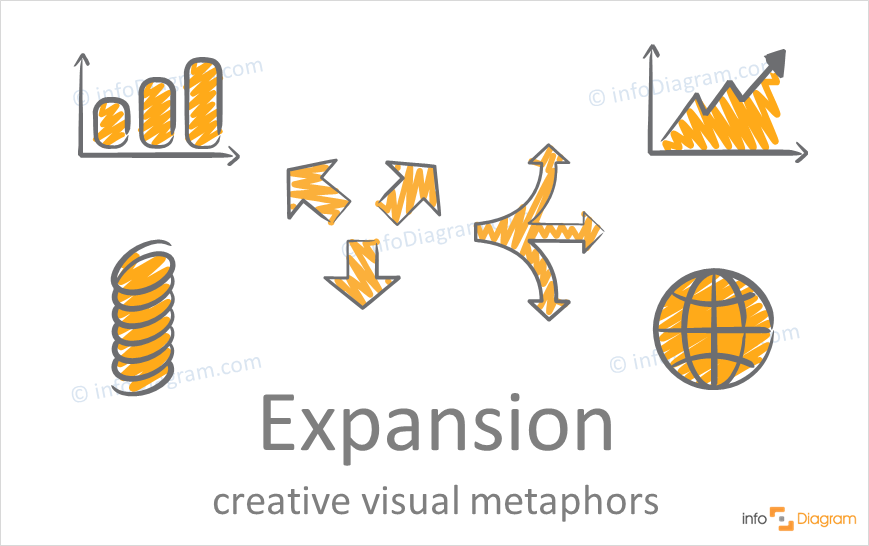 If you want to design a more creative presentation with a personal touch, adding hand-drawn symbols is a great idea:
We hope these change graphics will help you design a nice looking infographic that will make your presentation more engaging and easy to read. 
If you like the suggested icons, you can get them from infoDiagram library. The best way to get them is by joining subscription access to PPT graphics here. It will allow you to download these symbols, and graphics from any presentation deck you find on the website.
More concept icons ideas
Need to show another concept in a presentation? Operations, Equality, Engagement, Growth you name it. Check our ultimate Concept Visualization List to get inspired and balance the informative part of your presentations.