Need a catchy symbol to illustrate competing sides, conflicting points of view, or goal achievement? We suggest using visual metaphors to keep the slides informative, succinct, and relevant yet communicate all needed information. Get inspired by our ideas on presenting the competition concept.
Use light outline icons to illustrate the competition concept
Outline style icons are clean and will add a professional touch to your presentation. They can be customized to suit light or dark backgrounds. See how our competition concept icons might help your next presentation: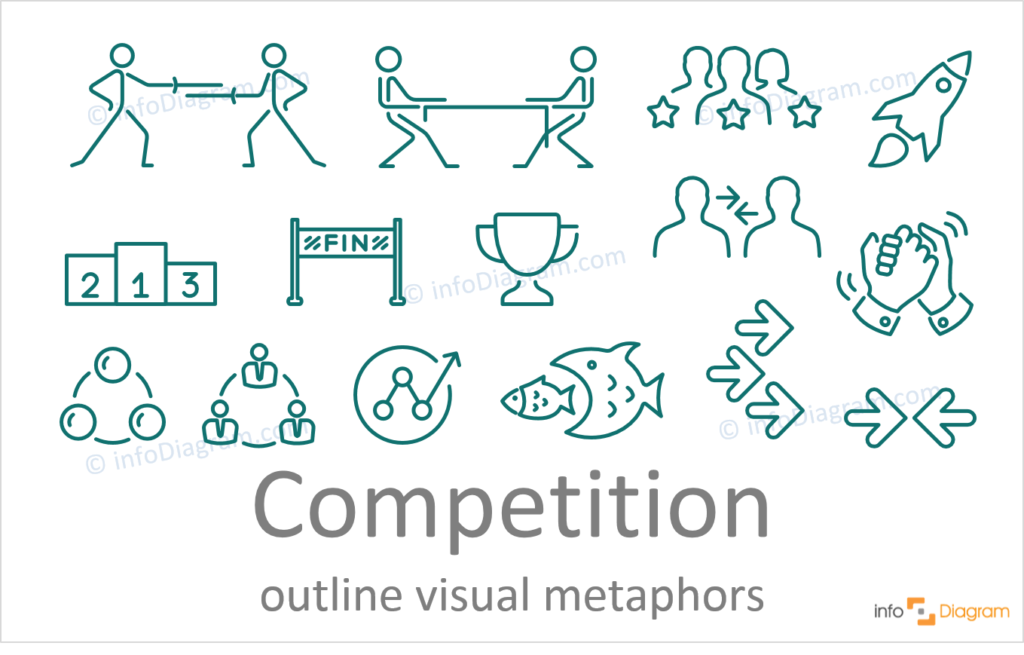 Swordfight, line pull, climbing, running (race) to show two people vying
People being rated and contestants can represent the results of rivalry
Big fish eating small as a symbol of competing companies or market cannibalism
Podium as a metaphor of winning or losing
Hands wrestling for presenting competing with one opponent
People symbols in a circle to show more players in the game
Set of arrows to show the idea of "who's first"
You can find all icons mentioned above in a collection of Outline Icons for PowerPoint, which we have designed over the last years.
Use hand-drawn competition symbols to add a personal touch to slides
Such hand-drawn scribble icons are great for presenting your ideas in a more interesting manner. The symbols we designed in this style are high-energy and fun. See what visualization will best suit your audience:
Cotilion and finish line as symbols final of the race
Runners icons can be used while talking about competitors
Climbers can help your audience call to mind the concept of goals achievement
You can find the above visuals in the Scribble PowerPoint Symbols Collection.
Competition concept ideas expressed by style-neutral flat PPT symbols
Universal flat icons will help you reach a consistent look in your presentation and are appropriate for many organizations. You can adapt colors to your brand ones if needed. Here are the icons we suggest to illustrate rivalry: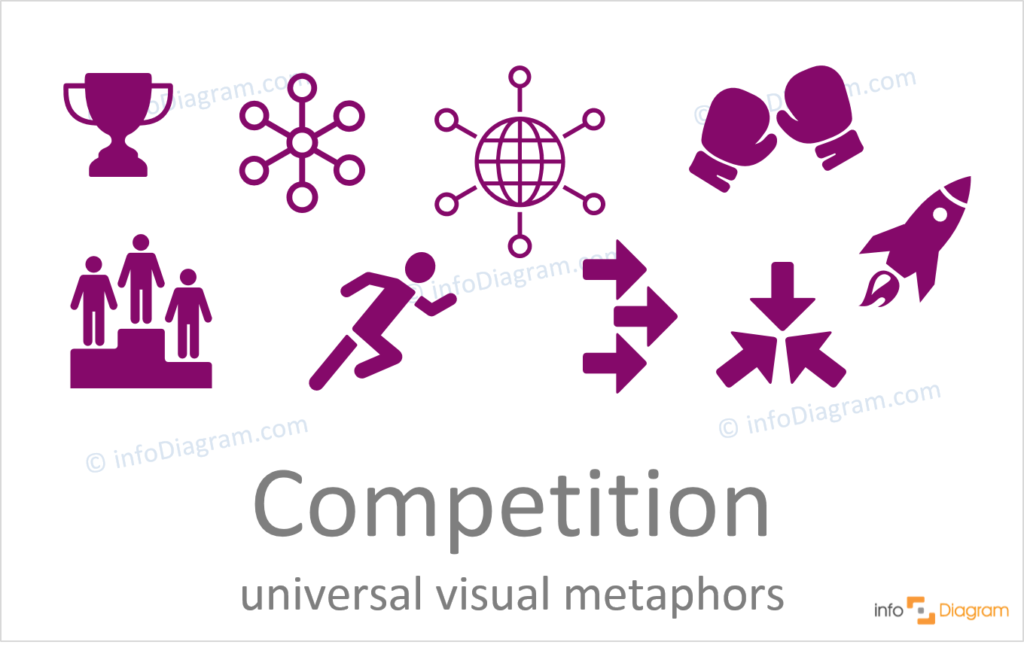 Prizes, cup, cotillions are all useful visuals for showing winner and place in the competition
Boxing gloves can represent the fight
Use globe with pins to represent global market competition
Chess figures are great for presenting major players
Runners and walkers to illustrate the different pace of opponents
Podium is an easy to understand symbol for the result of a race
These and many other symbols are part of the Simple Flat PowerPoint Icons Library.
Whether you prefer a more universal, elegant or scribble style, or you're just looking for inspiration, it's worth adding visuals to support your presentation to support your message to the audience. Icons and diagrams can help you create a more appealing presentation and represent the key points better than bullet points and text boxes.
We hope our suggestions of the competition concept illustration will help you create a presentation that effectively passes the ideas.
Wish you could make more eye-catching presentations? Get access to all the icons in this post and the rest of our graphics library with a subscription to InfoDiagram.
Other business concepts visualization ideas
Did our competition concept blog help you? Learn how we visualize concepts like Expansion, Project, Communication and even more. See the Concept Visualization Master List blog post for more ideas.