Do you need to present a concept of a certain requirement, condition or demand specification in your document? Here are several ideas of symbols you can use to illustrate that abstract concept in one picture.
Line style symbols of expressing the requirement concept
If this light style graphics fits your presentation content, you can consider using one of those metaphors and pictures: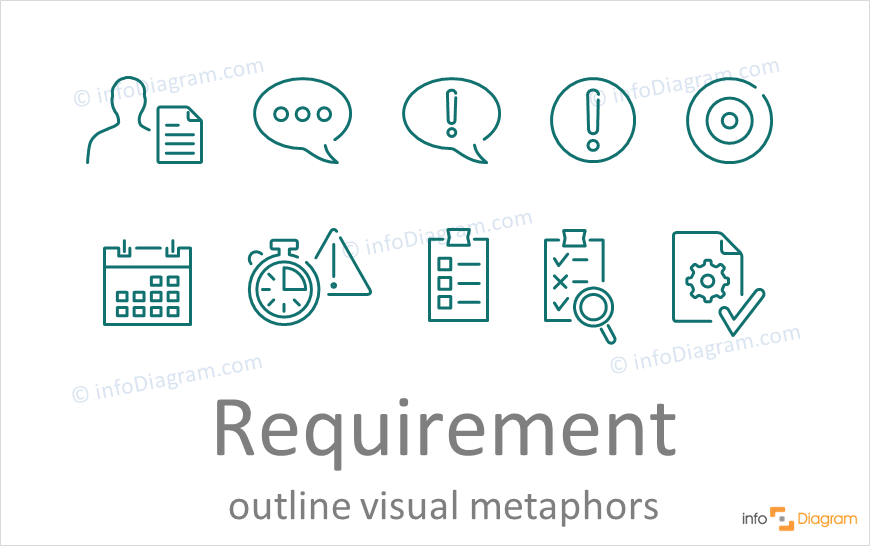 Icons of a person with resume – expressing an HR recruiting requirements of competencies and qualifications of a candidate
Speech bubble sign a metaphor of having a request or specific demand
Bullseye icon to show a specific well-defined requirement goal
Calendar, timer for deadline usually connected with a time-constrained requirement
Checklists, documents pictures for the written form of requirement
For technical requirement, you can show it by the icon of a paper sheet with a gears sign on it
Those symbols mentioned above can be found inside a collection of Outline Icons for PowerPoint, designed by our team.
Ideas for hand-drawn symbols of a requirement concept
If you can afford to be more personal in your presentation materials, try using those scribble pictograms: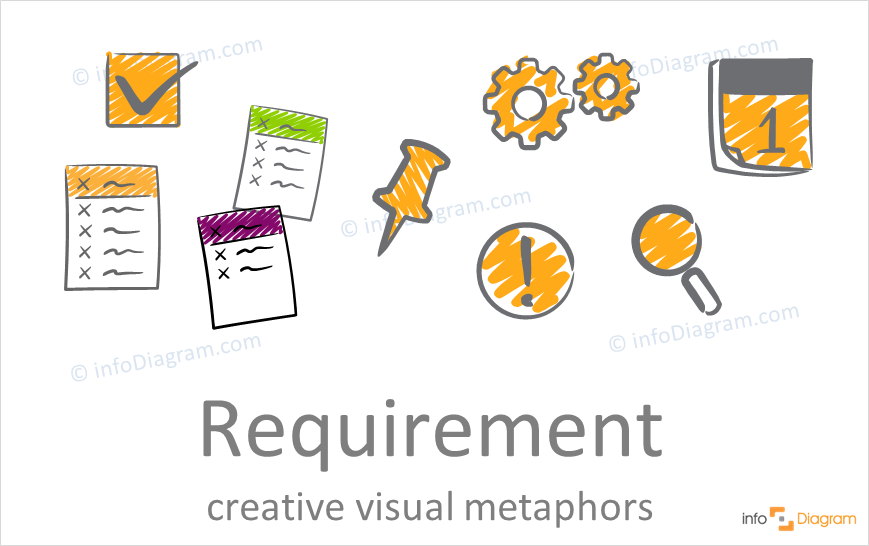 Todo list showing a request or status of fulfilled requirements
Pin or Compass sign for expressing directions that a requirement sets
Magnifying glass illustrating details of a requirement
Calendar icon showing the due date when a requirement should be implemented
Gears as a symbol of technical requirements.
You can find those visuals in the Scribble PowerPoint symbols collection.
Requirement expressed by a simple flat icon
Finally, a bunch of ideas on how to visualize a change request using flat icons. These symbols are pretty universal and are recognizable also if their size is small.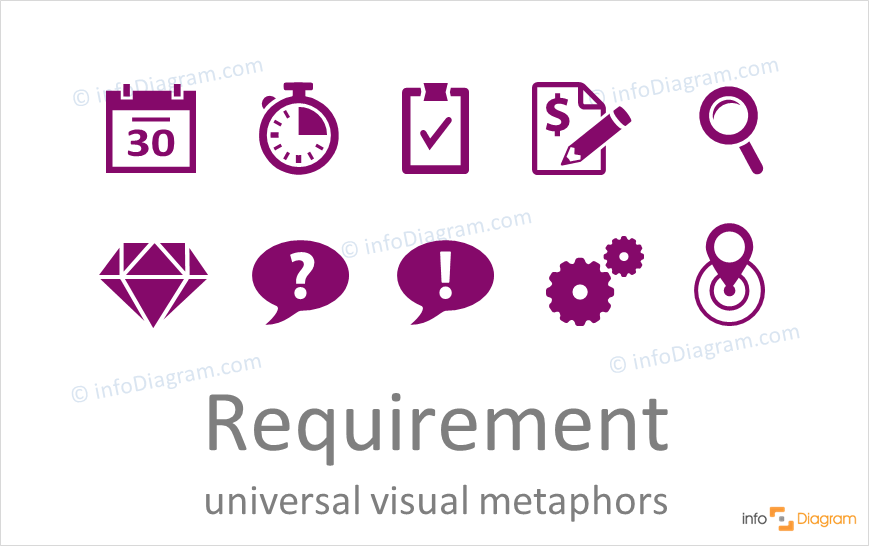 Ideas covered by those icons include:
A stopwatch for the requirement deadline
Clipboard for request documentation
Money icon for financial requirements
The diamond symbol for quality requirements
Magnifying glass as a symbol of detailed conditions description
Cogs icon for the technical type of requirements
These icons are part of the Simple Flat PPT Icons Library present on our website.
Whatever style is closest for presentation, it's always worth adding some kind of visual illustration to make your presentation more appealing and to break blocks of texts.
We hope the ideas from this article will help you create better slides.
If you need one of these icons, they are all available within our collection of PowerPoint icon sets. Check the subscription access to InfoDiagram (learn more). This will allow you to download any icon from our symbols library.
Other business concepts visualization ideas
If you search for other ideas to express, check the Concept Visualization List blog post that we are creating. See if we can help you make your next presentation more intuitive and memorable.