Seek financing for your start-up or need to tell a compelling story about your business? Presenting your startup idea to prospective angel or venture capital investors can be time-consuming and complex. That's why it's essential to prepare an impactful investor pitch deck and to support it with a compelling story. Here are 6 examples of typical pitch slides which you can adapt to your presentation.
To get funding for your business idea, you need a strong, thorough, and engaging pitch presentation. Get inspired by the following slide visualizations to help you to convey your idea in an eye-catching and out-of-the-box format.
All slide examples are downloadable, click here to see the Creative Investor Pitch Deck for PowerPoint.
According to Forbes, the pitch deck typically consists of 15-20 slides in a PowerPoint presentation and is intended to showcase the company's products, technology, and team to the investors.
Check the following examples of how you can illustrate ideas and different topics in your investor pitch deck presentation. In the end, you'll find a practical step-by-step guide on how to present your team.
Describe and present mission and vision statements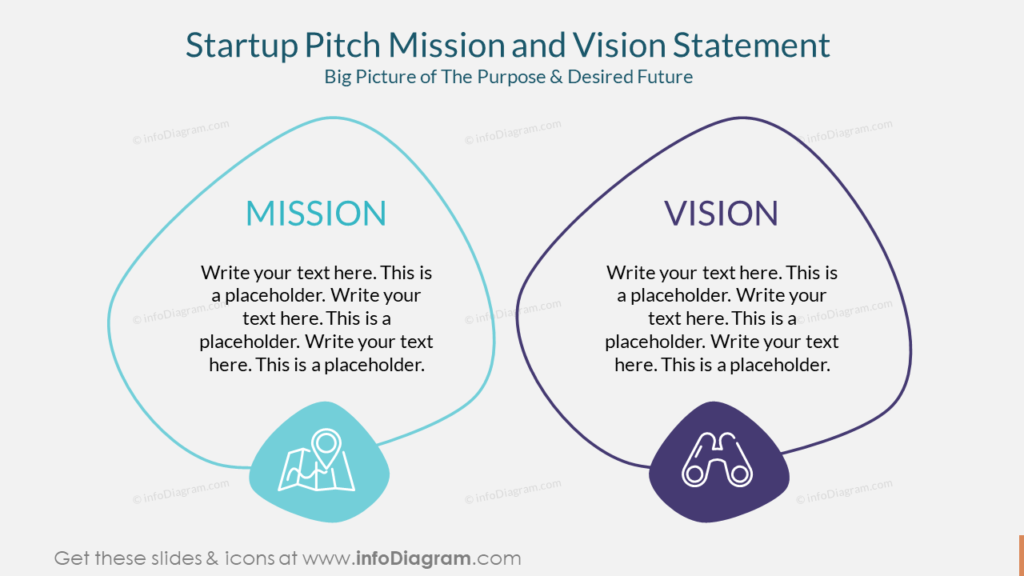 Outline your company's mission and vision statements in a concise and attractive way. You can use such a mission slide as you can see in the picture above. Consider using creative blobs shapes and illustrative icons of a map with a pin for a mission statement and binoculars symbol – metaphor associated with a vision. You can find more creative ideas on presenting mission and vision in this blog.
Present clear and appealing solution to the challenge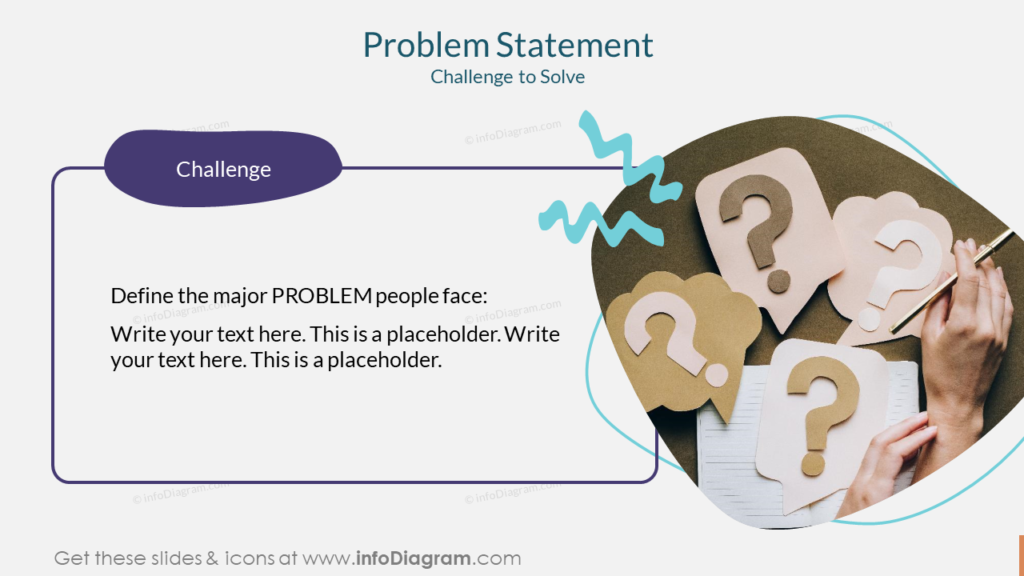 Present customers' problems and your way of solving them. Show a problem statement and a challenge you solve on a slide. Define the major problem people face. In the slide example above you see we illustrated such a problem statement by a photo with question marks.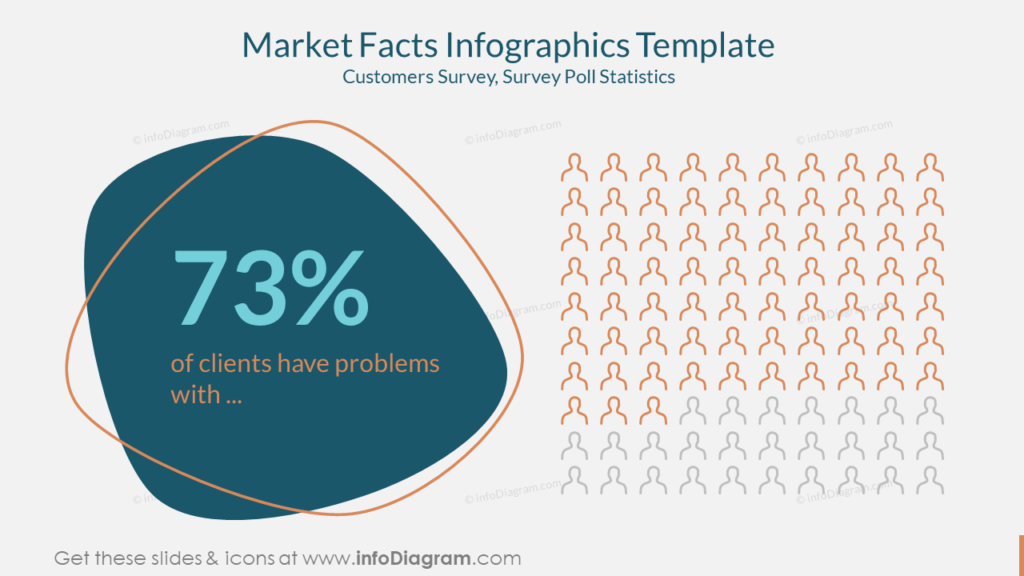 It's also a good idea to support it by the market statistics or some research data. You can see a slide with Market Facts infographics showing that 73% of clients have a certain problem. The 73% value is illustrated by simple graphics of the people icon matrix of 10 by 10, where we colored the 73 icons to show the presented value.
Illustrate current and desired state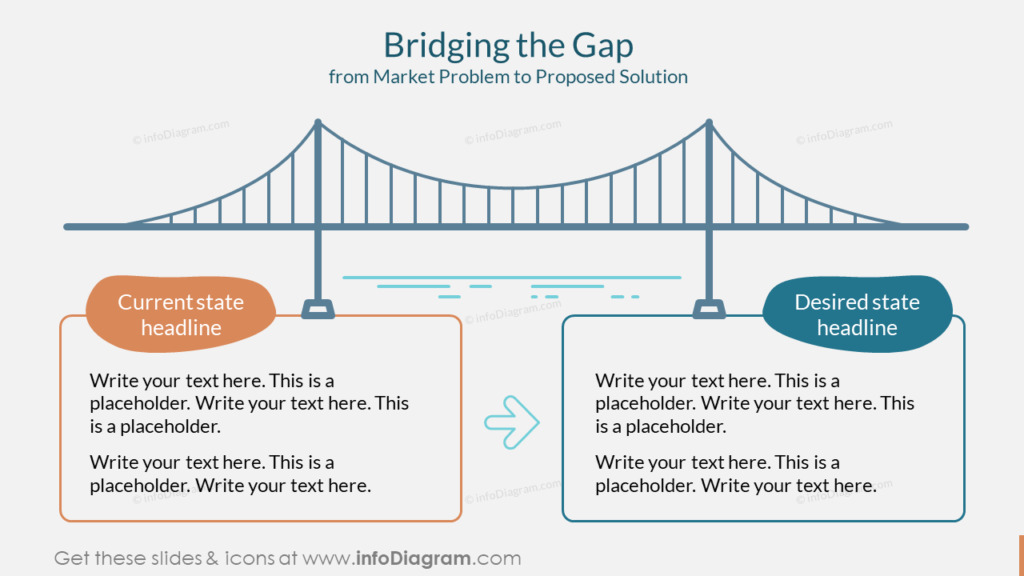 To show how you bridge the gap from the market problem to your proposed solution, you can use a slide with graphics of a bridge over the water connecting two columns with a text description of the current and desired state.
Include your SWOT analysis in the investor pitch deck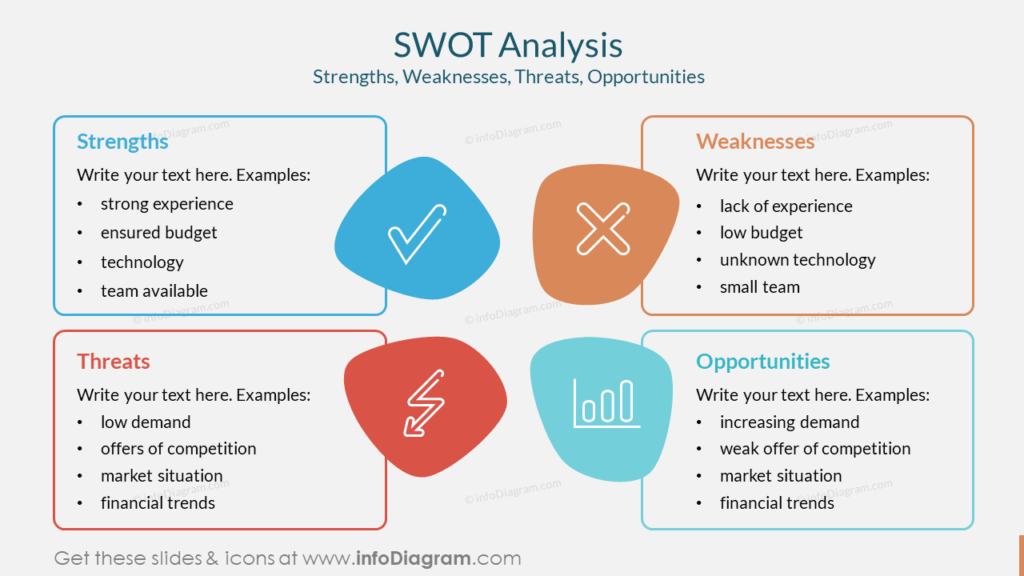 If you're going to include SWOT analysis in your pitch deck, you can present it on one slide as a set of 4 text fields. On our SWOT slide example, you can see we used blob shapes style with icons representing all four areas of Strengths, Weaknesses, Opportunities, and Threats. Notice it's good to use also proper color coding, threats and weaknesses are represented by reddish colors.
For choosing proper symbols for SWOT concepts see more ideas on how to show strong and weak sides here.
Present income statement projection in financial plan table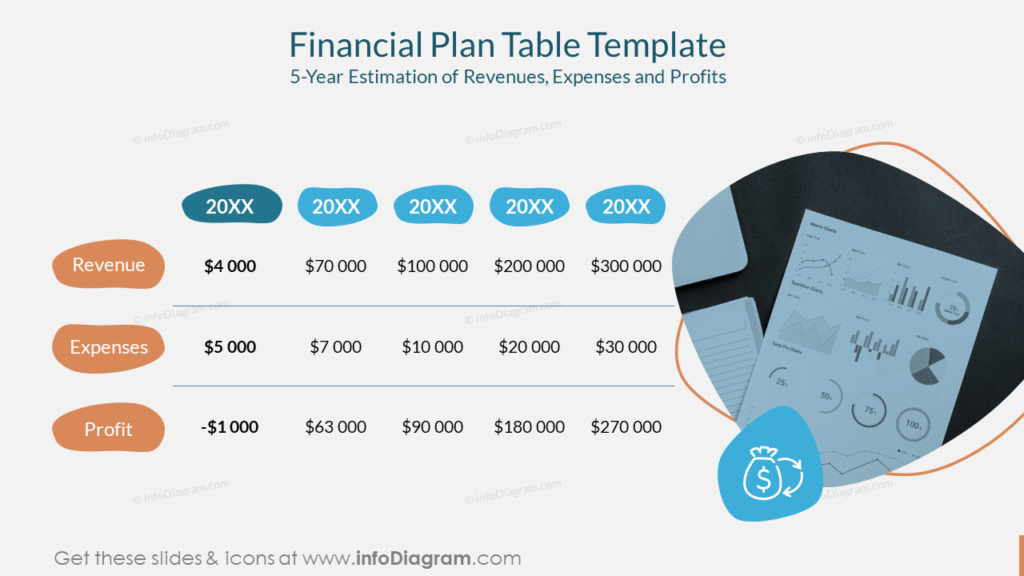 If you want to show a company's current financial situation and 5-year estimation, make it simple: present revenue, expenses, and profit. You may want to illustrate it with a photo, icon, or both, but it's totally up to you.
Guide on how to create stylish infographic for team slide
Here's a quick guide showing how you can present a team with pictures and positions of a startup founder, CEO, Key Sales Manager, and PR person.
1. Arrange team members' pictures in a row. Crop pictures to the circle shape or inside a blob shape.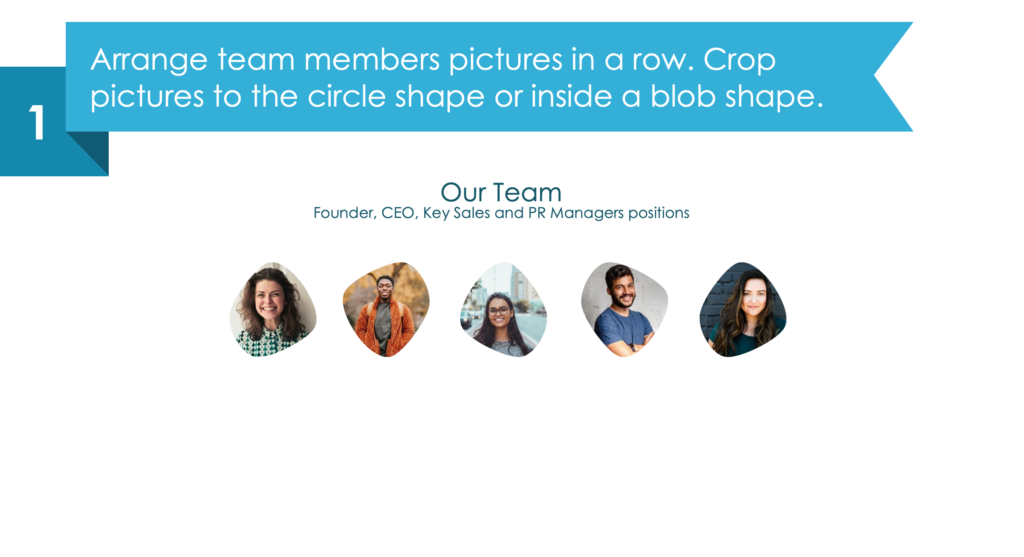 2. By using lines and circles create an axis with a dedicated point to each picture.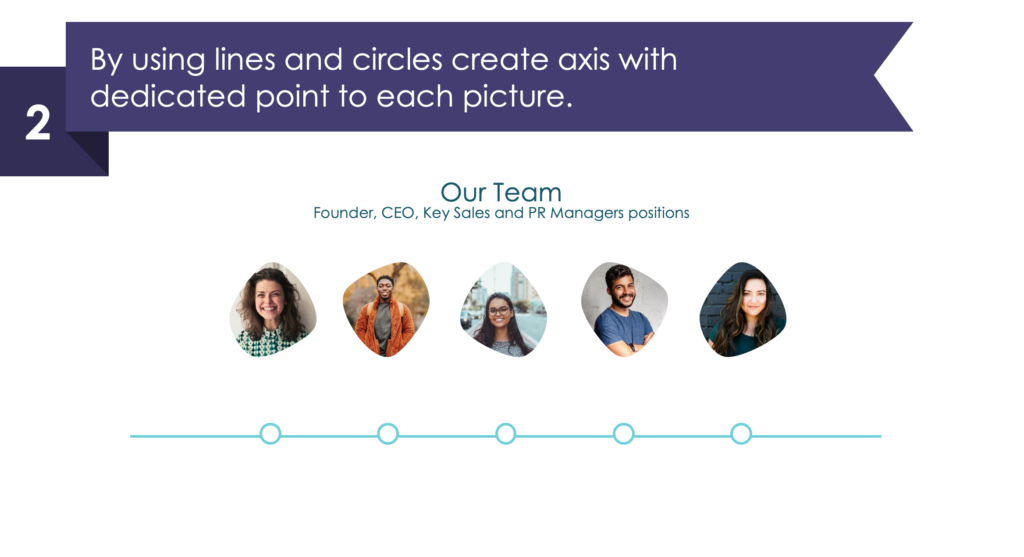 3. Add line call-outs to add a position. You can add a dark bottom stripe for more contrast.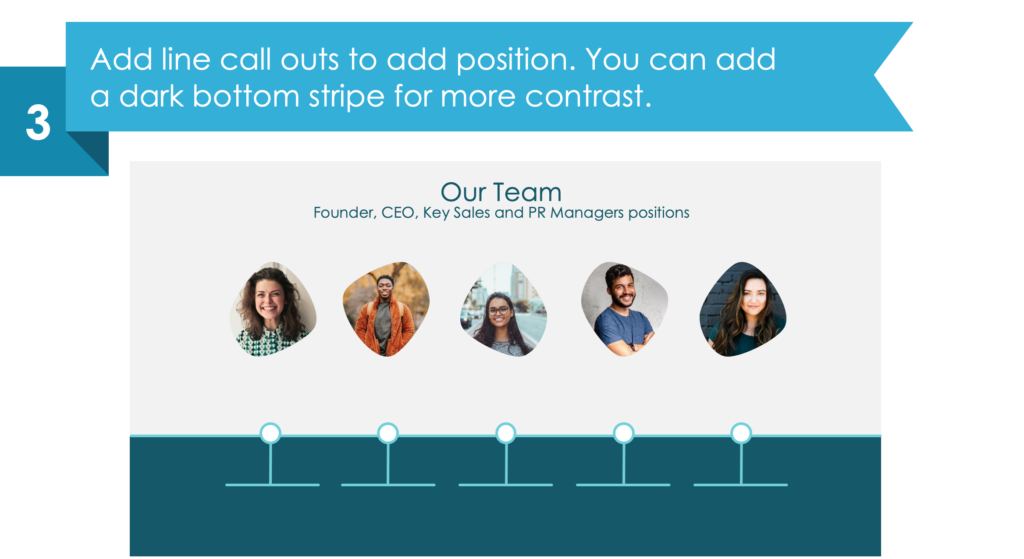 4. Fill names and positions of each team member and add a stylish outline to each picture.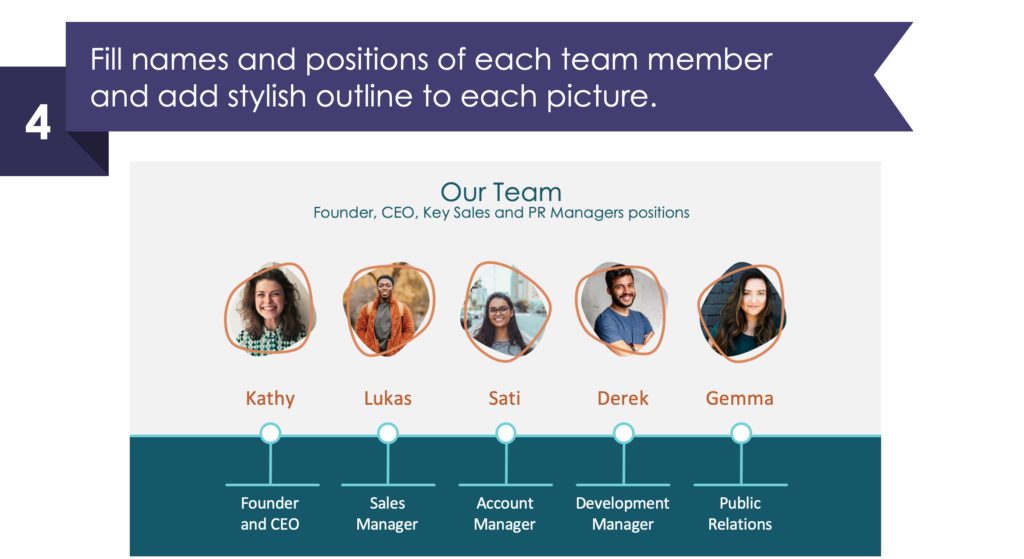 See the whole step-by-step instruction and other examples here: How to Create a Strong Investor Pitch Presentation Using PowerPoint.
Resource: Creative Investor Pitch Deck with Organic Blob Shapes
The examples above are only a part of our pitch deck slides collection. You can reuse our infographics and tailor them to your needs to upgrade your presentation slides. The majority of our slides have a space for your text/comments, so it is very easy to extend presented ideas. We also include detailed instruction on how to alter the content, values, colors, and look and feel of our slides. See the full deck here:
Creative Investor Pitch PPT Deck
Use modern visuals to create appealing presentations with fewer words and focus investors' attention on the most important points. Want to do even more customizing? Graphics from the collection of professionally designed editable diagram templates might help you take your next PowerPoint further.