Do you need to illustrate good results, growth, or some kind of a positive outcome? It can be challenging if you want to express an improvement concept with only one simple yet eye-catching, intuitive graphics.
Here are a few symbol ideas you can consider to visualize this abstract concept of something "improved" in our slides.
Use light outline icons to visualize the improvement concept
Modern, universal improvement concept visual metaphor icons make impactful presentations. They can help in communicating lots of information on a single slide.. See our ideas for improvement concept visualization: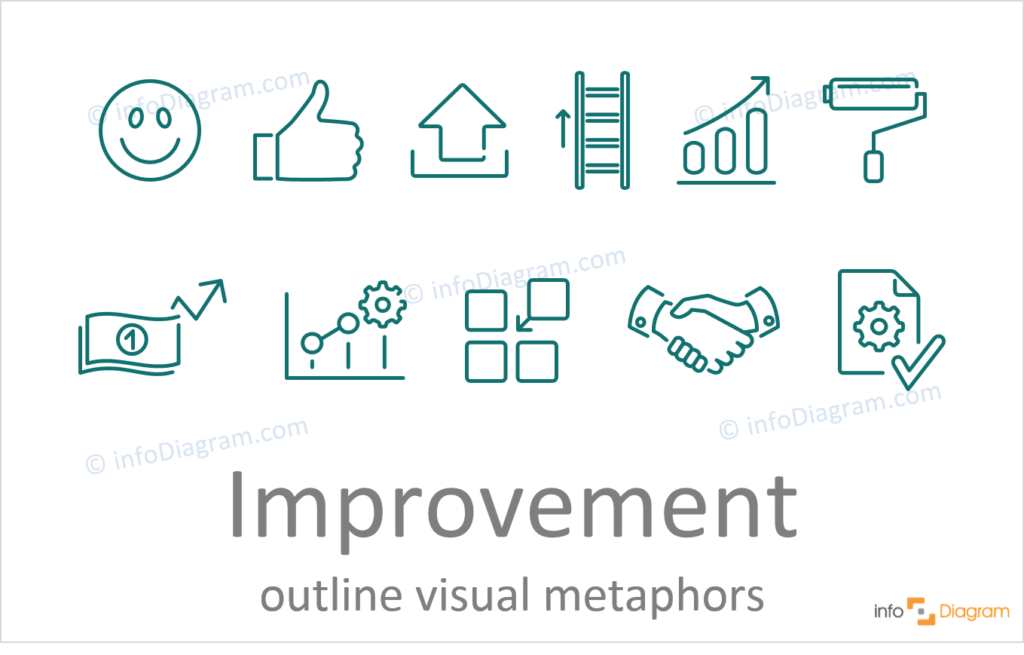 thumbs up as a metaphor for a positive change
career ladder as a symbol of development
data chart represents growth
money with a chart to show growing profits
chart with cogs or document with cog and checkmark to call to mind the process of improvement
adding elements to a whole symbol can show enrichment and continuous improvement
You can find all icons mentioned above in a collection of Outline Icons for PowerPoint, which we have designed over the last years.
Improvement concept ideas expressed by style-neutral flat PPT symbols
Universal flat icons will help you reach the consistent look in your presentation and are appropriate for many organizations. Check out the icons we suggest to illustrate improvement concept ideas: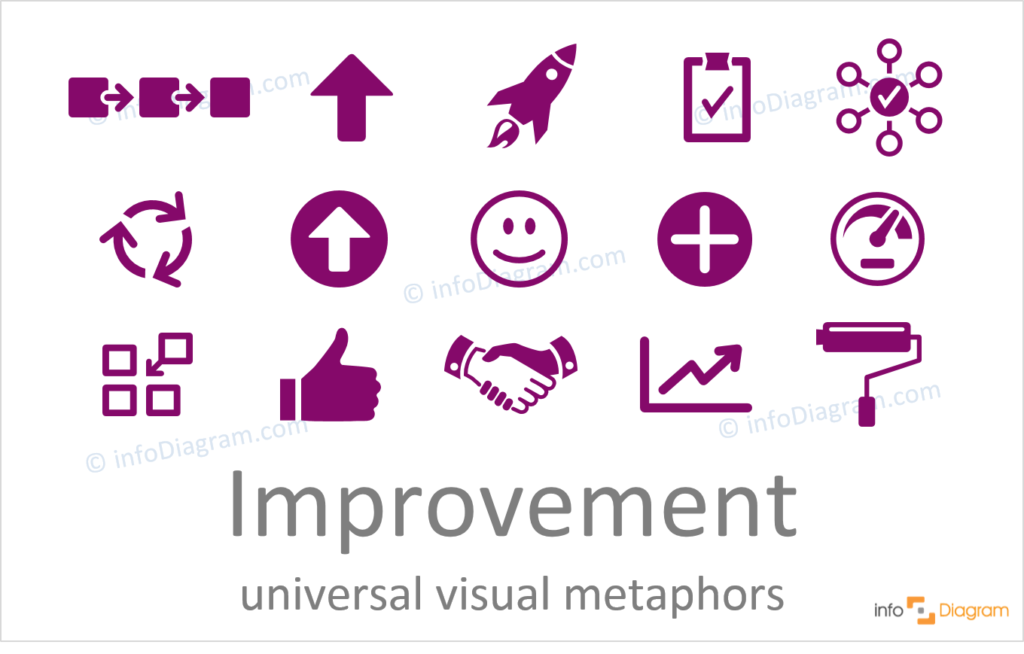 rocket launch, done symbol are all useful visuals for showing positive outcome, success, or achievements
the puzzle can represent perfection or completeness
use a paintbrush to illustrate the correction
ok check symbol can be used to express the agreement and cooperation
happiness, satisfaction can be showed by a smiley face
plus and increase as common metaphors for improvement and growth
repainting, facelifting, redesign to visualize the idea of something new and improved
the gauge can illustrate better results
continuous loop as a never-ending improvement process
These and many other symbols are part of the Simple Flat PowerPoint Icons Library.
Use hand-drawn improvement icons for personal touch slides
Hand-drawn scribble icons are great for presenting to audiences and organizations which value creativity. The icons we designed in this style are high-energy and fun. See what visualization will best suit your audience: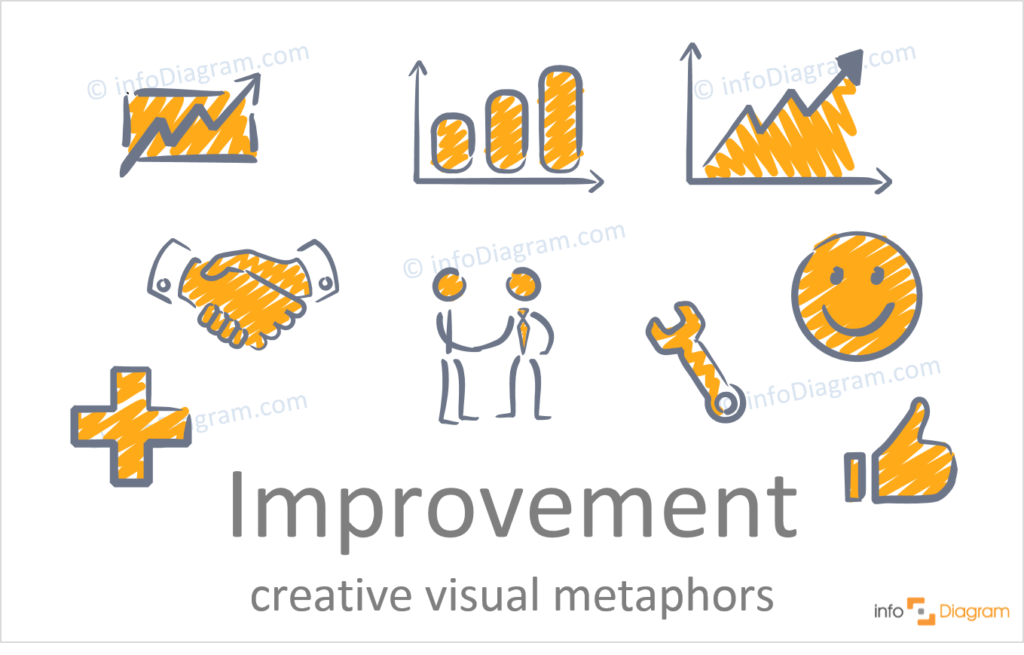 smiley face as a symbol of personal improvement and growth
plus can be applied to explain the adding value concept
use tool icons to show fixing and adjusting for better results
a handshake can help your audience visualize agreement or a new better state
You can find the above visuals in the Scribble PowerPoint Symbols Collection.
Whether you prefer a more universal or scribble style, or you're just looking for inspiration, it's worth using graphics to support your presentation. Icons and diagrams can help you represent the key ideas better than bullet points and text boxes.
We hope those ideas of the improvement concept illustration will help you create a presentation that effectively passes the message.
Wish you could make more eye-catching presentations? Get access to all the icons in this post and the rest of our graphics library with a subscription to InfoDiagram.
Other business concepts visualization ideas
If you search for other ideas to support your presentations, check the Concept Visualization List blog post that we are constantly updating. See if we can help you make your next presentation more intuitive and memorable.