Need an appealing symbol to illustrate a list of actions, process steps, or a set of activities? We suggest using visual metaphors to transfer your ideas to the slides effectively and keep the presentation consistent. Get inspired by our ideas on presenting the process concept.
Four criteria for you to consider while choosing an icon – idea, visual contrast, space and style.
First thing you look for is a metaphor that icon should represent. In case of process, what general concept fits your business context.
Second thing to consider is contrast and visual power you want to give to symbols. How much you want to expose the symbol itself versus the text content. The bigger the icon will be, the more attention it will take from the reader. The same with icon color – light grey icon will be less "screaming" than a dark black pictogram.
Third criterium is the space you have on slide. If your slide is already overcrowded with content, choose icon than are still recognizable even if they are tiny. For example a flat icon below are like that.
The forth criterium is the style you want to express. Do you want to stay neutral, do you want to appear modern or express out of the box thinking and creative approach? Whatever you choose, try to stay consistent over your presentation. Don't mix styles too much.
Use universal flat PowerPoint icons to show process concept
Below you can see several icon examples in a plain flat filling style. Those symbols look good even if they have a small size. You can enrich your presentation with one of those symbols to make it more engaging: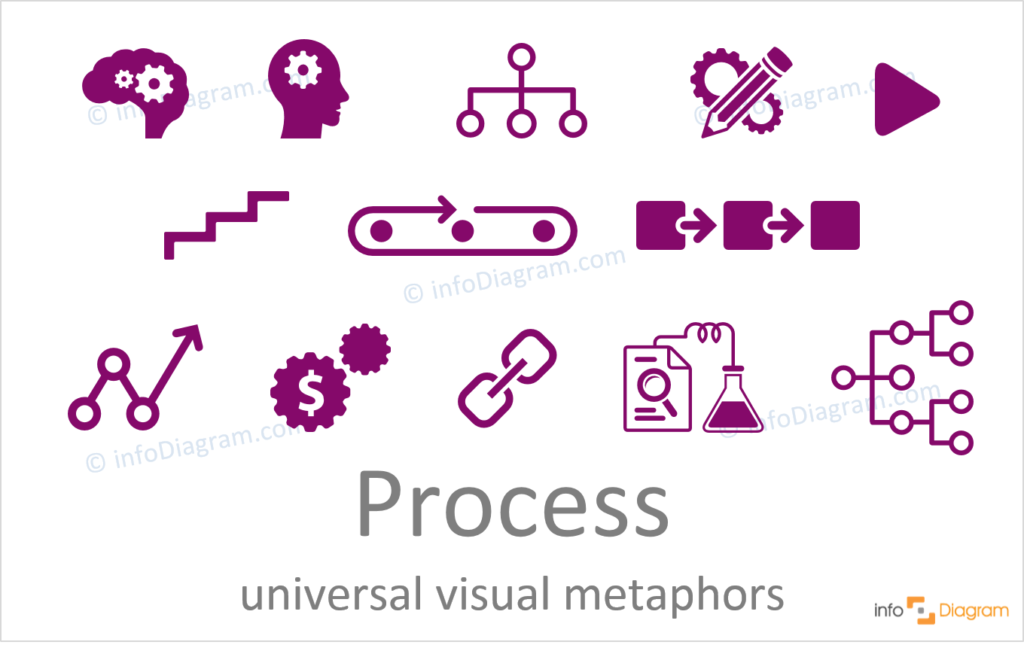 brain or head with gears can be used for showing mental and thinking process – function or processes of the mind, or cognitive process, such as attention, memory, language use, reasoning, and problem solving
pencil & gears are great symbols for illustrating design process, creation
blocks with arrows as a general process icon, changing from one step to another
conveyor belt as a metaphor of production process
These and many other symbols are part of the Simple Flat PowerPoint Icons Library.
Illustrating process and procedure ideas with scribble graphics
If you want to create more personalized slides and add a creative touch, use hand-drawn icons for presenting the process concept ideas. You can find the specific visuals below: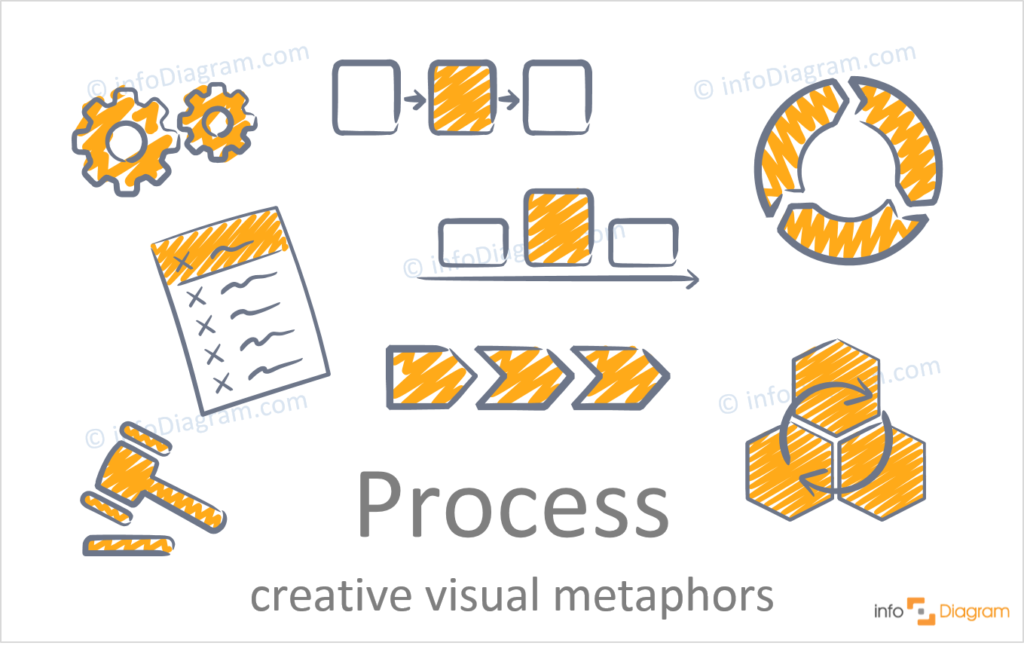 gears to visualize processing machinery or process that is active/ is working
legal process can represent any formal notice or writ by a court obtaining jurisdiction over a person or property
blocks with arrows as symbols of general process idea
document with points for list of actions to take, or process steps
You can find the above visuals in the Scribble PowerPoint Symbols Collection.
Present the process concept with elegant outline symbols
Such icons in elegant outline style are widely used in many modern presentation slides. You can enrich your presentation with one of those symbols to make it more attractive: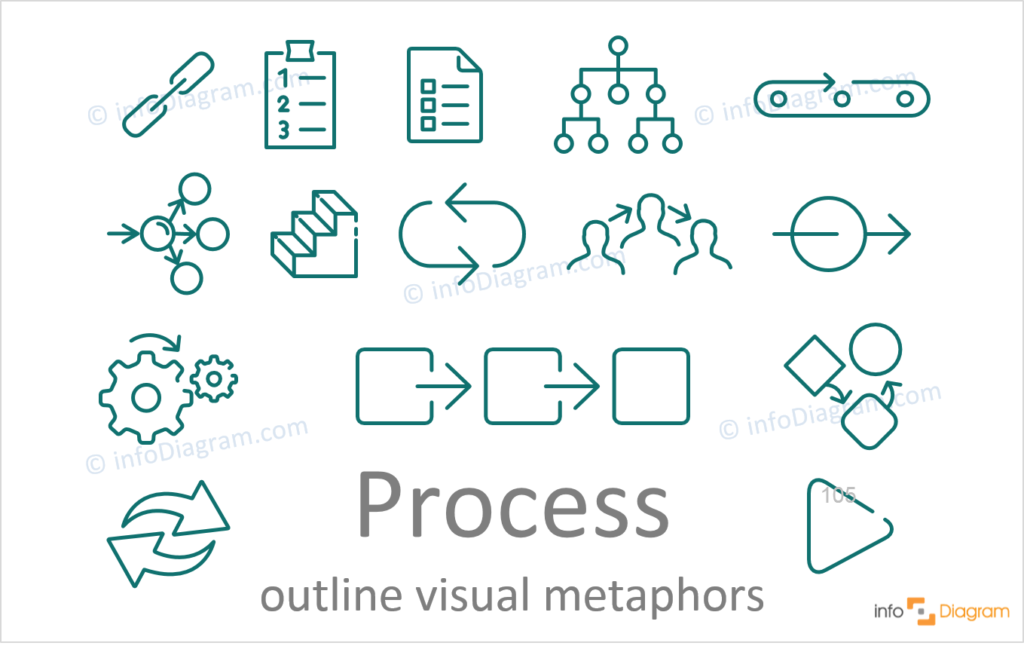 chain icon can represent casual chain and ordered sequence of events in which any one event in the chain causes the next.
paper with points to show list of actions to take, plan, process steps
loop as a metaphor of reoccurring processes
gears to show operation that is active/ is working
cubes with arrows – general procedure icon, changing from one step to another
All icons mentioned above can be found in a collection of Outline Icons for PowerPoint, which we have designed over the last years.
Whether you prefer sketched, or more formal style, or just looking for inspiration to search your ideal icon of a process, it's worth using graphics to support your story and presentation.
We hope those ideas of illustrating the procedure or process concept will help you pass the message effectively and create a consistent professional-looking presentation.
If you need liked icons from above and want to get graphics from multiple icon sets, consider a subscription to InfoDiagram. A subscription will grant you access to any icon in our resource library.
More concept icons ideas
If you need to present abstract ideas or complicated concepts – be sure you are using visual metaphors. We put together a Concept Visualization Master List blog post so finding our concept visualization articles would be easier to find. See if we can help you make your next presentation more intuitive and memorable.