If you're planning to talk about ecology, circular economy, sustainability, or any climate change-related topics, using graphical aids can help you illustrate more data with less text and make your slides more dynamic and motivating. See how you can improve climate change presentations, whether you're teaching, training, or inspiring your audience.
Visual illustrations can help clarify the message and ideas you want to convey. Using imagery to support rich data can help you take your environmental presentation to the next level and keep your listeners' focus.
Check out this list of PowerPoint templates we put together. It can be a source of visual inspiration for your climate change presentations.
You can get any deck presented here as an editable file. Simply click on the images to see and download the source illustrations. Check the full collection of Climate & Ecology PowerPoint Templates here.
These seven decks will help you create high-quality presentations and illustrate various ecology and climate change-related topics:
Actions against climate change
Triple bottom line sustainable strategy
Circular economy and sustainability
Climate change impacts & business actions
Plastic pollution & waste
Ecology & green projects presentation
Environmental and ecology icons
If you are an education professional or an NGO member, please contact us. We can give you a discount on our graphics or offer some of our presentations free of charge.
Actions Template Against Climate Change
Spreading knowledge and giving practical tips on what each of us can do to help slow down climate change and global warming is a very important part of combating this crisis.
If you want to explain the problems, go into the details. and show solution examples for a company, consumers, or employees, the climate change actions PPT deck is the one. It includes definitions, causes, and consequences of climate change, information on major sources of greenhouse emissions, practical action layouts, calendar and checklist slides, ESG principles, and many other diagrams.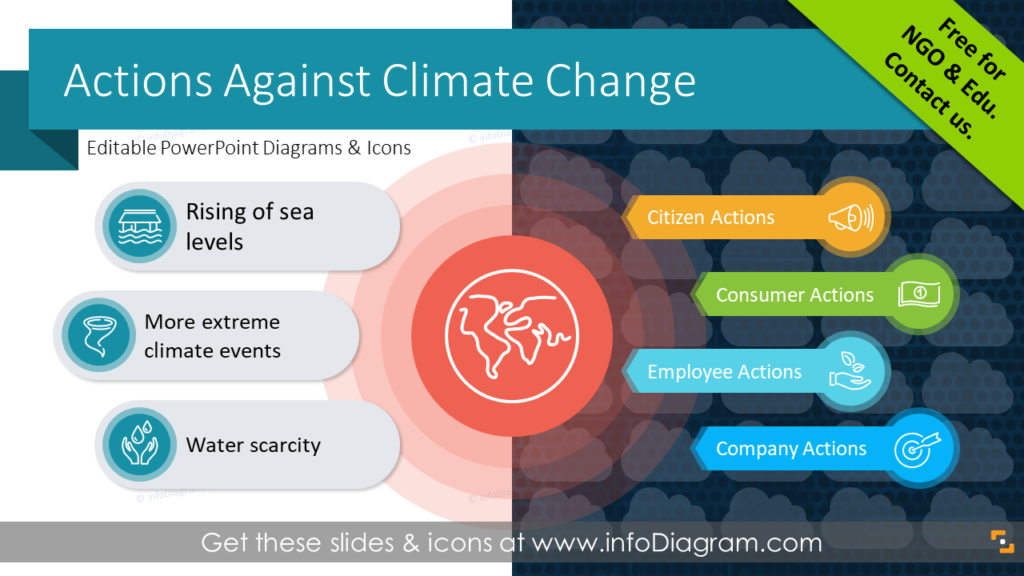 You can use it to share knowledge, inspire, and motivate your community to be more conscious and effective in actions.
Check our blog to learn how visuals can help you drive climate change.
Triple Bottom Line Sustainable Business Strategy
The triple bottom line (TBL) is an accounting framework that incorporates three dimensions of business performance: social, environmental, and financial. Measuring business using TBL is one of the evaluation methodologies to verify how sustainable the business is, and how profitable it is.
The triple bottom line PowerPoint deck contains slides to illustrate the definition, metrics, quotes, and circular economy model. Also, you'll find diagrams to show three areas of the TBL concept: Social Sustainability (People), Environmental Sustainability (Planet), and Economical Sustainability (Profit).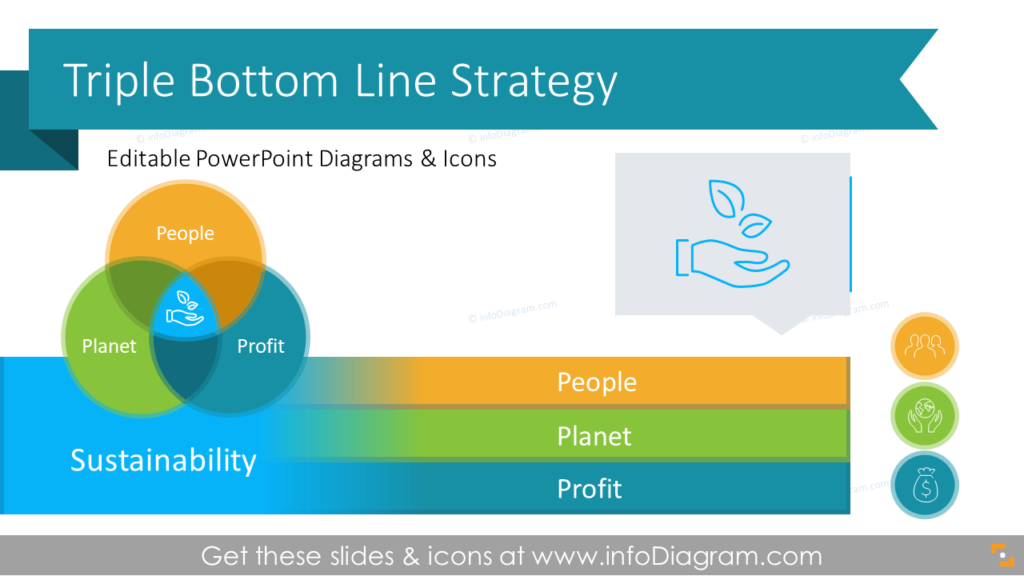 See how you can structure your TBL presentation and present various parts of it in this article.

To learn more about accounting framework background, we recommend checking this Wikipedia article.
Circular Economy and Sustainability PPT Diagrams
The circular economy is a model of production & consumption. It involves sharing, reusing, repairing, and recycling materials and products for as long as possible. To present the essence of the circular economy and principles of the sustainable development model effectively, we encourage using visuals.
The circular economy PowerPoint template includes quotes slides, linear timelines, loop diagrams, comparison graphics, listings, processes, and layouts to show the difference between circular versus linear economies.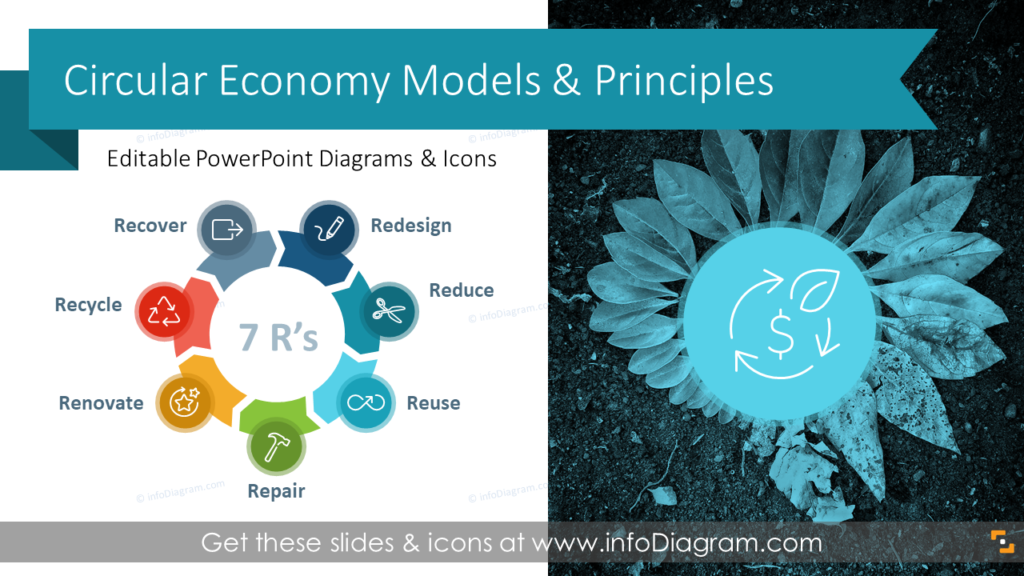 You can use these infographics in a broad spectrum of contexts to:
Compare circular and linear economic models
Show circular economy benefits
Teach the green economy framework
Design a lifecycle of a sustainable product
Explain the 7R model principles with attractive graphics
Create suggestive slides to emphasize the potential of a sustainable economy
Give real-life examples of running a sustainable business
For more information about circular economy history and applications see this article.
If you're talking about sustainability principles, types, or core pillars, see how icons can help translate abstract ideas into easy-to-read slides.
Climate Change Impacts & Business Actions Template
Explaining global warming effects or analyzing climate change risks? If you need to put together a general presentation on the climate change impacts and actions to be taken to combat it, have a look at the deck below.
Climate change impacts & business actions PPT deck contains diagrams for showing the impacts of global warming, facts, definitions, and quotes on climate from recognized institutions (UN, IPCC, NASA).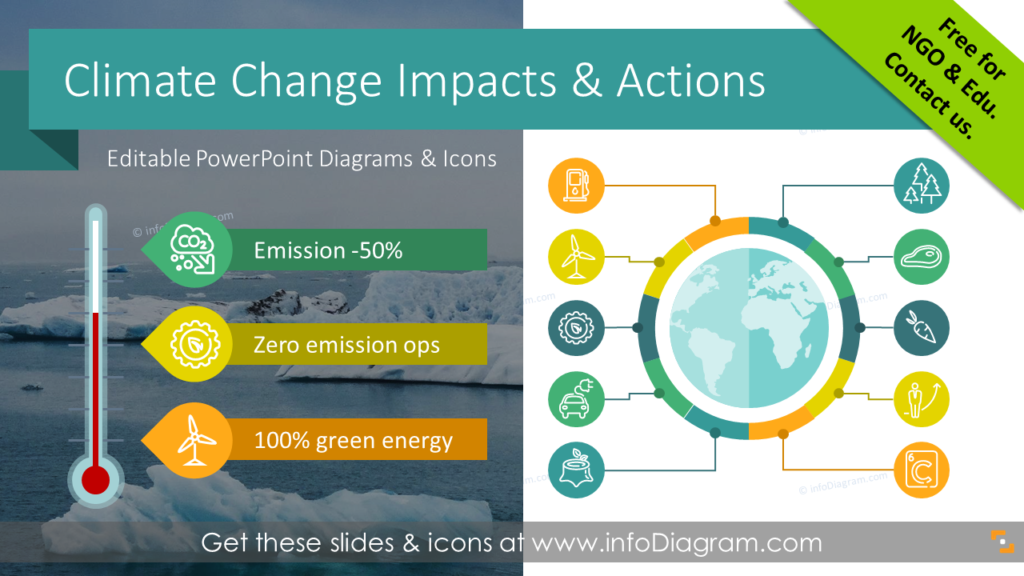 See simple design tips on improving your environmental presentation with visual examples.
Plastic Pollution & Waste PowerPoint Infographics
Plastic pollution has become one of the most pressing environmental issues. The rapidly increasing production of disposable plastic products influences the world's ability to deal with them. The numbers are shocking: by 2050 there will be more plastic than fish in the ocean.
You can use plastic pollution & waste slides collection to illustrate the effects of plastic pollution, statistics of pollution and global waste, pollution contributors, actions we can take to tackle it and reduce plastic in our daily lives, and ways to increase employee engagement in recycling.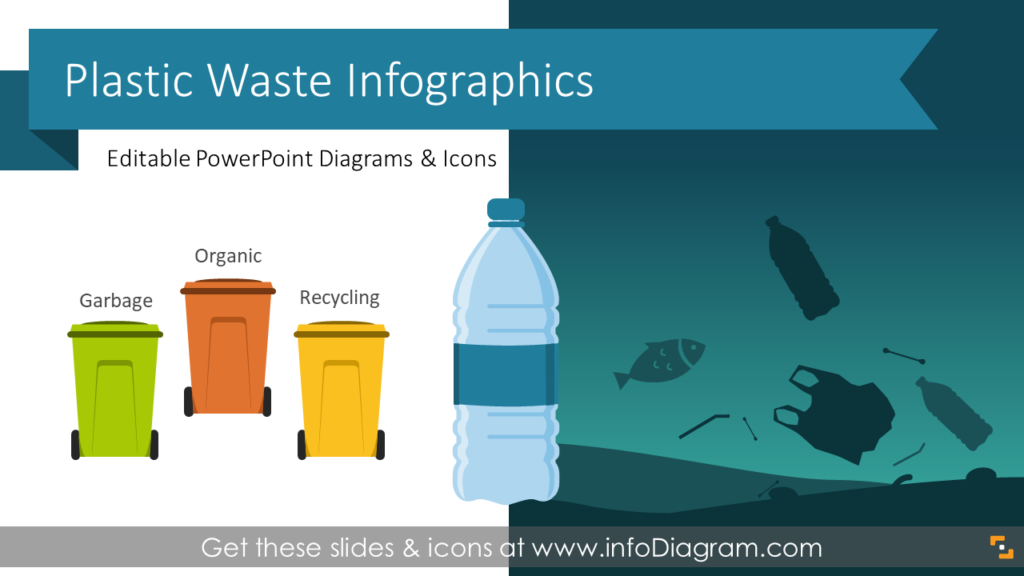 Graphics will help make the heavy data more user-friendly and it will be easier for you to persuade the audience you're presenting to that steps and actions toward a more sustainable economy need to be taken now.
Creative Eco & Green Projects Presentation Template
Pitching your new green technology idea to investors or presenting an eco-project? Get inspired by the following visualizations in green theme to help you to convey your ideas in an out-of-the-box format.
Such slides with organic blob shape designs are easily associated with a natural and environmental style and will give your presentation a personal touch. You can use these layouts to illustrate any part of your presentation, such as the agenda, project team, vision & mission statements, problem & green solution, project development & implementation timelines, solutions benefits, roadmap calendar, and many more.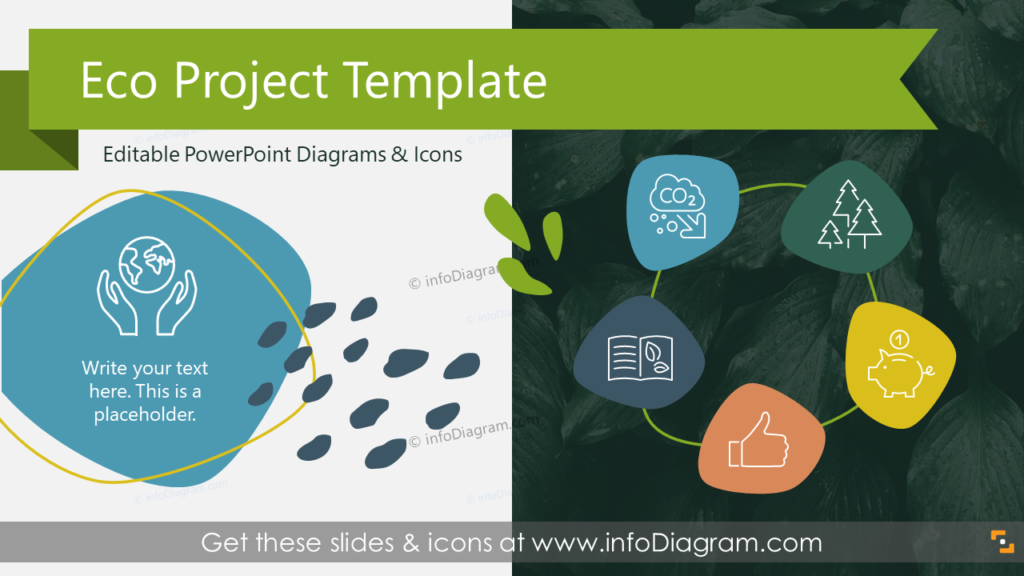 Ecology Icons Bundle for PowerPoint
You don't necessarily need very complex graphics to make your presentation or another document look more professional and modern-looking. Start small: add icons to highlight your points better.
Ecology icons PPT bundle contains various symbols for illustrating natural resources, sustainable transport & architecture, green energy, waste industry (types, treatment, and prevention), and ecosystems concepts.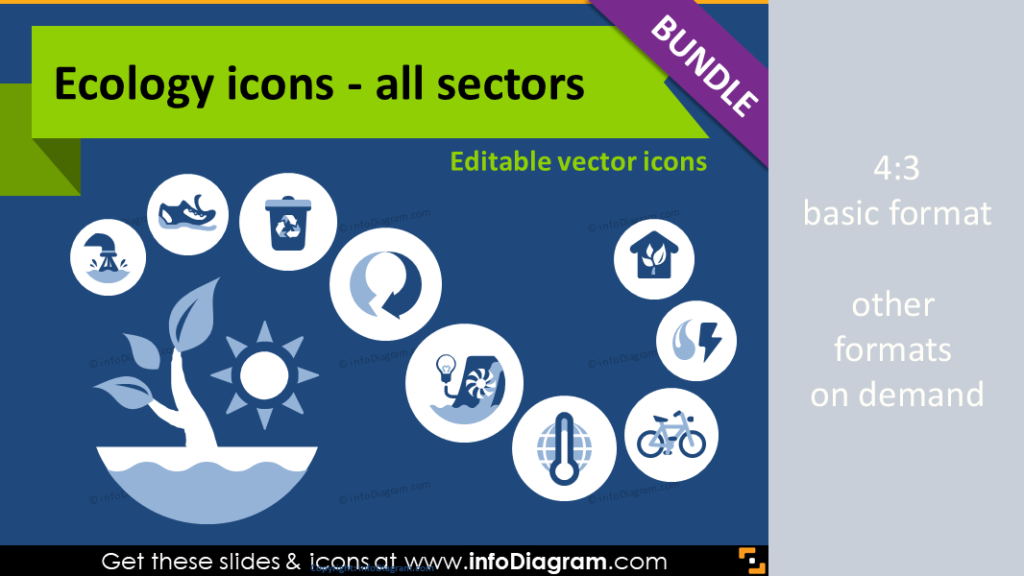 See creative ways to use icons in slide design to make it easier for the reader to remember the content.
Why use strong visuals for climate change presentations
Adding graphics, even simple ones, will definitely make a difference in your presentation. Therefore it will help you convey your ideas better. This especially concerns climate change presentations, because you probably want to motivate people to take action and better-presented information will help you connect with them.
Having a set of easily editable templates can make your work easier. Pre-designed graphics will help you save time and focus on presentation content.
To ensure the professional look of your slides, check our articles from our designer's advice about graphical consistency rules and aligning elements in a proper way.
Resources: PowerPoint Templates to Use for Climate Change Presentations
The slide examples mentioned above can help you provide environmental education content, prepare marketing material and kickstart a positive change for a sustainable future.
Explore the set of presentation graphics on climate change, global warming, and other connected topics:
Environmental & Climate Change Presentation PPT Templates
To try out how those graphics work, get a sample of free PPT diagrams and icons. You can use it to see if this kind of presentation visuals is a good fit for you.