Financial presentations usually contain dense sets of numbers, which makes it hard for the audience to stay focused. The way you present the content is essential in this case, as people will follow your presentation only if they are not lost and can clearly see and understand the meaning behind those numbers.
Visual aids can help you make your presentations more pleasing for the eye and professional-looking by using graphics. With that in mind, have a look at these 7 PPT templates, which help to illustrate topics like investment risks, company performance, annual budget planning, and more.
Get any of the decks below – click on the pictures to see and download the presentation. See more in our Finance PowerPoint Templates collection.
7 Recommended PowerPoint Templates for Uplifting Financial Presentations
These seven decks will help you create high-quality presentations and illustrate various finance-related topics in a visual way:
Financial report and performance indicators
Annual budget
Investment risk pyramids
Finance data charts
Trade finance concepts
Due diligence process and types
Stock financial report
Financial Report and Performance Indicators Presentation
Financial reviews full of data usually contain dozens of tables and are typically hard for understanding. Half of the job is to put all figures in one place, and another is to visualize them in a way that is clear for non-financial audiences. Copying your Excel table into PowerPoint as is, is not enough if you want to create an attractive presentation.
If you need to prepare such a comprehensive financial performance report, including income statements, balance sheets, cash flow, profit and loss reports, revenue and profit snapshot, a financial report and metrics PPT graphics template is the one to go with. It includes slides for presenting all mentioned topics and you can use these slides to present key financial information to both internal and external stakeholders by covering every aspect of financial affairs.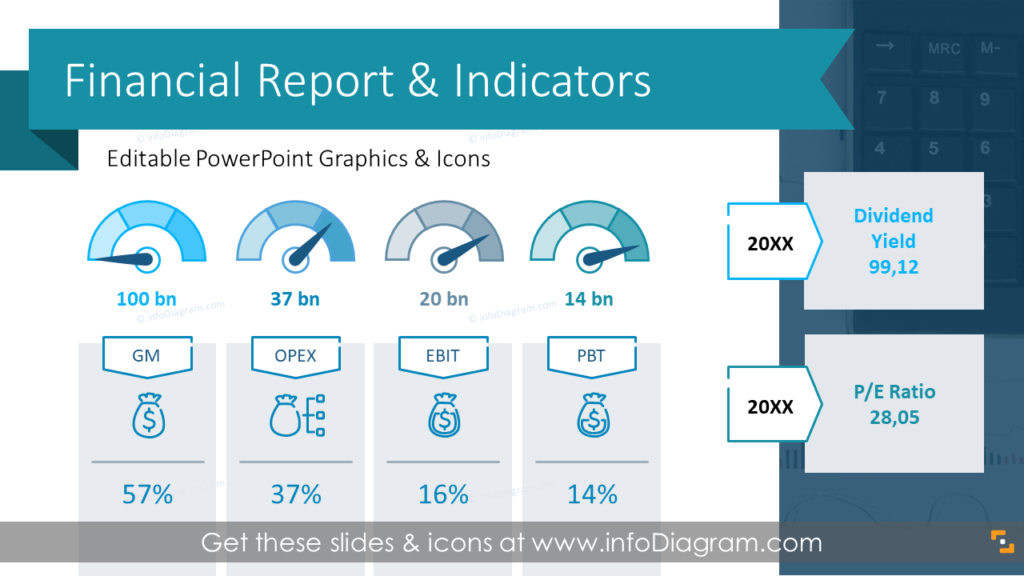 You can use financial report visuals to:
Design a financial summary overview with easy-to-track key metrics
Create revenue and profit snapshots
Illustrate sales distribution
Describe your revenue key growth drivers
Present your profit and loss statement
List key factors influencing your gross margin
Describe your main profit drivers – factors impacting your bottom line
Present your balance sheet including assets, liabilities, and equity details
Design clean cash flow statements
See how to prepare structured and professional financial slides using PowerPoint tools.
Annual Budget Financial Presentation
It can be challenging to persuade people into certain financial decisions. If you are presenting the estimation of revenue and expenses and want to make an impression on your executives, put the content into visual form to support your thought. Turning default budget tables to a more infographics-like format will definitely help engage your listeners.
The annual budget PPT slides collection contains templates for presenting financial forecasts, executive summaries, revenue, expenditure, strategic goals, OPEX and CAPEX investment, marketing budget, risk analysis calculations, sensitivity analysis, and more.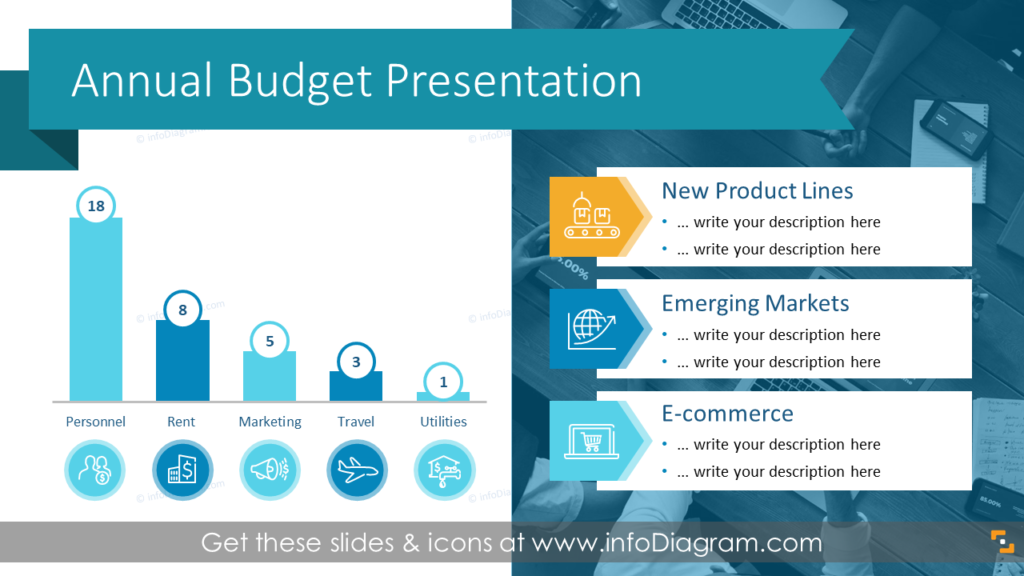 This deck contains templates for illustrating the following subtopics, which are usually a part of a corporate budget:
Revenue budget, with main revenue sources, sales distributions, and key growth drivers
Expenditure budget with operational costs presentations, key cost drivers, OPEX, and capital expenditures
Marketing budget allocation
Sensitivity analysis and risk assessment
Organization costs and structure
Investment Risk Pyramids
If you want to present various financial investment options, pyramid visualization will help you successfully explain various risk levels and the potential rewards. Such a diagram allows seeing the hierarchy of certain parameters better and therefore will help stakeholders understand the risk profile assessment or risk mitigation approach clearly.
Risk pyramids PPT graphics collection contains diagrams with various levels to illustrate financial investment risk levels related to your business, factors influencing risk, reward dependencies, risk tools, and hazard control.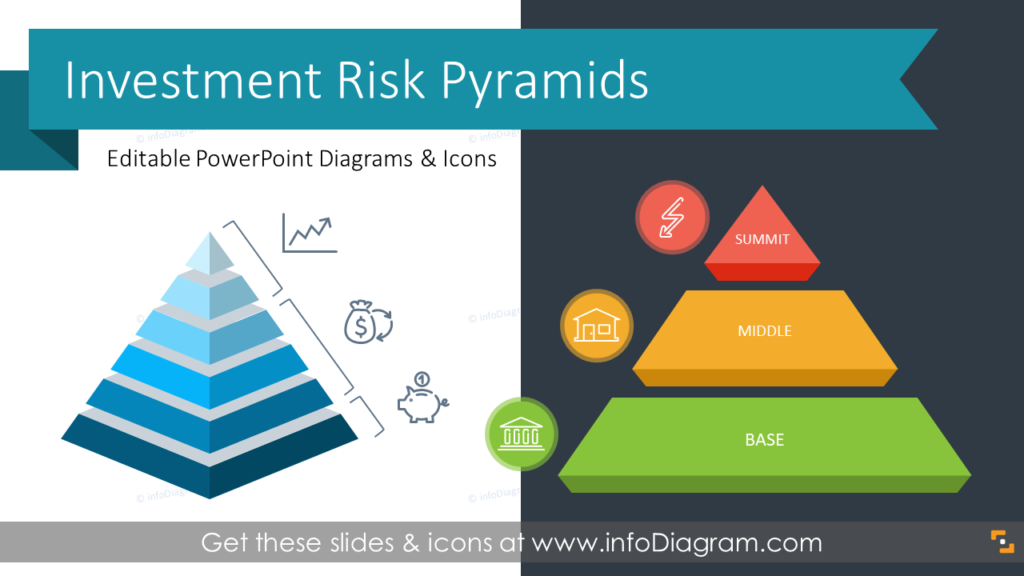 Company Finance Data Charts
Charts are a great visual tool if you need to show dependencies or time trends of specific financial concepts, like cost distribution, explain company profitability, break down CAPEX and OPEX costs, focus on KPIs, or combine financial information on one slide to show a nig picture.
To create a clear and informative financial report, try to enhance it using graphics from the finance PPT data charts deck.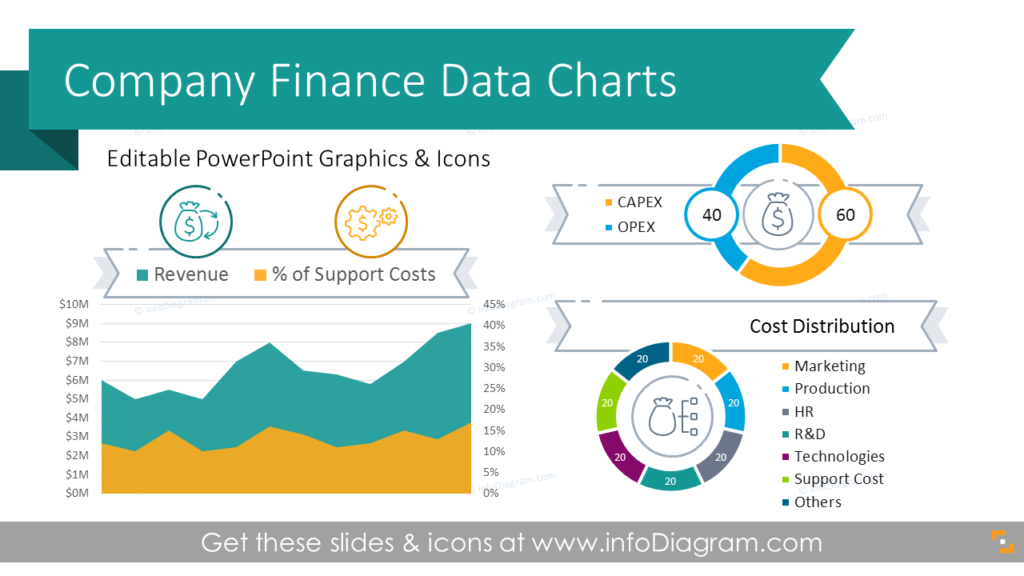 You can use these data charts to illustrate the following topics:
Company profitability trends
Cost distribution
CAPEX and OPEX сomparison
Company revenue monthly review
Return of company assets over a year (or any other time period)
Operating profit margin
Goal completion degree dashboard
Performance diagram
To enhance charts even further, see ideas on how radar diagrams, gauges, and radial charts can be used in presentations.
Trade Finance Diagrams
If you will be talking about trade finance or global trading concepts, visual diagrams can help illustrate these concepts and show how mechanisms work.
The trade finance PowerPoint template includes slides for explaining relations between sellers, buyers and intermediaries, providers and users, methods of payment, trade world map, commodity finance trade cycle, and more.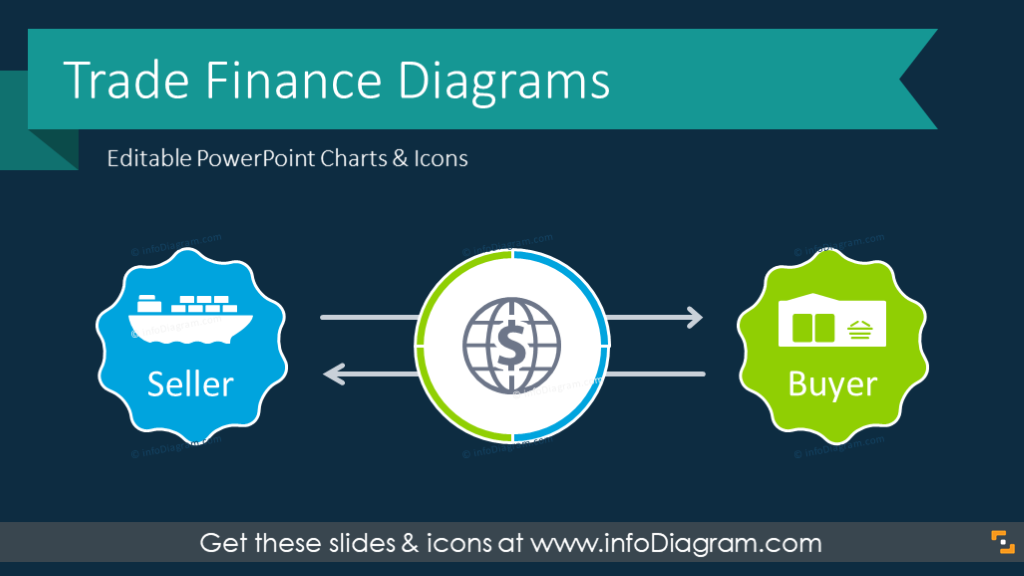 Due Diligence Presentation
Usually, topics like due diligence are presented with long text boxes and raw bullet points. Breaking the complex topic into multiple sections helps the audience to understand the topic more effectively.
The due diligence PPT slide deck includes templates for describing its definition, processes, types, checklists, M&A process, action plans, and frameworks.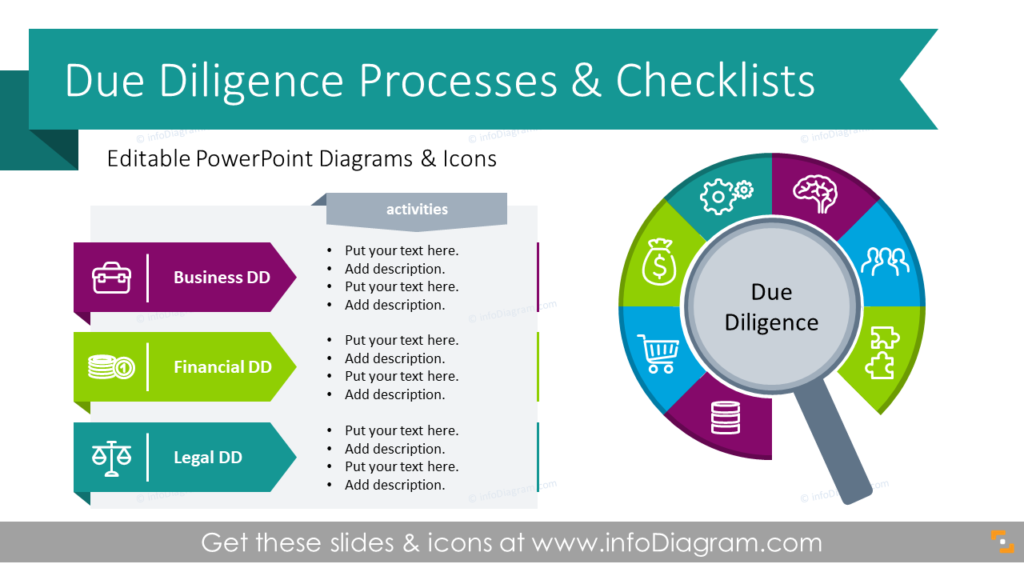 Stock Financial Annual Report
If you are working on a comprehensive stock financial performance report for investors or the company board, you need to make sure this information is presented in a clear structured way. Plain slides containing lots of figures and without any accents will make it harder for you to talk to your audience.
The stock financial annual report contains layouts for illustrating product sales volume, executive leadership team, market relevance statements, financial charts and tables with main fiscal data, company values, world and US maps, and more.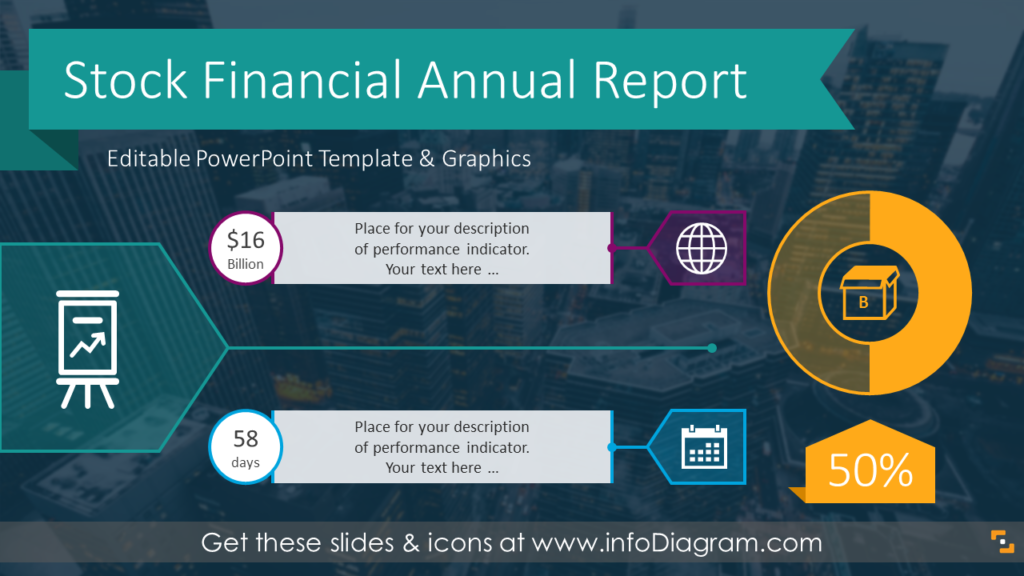 Summary of the essential graphics for financial presentations
Presentations and documents on finance-related topics are often complex. Visuals will help your listeners or readers understand the meaning behind the data better and therefore make the right conclusions and decisions. You don't need to overcomplicate it and spend hours preparing the deck, start with adding icons or transforming text into a simple diagram. Having a collection of editable PowerPoint templates can make your work easier.
Resources: PowerPoint Decks to Use for Financial Presentations
The above slide decks are PowerPoint templates for finance-related talks that can help you express complicated topics in a more effective and appealing way. If you find any of the above decks useful, you can download all the source illustrations below. All mentioned presentation slides are available here:
Financial Presentation PPT Templates
To try out how those graphics work, get a sample of free PowerPoint diagrams and icons that you can use to play with these visuals.