Digital data and technology are everywhere. Big Data, Data Science, Machine Learning, Internet of Things… these are buzzwords of today's world. Anyway, the question is how to present digital technology concept. In this post, we propose a few ideas how you can illustrate the digital idea in an easy way by one picture.
Remark: Vote for one best icon in a comment below and get it free from us.
Let's begin a digital journey and think what is usually associated with this word. The very first pictures popping up in the heads are a lot of numbers, computers, maybe a matrix? Or even popular film, carrying the name 'Matrix' 🙂
However, very often we need something outstanding when we want to get our audience's attention. Here's what we've come up with while thinking about a digital concept:
Design-neutral Symbols for Digital Technology
Above are icon examples in a modern flat style, that fits any presentation style (available in simple flat icons collection).
That's why I call them design-neutral because they can be added to almost any graphics. Such icons look good also when they are very small e.g. inside slide diagrams and you can change their color to fit your brand identity.
Get inspired by a bunch of ideas you can use to illustrate digital data or technology (click the links to see specific icon):
Creative Hand-drawn Digital Symbols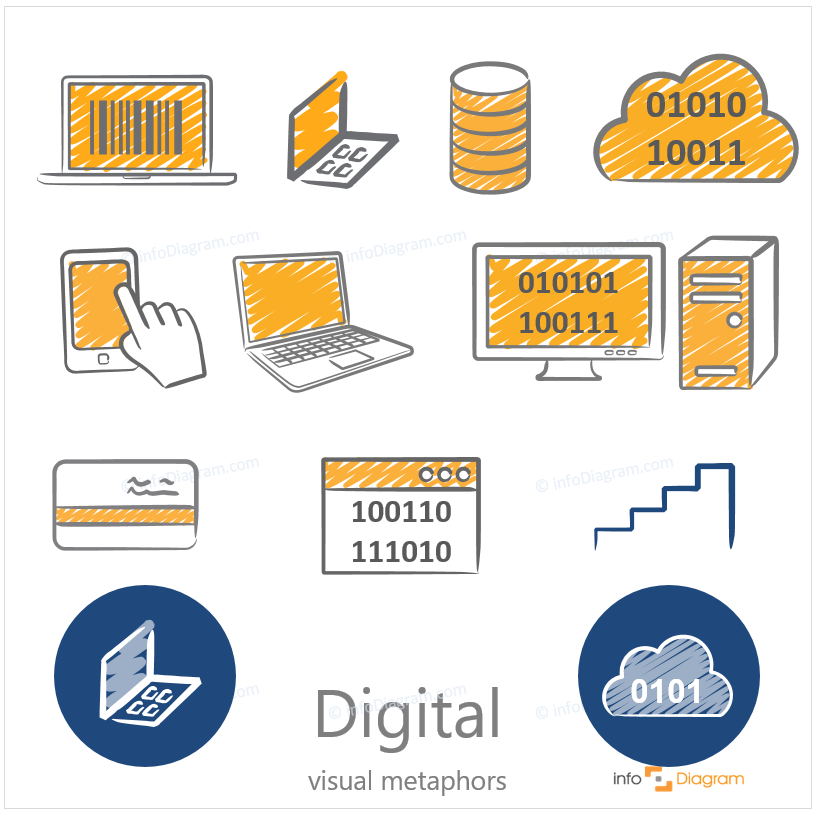 Similar to our flat style collection, also this creative style presentation graphics rely on the symbolism of digital data being interpreted as:
More concept icons ideas
Need to show another concept in a presentation? Operations, Strategy, Flexibility, Growth you name it.
---
Check our ultimate Concept Visualization List blog post
---
Mini contest – get a free icon
Which icon from the list do you favor the most?
Can you vote below, include your email (not in the comment itself, but in the email form field, so it won't be public).  And we'll send you icon you voted for.
So what one picture would you choose to represent something "Digital"?
traditional laptop icon (flat or hand-drawn)?
barcode flat icon?
hand drawn application window with binary 010101 symbol?
If you have more ideas, drop in the comments 🙂