If you need to add a North America map to a PowerPoint presentation then the following maps collection can help you prepare your slides with success. This article is a review of some pre-designed slides that you can use to present a sales report, marketing, or business reviews showing US, Canadian and Mexican regions on a map.
PowerPoint has all the resources for creating awesome slides, and here are some examples 🙂
(get a North America Maps collection for commercial use here)
With the icon collection added to this collection, you can show manufacturing and distribution centers, create transportation routes and paths, distinguish time zones or add country data besides a map.
Look at our recent blog, where we share a few ideas on how you can create a good-looking map slide.
Why use the North America templates set?
Some common problems you can face while searching for various map templates are:
Hard to find a whole blank map or pull a particular state out of it
The inconsistent look of slides if you use several resources
Unclear legal rights for using the icons from the Internet, e.g. author attribution is needed, or templates are only for non-commercial private use.
Pictures may not be editable in PowerPoint
Images of lower visual quality (distorted edges)
With our infoDiagram North America Maps collection, we address all those issues.  Check the example slides below.
Examples of using editable maps and icons
There are dozens of slides and presentations where you can apply maps for better visualization. Here are few variants of using maps together with some icons.
Logistics presentation


If you are talking about production, manufacturing, and distributing products, with several icons and arrows it's easy to turn bold text into a nice slide. This example shows the production and distribution routes from Mexico factory to US distribution centers and US retail shops.
Transportation routes and paths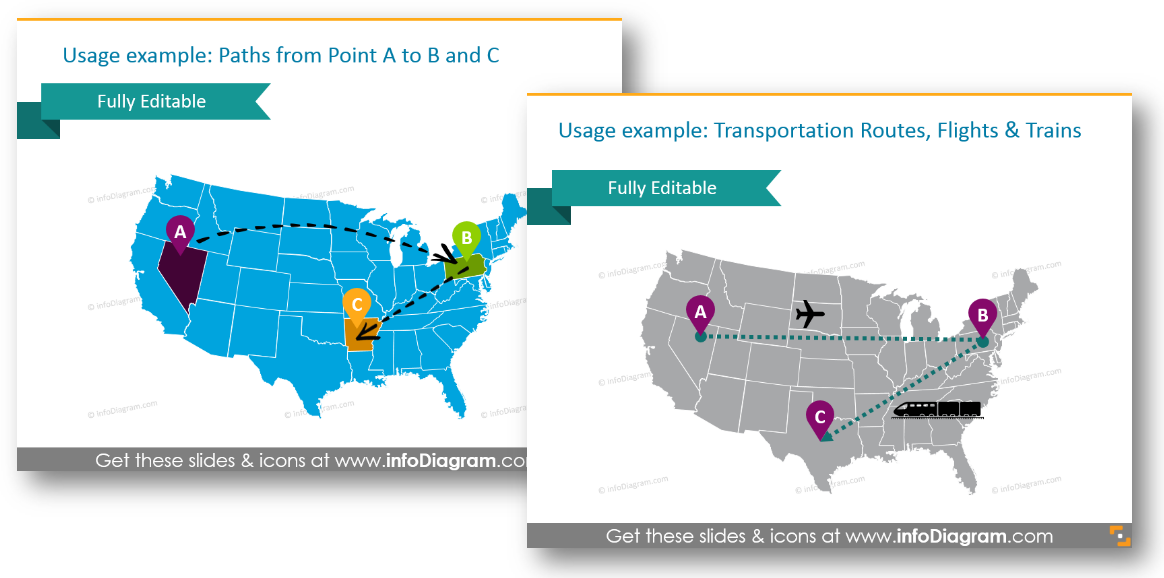 Here's a variant of how you can show new transport routes and ways of transport in particular. The graphics set also contains transportation icons (truck, train, plane, ship, bus, lorry) for illustrating logistic routes on the America map.
Place pins and time zones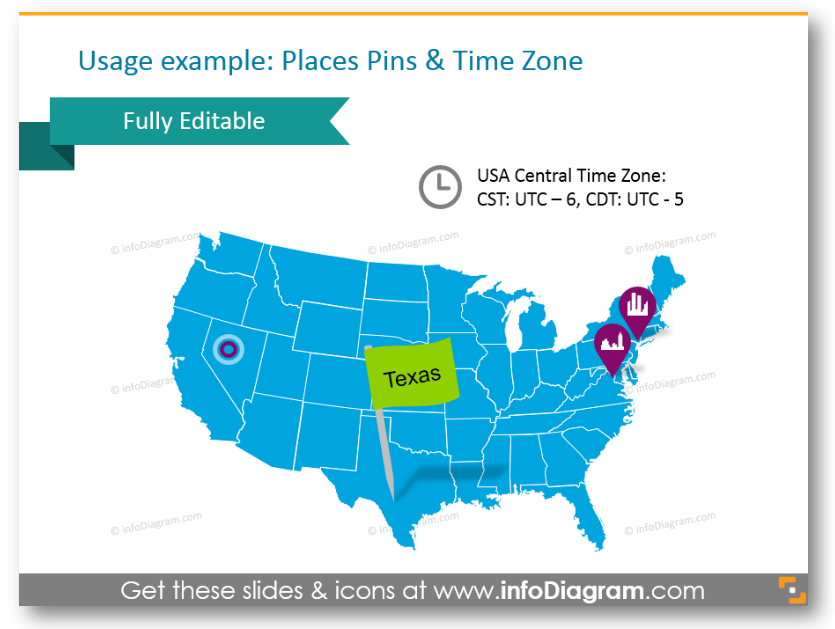 If you want to outline a particular city or region, and show the time difference a good idea is to use icons, which can be easily edited. You can change size and color and add a symbol, which will characterize the main activity of a city.
Show countries on the world map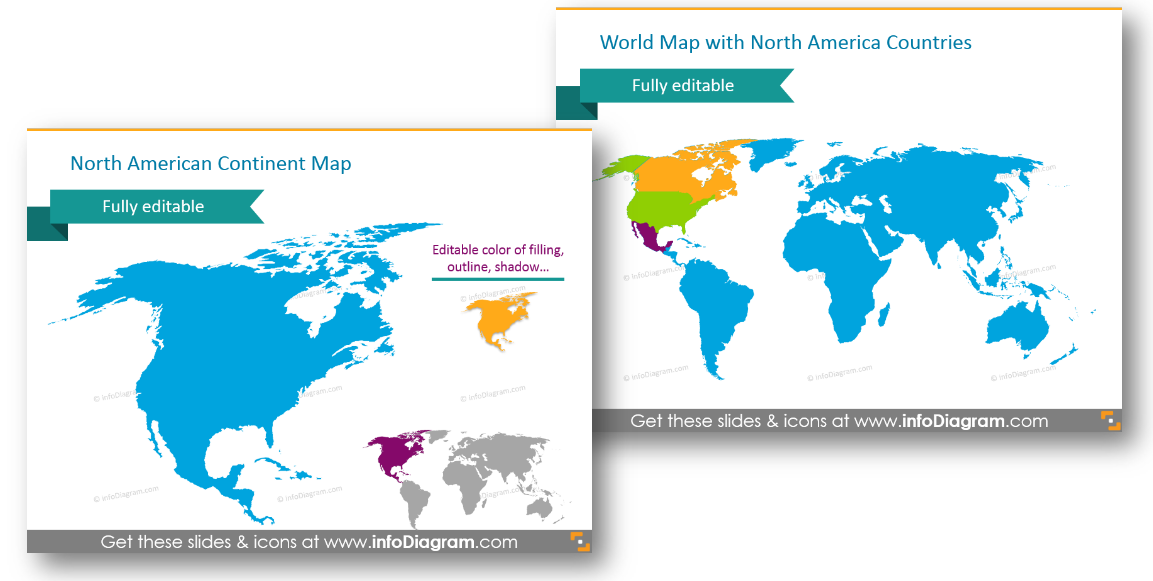 Distinguish USA, Canada or Mexico on a world map easily. You can add icons or flags if needed.
What's inside the North America Maps set?
The set contains modern, flat symbols which are all presented as editable vector artwork so you can adjust them as needed, using standard PowerPoint tools.  And they remain razor-sharp also if you resize them, unlike bitmap pictures. You can choose colors to correspond with your brand, the color scheme and layout of your presentation, or create natural-looking icons with numerous colors.
The map and icon collection consists of:
Set of vector maps editable in PowerPoint of North America (excluded Central America – see the other package):

United States of America map with states, US flag, and basic info
Canada map with administrative regions, the Canadian flag, and basic facts
Mexico map with administrative regions, Mexican flag, and country information
Map of North America continent
World map with North America highlighted

Icons for showing localization and logistics on maps:

Pins and flags for indicating a place
Hand-drawn arrows for showing routes and journeys
Transportation icons: Truck, Train, Plane, Ship, Bus, Lorry for illustrating logistic routes on the America map
Production pictograms: Factory icon, Production facility icon, Production gears icon
Distribution pictograms: Distribution center icon, Wholesale icon, Consumption Retail shop icon
Population, area and time symbols

Examples of PowerPoint maps visualization:

Places pins and indicating the time zone
Routes from point A to point B and C in the US states (as handwritten arrows on a US map)
Transportation routes: flights and trains between the US states
Production and distribution routes from Mexico factory to US distribution centers and US retail shops
All map templates and icons above are from our infoDiagram PowerPoint Diagrams collection. It contains localization and logistics symbols and Noth America maps, which can be easily edited and added to other presentations.
See the North America Maps Set
If you want to get more maps – check this Bundle of World Maps PPT Template – with over 200 editable PowerPoint maps of continents and countries. It also includes North American Map graphics presented above.