Social, employee, or customer engagement. Do you need to talk about any engagement concept topics? Visuals tell a story better than bold text and help you engage more readers.   
Engagement is quite an abstract concept to present. But an important one to communicate properly. The more engaged employees, customers, team-members are, the more work they'll put forth.
Expressing the engagement concept ideas with outline simple style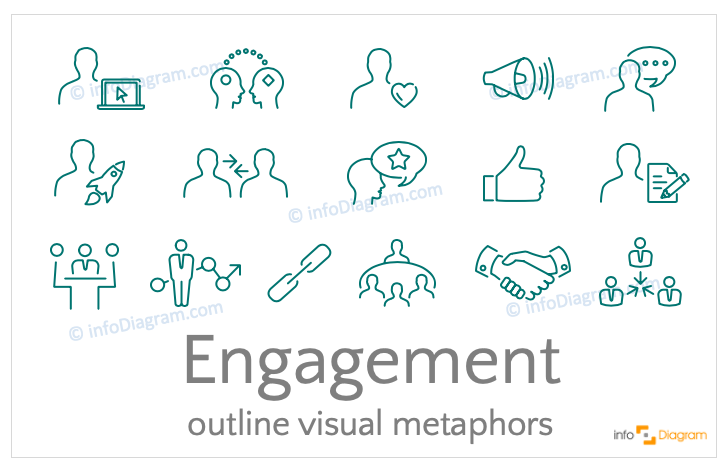 Above we suggest several icon examples from our elegant outline icons collection. Use them to make your presentation more engaged:
male/female figure presenting his/her engagement speech
two figures as an example of interpersonal communication: idea changing, speaking, and understanding
general engagement symbol illustrated with thumbs up
male/female figure highlighting the process of employee engagement trends
group of people or team as a part of engagement employee extent 
group of male/female figures showing how to engage the audience during the presentation
male/female figure with a rocket icon showing his/her position in a team
teaching process depicted with male/female figures with the notebook
Design-neutral engagement concept graphics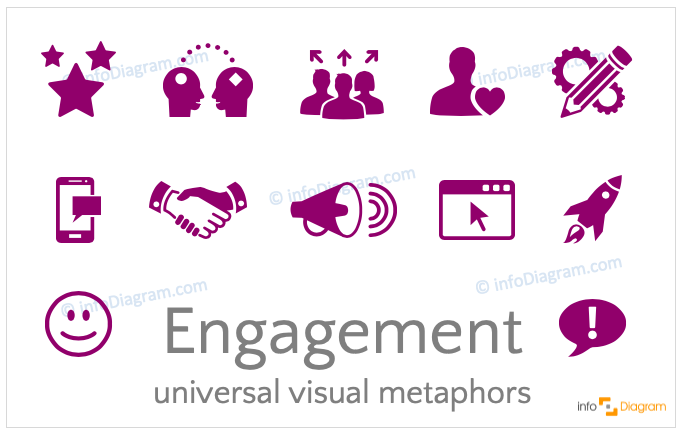 Above are icon examples in a modern flat style, that fits any slide style:
Creative unique hand-drawn engagement icons collection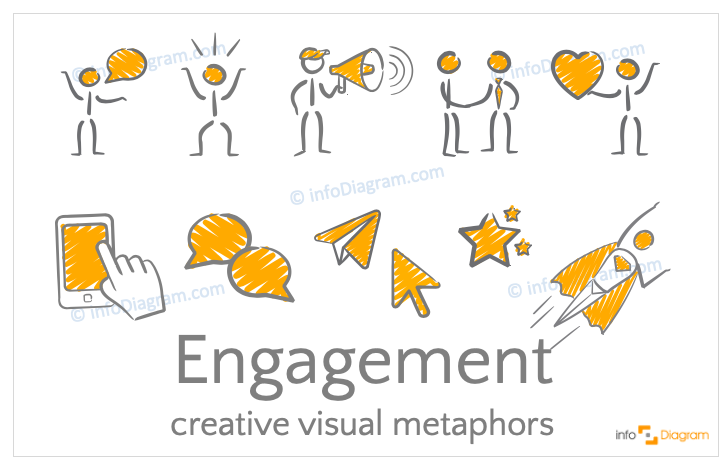 If you want to be more creative and personal, use hand drawn symbols for showing the engagement ideas. See the specific visuals below:
male/female figure engage in different actions: talking, cooperating, expressing emotions, coordinating 
a paper plane expressing the interesting creative project 
cursor sign symbolizing clicking 
cell phone with a finger tipping the screen expressing touch action 
We hope you will find some inspiration from those icon ideas to express the concept of engagement. What's your biggest presentation challenge? Let us know in the comments and we'll be happy to share our quick design advice.
If you like the suggested icons, you can get them from infoDiagram library. The best way to get them is by joining subscription access to PPT graphics here. It will allow you to download these symbols, and graphics from any presentation deck you find on the website.
More concept icons ideas
Need to show another concept in a presentation? Precise, Challenge, Status, Motivation you name it. Check our blog Ultimate List of Business Concepts Visualization to get inspired.