Do you need to illustrate the idea of interpersonal communication or feedback in your presentation? Check the following article to get some ideas on how to express the communication concept visually. Such symbols will help you avoid boring slides look and you'll be able to underline your main ideas with fewer texts and figures.
The idea of communication appears quite often in business presentations: you may want to illustrate various types of contact (e-mail, phone), show marketing channels, talk about cooperation partners or visualize a concept of feedback while conducting such a session with your team.
If you want your presentation slides to be stylish and readable, using visuals is the way to go. Below we suggest several icon ideas and you can choose which one fits best to your presentation context.
Expressing the communication concept ideas with outline simple symbols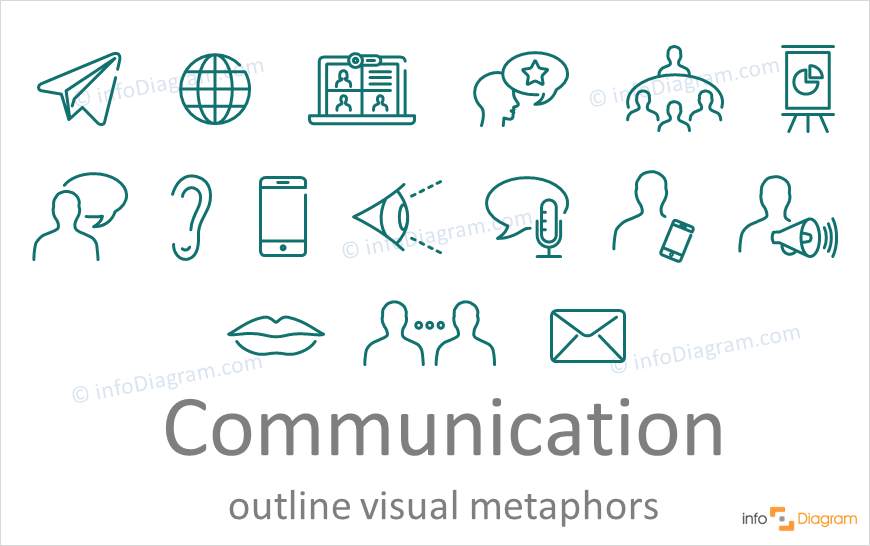 Above we suggest several icon examples in an elegant outline style. You can enrich your presentation with one of those symbols to make it more engaging:
a male figure with a speaker announcing the message to other people
pictograms for illustrating the traditional communication process: phone, envelope, flipchart or paper plane as a symbol of internet communication
email, cell phone, world globe and web-meeting icon presenting technical and global (online) communication 
ear and mouth lips symbols – to show verbal communication
male/female figures having two-way communication and a group of people having a meeting
a male/female icon with a smartphone symbol 
Style neutral visual communication concept metaphors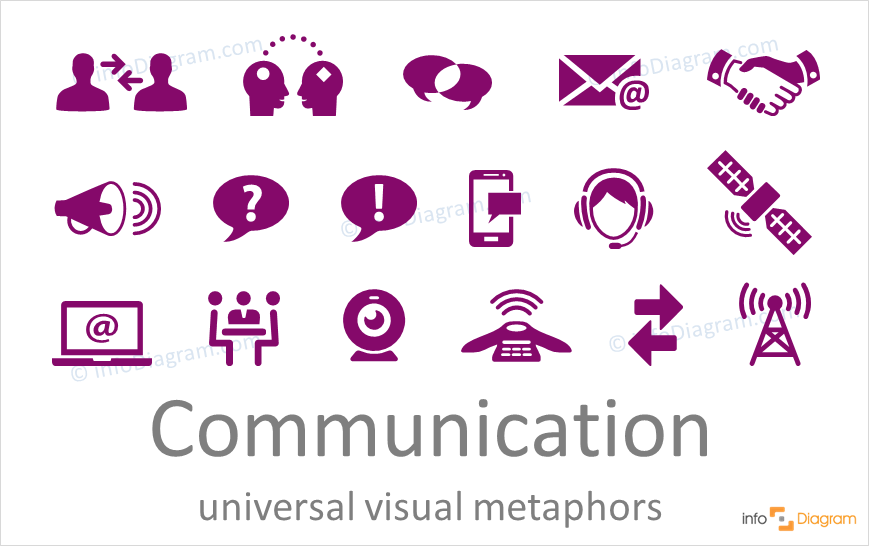 See other ideas on how you can show the business concept of communication. Such symbols can add an impact to your topic without distracting from the clarity of your message. Here are some ideas you can consider:
Creative hand drawn communication icons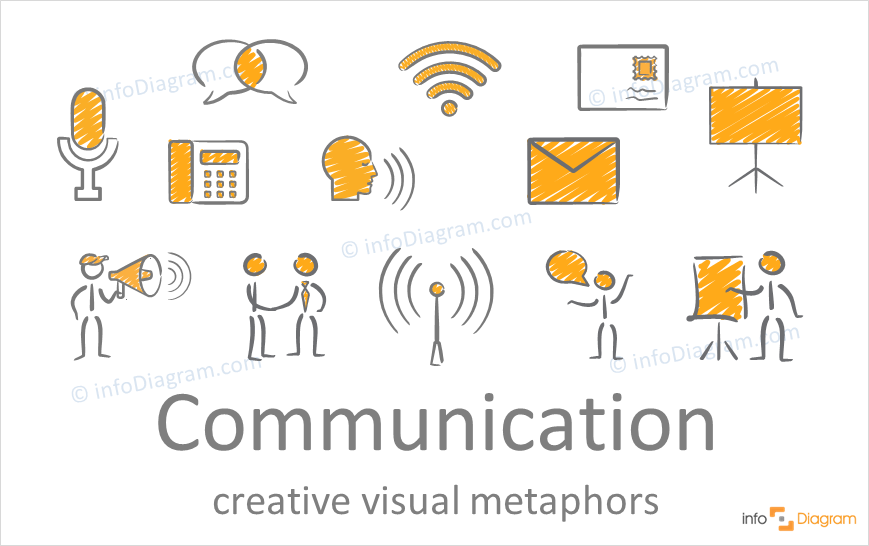 If you want to design a more creative presentation with a personal touch, adding hand drawn symbols is a great idea. See the specific visual ideas below:
envelope and phone highlighting the traditional way of communication
new devices for communication – microphone, cell phone, WIFI connection
a male figure speaking and presenting the report
We hope you will find some inspiration from those icon ideas to express the concept of communication.
If you like the suggested icons, you can get them from infoDiagram library. The best way to get them is by joining subscription access to PPT graphics here. It will allow you to download these symbols, and graphics from any presentation deck you find on the website.
More concept icons ideas
Need to show another concept in a presentation? Precision, Crisis, Status, Change… you name it. Check our ultimate Concept Visualization List to get inspired and balance the informative part of your presentations.