Do you need to present on prioritization concept? Being able to prioritize tasks and projects is an essential time management idea. We recommend using visual metaphor icons to help you present your ideas effectively in PowerPoint.
Create audience-capturing presentations with modern professional PPT icons. We suggest choosing one visual style per slide, and here are some we love!
Use Universal Flat or Outline PowerPoint Icons to Show Prioritization Concept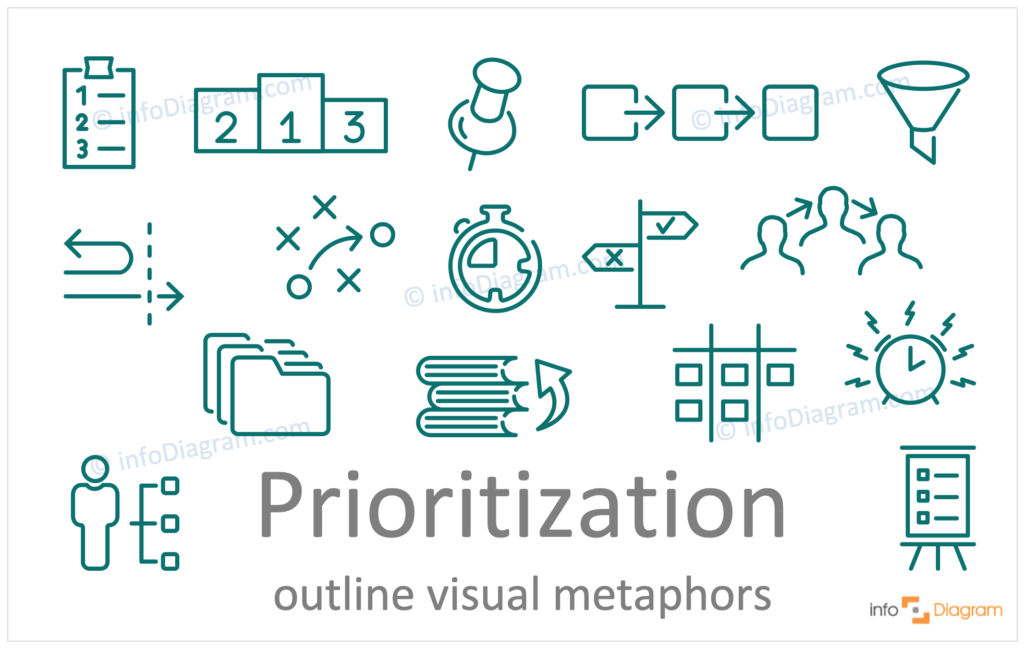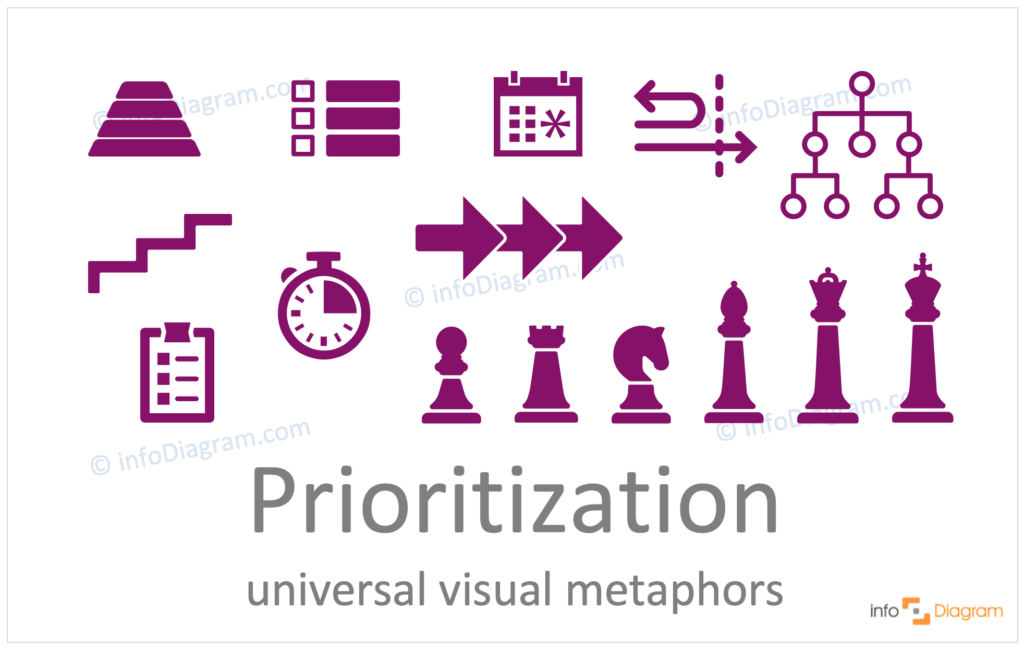 Universal or flat icons are eye-catching and appropriate for many organizations. If you need professional-looking, effective symbols the outline style is another smart choice. Either style would make your next PowerPoint presentation look put-together. Check out the icons we use in these different styles to illustrate prioritization concept ideas:
Data funnels can represent the importance of information.
Funnel icons can be used to show the selection or filtering process that will select the most important items.
You can use a tree diagram to explain or represent the hierarchy.
Tables, calendars and checklists represent event planning and data organization.
Staircase icons can illustrate the next steps which must be taken or energy investments.
A returning arrow represents tasks or projects put aside.
Road crossing and direction signs can be used to express the way to go (high priority) or the way to avoid (low priority).
Chess pieces are useful for representing the level of importance of things or different priorities.
Timers represent high importance or high priority issues and pressing matters.
A list of numbers can be used to express a task or priority list.
Books with an arrow represent putting things in order.
Play, game strategy, file, book, and data table icons are all useful visuals for showing a priority path or which actions need to be taken.
A winning podium icon can be used to show your top priority or main focus.
Use Hand-Drawn PowerPoint Icons to Create Personalized Presentation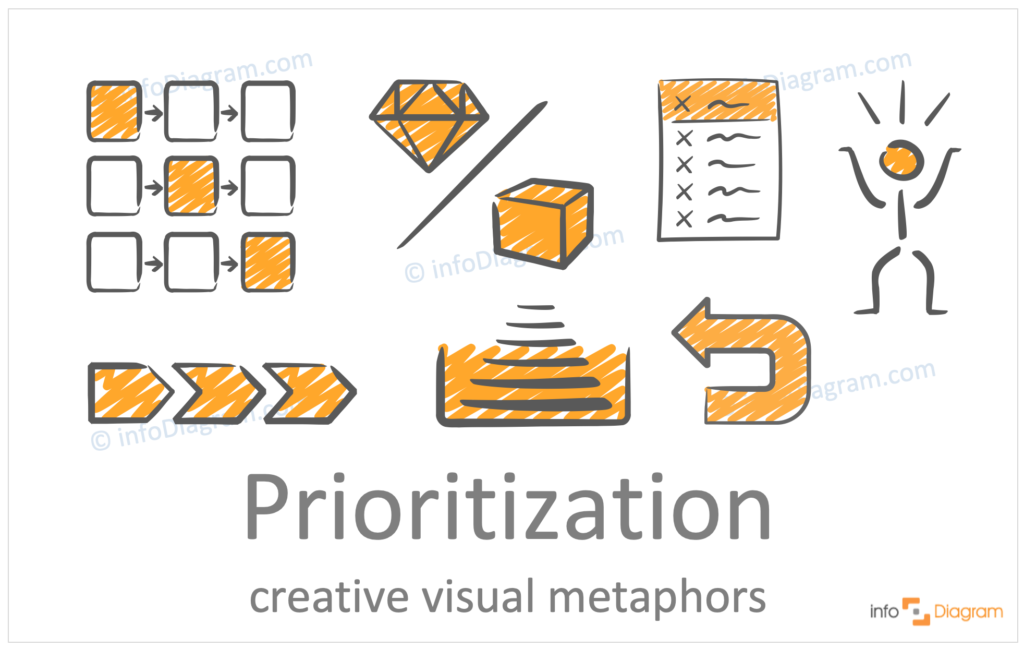 Hand-drawn icons are great for presenting to audiences and organizations which value creativity. The icons we designed in this style are high-energy and fun. We use these hand-drawn icons for prioritization concept PowerPoint presentations. See what visualization will best suit your audience.
To-do list and document icons are perfect for presenting ordered priorities.
A person in a rush or who looks distressed can represent an urgent or significant business.
U-turn icons can be used to represent tasks that need to be put aside or returned to.
We hope our Prioritization Concept icons inspired you! When presenting complex, abstract ideas using visual metaphors will help your audience understand and retain your message.
Want to use several of the icons from this post in your next presentation? The easiest way to gain access to all of the icons we've shared here plus the rest of the resources in our graphical library is a subscription to InfoDiagram.
Uncover More Creative Concept Presentation Ideas
Turning complicated ideas and concepts into easy to understand slides is not easy. We have created several guides to present a variety of concepts. Visual metaphors can help explain complex ideas. See our Concept Visualization Master List blog post and get inspired for your next presentation.