Comparing present-day ideas or projects with innovative ones? If you need to show before and after changes, something planned vs current, or a launch of some kind, check our visual metaphor examples. In this blog, we list several icon ideas you can use to illustrate current vs new concepts.
Visual metaphors to illustrate current vs new concepts in simple outline or flat style
Outline or flat icons are eye-catching and appropriate for many organizations. Both styles are widely used in many modern presentation slides, and either of them would make your next PowerPoint presentation look professional and will help to get deserved attention. Enrich your presentation with one of those symbols to make it simple and clear: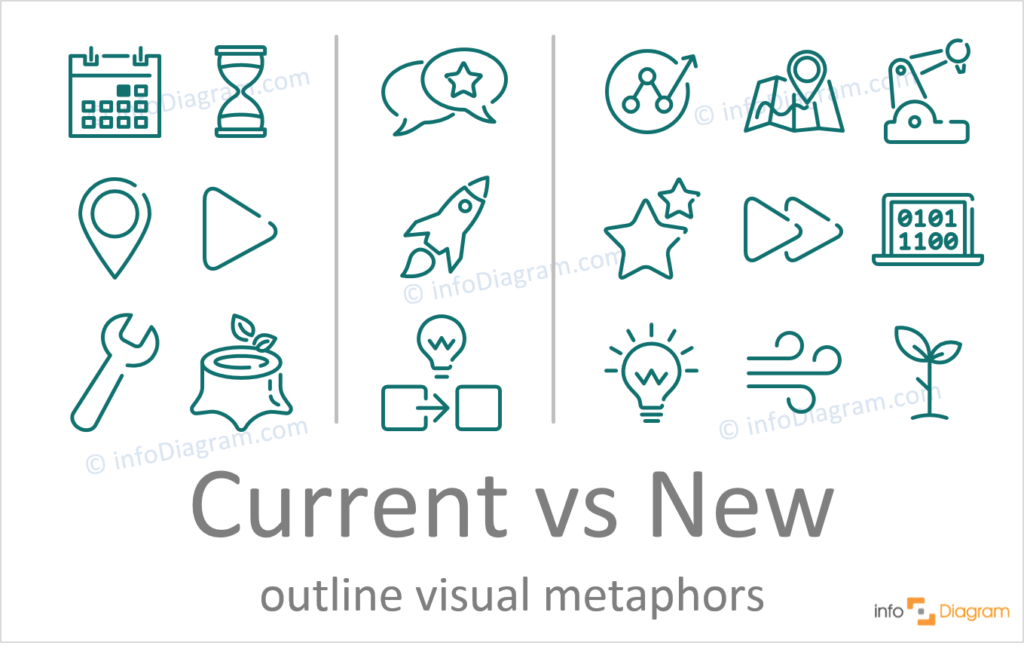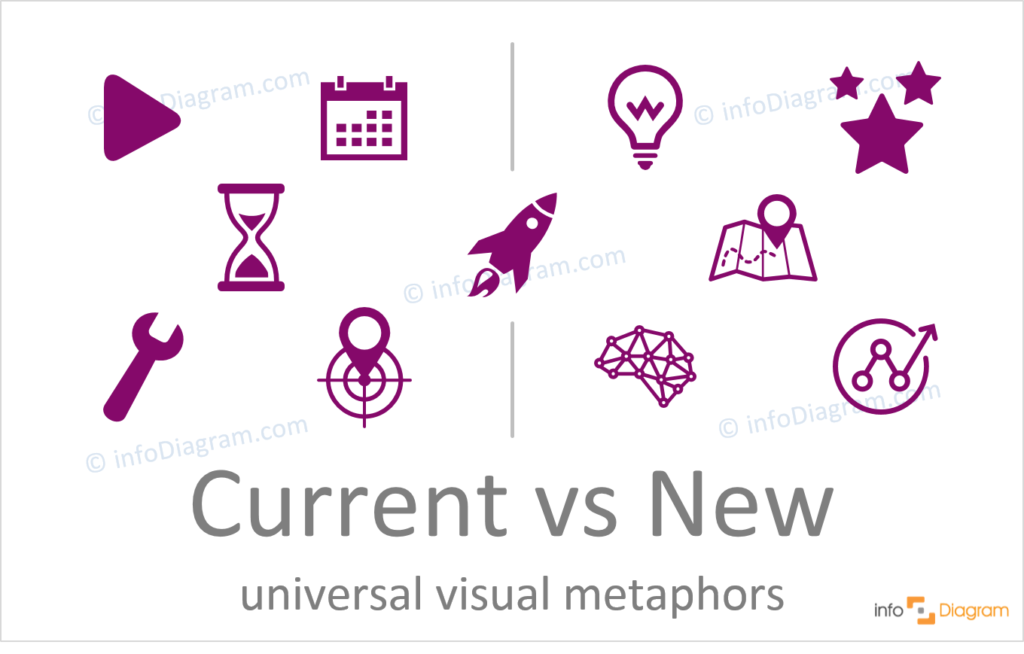 Here is a collection of metaphors that represent new versus current concepts:
calendar represents date and current moment in time
play button can be used as a metaphor for starting from current place, while forward button – next segments or next part
hourglass for current moment in time
wind icon can be used to illustrate a breath of fresh air
timeline with lightbulb to show before and after changes
wrench, robotic hand, or laptop express automatization or digitalization of work
deep learning can be shown by AI brain
process going out of circle for visualizing moving out of current place/zone/status/position
lit light bulb as an old good metaphor for new ideas
stars are wonderful for presenting novelty
location mark can show current position, whereas map with location mark – destination or planned position
tree stump can symbolize exploitation of current resources [current]
small plant is an easy to understand symbol for acquiring/growing/creating new resources
rocket can link the launch with starting something new
speech bubbles with star for proposing new ideas or exchange of views
All these icons can be found inside the Outline Icons collection and Simple Flat PPT Icons library, designed and constantly updated by our team.
A practical advice from a slide designer: be consistent in styles, use one color palette, 1-2 fonts, and one style of icons.
Hand-drawn current vs new concepts symbols are great for creative presentations
If your presentation is for an audience that responds to or appreciates creativity, scribble icons are a smart choice. See if the ideas we have for visualizing the concept of the current vs new will inspire you for the next presentation: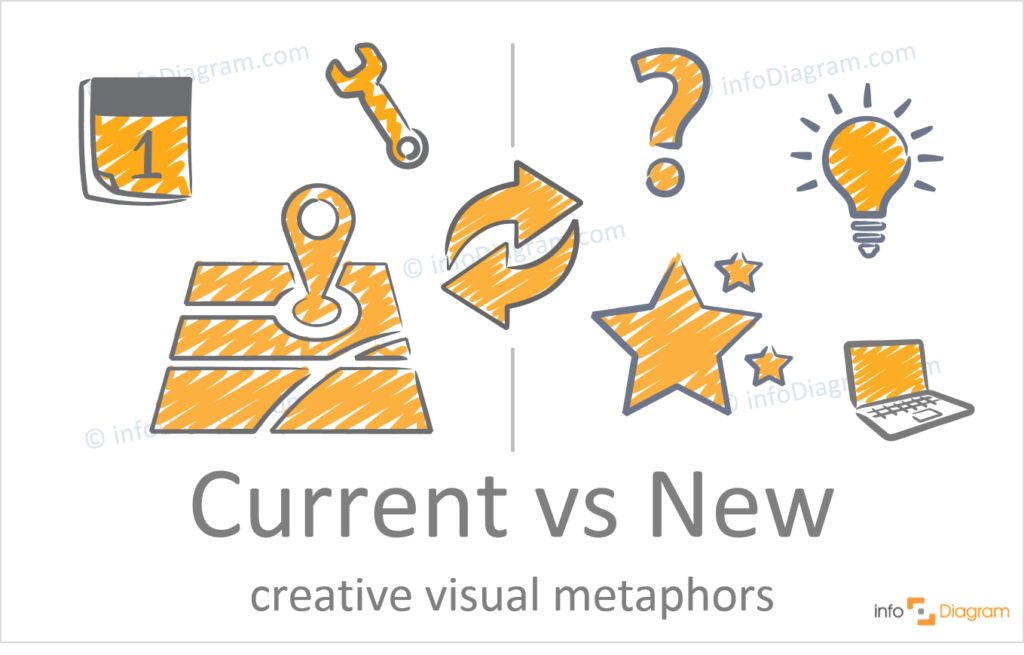 calendar is a suitable symbols for date or current moment in time
location mark can symbolize current position
wrench & laptop for automatization or digitalization of work
stars express novelty
new ideas are is easy to envision with lit light bulb
question mark to show new and unknown
both ways arrow as something in between current and new
These hand-drawn icons are part of the Scribble PowerPoint symbols collection.
We hope our current vs new concepts visual ideas inspired you! When presenting complex, abstract ideas using such metaphors will help your audience envision and retain your message. Using icons and diagrams you can create a more appealing presentation and represent the key points better than bullet points and text boxes.
Want to use several icons from this post? The easiest way to gain access to all of the icons we've shared here plus the rest of the resources in our graphical library is a subscription to InfoDiagram.
Uncover More Creative Concept Presentation Ideas
Turning complicated ideas and concepts into easy to understand slides is not easy. We have created several guides to present a variety of concepts. See our Concept Visualization Master List blog post and get inspired for your next presentation.