Business development is so often used buzz word, that's hard to find a unique illustration of it. Sales and company growth are frequently necessary or relevant in presentations ranging from investor pitches and board presentations to sharing marketing and growth hacking tips with your team. The problem is not whether or include growth, the issue is how to include it well in a PowerPoint presentation.
How to Illustrate Business Growth in a Presentation Diagram
Being able to illustrate this key concept is essential. The easiest ways we have discovered to illustrate complex ideas like sales process or growth is to find a simple picture or icon rather than trying to capture or construct a complex flow chart or similar graphic.
Visual Metaphors for Company Growth – Modern & Neutral
Some of the best icons or images to use are also some of the simplest. We favor things like growing plants, trees, trees, ascending planes or rockets, flying paper airplanes, simple line chart graphs, or even a briefcase symbol. For other unique ideas, explore this flat icons collection. In this gallery you'll find style-neutral graphics which will fit into any presentation you have created, regardless of your industry or area of focus.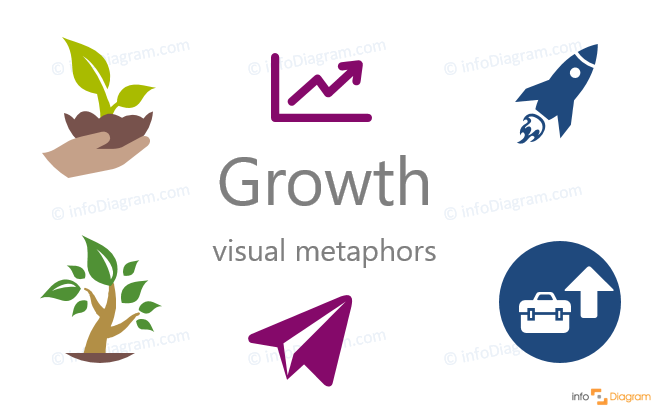 Creative Visual Metaphors of Growth
If you dare to be different, get informal! If your approach, in general, is less formal, or you are in a creative industry, you may find that hand drawn graphics are more your speed. You may find a few popular selections. You can check out a wide range of our creative hand drawn symbols. Due to their nature creative, such icons come across as more personal and unique. Notice how the scribbly paper airplane below looks more friendly than the one in the simpler paper airplane icon above, or at how playful the jumping stick figure is. You know your audience! Even professional or industrial items like gears can look more inviting when drawn in our scribble style!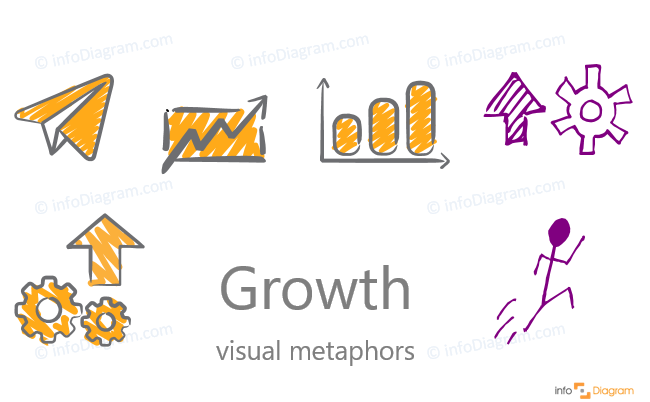 Whatever you choose, select an icon which will speak to your audience and be memorable. You know your viewers better than anyone!
Have another diagram idea to illustrate? You've found out that either sales or growth in your next PowerPoint presentation? Let me know in the comments! I'd love to hear back from you. (Especially if you'd like to share something our catalog currently lacks.)
Stuck on how to show something else on your presentation slides? Let us help! Share your challenges with visualization in the comments and we'll offer a few suggestions for how you can successfully illustrate those concepts. It's important to illustrate ideas in your PowerPoint presentation via text, charts, and icons well.
More Articles
Want more resources for designing creative, effective presentations? See all articles Showing a Business Concept in a Presentation or explore specific topics:
Further Inspirations
Need to show another concept in a presentation? See how to illustrate other business concepts – Strategy, Investment, Structure and more.
---
---
Stay updated
Get new presentation ideas and updates sent directly to you! Plus, if you sign up for our free newsletter now, you'll receive a creative slide design guide with free, hand drawn shapes you can begin using right now!
How to get a specific concept icon for your PowerPoint presentation?
To get access to editable PowerPoint icons from those examples, consider an infoDiagram subscription access to PPT graphics. With a subscription, you can access all the symbols in our PowerPoint icons library, with a few thousands of symbols. We are regularly adding new ones.