Need to present risk concept in your next presentation? We see this concept to appear often in market analysis presentations such as SWOT evaluations, PEST model, or Porter Forces analysis. Risk management is another obvious area in the content of finances or various technical sectors. However, also start-up pitch presentations use risk ideas in the slides about potential market risks.
Visual Metaphors for Risk – Modern and Neutral
Check icon ideas from flat icons collection – suitable for style-neutral graphics fitting to any presentation style.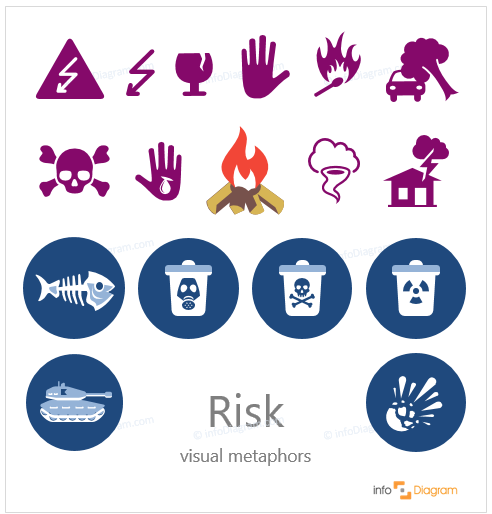 The collection features a variety of different approaches to representing a risk (click on links below to open a view of the specific PowerPoint icons):
For Creative Style – Unique Hand Drawn Risk Symbols
If you want your presentation to be more outstanding, get informal. Go for a creative hand drawn symbols. Such a style is more personal and unique.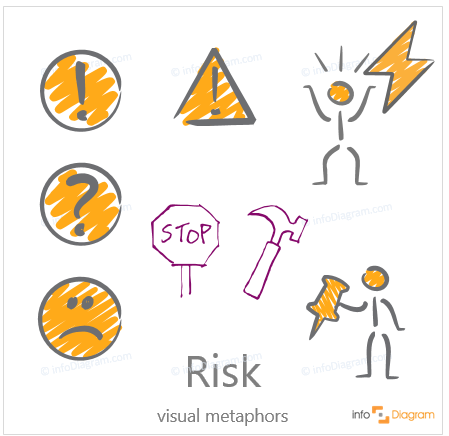 Similar to our modern collection, our creative presentation diagrams rely on the symbolism of risk being interpreted as:
Do you have another idea you want to illustrate in your document? Let us know in the comments below. We'd love to hear back from you.
Further reading
Check more of our articles on designing creative presentations. See all articles Showing a Business Concept in a Presentation or explore specific topics:
Further Inspirations
Need to show another concept in a presentation? See how to illustrate other business concepts – Strategy, Investment, Deadline, and more.
---
Check our Business Concepts Visualisation List blog:
One picture to rule them – Visual Metaphors Ideas
---
Stay updated
Get new presentation ideas and updates sent directly to you! Plus, if you sign up for our free newsletter now, you'll receive a Creative Slide Design Guide with our hand-crafted freebie – hand drawn icons you can start using right now.